Museum News
Black History Month Programming at the National Museum of African American History and Culture Opens With a Virtual Program Highlighting the Impact of HBCUs
Acknowledges Pioneers in Health and Wellness Including Midwives
Jan 25, 2022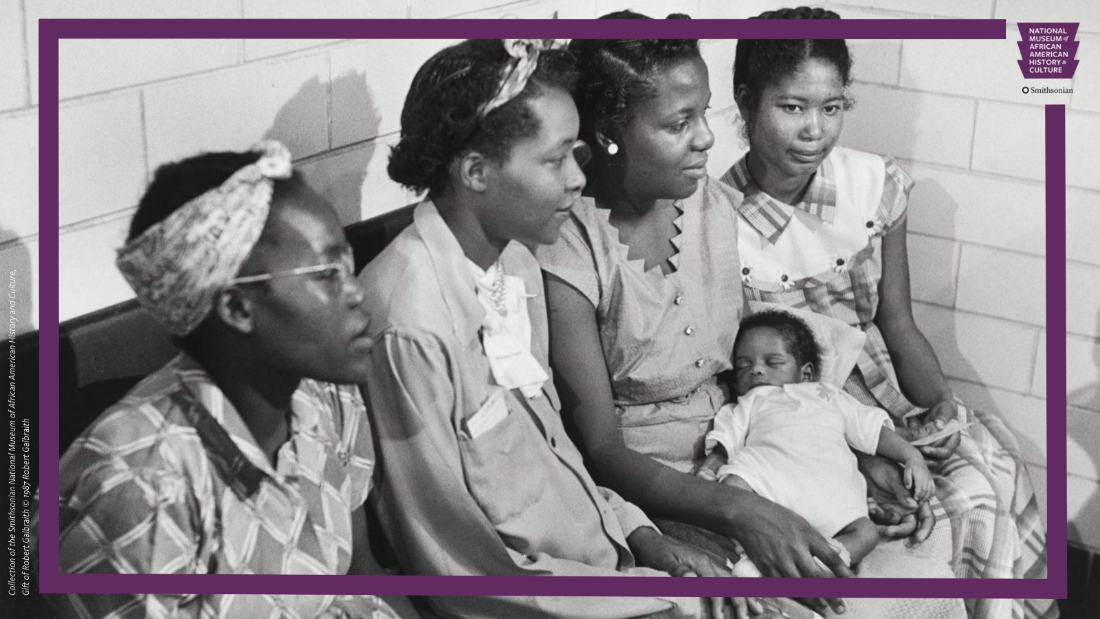 To celebrate Black History Month, the Smithsonian's National Museum of African American History and Culture (NMAAHC) is offering a wide array of virtual programs for all ages. The month begins with A Seat at the Table, one of NMAAHC's signature interactive programs, inviting participants to consider challenging questions about race, identity and economic justice over a meal. This special program will cover the triumphs and challenges of historically Black colleges and universities (HBCUs) and the efforts to maintain their legacy.
The museum will also explore the historical significance of Black health and wellness in February with the debut of a new blog series featuring conversations with several practicing midwives and doulas including Kahlil Kuykendall and Nikki Plaskett. These posts also offer a closer look at several objects from the midwives' section of the current NMAAHC exhibition, "Making a Way Out of No Way."
NMAAHC's social media channels throughout Black History Month will feature Black health and wellness stories, including that of James McCune, the first African American to hold a medical degree. Other stories include Henrietta Lacks, a Black woman who was diagnosed and treated for cervical cancer at Johns Hopkins Hospital in 1951. Lacks' cells were taken for a sample without her permission. Her story is one of many examples of the medical malpractice African Americans experience while seeking health care. More stories and details can be found at NMAAHC's Searchable Museum.
February Virtual Programming Schedule 
Joyful Fridays: The Black Panthers
Friday, Feb. 4; 11 a.m. ET  
A Seat at the Table: The Triumphs and Challenges of Black Education 
Friday, Feb. 4; 7 p.m. to 9 p.m. ET
History Alive! Coming Home: African Americans Returning from World War II 
Monday, Feb. 7 and 14; 1 p.m. to 2:30 p.m. ET  
"Make Good the Promises" at Busboys and Poets—Conversation Featuring Kinshasha Holman Conwill and Paul Gardullo 
Feb. 9; 7 p.m. ET 
Joyful Fridays: Maya Angelou
Friday, Feb. 11; 11 a.m. ET  
Fruit of the Earth: Using Deed Records to Uncover Your Ancestors with Robyn Smith 
Saturday, Feb. 12; 12 p.m. to 1:30 p.m. ET 
Joyful Fridays: Granville T. Woods & The Roller Coaster  
Friday, Feb. 18; 11 a.m. ET  
Historically Speaking: A Great Moral and Social Force—Conversation with Timothy Todd 
Tuesday, Feb. 22, 7 p.m. to 8 p.m. ET 
Joyful Fridays: Black Creativity & Abstract Art  
Friday, Feb. 25; 11 a.m. to 12 p.m. ET  
About the National Museum of African American History and Culture
Since opening Sept. 24, 2016, the National Museum of African American History and Culture has welcomed more than 7.5 million in-person visitors and millions more through its digital presence. Occupying a prominent location next to the Washington Monument on the National Mall in Washington, D.C., the nearly 400,000-square-foot museum is the nation's largest and most comprehensive cultural destination devoted exclusively to exploring, documenting, and showcasing the African American story and its impact on American and world history. For more information about the museum, visit nmaahc.si.edu follow @NMAAHC on Twitter, Facebook and Instagram or call Smithsonian information at (202) 633-1000.
# # #
 
Media Contacts
Cierra Jefferson 
(202) 633-7812
Jason Spear
(202) 445-7456