Exhibitions
National Museum of African American History and Culture Opens New Exhibition "Make Good the Promises: Reconstruction and Its Legacies"
Exhibition Spotlights African American Visions of Freedom and Unmet Promises Following the Civil War
Sep 21, 2021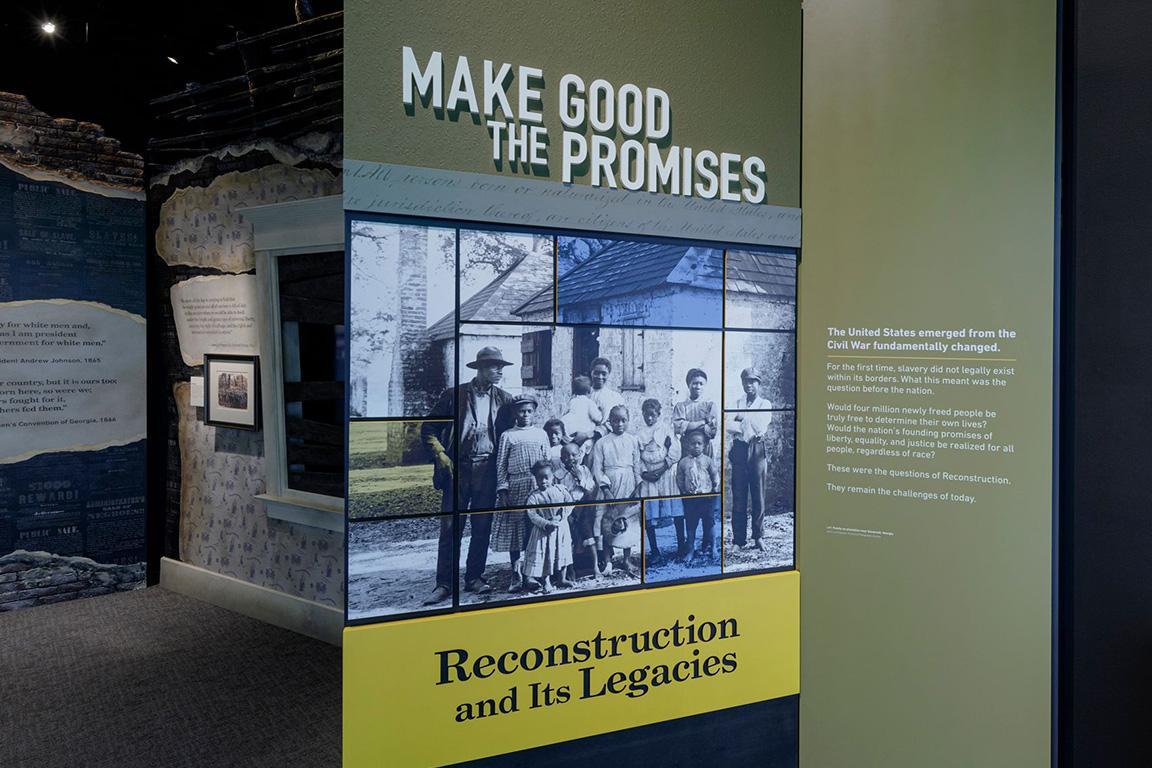 Exhibition Also Explores the Contemporary Legacies of Reconstruction, Racial Profiling, and Voter Suppression Through Items From the Families of Trayvon Martin, Stacey Abrams and Bree Newsome
The Smithsonian's National Museum of African American History and Culture (NMAAHC) will debut a new exhibition Sept. 24 exploring an often-overlooked period of history, the Reconstruction era. "Make Good the Promises: Reconstruction and Its Legacies," featuring more than 175 objects, 300 images and 14 media programs, will be on view through Aug. 21, 2022, in the museum's 4,300-square-foot Bank of America Special Exhibitions Gallery. This exhibition and the release of its companion book form the centerpiece of activities celebrating the fifth anniversary of the museum's opening Sept. 24.
In the aftermath of the Civil War, more than 4 million newly freed African Americans struggled to define themselves as equal citizens—to own land, to vote, to work for fair wages, build safe communities, educate themselves and to rebuild families torn apart by slavery. Their aim during this period of Reconstruction was to live in a nation that kept the promises laid out in the U.S. Constitution. Black men were granted voting rights and were elected to political offices including seats in the U.S. Congress, Black families acquired land and started farms, and communities built churches and schools. But not everyone celebrated the end of slavery. Many responded with violence ranging from unlawful incarceration and voter intimidation to lynching and mass shootings.  
"Reconstruction was a pivotal moment in American history when the nation had an opportunity to make amends for the injustices of slavery and rebuild itself on a new foundation of racial equality," said Kevin Young, the Andrew W. Mellon Director of the National Museum of African American History and Culture. "While some gains were made, this was also a period of voter suppression, racially motivated violence and unlawful incarceration. These are the legacies of Reconstruction explored in this important exhibition. Because of the work left unfinished by Reconstruction and the decades of discrimination that followed, the struggle for equality and justice continues in society today."
Historians regard the Reconstruction era, from 1865 to 1877, as one of the least-understood periods in American history and a period filled with contradictions. Despite the passage of the 13th, 14th and 15th amendments, which outlawed slavery, granted citizenship and gave Black men the right to vote, racially motivated violence was prevalent and unfair labor practices created the system of sharecropping.
In March of 1865, Congress created the Bureau of Refugees, Freedmen, and Abandoned Lands, commonly known as the Freedmen's Bureau. This federal agency operated in 15 states throughout the South to help the newly freed acquire land, reunite with their families and establish schools, including a number of historically Black colleges and universities including Fisk, Howard, Morehouse and Spelman. But the Freedmen's Bureau was abolished in less than seven years and the Freedmen's Bank allowed to fail. Gains African Americans made during Reconstruction were rolled back after white supremacists regained control of southern state governments through voter suppression and intimidation. 
Highlights of Objects From the Exhibition
The exhibition is presented with a companion book, Make Good the Promises: Reclaiming Reconstruction and Its Legacies. The 224-page book, published by Amistad, features nine essays by noted historians, including Eric Foner, the Dewitt Clinton Professor Emeritus of History at Columbia University and author of more than 10 books on Reconstruction, and Kimberlé Williams Crenshaw, a professor of law at the UCLA and Columbia University. NMAAHC contributors include Spencer Crew, director emeritus of NMAAHC; Kathleen Kendrick, curator; Candra Flanagan, director of teaching and learning; and Mary Elliott, curator of American slavery. The book's editors are Kinshasha Holman Conwill, deputy director of NMAAHC, and historian Paul Gardullo, director of the museum's Center for the Study of Global Slavery.
Located at 1400 Constitution Ave. N.W., the museum is operating under reduced hours in response to the COVID-19 pandemic. The museum is closed to the public Monday and Tuesday and open Wednesday through Sunday from 10 a.m. to 5:30 p.m. except Dec. 25. Admission is free. Timed entry passes are required and available at https://nmaahc.si.edu/.
Upcoming Exhibition Events 
Historically Speaking Book Talk: Make Good the Promises: Reclaiming Reconstruction and Its Legacies
Oct. 26; 7 p.m.
Historically Speaking: The Political Legacy of Reconstruction in the State House 
Nov. 4; 7 p.m.  
Historically Speaking: Black Reconstruction
Dec. 8; 7 p.m.
A Seat the Table: The Triumphs and Challenges of Black Education
Feb. 4, 2022; 7 p.m.
About the National Museum of African American History and Culture  
Since opening Sept. 24, 2016, the National Museum of African American History and Culture has welcomed more than 7 million visitors. Occupying a prominent location next to the Washington Monument on the National Mall in Washington, D.C., the nearly 400,000-square-foot museum is the nation's largest and most comprehensive cultural destination devoted exclusively to exploring, documenting and showcasing the African American story and its impact on American and world history. For more information about the museum, visit nmaahc.si.edu, follow @NMAAHC on Twitter, Facebook and Instagram, or call Smithsonian information at (202) 633-1000. 
# # # 
 
Media Contacts
Fleur Paysour
(202) 633-4761
Melissa Wood
(703) 732-5700