Statements
Statement on the Death of Gen. Colin Powell, Military Hero and First African American Secretary of State
Oct 18, 2021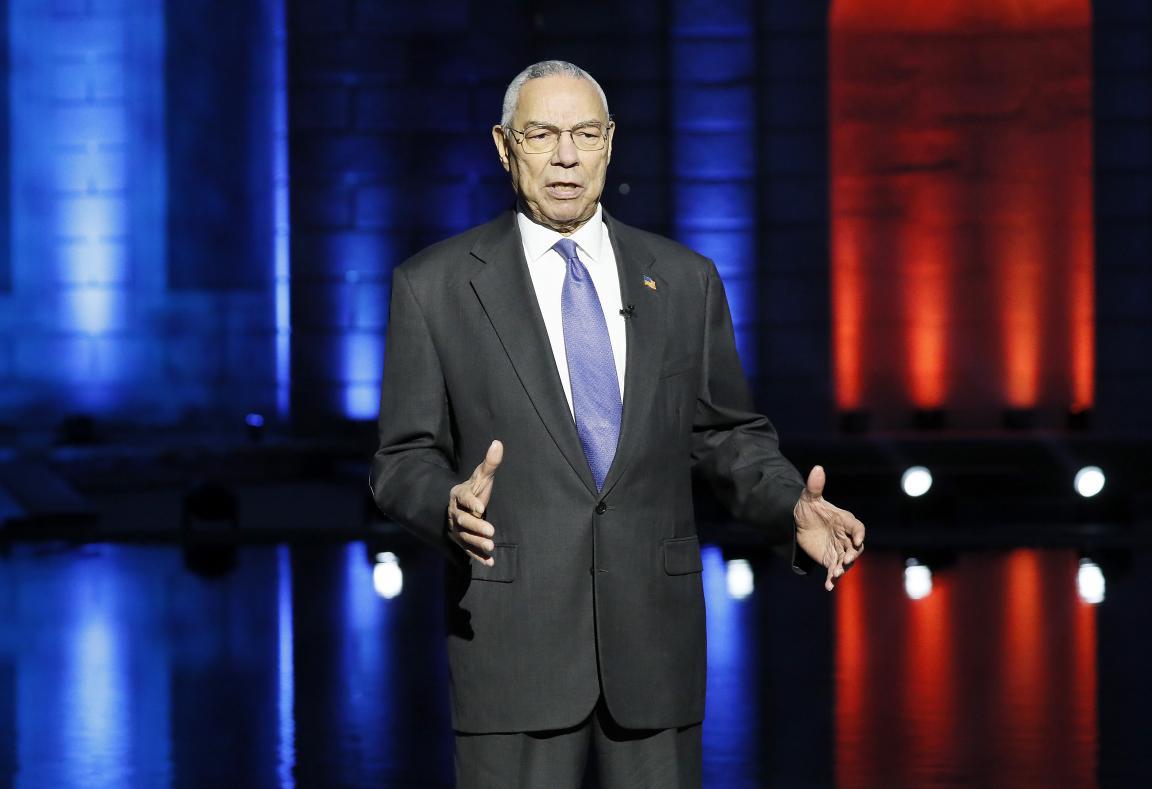 Kevin Young, the Andrew W. Mellon Director of the Smithsonian's National Museum of African American History and Culture, released the following statement on the death of Colin Powell, who has died at the age of 84. Powell was an American politician, statesman and military leader who served as United States Secretary of State from 2001 to 2005. He was the first Black Secretary of State.
"Today, the National Museum of African American History and Culture joins the nation in mourning the loss of diplomat, four-star general, and 65th United States Secretary of State Colin Powell. A decorated veteran and distinguished gentlemen, Powell embodied all the qualities of an American hero, and his journey was the quintessential American story. In a lifetime dedicated to public service, General Powell paved the way for so many and led by example to the very end. We will deeply miss the friendship, advice, gravitas, and guidance that he provided to our museum."
General Colin L. Powell Oral History Interview
Colin Luther Powell was born in Harlem, New York, to Jamaican immigrant parents who instilled in him the value of hard work and determination. He attended the City College of New York, where he majored in geology and joined the Reserve Officer Training Program, catalyzing his military career. He looked upon his ROTC experience fondly, telling the American Academy of Achievement, "It was only once I was in college, about six months into college, when I found something that I liked, and that was ROTC, Reserve Officer Training Corps in the military. And I not only liked it, but I was pretty good at it. That's what you really have to look for in life, something that you like, and something that you think you're pretty good at. And if you can put those two things together, then you're on the right track, and just drive on."
Following graduation in 1958, Powell was commissioned as a second lieutenant in the U.S. Army and later served two tours in Vietnam in the 1960s. In 1968, Powell received the Soldier's Medal, a decoration for bravery, after surviving a helicopter crash and single-handedly saving three of his fellow soldiers.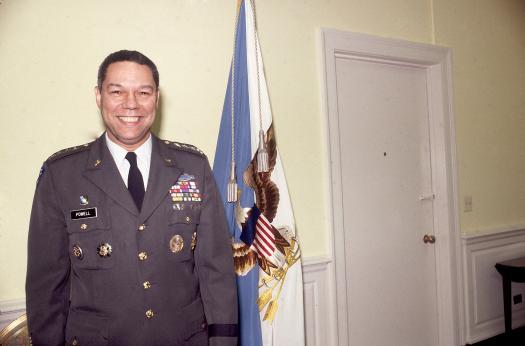 During Powell's 35 years of military service, he received numerous military decorations, including the Bronze Star, two Purple Hearts and the Presidential Medal of Freedom. In 1989, he became the second African American ever to achieve the rank of four-star general.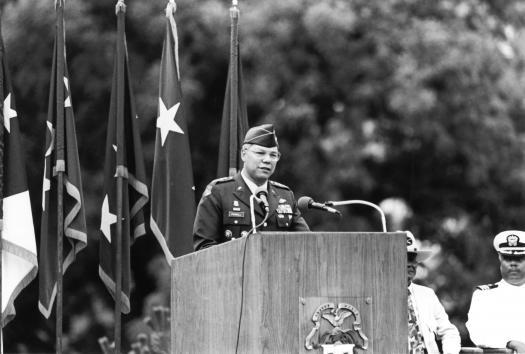 In 1971, Powell earned a master's in business administration from the George Washington University in Washington, D.C. In the late 1970s, Powell continued his career of public service work by joining the Carter administration in the Office of the Secretary of Defense, eventually serving as senior military assistant to the deputy secretary. During the Reagan administration, Powell served in the Pentagon as a senior military assistant to then-Secretary of Defense Caspar Weinberger. In 1986 he was appointed Deputy National Security Advisor and was promoted to National Security Advisory in 1987. In 1989, President George H. W. Bush appointed Gen. Powell chairman of the Joint Chiefs of Staff, the highest military position in the Department of Defense. Powell was the first African American to receive that distinction. He would remain in this position for the first few months of the Clinton administration before retiring in 1993.
Though many urged Powell as a possible presidential candidate in the late 1990s, he instead became Secretary of State during the administration of President George W. Bush in 2000. His time within the administration is marked by U.S. reaction the terrorist attacks of Sept. 11, 2001 and the second Gulf War, initiated amid claims of "weapons of mass destruction" in Iraq.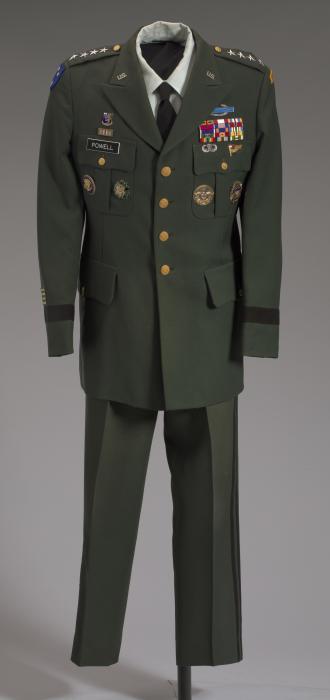 In an interview with PBS, Powell later admitted that his assumptions about Iraq were incorrect, saying, "I think that it was a great intelligence failure on our part, because the problems that existed in that NIE [National Intelligence Estimate] should have been recognized and caught earlier by the intelligence community." Powell resigned as Secretary of State in 2005.
Though he no longer held a cabinet position, Powell remained politically active after his retirement. As a registered Republican, Powell made waves with his endorsement of Barack Obama for president in 2008 and his criticisms of Donald Trump in 2016. After watching the insurrection of Jan. 6, 2021, Powell said he no longer considered himself a Republican.
In retirement, Gen. Powell became an invaluable member of the National Museum of African American History and Culture community. Both he and his wife, Alma Powell, are Founding Donors to the museum's capital campaign. Agreeing to serve as honorary chair, Powell was a Vanguard Donor to the museum's Leadership phase. In 2010, Powell joined the museum's Advisory Council and has donated generously to the museum over the years. Included in his donations are two of his military uniforms.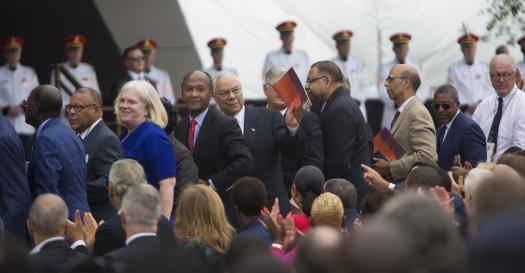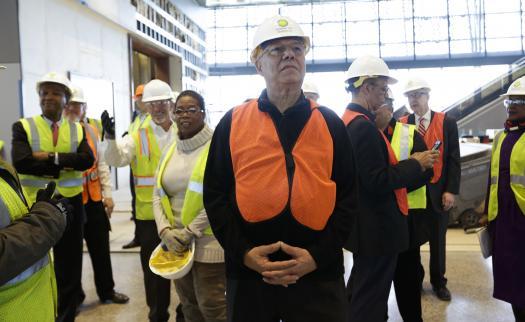 Given his outstanding public service to the military, community and country at large, Powell will be remembered as an American hero. His determination, patriotism and character inspired not only those he led in the military but also the public he served in government. His impact on both and American history and the National Museum of African American History and Culture is incalculable.
About the National Museum of African American History and Culture
Since opening Sept. 24, 2016, the National Museum of African American History and Culture has welcomed more than 7 million visitors. Occupying a prominent location next to the Washington Monument on the National Mall in Washington, D.C., the nearly 400,000-square-foot museum is the nation's largest and most comprehensive cultural destination devoted exclusively to exploring, documenting and showcasing the African American story and its impact on American and world history. For more information about the museum, visit nmaahc.si.edu, follow @NMAAHC on Twitter, Facebook and Instagram, or call Smithsonian information at (202) 633-1000.
# # #
Media Contacts
Jason Spear
(202) 445-7456