Statements
Statement on the Death of Influential Feminist, Critic, Activist and Scholar bell hooks
Dec 16, 2021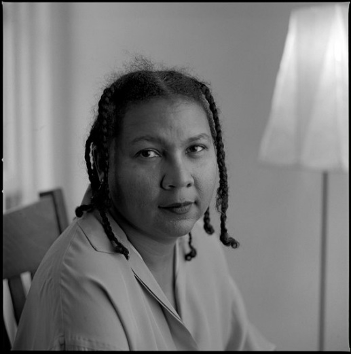 Kevin Young, the Andrew W. Mellon Director of the Smithsonian's National Museum of African American History and Culture (NMAAHC), released the following statement today, Dec. 16, on the death of bell hooks, American author, feminist, critic, activist and scholar, who has died at the age of 69.
"It is with great sadness that we at the National Museum of African American History and Culture mourn the passing of feminist author, professor and activist bell hooks. hooks' writing inspired generations of writers and thinkers after her, gave voice to the plight of Black women in American society, and advocated for love as a transformative force."
Born Gloria Jean Watkins to working-class parents in 1952, hooks grew up in the segregated city of Hopkinsville, Kentucky. Her interest in poetry began at a young age as she recited the likes of Gwendolyn Brooks, Langston Hughes and Elizabeth Barrett Browning for her church community.
Despite having work published in her Sunday school magazine, hooks did not always receive praise for her writing. Always ridiculed for "talking back," or in her perspective, daring to speak to an adult as an equal, hooks developed a sense of defiance about her. As she pursued writing, she decided to take the name "bell hooks" after her great-grandmother, Bell Blair Hooks, who was known to have sharp opinions. She chose to spell her name in lowercase to shift attention toward her ideas rather than toward her identity.
hooks received her bachelor's degree from Stanford University and was just 19 when she began working on the draft for her first book, Ain't I a Woman: Black Women and Feminism. After receiving her master's degree at the University of Wisconsin-Madison and her doctorate at the University of California, Santa Cruz, hooks published her book in 1981.
Ain't I a Woman: Black Women and Feminism began a long literary career for hooks. She went on to publish over 40 books, and she won the National Book Award for Fiction and the Pulitzer Prize for Poetry. In her book, Remembered Rapture: The Writer at Work, hooks writes, "Writing is my passion. It is a way to experience the ecstatic. The root understanding of the word ecstasy—"to stand outside"—comes to me in those moments when I am immersed so deeply in the act of thinking and writing that everything else, even flesh, falls away." Her most notable works, including 1994's Teaching to Transgress: Education as the Practice of Freedom and 2000's All About Love: New Visions, further influenced generations of feminists, educators and artists to approach their work with love and purposefulness.
After teaching at Yale, UC Santa Cruz, Oberlin College and San Francisco State University, hooks joined Berea College in Kentucky as a "Distinguished Professor in Residence" in 2004. In 2010, Berea College opened the bell hooks Institute, which serves as a center for hooks' poems, novels and personal artifacts.
Creating over 70 pieces of published work ranging from films to children's books, hooks will be remembered as a force in feminist theory and in cultural criticism. Inspiring a multitude of Black and women writers after her, hooks displayed to the world that the best way to make an impact is by "talking back." And she desired that all people, female and male, be liberated from sexist patterns, domination and oppression."
About the National Museum of African American History and Culture
Since opening Sept. 24, 2016, the National Museum of African American History and Culture has welcomed more than 7.5 million in-person visitors and millions more through its digital presence. Occupying a prominent location next to the Washington Monument on the National Mall in Washington, D.C., the nearly 400,000-square-foot museum is the nation's largest and most comprehensive cultural destination devoted exclusively to exploring, documenting and showcasing the African American story and its impact on American and world history. For more information about the museum, visit nmaahc.si.edu, follow @NMAAHC on Twitter, Facebook and Instagram or call Smithsonian information at (202) 633-1000.
# # #
Media Contacts
Jason Spear
(202) 445-7456
Cierra Jefferson
(202) 633-7812