Statements
Statement on the Passing of Esteemed Congressman and Civil Rights Icon John Lewis
Jul 18, 2020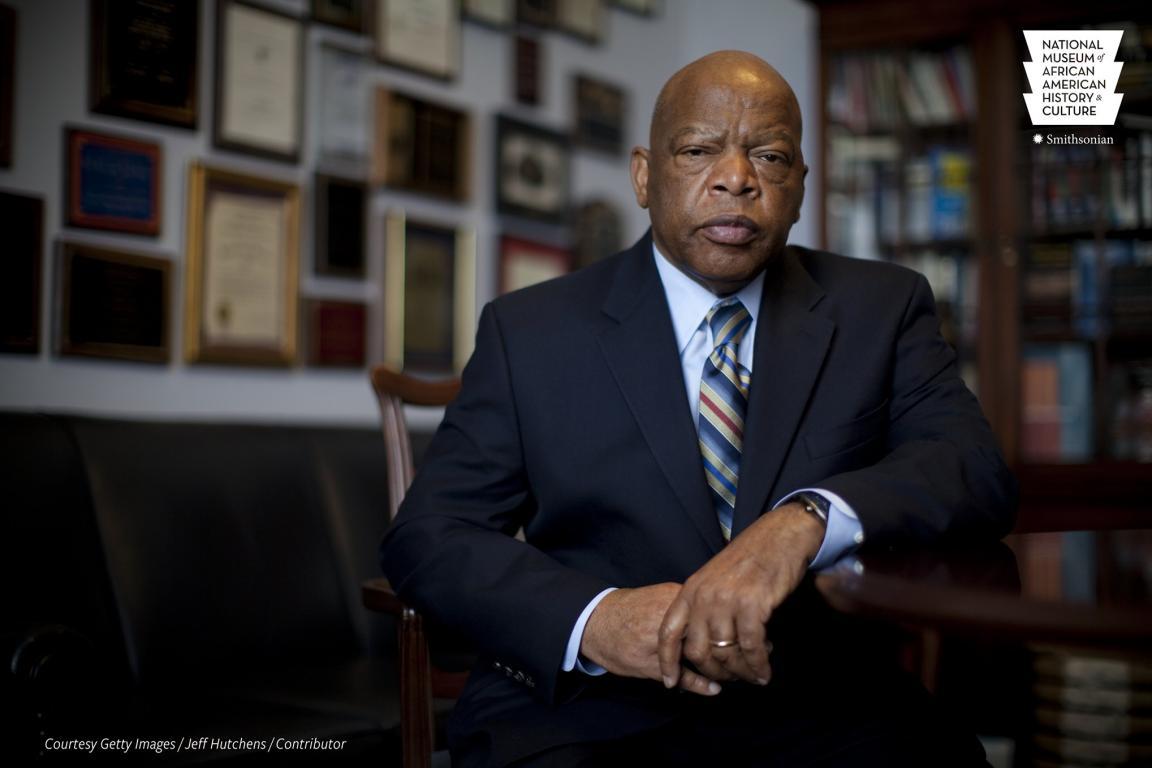 Spencer Crew, interim director of the Smithsonian's National Museum of African American History and Culture, released the following statement today, Jul. 18th on the death of longtime Atlanta, Georgia Congressman, and civil rights champion John Lewis.
With profound sadness, we mourn the passing of Congressman John R. Lewis—activist, teacher, and the heartbeat of the Civil Rights Movement. Congressman Lewis fought tirelessly for social justice and against racial discrimination. He was a man whose entire life compelled us to be better human beings and be better as a society.
Earlier this year, John Lewis announced he started another fight, one that would be one of the fiercest battles of his life. It was a fight against pancreatic cancer. The news devastated the nation that so revered him for his decades spent battling for the poor, the forgotten, and those on margins of society. We, as a nation, and especially those of us at this museum, wished him well on the journey to recovery. And in true John Lewis fashion, he gave it all he had—doing what he has always done. Fight.
The son of former sharecroppers, Lewis, was born and raised in Troy, Alabama. Inspired by the activism of Rosa Parks and Martin Luther King Jr, Lewis found his path early. As an undergraduate student at American Baptist Theological Seminary (now American Baptist College), Lewis joined other local students like Diane Nash, Bernard Lafayette and James Bevel in the Nashville Student Movement. Inspired by the non-violent direct-action teachings of Vanderbilt Divinity School student James Lawson, the group launched sit-ins against Nashville's segregated downtown stories in 1959. In April of the next year, Rev. C. T. Vivian joined the students as they protested violent attacks on civil rights activists, including the bombing of a local black attorney's home. On the steps of the City Hall, the group confronted Nashville's mayor, Ben West, who acknowledged the injustice of segregation. The next day, the headline of the Nashville Tennessean blared, "Mayor Says Integrate Counters." Within weeks the lunch counters began to desegregate, making Nashville the first major southern city to desegregate its public facilities.
Later, Lewis continued his activism as a Freedom Rider, protesting segregated bus terminals throughout the South. His penchant for "good trouble" led him to become the chairman of the Student Nonviolent Coordinating Committee (SNCC) and one of the "Big Six" who helped organize the March on Washington in 1963. At age 23, he was the youngest speaker at the march and the most uncompromising in his demand for "freedom now." In 1965, he joined organizers James Bevel and Amelia Boynton leading a group of more than 600 people as they began a march from Selma to Montgomery to fight for voting rights. A nation watched as the Alabama state troopers attacked the marchers. Lewis, bloodied and bruised with a fractured skull, was not broken. "I was struck on the head with nightsticks by Alabama state troopers during that first Selma March," Lewis wrote in his 2012 book, Across That Bridge. "At the time, I thought it might be my last protest, but I lived to continue the struggle."
In 1981, Lewis was elected to the Atlanta City Council. Then in 1986, he started a three-decade career as a Member of Congress, serving as U.S. Representative of Georgia's Fifth Congressional District. Congressman Lewis did battle in the big arenas: civil and voting rights, health care, employment, and protective rights for endangered women, children, families, and veterans. The Smithsonian's National Museum of African American History and Culture, particularly remembers Congressman Lewis as co-author and sponsor of the legislation that created the museum. In a grand display of tenacity, he plowed through harsh criticism and submitted the bill for discussion every year for 15 consecutive years before it was passed by Congress and signed into law by President George W. Bush in 2003.
As a self-avowed student of Dr. Martin Luther King Jr., Mahatma Gandhi, and Nelson Mandela, John Lewis had long believed that peace and personal responsibility are the things that bring about real change. In a long career full of accomplishments, Lewis holds over 50 honorary degrees from universities across the United States and is a 2011 recipient of the Presidential Medal of Freedom awarded to him by President Barack Obama.
Across two generations, beginning in 1960, John Lewis and the Rev. C T. Vivian battled for justice and equality. They fought together for civil rights for 60 years and died on the same day in 2020. In honor of their memory, we must pause to remember and reflect on their resilience, their commitment to nonviolence, their understanding of the centrality of the vote, and, perhaps just as important, their personal humility. Awarded the Presidential Medal of Freedom in 2013, Vivian said, "Do what you can and do it well. But always ask your question: Is it serving people?"
"Every generation leaves behind a legacy," said Congressman Lewis. "What that legacy will be is determined by the people of that generation. What legacy do you want to leave behind?" In a lifetime of public service, Lewis' legacy is cemented in how we experience freedoms in America. And we, as a country, will forever be grateful.
About the National Museum of African American History and Culture
Since opening Sept. 24, 2016, the National Museum of African American History and Culture has welcomed more than seven million visitors. Occupying a prominent location next to the Washington Monument on the National Mall in Washington, D.C., the nearly 400,000 square-foot museum is the nation's largest and most comprehensive cultural destination devoted exclusively to exploring, documenting and showcasing the African American story and its impact on American and world history. For more information about the museum, visit nmaahc.si.edu, follow @NMAAHC on Twitter, Facebook and Instagram, or call Smithsonian information at (202) 633-1000.