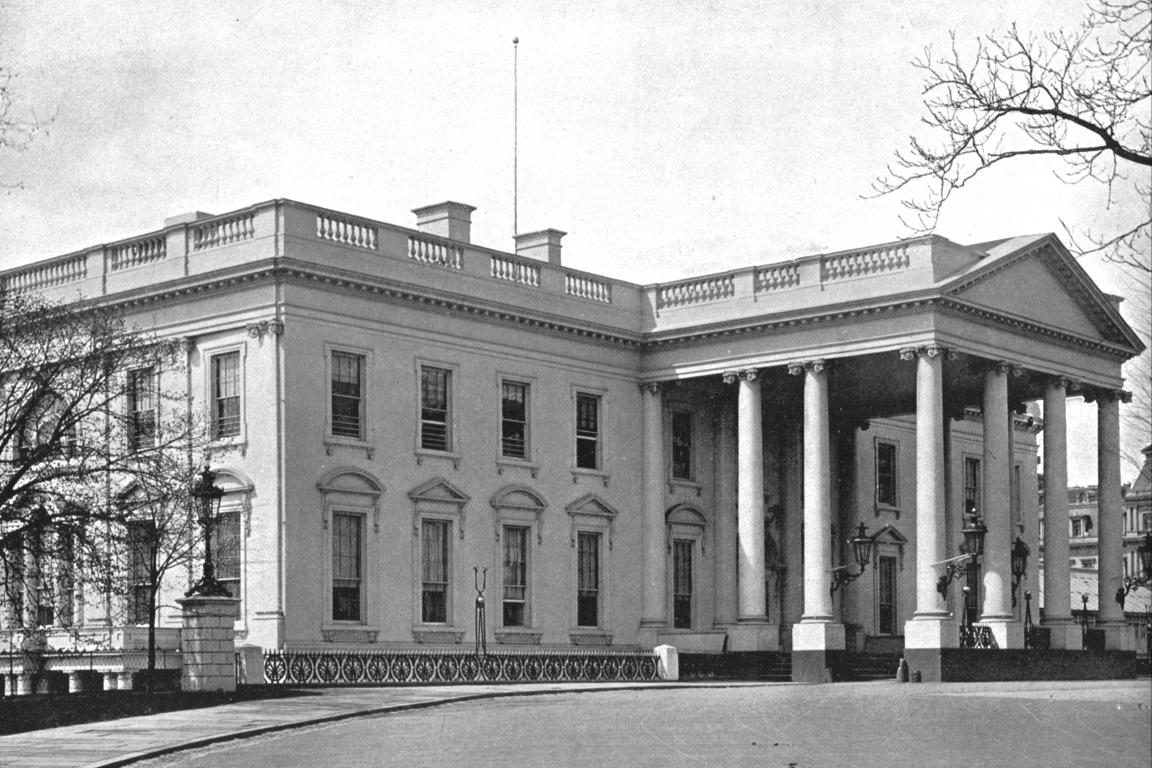 From Scenic Marvels of the New World edited by Prof. Geo.R. Cromwell. [C.N.Greig & Co., circa 1900]. Artist Unknown. (Photo by The Print Collector/Getty Images)
African Americans have long held a presence in the White House. The contributions of both enslaved and free men and women have been integral to the construction, day-to-day operation, and legislative policies associated with the executive branch of government since its inception. As we inaugurate the 46th President of the United States, we invite you to explore the contributions of African Americans in the White House, from enslaved persons to America's first black woman vice president.
President George Washington signed the Residence Act on July 16, 1790, establishing Washington, D.C. as the location for the new capital city. Over the next two years a commission surveyed land, selected a site, and picked a design for the new president's mansion. On October 13, 1792, construction began. Enslaved laborers worked alongside white wage workers for the next eight years to complete what is known today as the White House.
Located between Maryland and Virginia, the nation's capital was positioned deep within slaveholding territory. Despite the strong presence of abolitionists and organized Underground Railroad stations in the nation's capital, forced labor was an everyday part of the government.
Enslaved African Americans, leased out by their owners, mined sandstone from local quarries and built the United States Capitol, the White House, and the Smithsonian Castle. Congress, the institution that guarded the peoples' freedom, held sessions in a building constructed by forced labor. Slave holding pens and markets were prominent throughout the National Mall, and early Americans witnessed the march of enslaved men and women on a daily basis.
Edith Fossett
Following his inauguration on March 4, 1801, Thomas Jefferson made his home the White House, becoming the first known President to use enslaved labor in the mansion. While he owned hundreds of enslaved persons, he brought only a few with him, likely an effort to minimize their exposure to the free community in Washington, D.C. Free African Americans and white staffers also worked inside the White House during this time period and the presence of enslaved labor in the White House would continue into the 1860s.
Joseph Fossett made tools for Jefferson's four plantations, including cookware for his wife, Edith Hern, an enslaved chef. Jefferson separated the family so Edith and the children could serve him in the White House. Jefferson kept Joseph at Monticello to ensure a well-run blacksmith shop at great cost to the Fossett family.
During Jefferson's presidency, Edith Hern Fossett, Joseph's wife, was sent to the White House in Washington, D.C., to learn French cooking. When Jefferson retired, Fossett became head chef at Monticello. She and seven of their children were sold upon Jefferson's death. Her husband was freed.
Blind Tom
Thomas Greene Wiggins, known as Blind Tom, was one of the most popular composers and entertainers of his day. Blind from birth, he was a piano virtuoso with a natural gift for mimicry. Blind Tom earned money for his guardians, the Bethune family, as the highest payed pianists of the century. However, he was allowed to keep little for himself. His clothes and his flute were said to be his only possessions. Blind Tom is believed to have been the first African American artist to perform at the White House, playing for President James Buchannan in 1860.
Frederick Douglass
Frederick Douglass traveled to Washington, D.C., in 1862, determined to meet President Lincoln. Using his influence as America's most well-known African American abolitionist, he had pressured Lincoln in speeches and in print. Now, he wanted to speak to him directly. Expecting a long wait, Douglass was surprised to be immediately welcomed into Lincoln's private office. Both men, born into poverty, believed that people and nations could transform themselves. Frederick Douglass used his renowned oratory and his power as an abolitionist leader to demand that the president take action: first, to use his position as commander in chief to end slavery; second, to enlist African Americans in a "Liberating Army"; and third, to grant citizenship to African Americans. Lincoln took action but wavered on the issue of citizenship. By the end of the Civil War, Douglass had opened Lincoln's eyes to African American equality.
In 1877, Frederick Douglass was appointed U.S. Marshal of the District of Columbia by President Rutherford B. Hayes, becoming the first African American Presidential appointment by the U.S. Senate.
In our next blog post we'll continue our exploration of African Americans in the White House by featuring more contemporary contributions from the last one hundred years.