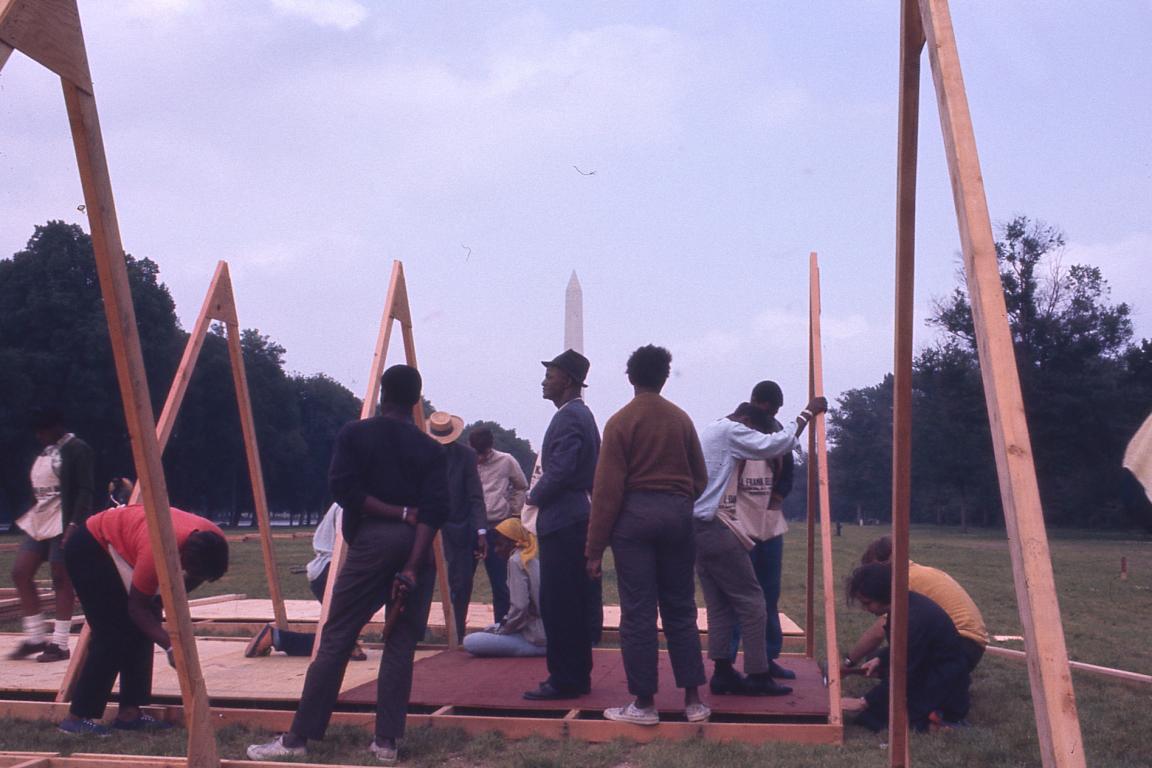 From the Collection, Gift of Robert and Greta Houston © Robert Houston
Evoking the Bonus March of 1932, in which World War I veterans and their families occupied federal land and buildings to demand early payment of their bonuses for wartime service, participants of the Poor People's Campaign similarly built a tent city in a high-visibility area in Washington, D.C. The encampment housed an army of America's poor, which the government could not ignore. Organizers chose the 16-acre site between the Lincoln Memorial and the Washington Monument along the National Mall as the place to build their protest encampment known as Resurrection City.
Many demonstrators personalized tents with slogans, symbols, and graffiti. Some changed the design of tents by modifying doors and windows. Others added sundecks or second stories. As additional materials became available and more protesters arrived, residents continued modifying shelters to make each tent their own.
Materials to build shelters arrived on May 13, and as the campaign's chief organizer, Ralph Abernathy declared the site a "City of Hope" as he struck a nail into lumber. The crowd shouted "Freedom! Freedom! Freedom!" with each strike of Abernathy's hammer. Shortly thereafter, protesters began building Resurrection City as an antipoverty protest community.
We're going to build this city. . . a community of love and brotherhood. The American Indians, Puerto Ricans, Mexican-Americans, white poor Americans from the Appalachian area of our country and black Americans will all live together here in this city of hope.

Ralph Abernathy

May 13, 1968
Immediately following the groundbreaking ceremony, demonstrators and volunteers began building the 8-by-20-foot tents that became a national symbol of the movement. Protesters worked through the night, continuing construction under floodlights, as workers installed electrical and sewer lines.
A month before Resurrection City's construction, organizers created a structures committee of architects to advise campaign leaders on strategies to maximize the encampment's design, construction, and use. Ken Jadin, one of the lead architects on the team, took the photograph below from the top level of the Washington Monument.
John Wiebenson, a professor of architecture at the University of Maryland, College Park, led the structures committee that helped campaign organizers negotiate land to house protesters. Before the campaign began, Wiebenson worked with volunteers to test the amount of time and number of people required to build a single shelter.
In designing Resurrection City, planners included a variety of buildings and spaces to accommodate the anticipated needs of residents. Some structures were designated for essential services, such as food, sanitation, communications, medical care, and child care. Residential areas, comprised of shelters built and decorated by residents, were organized into smaller "neighborhoods." Structures such as the dining tent, culture center, and city hall, along with Main Street, served as community gathering spaces.