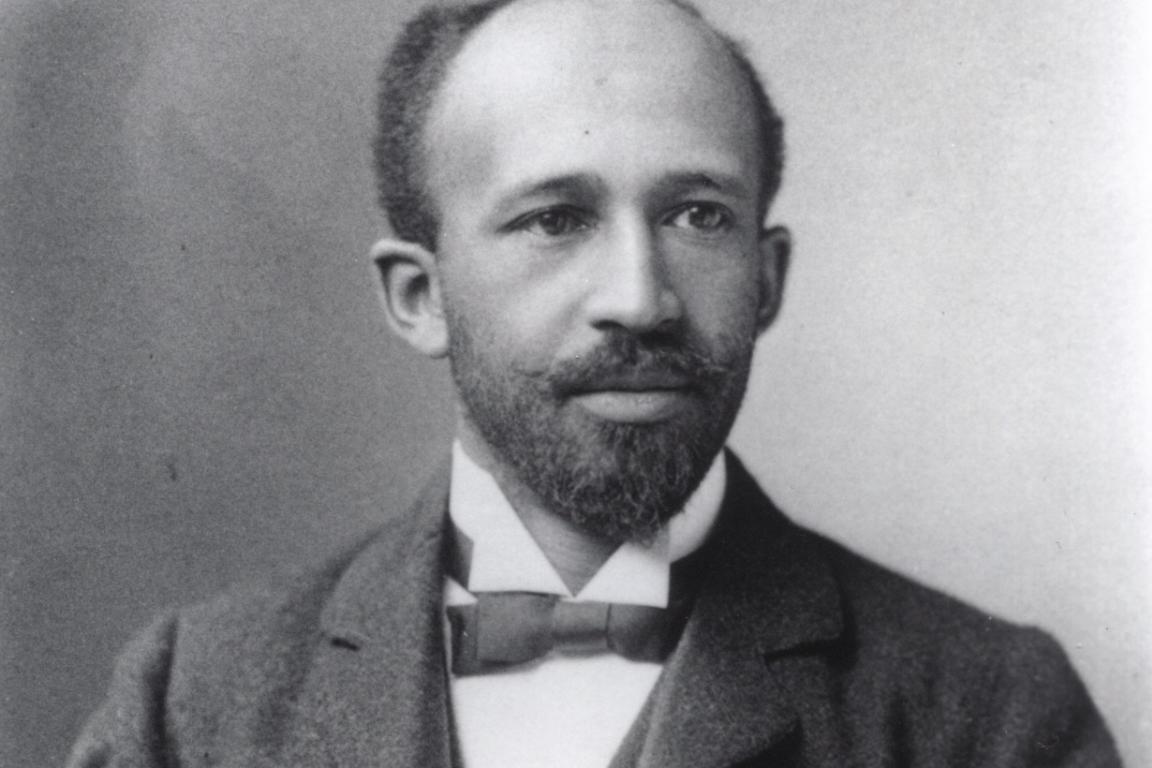 W.E.B. Du Bois in Philadelphia, 1896, Photo courtesy of the Herndon Foundation
Believe in life! Always human beings will progress to greater, broader and fuller life.

W.E.B. Du Bois' last message to the world (written 1957); read at his funeral (1963)
The Earl W. and Amanda Stafford Center for African American Media Arts commemorates the 150th birthday of W.E.B. Du Bois (Feb. 23, 1868 – Aug. 27, 1963) with the public program "Cinema + Conversation: W.E.B. Du Bois: A Biography in Four Voices" (1996) featuring a screening of the only feature-length documentary film that examines the life and legacy of the renowned scholar and activist. In the documentary, Massiah explores W.E.B. Du Bois' impact and seminal work with four African American writers Wesley Brown, Thulani Davis, Toni Cade Bambara and Amiri Baraka.
Born three years after the end of the Civil War in Massachusetts, William Edward Burghardt Du Bois is one of the most renowned and authoritative voices regarding race in America.
After moving to the Jim Crow South to attend Fisk University in Nashville, Tennessee, Du Bois began studying the social sciences, particularly the ills of racism in the United States. In 1891, he was awarded a scholarship to attend Harvard where he went on to become the first African American to receive a Ph.D. from the university.
While teaching at Atlanta University (Clark Atlanta University), Du Bois published "The Philadelphia Negro: A Social Study" (1899), a work commissioned by the University of Pennsylvania. This writing became the first sociological case study of the black community and propelled Du Bois' writing career and public profile.
In the years following, Du Bois published his most influential work, "The Souls of Black Folk" (1903), a collection of 14 essays on race. And in 1909, he co-founded the National Association for the Advancement of Colored People (NAACP) and served as the editor of its publication, The Crisis.
An advocate for the black community and women's suffrage, Du Bois spent much his life and career focused on Pan-Africanism and became an organizer of several Pan-African congresses leading the charge to free many African colonies from European control.
While in Ghana, a country where he was a champion for independence, Du Bois, planned his final project, the Encyclopedia Africana. Styled similarly to the Encyclopedia Britannica, the proposed Encyclopedia Africana was an ambitious undertaking that Du Bois hoped would connect the entire African diaspora.
Although Du Bois died in 1963 without completing Encyclopedia Africana, his contributions to the African American experience as a historian, civil rights activist, writer, sociologist and intellectual are vast. The Museum celebrates the influential life he lived, his activism and the scholarly works that continue to serve as essential references regarding racism in America.
The post-screening conversation between director Louis Massiah and Howard University Associate Professor and Chair of the Department of Afro-American Studies Dr. Greg Carr will be streamed live and archived on the National Museum of African American History and Culture's UStream page.
Louis Massiah is a MacArthur Foundation Fellow, a documentary filmmaker and the founder of the Scribe Video Center (SVC) in Philadelphia. This media arts center provides educational workshops and equipment access to community groups and emerging independent media makers. SVC develops community media production methodologies that assist first-time filmmakers using time-based visual media as a creative tool for authoring their own stories. Currently, he is leading the Precious Places Community History Project, a documentary video project composed of 79 short documentaries produced collaboratively with neighborhood organizations in Philadelphia and Chester, Pennsylvania, and Camden, New Jersey. He also is project director of the Muslim Voices of Philadelphia community history project. In 2016, he launched the Great Migration: A City Transformed (1916-1930), a new collaborative community media project to celebrate the mass movement of African Americans from the Southern states to the industrial North 100 years ago.
Massiah's award-winning documentaries include "The Bombing of Osage Avenue," "W.E.B. Du Bois – A Biography in Four Voices," (two films for the "Eyes on the Prize II" series) and "A is for Anarchist, B is for Brown." All have been broadcast on PBS and screened at festivals and museums throughout the United States, Europe and Africa. In 2011, he was commissioned to create a five-channel permanent video installation for the National Park Service's President's House historic site. He is the board chair of PhillyCAM, Philadelphia's Public Access System, and has also been a board member and program provider for Deep Dish TV, Friends of the Free Library of Philadelphia, Third World Newsreel, and International Film Seminars. A graduate of Cornell University and Massachusetts Institute of Technology (Visual Studies), Massiah has been a guest artist at Swarthmore College, Temple, Princeton, Haverford College, Ithaca College, New York University and the University of Pennsylvania.
Dr. Greg Carr is an associate professor of Africana Studies and Chair of the Department of Afro-American Studies at Howard University. He's known for his public speaking and regular television commentary. Carr's work in education focuses on structures in society and how these reflect on the general condition of African American lives.
Carr's work has appeared in The African American Studies Reader, Socialism and Democracy, Africana Studies, Publications of the Modern Language Association of America, The National Urban League's 2012 State of Black America and Malcolm X: A Historical Reader, among other publications.
The Nation has not yet found peace from its sins; the freedman has not yet found freedom in his promised land.

W.E.B. Du Bois

"The Souls of Black Folk"