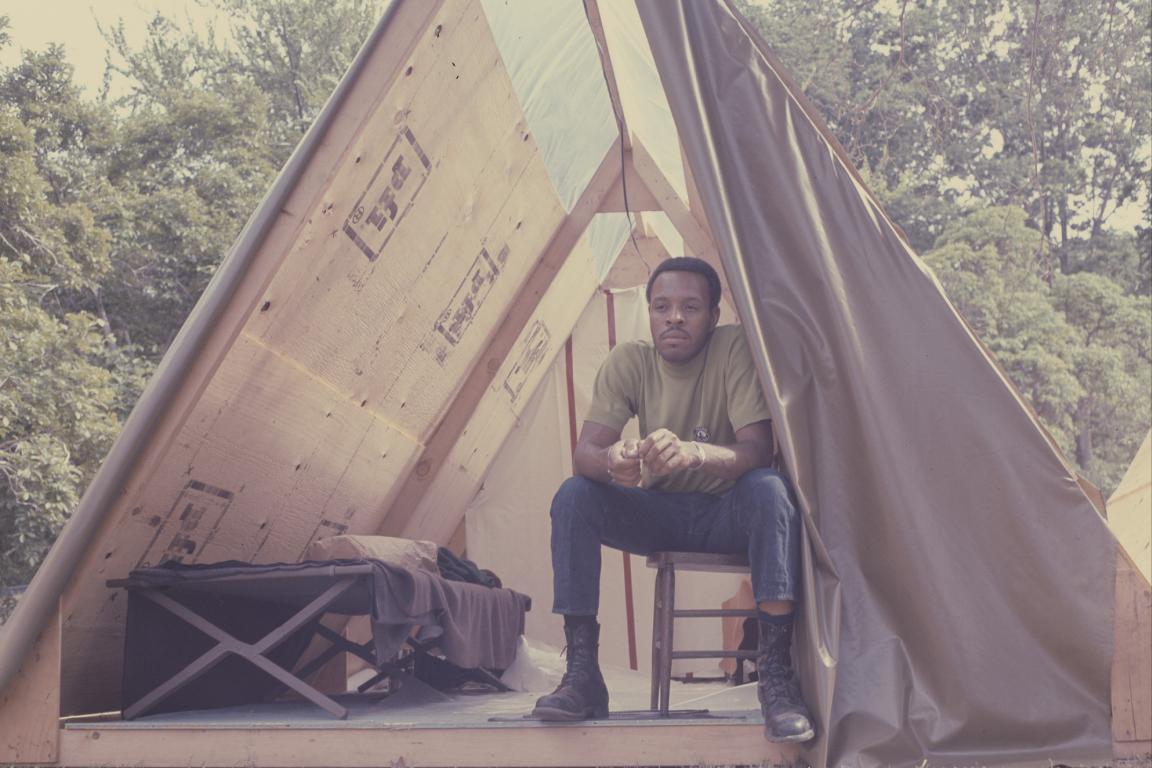 From the Collection, © Robert Houston
Resurrection City residents and volunteers built tents from prefabricated parts. Tents provided spaces for shelter, dining, meetings, and even child care. With an efficient and economical design, tents at Resurrection City were easy to build and durable enough to protect residents from the weather.
Were going to build this city. . . a community of love and brotherhood. The American Indians, Puerto Ricans, Mexican-Americans, white poor Americans from the Appalachian area of our country and black Americans will all live together here in this city of hope.

Ralph Abernathy

May 13, 1968
Civil rights activist Andrew Young's work as a pastor, administrator, and voting rights advocate led him to join the Southern Christian Leadership Conference in the early 1960s. In 1964 he became the organization's executive director. Along with Ralph Abernathy, Young became one of Martin Luther King Jr.'s confidants and advisers. Shortly after the Poor People's Campaign, Young entered politics. He was a three-term member of Congress, an ambassador to the United Nations, and from 1982 to 1990, mayor of Atlanta.
In 1962, Bernard Lafayette became director of the Student Nonviolent Coordinating Committee's Voter Registration Project in Alabama. In the summer of 1963, he worked with the American Friends Service Committee to test methods of peaceful protest in Chicago. In 1966, Lafayette led the direct-action program for the SCLC's Chicago Campaign. By 1967, he was an SCLC program coordinator, organizing the Poor People's Campaign.
Rodolpho "Corky" Gonzales was an icon of the Chicano movement. As founder of the Crusade for Justice, Gonzales advocated for Chicano civil rights, unity, and economic justice. During the Poor People's Campaign, Gonzales issued a "plan of the Barrio," in which he advocated for quality housing, education, community-based businesses, economic opportunities, farm labor rights, and restitution for Chicano lands.
At the time of the Poor People's Campaign, only a third of the U.S. population 65 or older was still in the workforce. Incomes of retired Americans dropped by 50 percent after retirement, and while their incomes decreased, the cost of living increased, including the increased costs of health care. While poverty affected the unemployed and underemployed, it also affected the quality of life for children and the elderly.