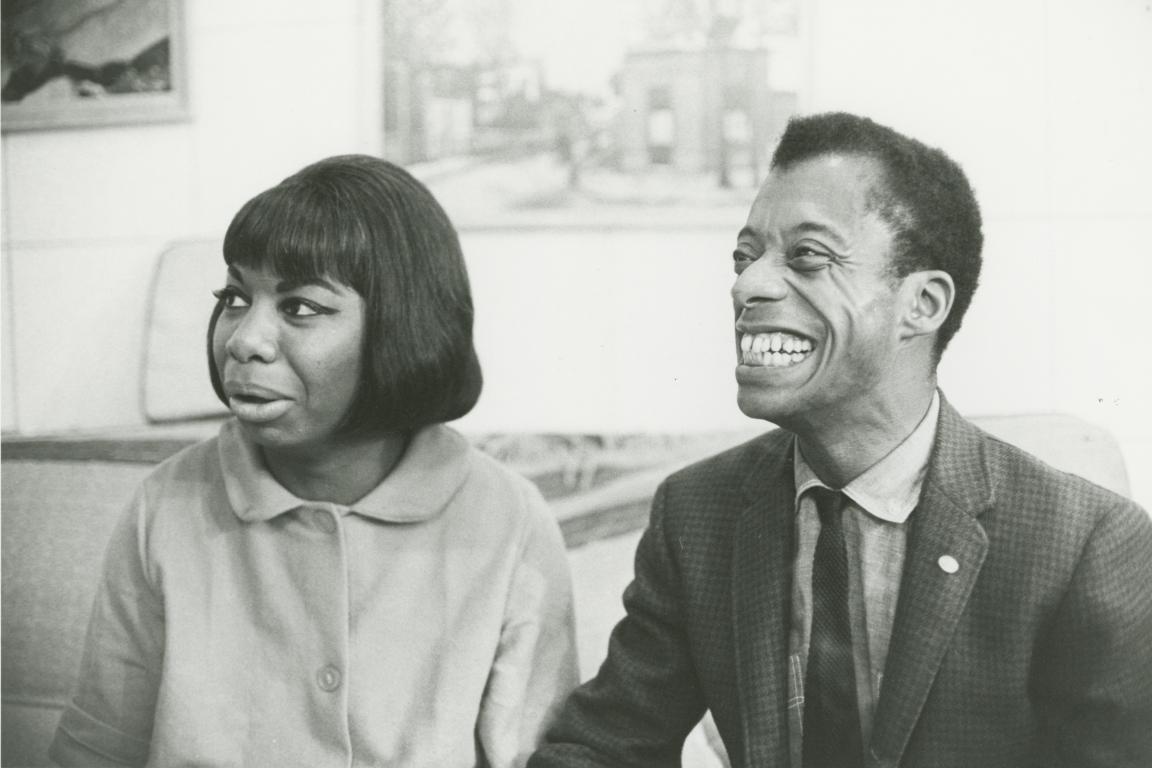 Collection of the Smithsonian National Museum of African American History and Culture, Photograph © Bernard Gotfryd
Baldwin developed an intimate connection to other writers and to an array of visual and performing artists. He befriended, collaborated with, or cultivated relationships with noted figures, such as Alex Haley, Lorraine Hansberry, Marlon Brando, Beauford Delaney, Miles Davis, Nina Simone, and Richard Wright, as well as Richard Avedon and Sol Stein.
Baldwin's ties to women like Florence Ladd, Maya Angelou, and Toni Morrison represent not only personal and enduring friendships but also Baldwin's renewed interest in gender roles and the power of women as allies, particularly during the rise of black feminism in the 1970s. Of Toni Morrison, Baldwin once stated that she was literally his ally and had the gift of writing in allegory. He believed that all of her novels were allegories filled with truth and were painful to read.
In addition to Amiri Baraka and Maya Angelou, Morrison offered a eulogy at Baldwin's funeral in New York in 1987. In her eulogy, Morrison spoke of her exchange of ideas with Baldwin and his impact on future African American authors. To her, Baldwin gave the black literary world, herself included, "three gifts"—language, courage, and tenderness. He "decolonized" language, "un-gated it for black people" so that it could be used to convey the "intricate, difficult, demanding beauty" of the black experience. With "a language to dwell in," Baldwin also inspired future black authors with the courage to write their truths from the gut. In explaining his third gift of tenderness, Morrison describes his gentle demand on artists to create in the best manner possible and to "deliver" what one believes is invaluable to sustaining humanity.
Baldwin's public dialogues with poets Nikki Giovanni and Audre Lorde provide rich contexts for his recollections of the historical treatment of women. In 1971, Baldwin appeared with Nikki Giovanni, who hosted the television show "Soul!" and conversed with her about human empowerment, freedom, and justice. The transcript of the show was later published as a book, A Dialogue. In 1984, Baldwin engaged in a compelling conversation with Audre Lorde about power differences between black women and men. The conversation was first published in Essence magazine and titled "Revolutionary Hope." Baldwin learned much about women's struggles and aspirations from both of these feminists. Women, their writings, and their values mattered to Baldwin and would become very important to his understanding and critique of American national identity and to his embrace of himself as an artist and a black gay man.
Similarly, Baldwin's relationship with the visual artist Beauford Delaney expanded his insights into himself and the human experience. Baldwin met Delaney during Baldwin's early years, and Delaney became a lifelong mentor and friend. Emile Capouya, Baldwin's DeWitt Clinton High School friend and associate on the Magpie school literary magazine, urged Baldwin to introduce himself to Delaney. Capouya had met Delaney one day while he was skipping school in Greenwich Village and shared the artist's address with Baldwin, hoping that he would become acquainted with the older artist. Eventually, Baldwin made his way to Delaney's residence, and it was there that he first saw Delaney at work with warm, vibrant colors and palettes that would characterize much of his work. It was in Delaney's Greenwich Village home that Baldwin also first heard jazz and blues—Ella Fitzgerald, Ma Rainey, Louis Armstrong, and Ethel Waters—and fully experienced black art and music.
Baldwin biographer David Leeming wrote that "Delaney was to reconcile for his protégé the music of the Harlem Streets with the music of the Harlem churches, and this helped Baldwin to reconcile his sexual awakening with his artistic awakening." Delaney shared with Baldwin stories and tales of musical greats but did not want Baldwin to reflect on these legends as mere celebrities. Instead, Delaney wanted Baldwin to realize these people were a part of Delaney's life and a part of Baldwin's own inheritance. Baldwin came to realize that if the great black artists that came before him were part of his inheritance, then he surely represented their hope and aspirations for the future.
The lessons Baldwin learned from Delaney played a large part in solidifying his resolve to be an author. Baldwin wrote that "Beauford was the first walking, living proof, for me, that a black man could be an artist." During their years of friendship, Delaney, who like Baldwin was a gay man and the son of a preacher, would become a visual and material source of inspiration and a father figure for Baldwin. Likewise, Baldwin became a visual inspiration and model for Delaney, who painted numerous portraits of his protégé. Later Baldwin cared for Delaney in his old age until his mental deterioration from schizophrenia became so pronounced that Baldwin had to transfer him to a hospital for the insane. Years later, Baldwin would open his doors to many struggling and emerging artists, in the same way that Delaney had once opened his door to him.
Playwright Lorraine Hansberry was another one of Baldwin's comrades in the arts. He and Hansberry initially met during the winter of 1958 at a workshop production of Giovanni's Room. A second meeting in 1959 after a performance of Hansberry's play A Raisin in the Sun in Philadelphia solidified a friendship defined by unwavering allegiance, lengthy discussions about history, and intense debates. In Baldwin's tribute essay to Lorraine Hansberry, titled "Sweet Lorraine," Baldwin wrote, "I loved her, she was my sister and my comrade." The connection between the two was evident as Hansberry defended Baldwin's Giovanni's Room against theater critics and playwrights. Baldwin showed the same type of allegiance to Hansberry when she faced criticism as a sellout for her production of The Sign on Sidney Brustein's Window. Baldwin praised Hansberry for filling a vacuum of silence around muted issues and attributed this effort to the reasons she was accused of "attempting to say too much."
Besides being an artistic and intellectual comrade, Hansberry was also a champion for civil rights and was by Baldwin's side as part of the group he organized to meet with Attorney General Robert Kennedy on the issues of civil rights. Baldwin noted in "Sweet Lorraine" that Robert Kennedy was the only person he remembered Hansberry being unable to convince, even though she was a great moral force throughout that meeting. A year later, Hansberry would die of pancreatic cancer. Baldwin wrote that "her going did not so much make me lonely as make me realize how lonely we were." Hansberry meant a lot to Baldwin personally, and he relied on upcoming generations to fully realize and appreciate Hansberry's creative works.
Baldwin felt a personal affinity with the jazz trumpet virtuoso Miles Davis. In his interview with poet Quincy Troupe that occurred about one month before Baldwin's death, Baldwin discussed what one might describe as a spiritual connection he believed he and Davis shared. It was a spiritual bond spawned by their feelings of alienation based on being dark-skinned black men as well as living artistic legends. When Baldwin first spent time in Davis' home when they were young, he sensed a mutual recognition of the challenges of possessing both these qualities. Baldwin states,
I could see that there was something in Miles and me which was very much alike. I can see myself in Miles. And yet, I don't know what it is, can't explain it, but I think it has something to do with extreme vulnerability ... First of all, with what we look like, being black, which means that in special ways we've been maltreated ... We evolve a kind of mask, a kind of persona to protect us from all these people who are carnivorous and think you're helpless. Miles does it one way, I do it another.
Being living legends thus brought unique sets of problems. Dual identities related to public and private life induced feelings of entrapment. One is not the person the world perceives one to be, and the public demands can be physically and mentally debilitating. "It's one thing to be aware of a Miles Davis and quite another thing to know where he comes from and what sustains him." Also, at times, one can become "divorced from who you think you are—from who you really are." As artists, both Baldwin and Davis used their art as outlets for their internal struggles and to articulate their essential identities. "Miles has got his horn and I've got my typewriter. We are both angry men."