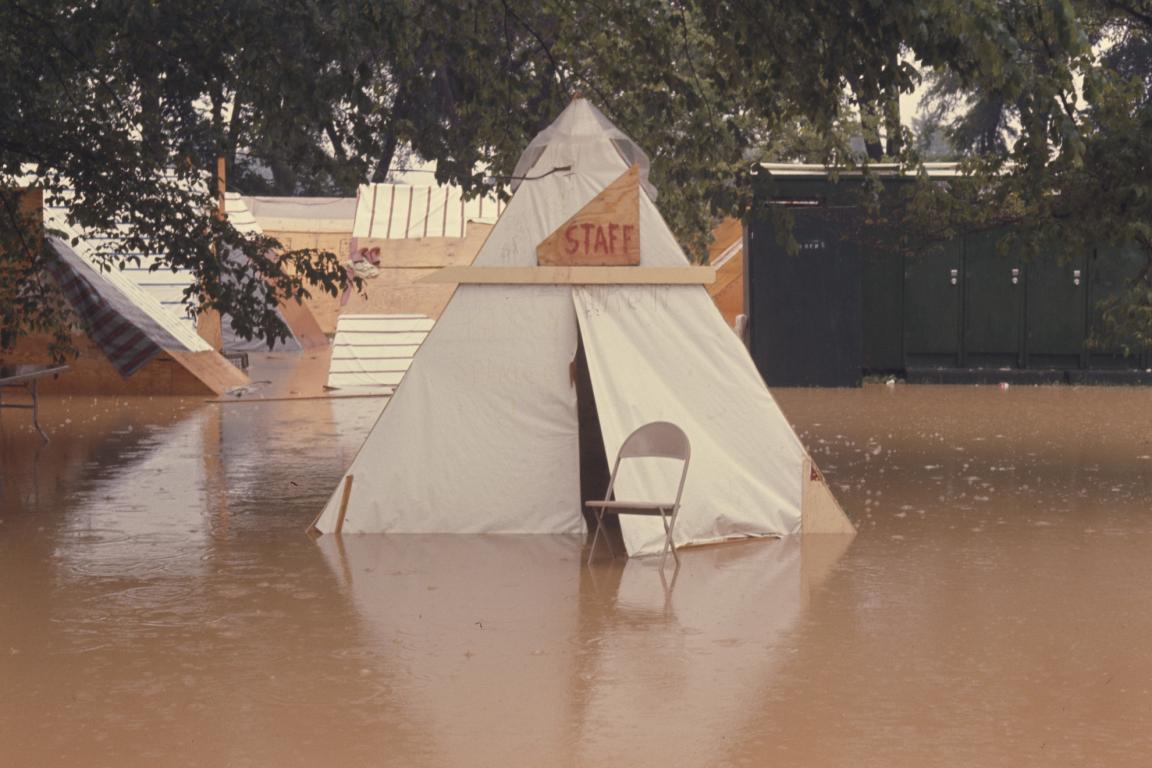 From the Collection, © Robert Houston
Over the course of six weeks, the Poor People's Campaign experienced success and challenges, including the weather, as rain turned the National Mall into fields of mud and a series of ponds. But the mud did not deter thousands of police officers from converging on the site on June 24 to evacuate protesters, however. The SCLC's permit to occupy the National Mall expired on Sunday, Jun 23, four days after Solidarity Day events. The SCLC negotiated peaceful strategies for evacuating the encampment with federal agencies and the Washington, D.C. Metropolitan Police Department. These negotiations were intended to help the movement, its leadership, and the federal government avoid any public confrontations.
The Mule Train from Marks, Mississippi, arrived in Alexandria, Virginia, on June 18. The symbolic caravan of mule-drawn wagons crossed the 14th Street Bridge from Virginia to Washington on June 25, the day after Resurrection City was evacuated. That afternoon, the caravan traveled to 14th Street and Independence Avenue, then on to 14th and U Streets. After a day of touring the city, the caravan returned to the National Mall before returning to Virginia.
"The meanderings of the growing population and the steady stream of tracks bringing materials for new shanties turned the city's lanes into narrow strips of deep, sticky mud. The plywood shanties became islands in the bog and health officials expressed alarm over the conditions." – The Washington Post, "Resurrection City: It Rained 11 of 19 Days...," June 2, 1968
On Monday, June 24, an officer entered Resurrection City to announce the grounds permit had expired and residents had to leave. Shortly thereafter, officers began dismantling the fence around the encampment's perimeter. In total, police arrested more than 360 protesters who continued demonstrations at Resurrection City and at the Department of Agriculture.
They arrested Ralph Abernathy during protest he was leading at the Capitol. Abernathy had been arrested many times over his civil rights career. As he sat by the bus window waiting to be taken to the Fifth Precinct, he remarked, "The only thing missing is my perennial jail mate, Martin Luther King."
In addition to the tents, mules, and music, most people who remember Resurrection City remember the flood and rain. By the time Resurrection City closed, rain had turned the grounds into fields of mud and a series of ponds.