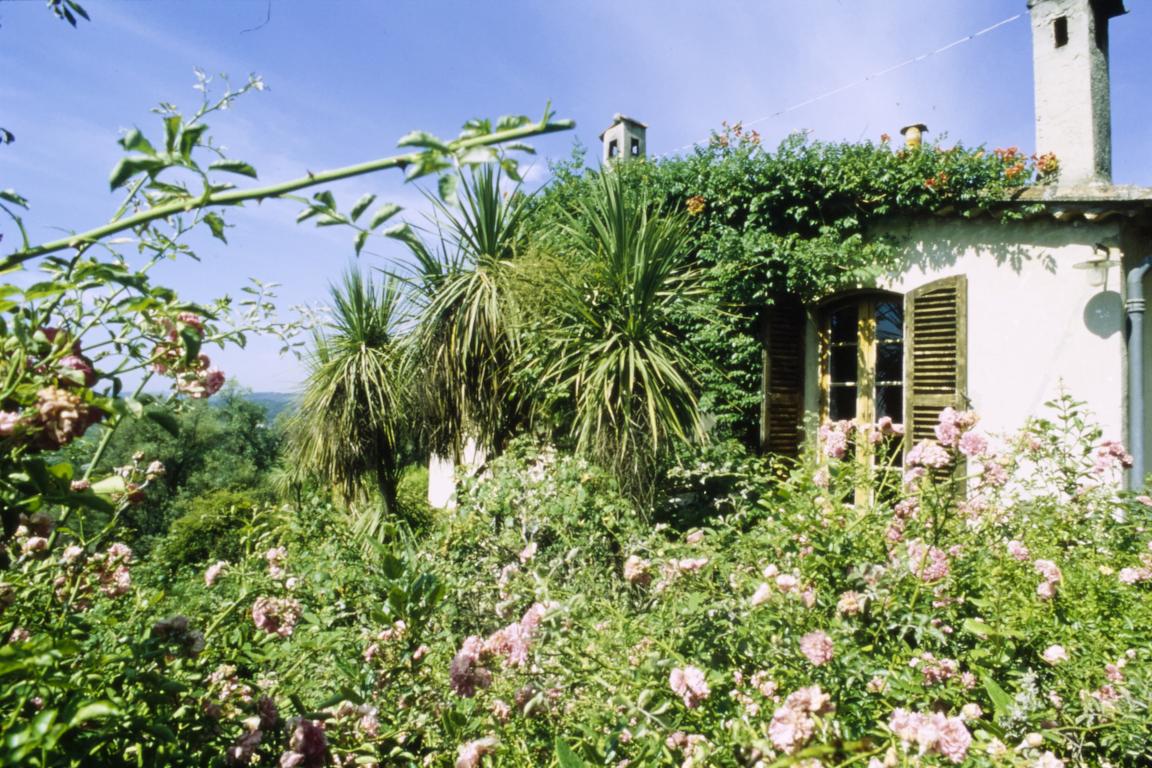 James Baldwin, Architectural Digest © Condé Nast
After moving from Harlem, New York in 1948, he eventually settled in the South of France in 1971. There he purchased a house, in which he lived and wrote for sixteen years. This house serves as a powerful lens through which this exhibition explores Baldwin's life and works and documents his transition from a "transatlantic commuter" to a homeowner.
St. Paul de Vence, in the region of Provence, is nestled between the French Alps and the French Riviera, the thin coastal strip that stretches west to the Italian border. Provence is populated with small villages and towns, many of them, like St. Paul, perched precariously on hillsides covered with umbrella pines, thyme shrubs, flowering laurel trees, giant cactus plants and olive groves, all accompanied by the constant singing of the cicadas. One can easily see how Provence became a gathering place for artists, movie stars, and writers, like Baldwin, with its quiet, peaceful, and inspirational nooks detached from a world most people know. Baldwin's house stood in the foothills of St. Paul with a direct view of the Mediterranean Sea.
"Chez Baldwin," as the locals referred to Baldwin's domicile, was a sprawling stone house in the village of St. Paul de Vence, at the time a rather remote and sleepy town. In August of 1987, just a few months before his death in this house at age sixty-three, Baldwin described his abode in vivid detail in an interview with Architectural Digest:
It's a fine stone house, about twelve rooms, overlooking the valley and at the foot of the village. My studio is on the first floor, next to a terrace; it was once the studio of Georges Braque. Visitors need not find themselves on top of each other, and there are several acres of land. It is, also, a very old house, which means that there is always something in need of repair or renewal or burial. But this exasperating rigor is good for the soul, for it means that one can never suppose one's work is done. And perhaps I have reached the age at which silence becomes a tremendous gift, and the vineyard in which one labors a rigorous joy.
Baldwin featured his house in autobiographic musings and letters and inflected settings and characters in a variety of his published works, from novels and essays to magazine articles. The house became an organic part of Baldwin's daily life. He entertained and wrote there, and he collected art, music, and the writings of others. While he considered himself somewhat "homeless" throughout his life, as he told Quincy Troupe in his last interview, his domestic abode became the place where he donned the hat of homeowner and the place that provided him with peace and safety. Baldwin's home space was a place of gathering, healing, and, most of all, writing.