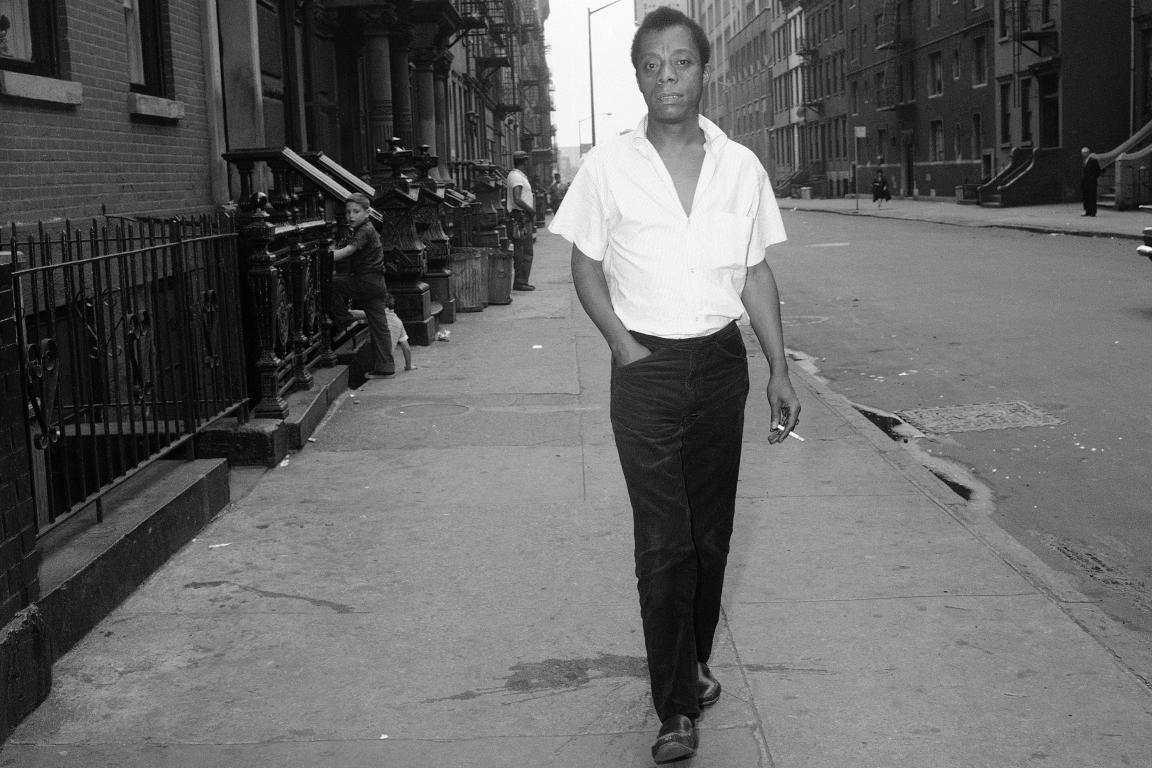 Photo by Dave Pickoff, Associated Press
James Baldwin became a celebrated part of a global intellectual community during his adult years as a writer and activist. He made friends, engaged with other artists and thinkers, and developed lifelong relationships with people in all the cities and towns abroad in which he dwelled—Paris and St. Paul de Vence in France; Istanbul, Bodrum, and Erdek in Turkey; and Löeche-les-Bains in Switzerland. But Harlem, New York was the community that first nurtured Baldwin and provided the lens through which he cultivated his initial insights into the social, political, economic, and cultural milieux and inequities of the United States in the 1920s, '30s, and '40s. It was Harlem that remained at his core and that surfaced as a powerful memory throughout his life in some of his speeches and writings.
Rising from his humble birth and difficult upbringing in Harlem, James Baldwin was able to continue the legacy of his artistic forefathers from the Harlem Renaissance and inspire many succeeding generations. Baldwin was born August 2, 1924 at Harlem Hospital. Founded in 1887 in a brownstone on 120th Street and the East River, the hospital was greatly expanded once it relocated in 1911 to Lenox Avenue between 135th and 137th Streets, about four blocks from the first of several Baldwin residences in Harlem. Emma Berdis Jones, the young single mother of James Baldwin, married a Baptist minister, David Baldwin, when James was about three years of age. James, or "Jimmy," grew up the eldest of nine children in a poverty-stricken household in Harlem. Baldwin asserts that his father provided for them as well as he could through the years of the Great Depression, but that he had trouble keeping them alive, as he experienced great difficulty in feeding his children. David's paternal grandmother Barbara, who was born a slave, also spent the last of her years in the Baldwin household in Harlem. As the mother of 14 children, "some black and some—it was said—white," Barbara would inevitably become for James Baldwin the symbol of what Baldwin biographer David Leeming calls that "ancient forced motherhood that makes black and white Americans brothers and sisters whether they like it or not."
Baldwin reminisced in an interview that the first house he remembered was located on Uptown Park Avenue, where the railroad tracks were. There he played on the roof of the building, near the river and garbage dump. After his parent's migration, Harlem resembled southern communities in many ways. Parents on the block knew each other and their children, which helped to create a shared responsibility for one's neighbor. When Baldwin was growing up, Harlem was multi-racial, and among many other aspects of life that brought its dwellers close, there was a sense of shared poverty that created a community rather than fostering hopeless isolation that later became the staple of suburbia. The Harlem of Baldwin's early memory reflected a place where people clung to the possibility of a normal life. There was a grocery store run by the old Jewish couple, a soda pop joint, a shoe shine parlor, and the candy shop run by his father's sister, Taunty, on 133rd Street between Lenox and Fifth.
However, as James Baldwin grew older, he became increasingly aware of the racial and economic struggles around him that pushed more and more people to despair and suicide. The problem, for example, of police brutality against African Americans in Harlem was pervasive, and Baldwin experienced harassment by police for being both black and gay. Years later in "A Report From Occupied Territory" published in 1966 in The Nation, Baldwin would write about the treatment of Harlem's black community by law enforcement. He reports on a specific case in which a man and several youth had been beaten and jailed:
My report is based on what I myself know, for I was born in Harlem and raised there. This means that I know ... the thunder and fire of the billy club, the paralyzing shock of spittle in the face, and I know what it is to find oneself ... at the bottom of the flight of steps down which one has just been hurled ... People are destroyed very easily. Where is the civilization and where, indeed, is the morality which can afford to destroy so many? ... What I have said about Harlem is true of every Northern city with a large Negro population. And the police are simply the hired enemies of this population. They are present to keep the Negro in his place and to protect white business interests, and they have no other function.
In 1929, Baldwin began school, soon developed a passion for reading, and demonstrated a gift for writing during his early years. At his first public school, his teachers and principal encouraged him to engage with the collections of African and African Diaspora materials of the black Puerto Rican scholar Arturo Alfonso Schomburg. The collections had been acquired by the nearby 135th Street Branch of the New York Public Library in 1926. Located in Harlem, this library became Baldwin's second home, where he spent three or four days a week.
Many of Baldwin's public school teachers were noted educators and held high standards of achievement for their students. At Frederick Douglass Junior High School in Harlem, Baldwin received encouragement in his studies from two African American teachers, the acclaimed Harlem Renaissance poet Countee Cullen and Herman W. Porter, a Harvard-educated math teacher, who introduced Baldwin to New York's great 42nd Street Public Library, called "an important sanctuary during the rest of his school years" by Baldwin biographer David Leeming.
In the 1920s, '30s, and '40s, the social gospel movement as well as individual, evangelical Christianity were integral to the religious experience of Harlemites. Churches both large and small rested on Harlem street corners. During his high school years, Baldwin served as a youth minister in the Harlem Pentecostal church from the age of fourteen to seventeen. He preached at a church located in a former business that, like many others in Harlem, occupied a storefront. One of his early, unrealized projects as a writer was to compile photographs of such storefront churches and discuss their role in the community. While he never finished the project, he channeled some of the energy from it into his first play, The Amen Corner (1953), which takes place in such a storefront place of worship. By the time high school ended, Baldwin decided on a secular direction in life, or as his Clinton yearbook indicates, his goal was to become a "Novelist-Playwright." He received no encouragement from his stepfather, a stern and embittered preacher. In Notes of a Native Son he describes a brief interaction with his father: "My father asked me abruptly, 'You'd rather write than preach, wouldn't you?' I was astonished at his question - because it was a real question. I answered, 'Yes.' That was all we said. It was awful to remember that was all we had ever said."
Shortly after graduating high school, Baldwin left for New Jersey to find work, and after the death of his father, he moved to Greenwich Village around 1943. The Harlem that Baldwin left behind imprinted memories of intense racial tension, discrimination, race riots, poverty-stricken communities, hyperawareness of police presence, and the unrelenting crime and violence that defined the experiences of African American city dwellers.
Although the racial and social predicaments of the United States drove James Baldwin to seek international accommodations, he returned to New York many times throughout his career. W.J. Weatherby of The Guardian, Robert Coles of The New York Times, and the famous Civil Rights photographer Steve Schapiro are among the few that documented Baldwin's return to his native city and neighborhood. Baldwin not only returned periodically to his roots in Harlem but also, through a number of interviews and speeches, made it clear that Harlem remained at the heart of his analytical and artistic endeavors. For example, Go Tell It On The Mountain (1953), his first novel, was a semi-autobiographical work about growing up in Harlem told through the eyes of fourteen-year-old John Grimes. In the famous 1965 debate with William F. Buckley, Baldwin made several powerful references to Harlem, one of them being, "If you walk out of Harlem, ride out of Harlem, downtown, the world agrees what you see is much bigger, cleaner, whiter, richer, safer than where you are." Baldwin hoped to "remember well" the "struggle for a handle on life" that the people of Harlem had to face every day.