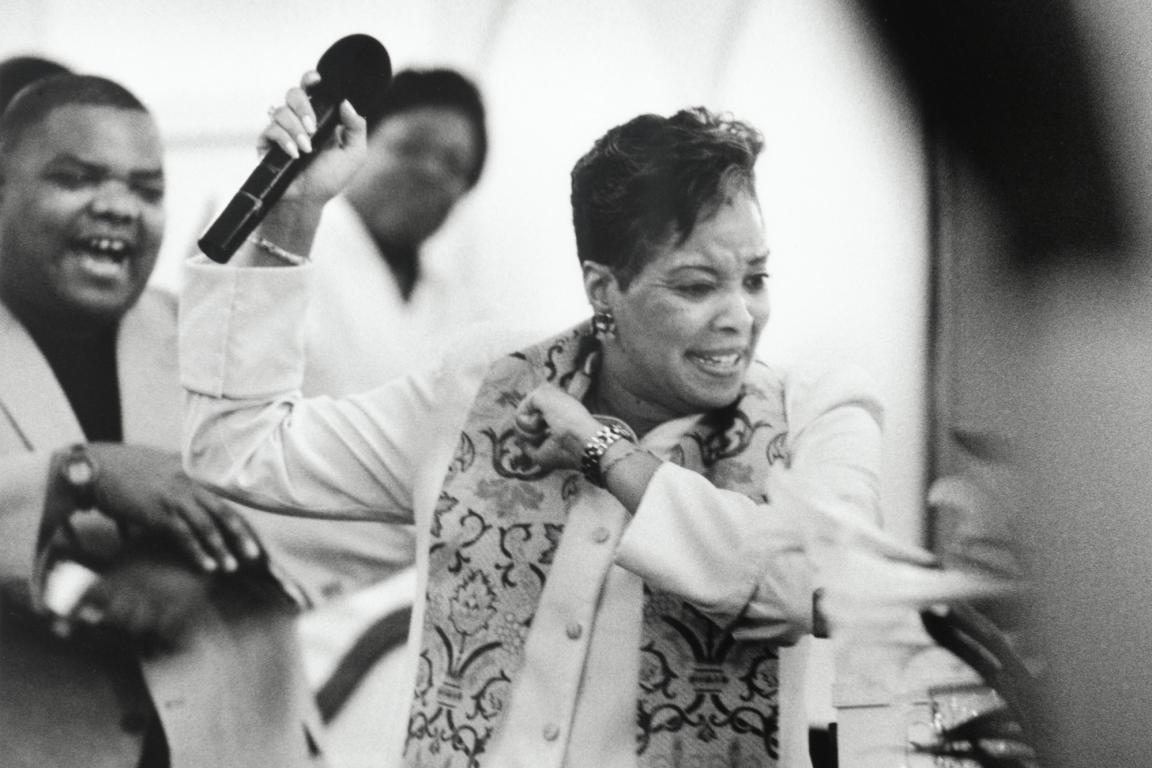 Rev. Gina M. Stewart, pastor of Christ MBC, moves the congregation during her "Resurrection Sunday" message, Memphis, Tennessee, 2005
The Earl W. and Amanda Stafford Center for African American Media Arts and the Center for the Study of African American Religious Life are proud to present the public program Cinema + Conversation: Let the Church Say Amen!. The title film is a 1973 documentary in which filmmaker St. Clair Bourne follows a young African American man, Hudson "Dusty" Barksdale, during his studies at seminary in Atlanta.
In his journey to become a minister, Barksdale travels through the Mississippi delta and Chicago to examine how the Black church affects African American life in rural and urban communities. Throughout the film, Barksdale is challenged with who to become and how he should conduct himself within the Black church. He also struggles with understanding how religion can be beneficial and increase the quality of life for African Americans throughout the country.
The film is edited by pioneer filmmaker Madeline Anderson. Anderson was the second Black woman to be accepted to the Motion Picture Editors Guild. Her first film, Integration Report One (1959), has been accessioned into the permanent collection.
Opening the program will be Verdict, Not Guilty (1933). James and Eloyce Gist were evangelists, who made films to accompany their sermons. With this film, Eloyce was intimately involved in writing, directing, and producing. All of their films were shot without sound, using intertitles with commentary, dialogue, and passages from the Bible.
The post-screening conversation will be hosted by Eric L. Williams, Curator for the Center for the Study of African American Religious Life and joined by panelists; Brad Braxton the Director and Supervisory Curator of the Center and for the Study of African American Religious Life, Soyica Colbert, the Chair of the Department of Performing Arts, at Georgetown University, Shively T. J. Smith, Assistant Professor of New Testament at Wesley Theological Seminary, and Terrence L. Johnson, Associate Professor of Religion and Government at Georgetown University.
Watch the conversation on the Museum's Ustream page.