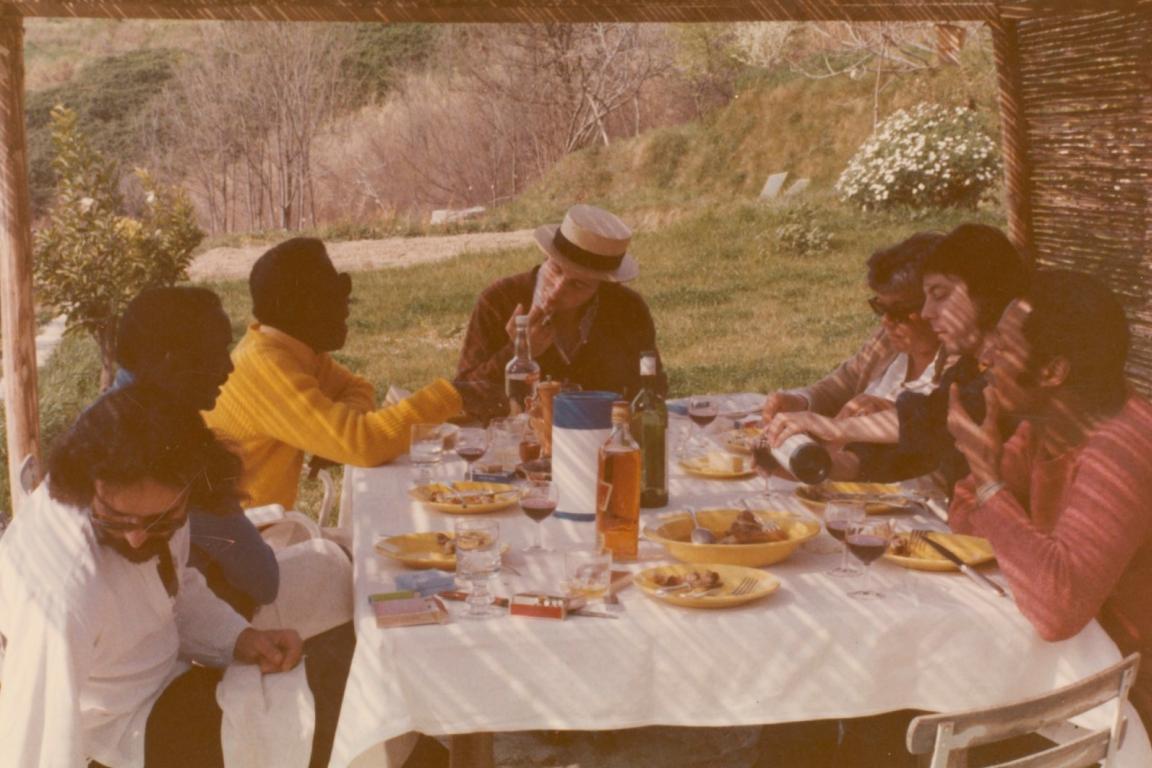 Collection of the Smithsonian National Museum of African American History and Culture, Gift of The Baldwin Family
During the last sixteen years of Baldwin's life, from 1971 to 1987, Baldwin's house was his permanent, vibrant abode and was an important social center for artists and intellectuals from other parts of Europe, from Africa, America, and other places around the world. It offered ample space to host eminent visitors, such as Josephine Baker, Nina Simone, Miles Davis, Stevie Wonder, Caryl Phillips, Maya Angelou, Nicolas Delbanco, Henry Louis Gates, Jr., Cecil Brown, Engin Cezzar, Yves Montand, Toni Morrison, Jessica Harris, Simone Signoret, as well as members of the Baldwin family. Baldwin's house was as necessary to Baldwin as the long, solitary hours he spent at his typewriter in a secluded part in the back, which contained his study and living quarters.
Born out of the need to fight despair, Baldwin's domicile also provided a healing location that nurtured both the author and the man by offering a quiet haven in which to write and rest after the turbulent 1960s, which were marred by violence and the assassinations of his friends Medgar Evers, Malcolm X, and Martin Luther King, Jr. In an interview with Architectural Digest in 1987, Baldwin shared his thinking on his move to St. Paul de Vence:
Martin Luther King, Jr. was assassinated on April 4, 1968 while I was living in California. That devastated my universe and was ultimately to lead me to this house. I wandered around after Martin's death ... I collapsed physically several times and when I came back to Paris I collapsed again. Friends then shipped me, almost literally, out of the American Hospital to Saint Paul-de-Vence. It was grief I had been avoiding, which was why I had collapsed. A friend of mine came down from Paris to look after me, and was so outraged at my hotel bills that he packed my bags and moved me here, to what was then a rooming house. Part of my family came to see me. Eventually, I looked around me and realized that I had rented virtually every room in the house. Then, I thought, "Why not stay here?"
Equally as significant, Baldwin's house soon became the site for Baldwin's late, innovative writings. A year after moving to St. Paul de Vence, Baldwin published a collection of non-fiction, No Name in the Street (1972) followed by a novel popular among youth readers, If Beale Street Could Talk (1974), adapted to film by Barry Jenkins and released in 2018. Two years later came Baldwin's only children's book Little Man, Little Man (1976), and the same year, he published the book-length essay on cinema and popular culture, The Devil Finds Work.
Baldwin's sixth and last novel, Just Above My Head followed in 1979, and four years later, he published his only collection of poems, Jimmy's Blues in 1983. The essay collection, The Price of the Ticket, as well as the journalistic The Evidence of Things Not Seen, which documents the Atlanta child murders, appeared in 1985. Baldwin's work-in-progress prior to his death in 1987 is the unpublished play, The Welcome Table, in which Baldwin features his house as a setting and character.