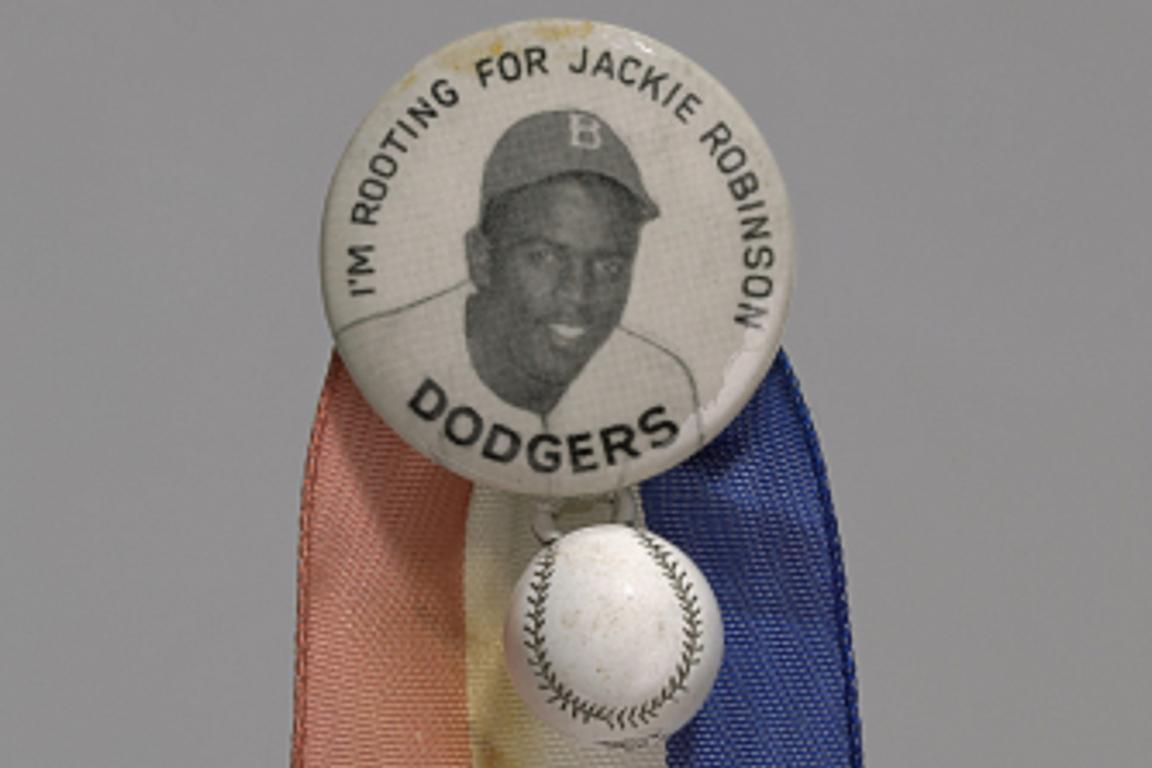 Collection of the Smithsonian National Museum of African American History and Culture
Ask almost any American on the street who was the first African American to play in modern Major League baseball, and many will say Jackie Robinson. Robinson broke the color barrier when he took the field for the Brooklyn Dodgers on Opening Day, April 15, 1947.
Robinson almost immediately became the league's best player by virtue of his completeness. While some players were brilliant hitters or had blazing speed on the bases or were remarkable fielders, Robinson had it all.
Baseball fans, in particular, are quite familiar with Robinson's story. They may have seen the famous film clip of Robinson stealing home plate against the New York Yankees in the 1955 World Series.
Robinson was a brilliant player by every measure. His historic accomplishment breaking modern baseball's color barrier was made possible as a result of those who came before him.
When baseball teams initially organized in the decades following the Civil War, there were some integrated teams. Slowly, however, segregation began to take hold in baseball and mirror mainstream culture.
As a result, black players and businessmen began looking in earnest for ways to organize leagues featuring African American players. In 1897, following a number of failed attempts, a group of Galveston, Texas businessmen set out to create what would be called the Lone Star Colored Baseball League of Texas.
The league organizers identified a man whose business acumen and abilities as a player were already well known to both whites and blacks. That man was John W. "Bud" Fowler.
Fowler, well known to baseball aficionados and sports historians, is often overlooked in the larger history of the game. Fowler is considered by some as the first African American to break baseball's color barrier in 1878 for New Castle, Pennsylvania.
Three years later, however, Moses Fleetwood Walker joined the Toledo Blue Stockings of the American Association. The American Association at the time was considered to be a "major" league, and as such, Walker is considered by many of the sport's historians to be the first African American to break the major league baseball color barrier.
Regardless of how "first" is defined, Walker and Fowler were among a handful of black players who established themselves across the country as respected players on integrated teams.
Even as segregation worked its way into baseball in the late 1800s, Fowler's talent kept him in lineups on primarily white teams. But Fowler knew more than just how to play the game. He understood the economics of it, too.
So when Lone Star League founders approached Fowler and asked him to help establish the league, Fowler agreed but only if he was given complete control. The organizers readily agreed. The Lone Star League was quite successful and paved the way for the larger, more renowned Negro leagues that began to be established in the 1920s.
In 1920, Andrew "Rube" Foster, often called "the father of black baseball," successfully united established black teams from around the South and Midwest into what would be the first truly "major" Negro league, the National Negro League.
Major American cities including Kansas City, Pittsburgh, Atlanta and, eventually Chicago and New York, often featured white and black major league teams, with the Negro leagues featuring the best, most talented players, including power-hitter Josh Gibson and pitcher Satchel Paige, considered by many to be the best hurler in the game's history.
There is little doubt that Jackie Robinson, a brilliant athlete, and, later a successful businessman and civil rights activist, is justly heralded for the courage he displayed when he broke the modern era game's color barrier.
In order to understand Robinson's achievement, it is vital to recognize the African Americans who played with equally brilliant skills but less fanfare. Men like Bud Fowler and Rube Foster, while not as widely known as Robinson, were critical to forcing open the door Jackie Robinson eventually stepped through.
Now, as they receive more recognition, another page in our nation's history becomes fuller and more representative of our great story.