Robert F. Smith Internship Program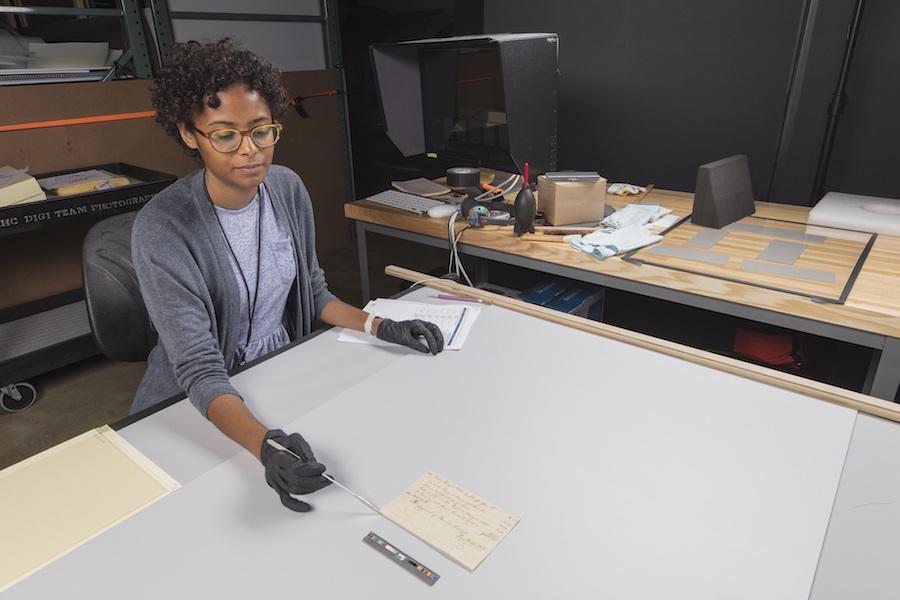 Internships provide guided learning experiences consisting of hands-on training, mentoring, attendance at educational events, and cultivation of contacts for the next generation of researchers, scholars, curators, and other museum, library, preservation, and heritage professionals – individuals who will assume the mantle of identifying, documenting, curating, and digitizing treasured artifacts that reflect African American history and culture.
We are seeking professional mentors working in galleries, libraries, archives, and museums. Summer mentors volunteer to support an intern for 12 weeks and are paired based on the intern's interests and goals. Express your interest here to serve as a mentor in the future.
Intern Benefits
$850 per week stipend to defray living expenses during the tenure of the appointment
Flexible start and end dates
Structured mentorship opportunities both within the Museum and with outside professionals
A calendar of professional development seminars catered to the needs of historically underrepresented individuals in the cultural sector
Paid registration and travel to attend the Association of African American Museums annual conference 
Academic credit (not required)
Intern Eligibility
Undergraduate students (must have completed at least one year of study)
Graduate students
Recent graduates (up to 2 years out of school)
Career-changers in the cultural field less than 2 years
Applications from individuals who have had prior internships or fellowships with any unit of the Smithsonian Institution will not be considered.
Strongest consideration will be given to applicants with no more than 1-2 prior related work experiences. 
Length
Internships are 12 weeks in the summer
35-40 hours per week
Opportunities for Individuals and Organizations
Summer 2023 internship applications have closed. All applicants will be notified of their status by March 31. 
Sign up for our e-mail list to be notified when opportunities for organizations and individuals open.
Have questions about the Robert F. Smith Internship Program?
Public History Fellowship for HBCU graduates
The Museum also offers a fellowship program for more advanced applicants. Learn about the Robert F. Smith Applied Public History Fellowship for HBCU graduates.
More internship opportunities at the Museum
Learn about the current openings and application process for additional internships onsite at the National Museum of African American History and Culture.
 "My experience with this internship has been incredible. It has boosted my confidence and shown me that I do have what it takes to make it in this increasingly more competitive field. For the first time I feel that if I and other people of color are welcome in the field that we are going to do great things and that means the world to me."
-Britni W.
2018 Stagville State Historic Site Intern
"I never felt like an intern during my time here; I felt like a member of the team."
-Adia C.
2019 National Museum of African American History and Culture Intern
"With this internship I never felt alone or in the dark about any opportunities whether it was for jobs or academic advice. It also taught me the importance of the different ways we can preserve African American history in the United States...This whole experience was a huge eye opener."
-Gabby C.
2021 Bethune-Cookman University Intern