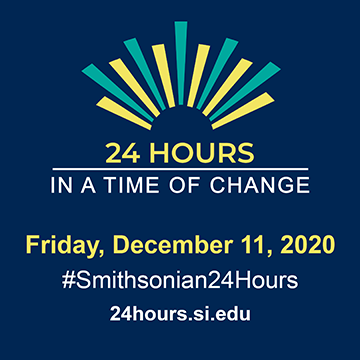 Date & Time
Friday, December 11, 2020 (All day)
Event Type
Lectures & Discussions, Webcasts & Online
About this Event
What can one day tell us?

As 2020 comes to a close, the Smithsonian is hosting a daylong national conversation about what life has been like for Americans during this moment in history. Ten Smithsonian museums and cultural centers come together with help from the public to create a snapshot of this moment in history.

24 Hours in a Time of Change offers a moment for reflection, and for sharing perspectives. Everyone is invited to join in this effort to document a day in the life of our nation—a chance to consider, together, where we've been and where we're going. 

People can share their stories through the project website, where a series of questions serve as prompts to guide their reflections. Highlights will be featured on the website.

In addition, on the hour from 10 AM to 8 PM EST, the museums offer virtual programs centered around contemporary issues, from the COVID-19 pandemic to racial injustice, and invite the public to reflect on and share their personal experiences grappling with the challenges of today.