Past Event
Freedom's Eve | Traditional Dishes to Bring in the New Year
Friday, December 31 - Saturday, January 1, 2022
11:59pm - 12:00am
Chef Ramin Coles, Executive Chef of the Museum's Sweet Home Café, will demonstrate three essential recipes that will bring luck and happy bellies for the New Year. During the presentation, Chef Ramin and Curator Joanne Hyppolite, will discuss the historical and cultural significance of the three prepared dishes: collard greens, Hoppin' John, and cornbread.
Holiday Menu
Limited Time Only
The Agricultural South
The South has always been our country's breadbasket. The long growing season has established it as an agricultural powerhouse. Products such as corn, stone ground grits, Virginia ham, pecans and peaches have become staples of the American diet.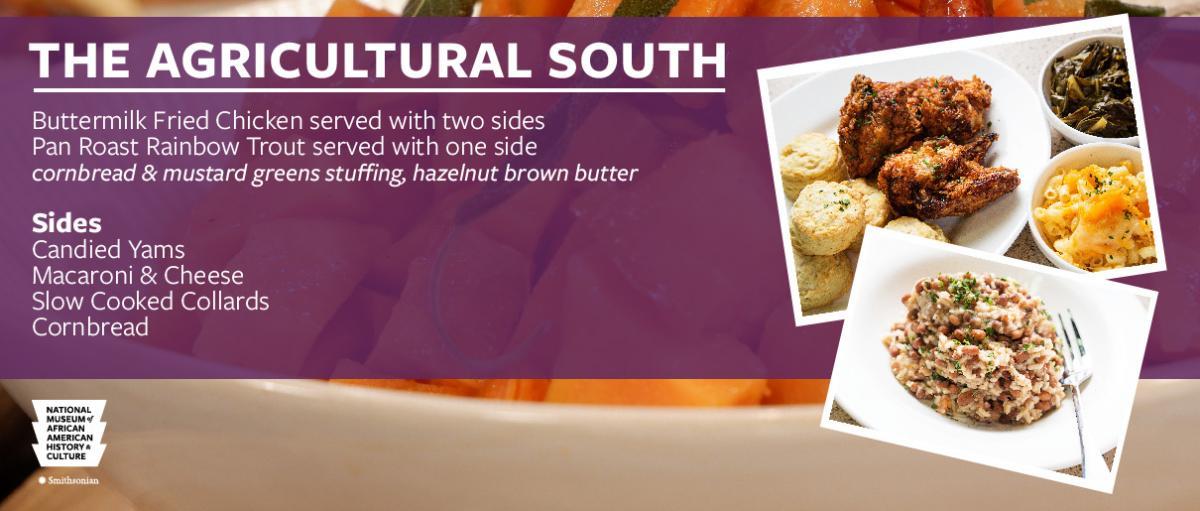 Managed as a joint venture by Thompson Hospitality and Restaurant Associates, Sweet Home Café showcases the rich culture and history of the African American people with traditional, authentic offerings as well as present-day food traditions.
Sweet Home Café uses the very best version of classic dishes and employs a high degree of from-scratch cooking with locally-sourced ingredients. Four distinct stations each tell the story of the regional offerings.