Upcoming Event
History Alive!: African American Soldiers in the Vietnam War
Sunday, May 28, 2023
11:00am - 1:20pm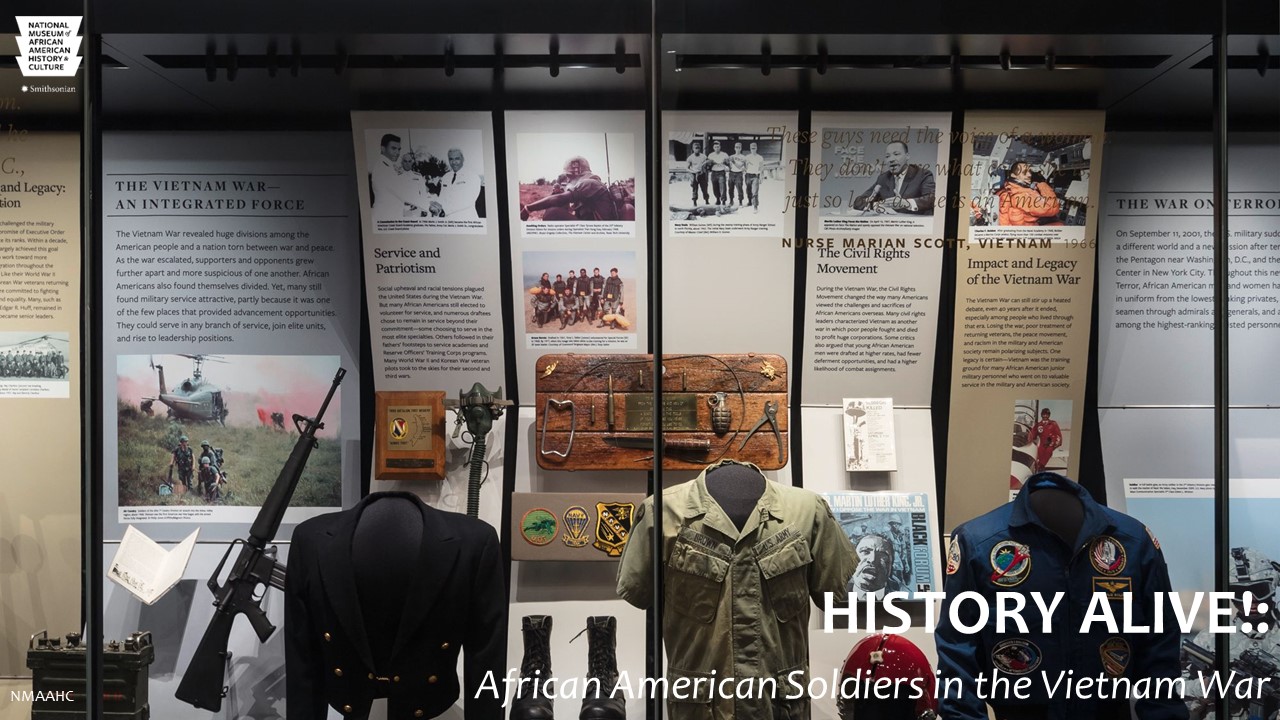 Location

Program meets in the Double Victory: The African American Military Experience exhibition, L3. Each 20-minute performance starts at: 11:00 AM, 12:00 PM, 1:00 PM.

Type

Cost

Free; walk-in. 
About This Event
Afrofuturism often incorporates a historical reconstruction of the past and many science fiction writers are often inspired by the real-life stories of African Americans serving in the military.  Attend one of our History Alive! programs and hear real stories about Blacks in the military and explore themes of freedom, self-determination, citizenship, valor, and much, much, more.  
 
Since the Revolutionary War there had been a hesitancy to allow Blacks to bear arms and defend the nation. The 1925 Army Report stated why Blacks could not be depended on as reliable service personnel. After World War II that notion was dispelled. Afterwards, Blacks began to fight, and die in disproportionate numbers.  Simultaneously, the American Civil Rights movement was in high gear. Learn about the experiences of African Americans in Vietnam.
Additional Information:  John W. McCaskill, M.A. brings dynamic public speaking presentations in Washington, DC and across the country.  To authenticate his living history presentations, he adorns period attire for colonial, WWII/Army Air Corps Tuskegee Airmen, and Civil War U.S. Colored Troops, World War I, Reconstruction, Buffalo Soldier, and the 1960's Civil Rights period.
Image Credit: Double Victory: The African American Military Experience exhibition, The National Museum of African American History and Culture