Past Event
Making African America: A Symposium on Immigration and the Changing Dynamics of Blackness | Movement of a People: Framing Black Migration on Film (Day 5, Session 8)
Friday, March 19, 2021
6:00pm - 7:30pm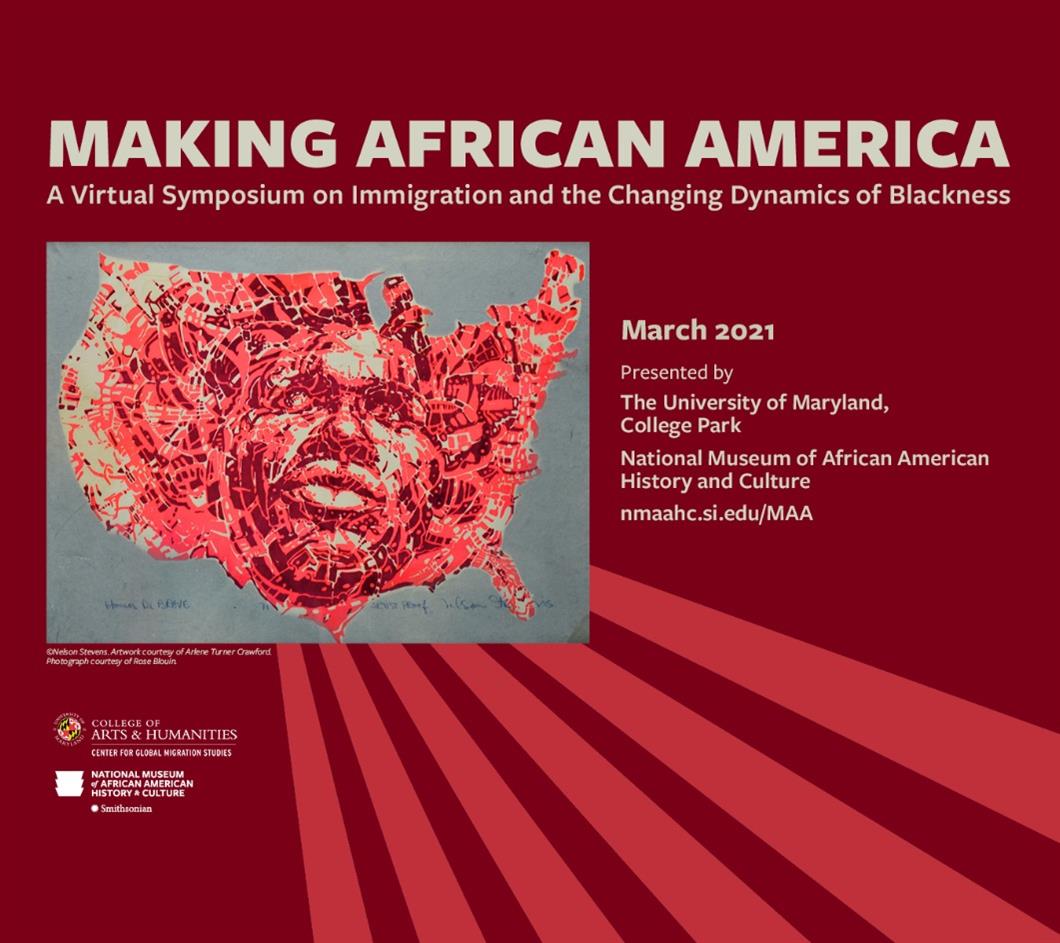 Type

Series

Co-sponsor

The Center for Global Migration Studies, University of Maryland, College Park
Highlights from the Event
Day 5, Session 8: Movement of a People: Framing Black Migration on Film
Film can be a powerful visual medium of expression and commentary. This panel, part of The Creatively Speaking Film Series, will use short films to show various aspects of multicultural black American experiences, including migration pathways, the search for roots, and mixed feelings of both alienation and belonging.
Cassandra Bromfield, co-creator/talent Into My Life
Ellie Foumbi, filmmaker, No Traveler Returns
Kavery Kaul, filmmaker, The Bengali: A Work in Progress Trailer
Moderator: Michelle Materre, Creatively Speaking
Films
Standing at the Scratchline, by Julie Dash, 2016 (11 minutes) - The year 2016 marks a century since the beginning of the first Great Migration of African American families to the Philadelphia area at the start of World War I. Dash captures the stories of a people seeking refuge and freedom in the African Methodist Episcopal Church. Working with Mother Bethel AME in Philadelphia, and Mother Emmanuel AME in Charleston, South Carolina, Dash creates a cinematic poem about returning to sacred spaces of departure and arrival.
No Traveler Returns, by Ellie Foumbi, 2018 (12 minutes) - Migrating to the United States as a young black male can be a difficult process. For a young African immigrant, the adjustment can at times be overwhelming. This beautifully shot black- and-white film tells the story of one young man's struggle to adapt to life in America, which eventually pushes him toward an existential crisis.
The Bengali: A Work in Progress, by Kavery Kaul, 2020 (8-minute trailer) - An untold story of ties between South Asians and African Americans in the United States. In the early 1900s, an Indian Muslim man marries an African American Christian woman. A granddaughter of this vibrant cultural tangle travels to Bengali, India, in search of family a world apart—a remarkable quest of hope and fear, as she tackles deep divides of culture.
Into My Life, by Cassandra Bromfield with Grace Remington, Sarah Keeling, and Ivana Hucíková, 2018 (15 minutes) - Since 1965, an African American mother-daughter filmmaking duo has chronicled their lives on 8-mm film. Into My Life pays tribute to their drive for self-preservation and self- representation, highlighting the memories, identities, and relationships housed within their archive. From Puerto Rico to Lindsay Park in South Williamsburg, Brooklyn, the women experience vast changes to the place they have made their home.