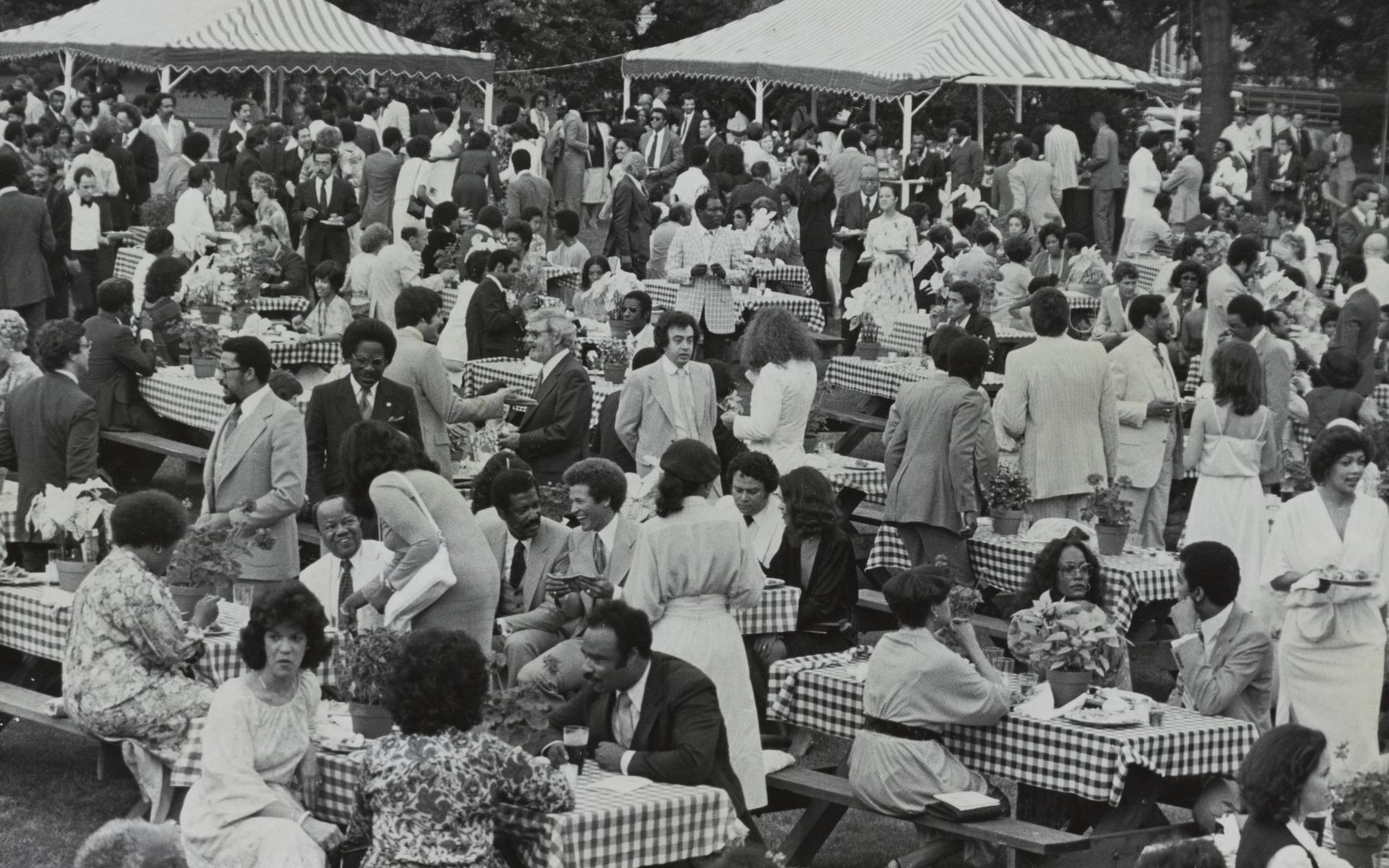 Juneteenth Public Programs
Senses of Freedom: The Taste, Sound, and Experience of an African American Celebration
The Smithsonian's National Museum of African American and History will host a variety of virtual and in-person events and programs highlighting the experiences of African American Juneteenth celebrations.
Also known as Freedom Day, Juneteenth marks the moment in United States' history—June 19, 1865—when the remaining 250,000 enslaved African Americans in Confederate states were legally declared free two years after the Emancipation Proclamation was signed. In the century-and-a half since, the Juneteenth holiday represents a time to gather with family and community, honor the present and reflect on shared history and tradition.
About This Event
In celebration of Juneteenth 2023 the National Museum of African American History and Culture returns to its perennial theme, Senses of Freedom: The Taste, Sound, and Experience of an African American Celebration.   
 
During this year's Juneteenth Community Day visitors can explore the gifts of gardening and the culinary arts, hear stories, listen to music, and discover their inner artist with crafts for all ages. We invite the public to visit the Museum's galleries, grounds, and Sweet Home Cafe to create memories and learn more about this historic holiday both inside and outside the museum. 
Outdoors (Tickets Not Required) 
 
Big Objects, Big Stories: The Museum in the Making 
During this twenty-five-minute presentation, visitors participate in a guided tour focused the design of the National Museum of African American History and Culture and its unique architectural features. 
A Garden of Vignettes  
SI Horticulture staff take visitors on a walk through NMAAHC's unique planting areas and arbors highlighting shrubs and blooms of great historical and cultural significance. 
 
Talk Back Board 
Respond to overarching questions related to the present and future of the garden. 
 
Seed Art Activity 
Inspired by the painting Red Beans and Rice Fleur de Lis (2010) by Myesha Francis, on permanent display in Cultural Connections, visitors can create their own art pieces from seeds. 
 
Drum Circle 
Audiences can join drop-in lessons and jam sessions provided by talented local percussionists. 
 
The Diaspora: A Plant-based Journey 
Many plants that we revere and enjoy for their great beauty, life sustaining properties, and cultural continuity, crossed the Atlantic aboard ships carrying the enslaved centuries ago from Africa. Audiences will learn about three such plants highlighted in gardens surrounding the museum. 
Okra: This tubular, green pod containing tiny white seeds can be found growing in gardens and served on tables throughout the southern U.S., the Middle East, and the Caribbean. Through instruction and demonstrations, visitors can plant okra seeds and take home a recipe card that could incorporate their future plants. They will also learn the ease of pickling okra and its great taste.
Hibiscus: As they visit the hibiscus shrub in NMAAHC's gardens, audiences will learn more about the history and significance of this beautiful and flavorful flowering plant, taste Caribbean Sorrel, and take home the recipe. 
The Artist Who Saved the Fish Pepper from Extinction: Find out how famed African American folk artist Horace Pippin contributed to the rescue of the heirloom plant known as Fish Pepper from extinction by sharing its seeds with a friend. Visitors can do their part in preserving Fish Peppers by planting their seeds to take home. 
Stories from the Garden 
Celebrated storyteller Diane Macklin shares folktales from Africa and the African Diaspora.
Indoors (Tickets Required) 
Heritage Hall: 
Sounds of Juneteenth 
Visitors will enjoy performances by Rex Carnegie, an accomplished local musician, actor, and social media personality. Carnegie has also hosted Seriously Amazing Objects, a television series presented by the Smithsonian Channel. 
 
L2 in the Explore More! Gallery: 
 
Cooling off with Do-It-Yourself Fan 
Crafters of all skill levels can create Juneteenth-inspired fans. 
 
Kuumba Jewelry Making 
A beading workshop where audiences can make bracelets reflecting the color palette of Juneteenth.