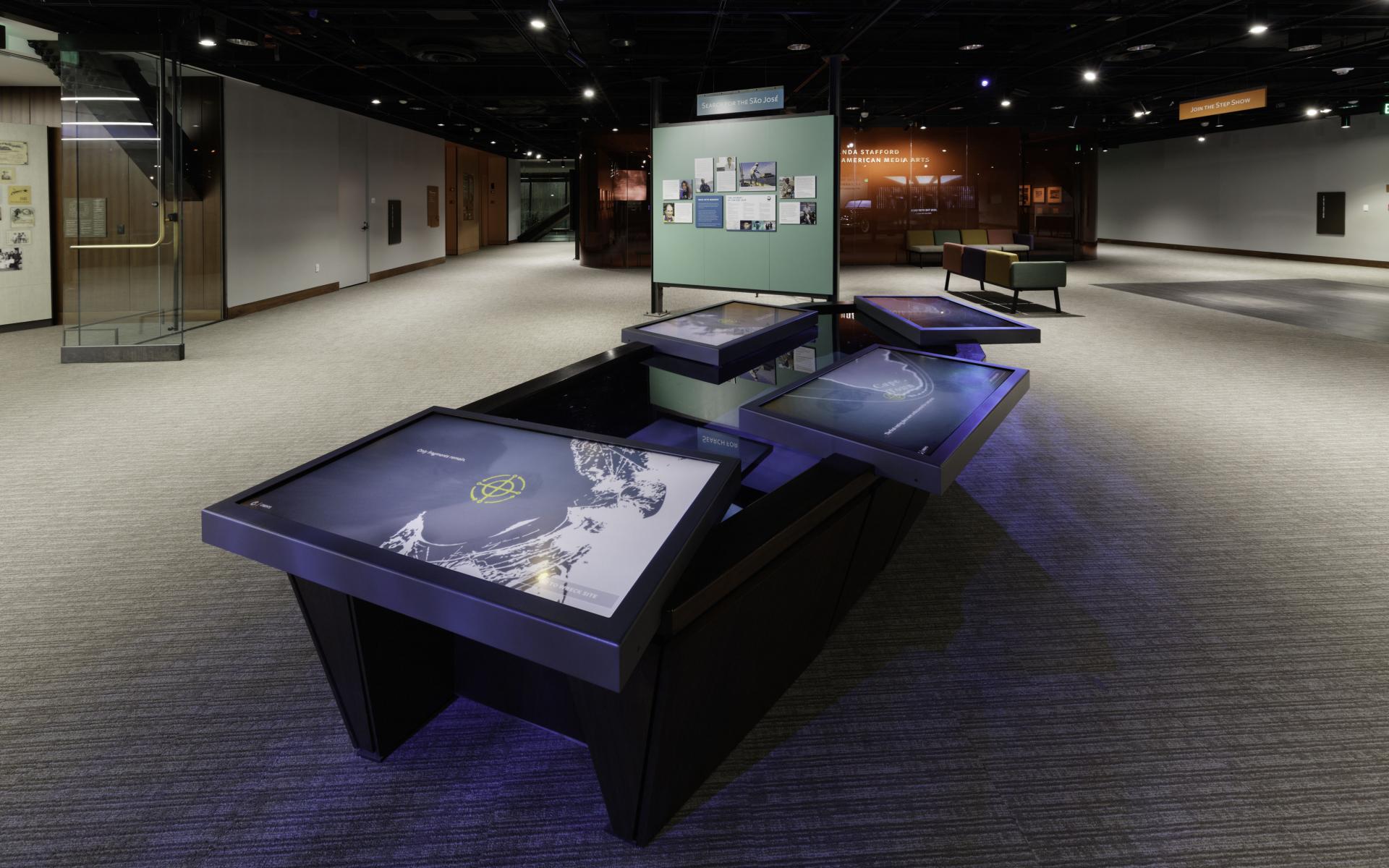 Current Special
Explore More!
Explore More! is an interactive, multifaceted educational space dedicated to helping visitors connect and engage with African American history and culture in ways that expand perspectives, spark curiosity and creativity, and increase knowledge. 
Located on the museum's second floor, the space is designed to complement and expand on themes and topics presented in the permanent exhibition galleries on the History, Community, and Culture floors. Through the combined use of multimedia technology, exhibits and collections, live performance, and hands-on activities, Explore More! offers a dynamic and personalized museum experience for visitors of all ages.
About the Exhibition
When: Ongoing
Where: Level 2 (L2), Target Learning Center, Earl W. and Amanda Stafford Center for African American Media Arts and Robert Frederick Smith Explore Your Family History Center
Target Learning Center
At the heart of the Explore More! floor is the Target Learning Center, a 6,000-square-foot interactive gallery with 1,650 square feet of adjoining classrooms. Interactive experiences in the gallery include:
The Arc, a 30-foot-long curved digital wall populated with objects and stories from the museum's collections
Search for the São José: investigate the wreck of an eighteenth-century slave ship discovered and documented through the efforts of the Slave Wrecks Project
Follow the Green Book: travel back in time and take a cross-country trip with help from the Green Book, a travel guide for African Americans published by Victor H. Green from the 1930s to the 1960s
Join the Step Show: learn about the cultural dance form of stepping and practice your moves with members of the professional dance company Step Afrika!
Google 3D interactive: explore virtual 3D models of museum artifacts to discover clues about their history and significance
Public programs and hands-on learning activities are also regularly offered in the interactive gallery. The classrooms provide flexible spaces for student and teacher programs, workshops, demonstrations, and other group-learning activities. Learn more about teaching and learning at NMAAHC.
Robert Frederick Smith Explore Your Family History Center
How does your family's story connect to African American history? In the Robert Frederick Smith Explore Your Family History Center, you can delve into digital resources related to family history, including the Freedmen's Bureau digital archives and genealogical databases, receive expert guidance on how to conduct genealogical research and oral history interviews, see examples of objects from the museum collections relating to family history, and learn how to preserve your own family photographs, documents, and heirlooms. The center also features an interactive digital experience, Transitions in Freedom, which traces the histories of African American families from slavery to freedom through records from the Freedmen's Bureau and other archival documents, maps, and photographs. Public programs and workshops provide more in-depth information and hands-on learning opportunities related to family history research and preservation.
Learn More About the Family History Center
Earl W. and Amanda Stafford Center for African American Media Arts
Located at the entrance to the Explore More! floor, the Earl W. and Amanda Stafford Center for African American Media Arts (CAAMA) is dedicated to examining the formation of African American history and culture through the media arts, including photography, film, video, and audio recordings. In its space—a dramatic red glass-enclosed "jewel box"—CAAMA offers a regular schedule of changing exhibitions that showcase historical themes and current trends in the media arts. An interactive table provides digital access to the museum's growing collection of visual and aural media. CAAMA also operates a media conservation laboratory on the second floor, where members of the public can make appointments to digitize their home movies.
Explore Objects in 3D
When we look at an object from different perspectives and in multiple dimensions, we get a richer understanding not only of the object itself, but also of the past and the world around us. The National Museum of African American History and Culture has partnered with Google and the Smithsonian Digitization Program Office to create interactive 3D models of objects from the collection. 
Select any of the images below to start exploring!