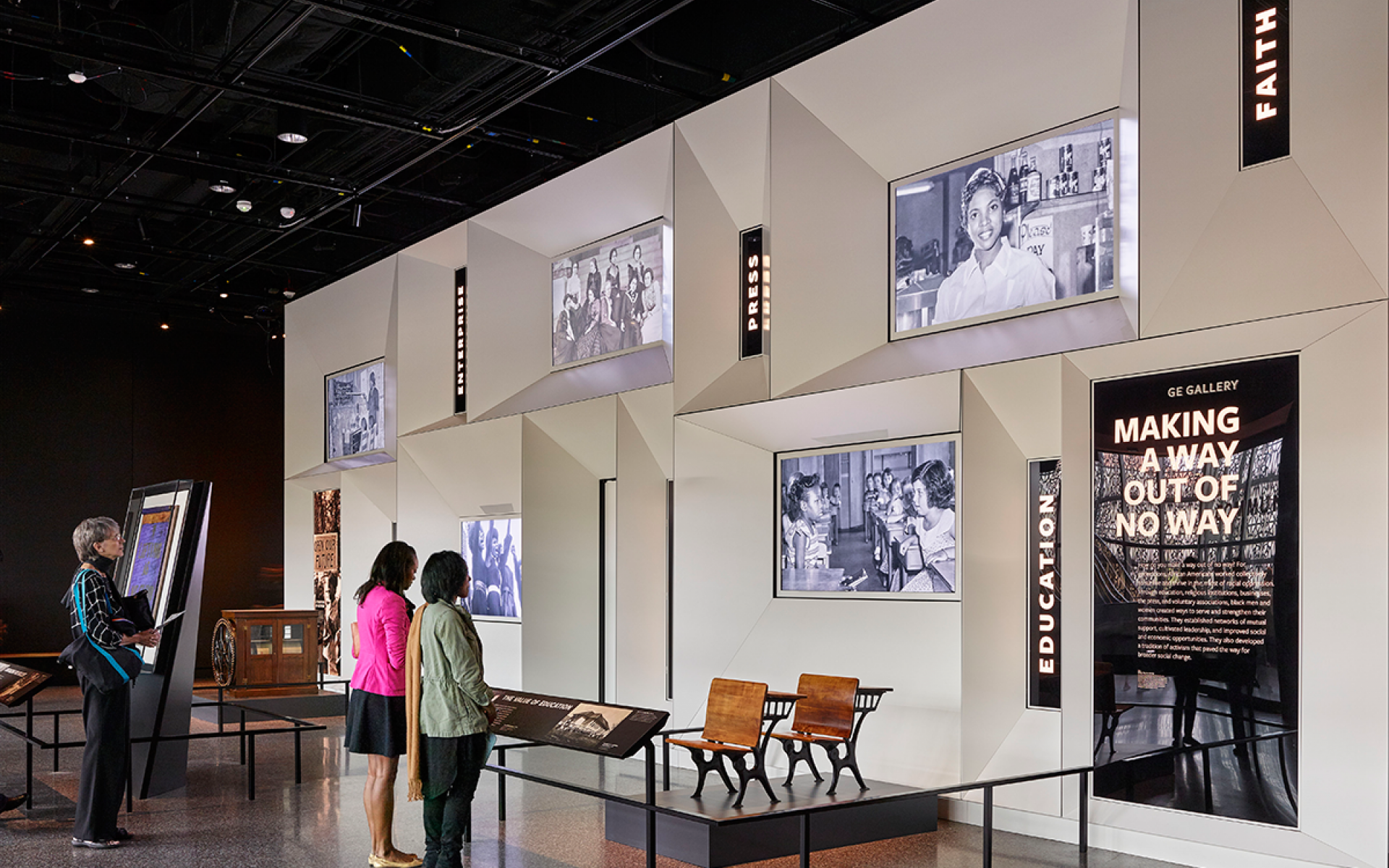 Community
Making a Way Out of No Way
In this exhibition, themed stories show how African Americans crafted possibilities in a world that denied them opportunities. Taking its inspiration from a popular African American expression, Making a Way Out of No Way explores themes of agency, creativity, and resilience through personal stories of African Americans who challenged racial oppression and discrimination and created ways out of "no way."
This exhibition posits the agency of African Americans – as individuals, as families, as communities, and as organized groups – as central to an understanding of the multiple and important roles of African Americans in the American story. Throughout history, African Americans acted to change and build their lives despite tremendous obstacles, often in collaboration and cooperation with other Americans. The stories presented here reflect the perseverance, resourcefulness, and resilience required of African Americans not only to survive, but to thrive, in America.
Main Messages:
Throughout history, African Americans have acted to change and build their lives despite tremendous obstacles.
Just as racism has taken many forms in American society, so have the solutions and strategies that African Americans have developed to challenge it.
By creating their own organizations and institutions, African Americans developed ways to address their needs and aspirations that fostered values of community, service, and mutual support.
In making their own "way out of no way," individuals have drawn inspiration, strength, and support from various sources – from their families and communities, from a higher power, from the world of ideas, from the past, from other people and places, and from within themselves.
By embracing the belief that change is always possible, even in the bleakest of circumstances, African Americans have exemplified a resilient spirit that is also fundamentally American.
This exhibition provides a vital place in the museum for visitors to understand and reflect on how change is made, on individual as well as community, national, and global levels. As they see examples of concrete actions and choices that people made to challenge the racial status quo in America, visitors are challenged to reconsider the notion of freedom as granted to African Americans and to see freedom, along with its privileges and responsibilities, as earned by African Americans. The cost to winning such freedom has been a continuous struggle, with stories of both triumphs and defeats. In Making a Way Out of No Way, we hope visitors come away with
An enhanced understanding of the racial barriers imposed on African Americans and the specific ways in which African Americans have struggled to break these barriers and forge a life for themselves and their offspring, and 
A greater appreciation for the value and necessity of striving to make a difference.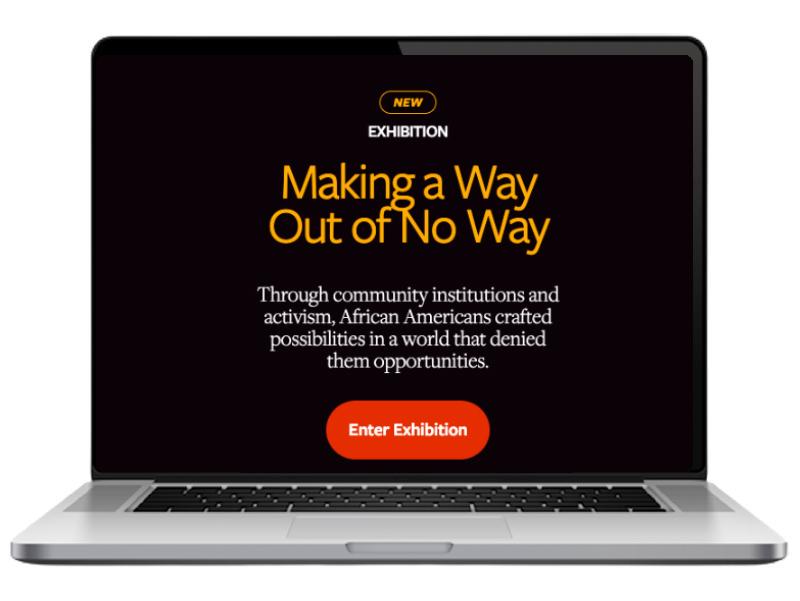 Searchable Museum
The Museum has released its latest digital exhibition experience for the Searchable Museum, Making a Way Out of No Way. Explore this exhibition through themes of activism, education, religious life, businesses, organizations and the Black press, entirely reimagined for the digital space.
Explore More

about Searchable Museum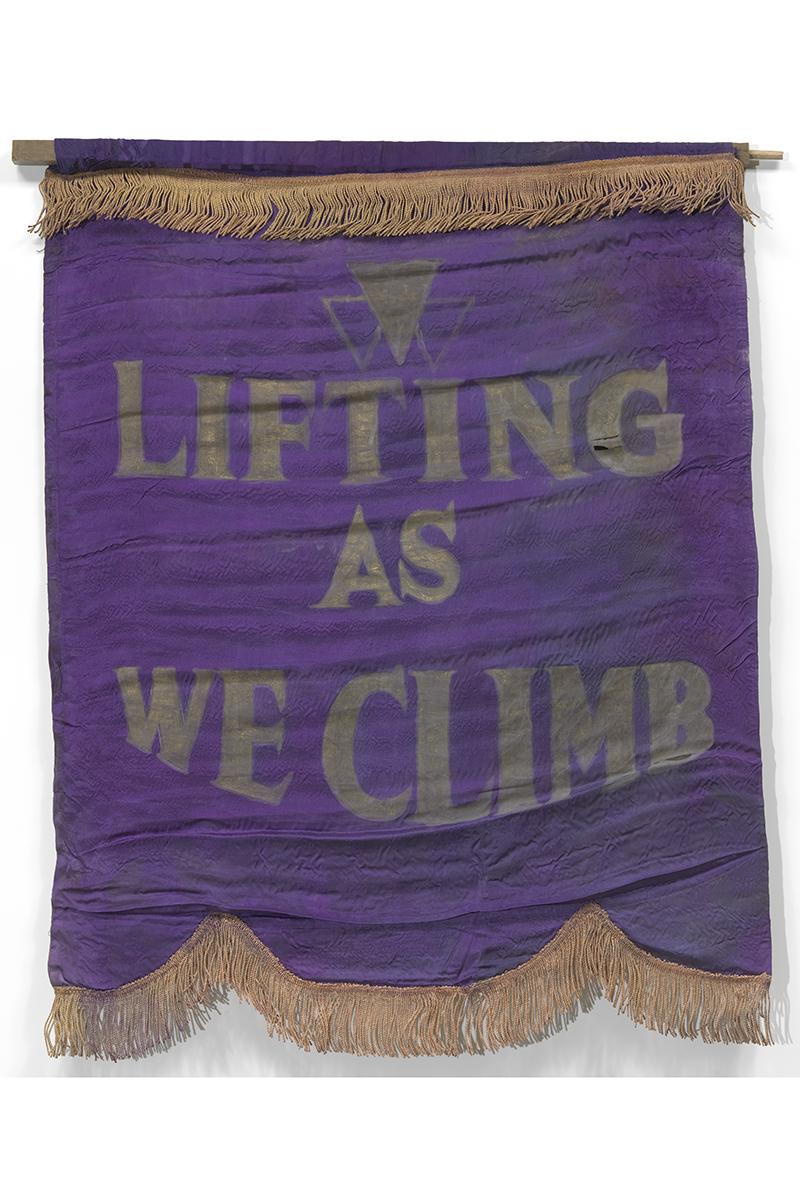 Exhibition Experience
Introductory Space
The introductory space features five iconic artifacts and a multi-media experience, evoking the major themes and concepts of "making a way."
Case Studies
As visitors proceed along the exhibition path, they encounter compelling stories, illustrated with historical artifacts and images that explore and illuminate how each of the five institutional pillars – Education, Religion, Business, Organizations, and the Press – have sustained and guided African American communities over the course of American history. Exhibition stories convey to visitors how African Americans "made a way out of no way" by creating institutions and organizations that addressed the needs of the community and served as vehicles for social change. As visitors see the various strategies and techniques African Americans used to achieve their goals – through their schools, fraternal organizations, religious institutions, businesses, and the black press – they also see African Americans as active agents in shaping their own lives.
A Tradition of Activism
A Tradition of Activism presents stories of organized political action by African Americans. Visitors witness how activists employed diverse strategies—from legal battles to mass protest, grassroots campaigns, and public debate—to fight injustice, secure civil rights, and expand opportunities.
Sample Stories
A Rosenwald School, the Hope School in Pomaria, South Carolina
Dr. Montague Cobb, physical anthropologist, Howard University
Charles "Teenie" Harris, photojournalism and the Pittsburgh Courier
Robert Churchwell, journalist for the Nashville Banner
The Prince Hall Masons in Boston, Massachusetts
Maggie L. Walker and Independent Order of St. Luke, Richmond, Virginia
R. H. Boyd and the National Baptist Publishing Board in Nashville, Tennessee
Howard Skippy Smith and the Pacific Parachute Company, San Diego and Los Angeles, California
The First A.M.E. Church in Los Angeles, California
Mary McLeod Bethune and the National Council of Negro Women in Washington, D.C.