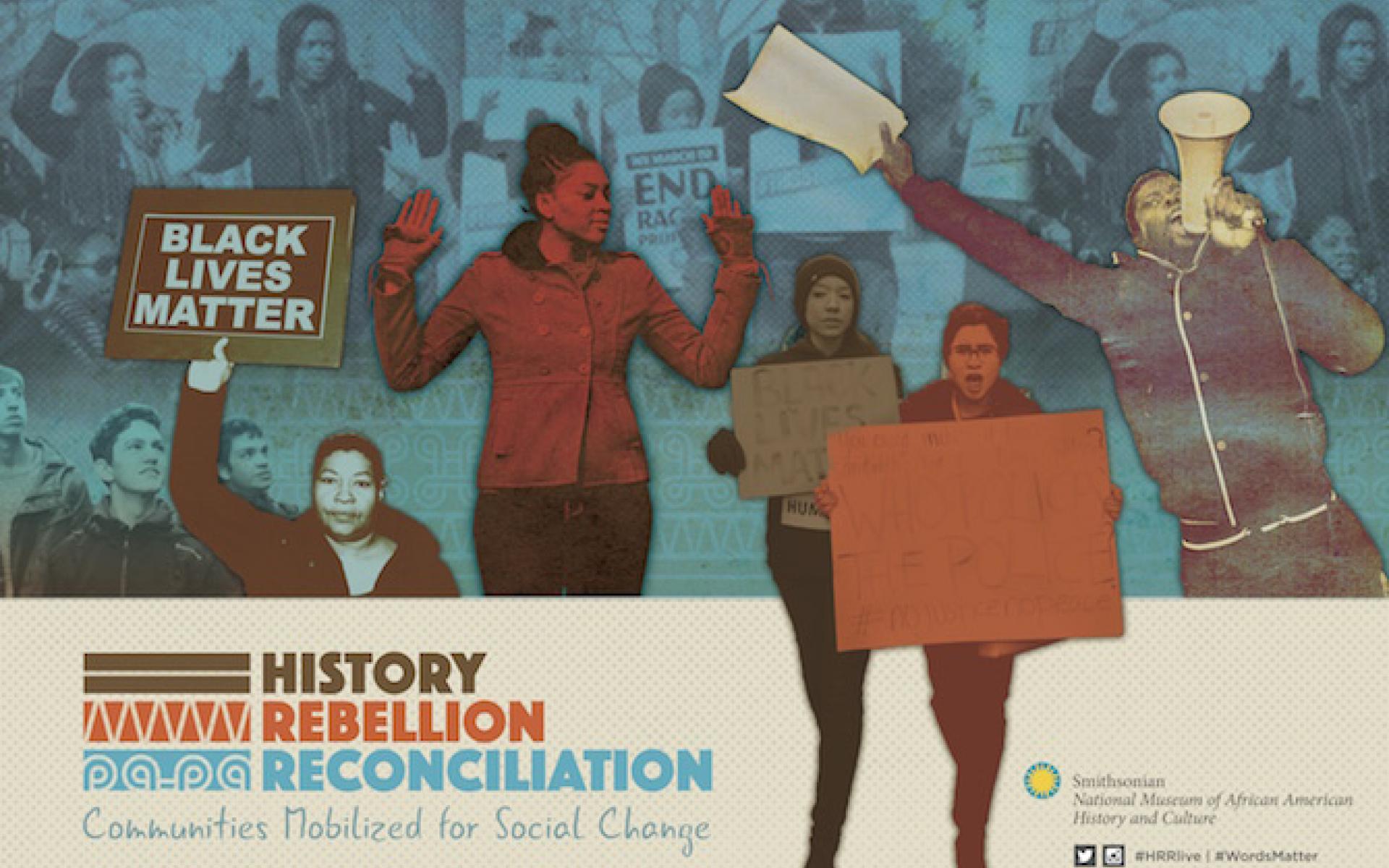 Initiative
History, Rebellion, and Reconciliation
Communities Mobilized for Social Change
History, Rebellion, and Reconciliation is a series of public programs presented by the Museum examining race, justice, and community activism.
Watch selections from our video archives for discussions on, Ferguson and Faith, Making Revolution Irresistible, and a conversation between the Museum's Founding Director, Lonnie G. Bunch and Academy Award nominated director, Ava DuVernay and follow #HRRLive on Twitter to engage in an ongoing digital conversation.
Panel I: Ferguson: What Does This Moment Mean for America?
Explored the evolution of the media, community leadership and activism as they relate to communities organized against excessive police force and economic inequality. Moderated by Juan Williams, journalist and Fox News political analyst.
Panelists included:
Lisa Crooms, Howard University law professor
Opal Tometi, Founder of Black Lives Matter
F. Willis Johnson, Pastor Wellspring Church, Ferguson
Mychal Denzel Smith, Writer, The Nation
Interlude: Expressive Culture
A viewing of works by award-winning poet Claudia Rankine, interpreted on film by director John Lucas. The film shorts, Situation #1 through #7 are based on Ms. Rankine's book, Citizen: An American Lyric.
On Art and History: A Conversation between Lonnie Bunch and Ava Duvernay
Director Lonnie G. Bunch and Academy Award nominagted filmmaker Ava DuVernay discussed her body of work and the creative responses of artists to culture and historical events.
Panel II: Ferguson & Faith in the 21st Century
Panelists addressed the past, present and future role of faith leadership and organizations in community mobilization and activism. Moderated by Rex Ellis, NMAAHC associate director of curatorial affairs.
Panelists include:
Jeff Johnson, journalist and motivational speaker
Renee Harrison, Howard University School of Divinity professor and former Los Angeles police officer
Lerone A. Martin, Assistant Professor of Religion and Politics, John C. Banforth Center on Religion and Politics, Washington University, St. Louis
Rev. Osagyefo Uhuru Sekou, pastor, theologian, author and community organizer
Stephanie Wolfe, dissertation fellow John C. Danforth Center on Religion and Politics, Washington University, St. Louis
Our Social Justice Collection
Panel III: #Words Matter: Making Revolution Irresistible
Panelists explore the creative community's response to police violence and their representations of communal demand for equality. Moderated by Morgan State University professor, Jared Bell.
Panelists include:
Mark Bolden, psychologist and co-moderator
Jasiri X, rapper and community activist
Jamilah Lemieux, senior digital editor, Ebony magazine
Jef Tate: DJ, Words, Beats and Life
The responsibility of an artist representing an oppressed people is to make revolution irresistible.;

Dr. Toni Cade Bambara

African-American author, professor and activist