Mobilizing Communities
1968 Poor People's Campaign Caravan Routes
Jan 06, 2018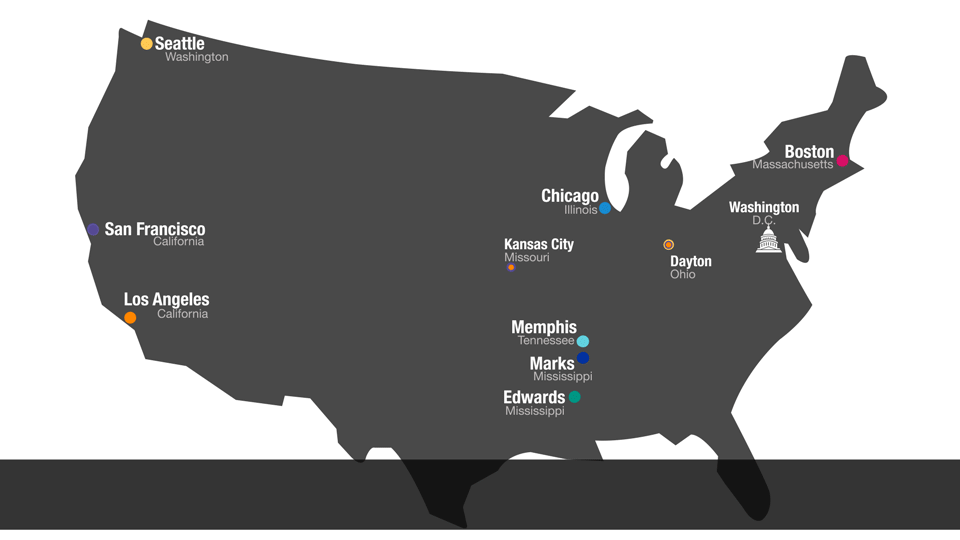 The Southern Christian Leadership Conference worked with local communities to organize bus and car caravans of protesters to Washington. Caravans were not only the most efficient way of transporting demonstrators, they were important symbols that redefined and broadened the ideas of a protest march and "mobilizing" communities. As thousands of demonstrators traveled across the country to protest poverty, they attracted the national attention and support needed for a nationwide crusade.
They will come from all parts of the country and will represent a broad cross-section of American life.

Mobilization in Support of the Poor People's Campaign
Southern Caravan: May 5 - May 19
The Southern caravan left Edwards, Mississippi, on May 5, before traveling to Selma, Montgomery, and Birmingham, Alabama. The caravan of roughly 450 people arrived in Atlanta on May 9. Hosea Williams was one of its leaders. The caravan moved on to Macon and Savannah, Georgia, before traveling to cities in South Carolina, North Carolina, and Virginia. The caravan arrived in Fairfax, Virginia, on May 19.
Freedom Train: May 8 - May 12
The Freedom Train launched in Memphis on May 8 with approximately 350 people. By the time the caravan arrived in Washington on May 12, it carried 500 protesters on 11 buses, after making stops in Nashville and Knoxville, Tennessee, Raleigh, North Carolina, and Danville, Virginia. James Bevel was the caravan leader.
Midwestern Caravan: May 8 - May 18
The Midwestern caravan left Chicago on Wednesday, May 8, for a rally in Indianapolis the following day. After the rally, a group of 500 passengers boarded buses for Louisville, Kentucky. From Louisville, the group traveled to cities in Ohio and Michigan, before spending two nights in Pittsburgh. The caravan left Pittsburgh for Baltimore, then on to Washington on Saturday, May 18, with more than 1,100 passengers.
Eastern Caravan: May 9 - May 19
Approximately 150 people left Boston for Washington on May 9. The group was joined at a rally in Boston Common by 50 passengers from Brunswick, Maine. The caravan traveled to rallies in different cities in the Northeast for 10 days before approximately 1,000 passengers arrived with the caravan in Washington on May 19.
Mule Train: May 13 - June 17
The Mule Train was the most iconic caravan. Leaving Marks, Mississippi, on May 13, the caravan traveled throughout the state before crossing east of Mississippi to Alabama. With several stops in Alabama and Georgia, the caravan arrived in Atlanta on June 15. On June 17, the caravan of mules, wagons, and passengers boarded a train from Atlanta to Alexandria, Virginia.
Western Caravan (Los Angeles): May 15 - May 23
The Western caravan out of Los Angeles traveled to the Southwest. It left Los Angeles for Phoenix on May 15, before traveling through Texas, New Mexico, Utah, Colorado, Missouri, and Kentucky. The group arrived in Washington on May 23.
Western Caravan (San Francisco): May 16 - May 23
The Western caravan from San Francisco left for Sacramento, California, and Reno, Nevada, on May 16. It arrived in Salt Lake City, Utah, on May 17, before meeting the Los Angeles caravan in Denver the following day.
Western Caravan (Indian Trail): May 17 - May 23
The Western caravan, known as the Indian Trail, left Seattle for Spokane, Washington, on May 17. The caravan traveled to Billings, Montana, then through Bismarck, North Dakota, and Minneapolis, Minnesota. From Minneapolis, the convoy of 85 people on three buses, traveled to Madison, Wisconsin, and Toledo, Ohio, before meeting the Western caravans of 17 buses from Los Angeles and San Francisco. The three groups carrying 800 people arrived in Washington on May 23.