Five Things
5 Things to See in Military Music History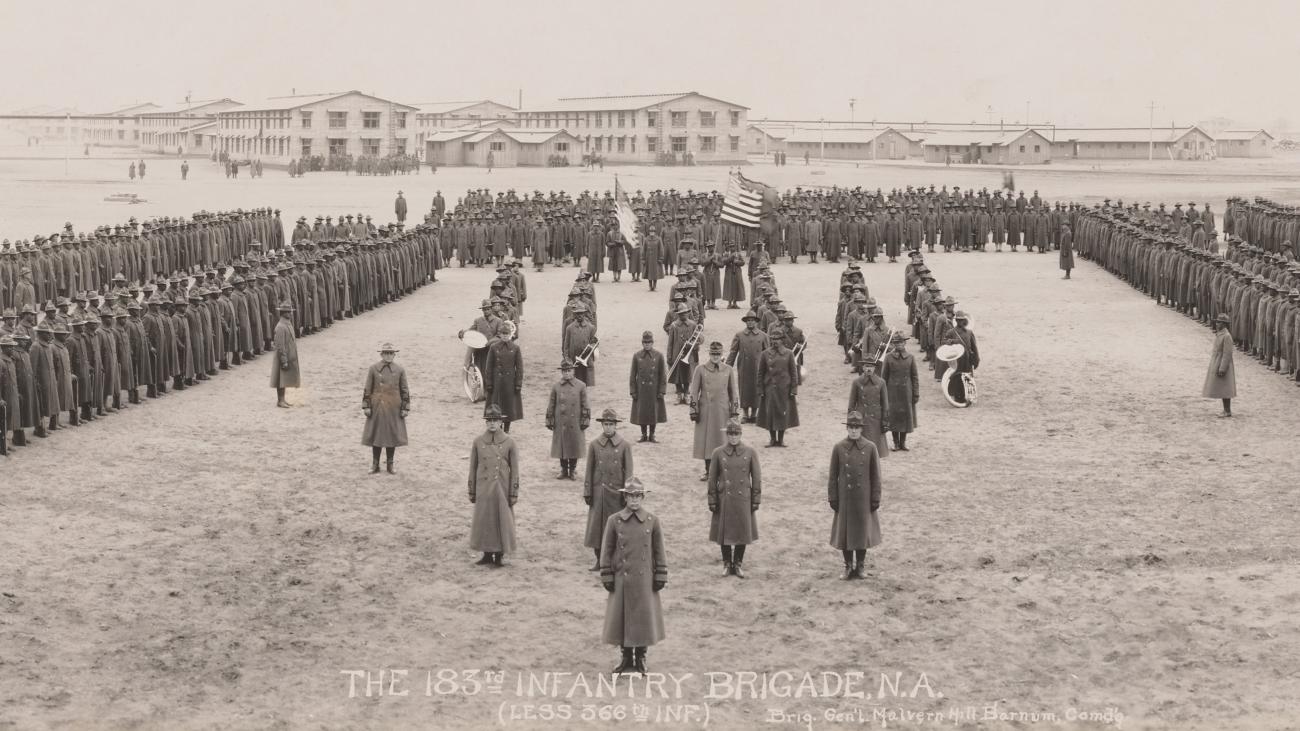 Music has been a key element in the broader story of African Americans in the armed forces. In every American war, Black musicians have made important contributions, both through their service in military bands and as civilians performing to entertain the troops. Like other Black servicemen and women, Black military musicians have bravely served their country even when the United States failed to recognize them as full citizens. Over time, these Black musicians helped to shape the sound of the modern American marching band, introducing Black idioms like ragtime, jazz, and blues to the traditional repertoire of marches and patriotic songs. And even as many Black musicians participated overseas in America's war efforts, artists and record labels at home drew on these conflicts as inspirations for creativity and protest.
The collection of the National Museum of African American History and Culture includes objects connected to two hundred years of Black military and military-related music. Our permanent music exhibition, Musical Crossroads, places many of these objects in the broader context of African American music history. The five objects below explore the connections between African Americans, music, and the military.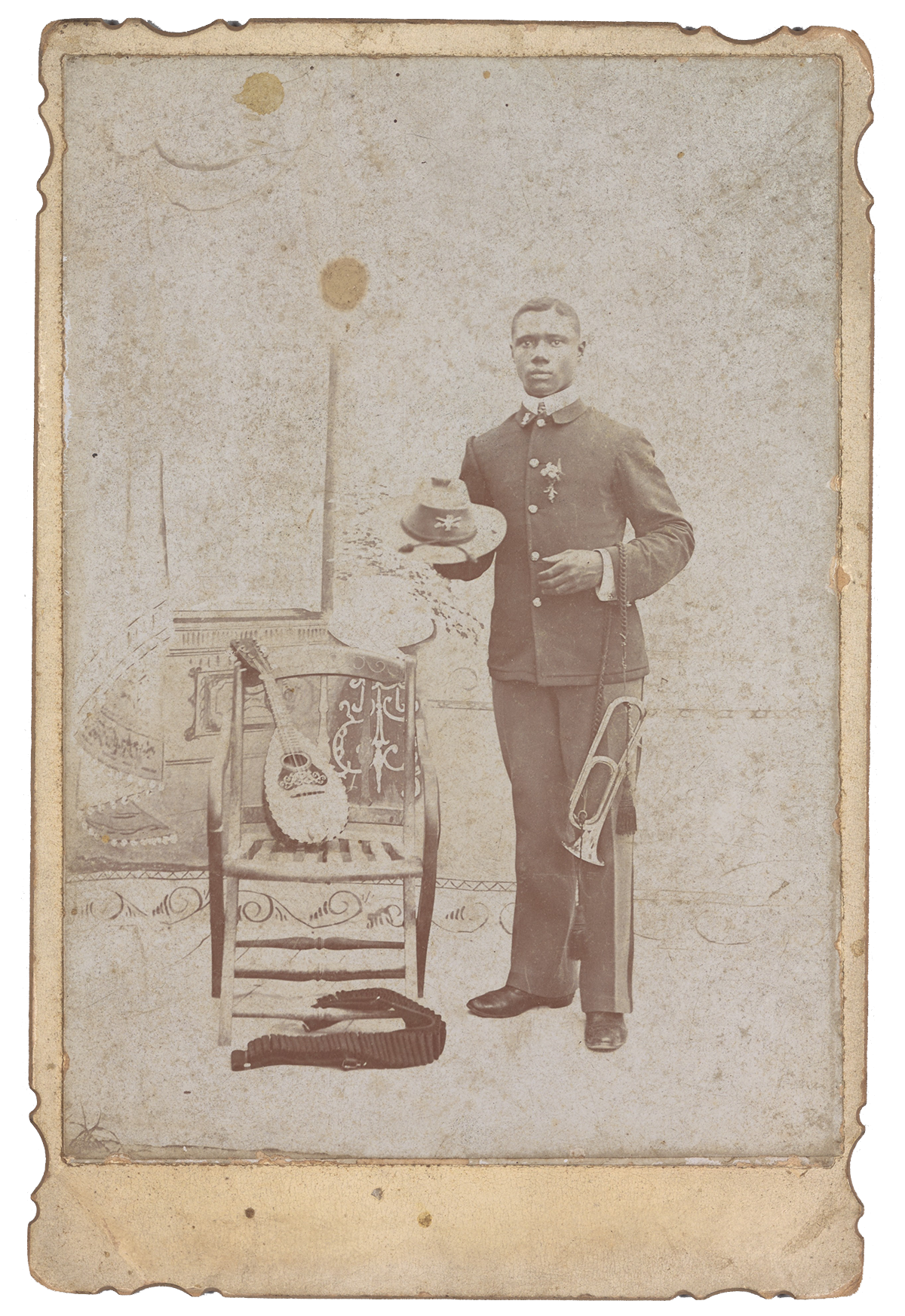 Photograph of a Buffalo Soldier with Hat, Trumpet, Mandolin, and Cartridge Belt
This late 19th century photograph depicts a Buffalo Soldier holding his 10th Cavalry campaign hat in his right hand while a trumpet hangs from a cord suspended over his left arm. A mandolin sits on the chair to his right. 
African American military musicians like this unidentified soldier played increasingly important roles beginning during the Civil War, as all-Black bands were formed to accompany the Union army's Black regiments. During and after the war, Black military bandsmen both provided music for military functions and formed dance bands for civilians. This soldier's pose with a trumpet and mandolin suggests his versatile musical contributions to the communities where he was stationed.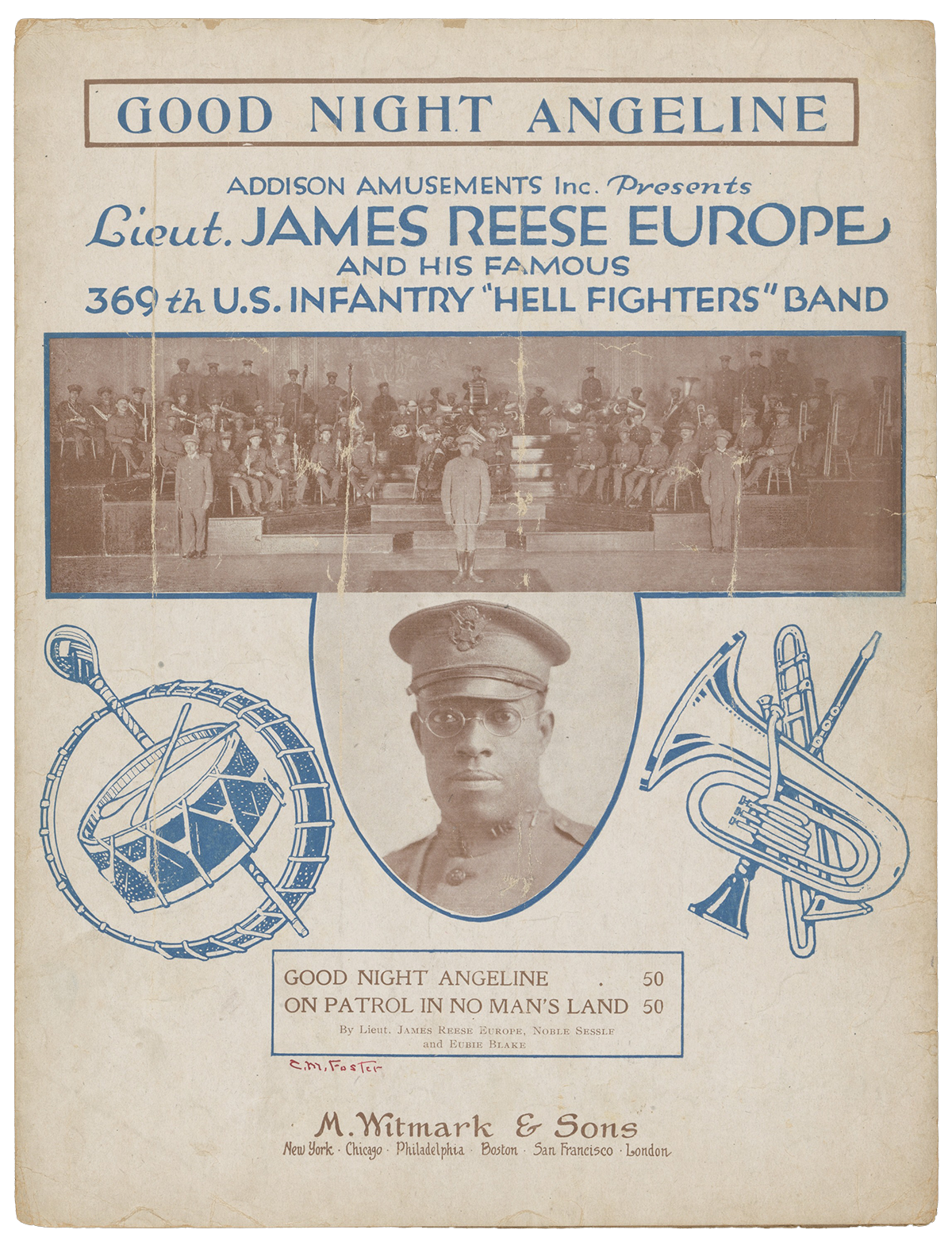 Good Night Angeline
The sheet music arrangement of "Good Night Angeline" for voice and piano was first published in 1919. James Reese Europe, who appears on the cover in uniform, composed the song with Noble Sissle and Eubie Blake. 
Although he first made his reputation as a composer and dance band leader, James Reese Europe's musical contributions during World War II made him one of the most influential Black military bandmasters in American history. As the leader of the 369th Infantry Regimental Band – also known as the "Hellfighters" – Europe helped popularize jazz and ragtime with European audiences on his goodwill tours of France in February and March 1918. He introduced new Black popular tunes, such as W.C. Handy's "Memphis Blues," into the traditional military band repertoire. The image of the band on the sheet music, and the text calling them "famous," shows the popularity Europe and the band had achieved at the time of Europe's untimely death in 1919.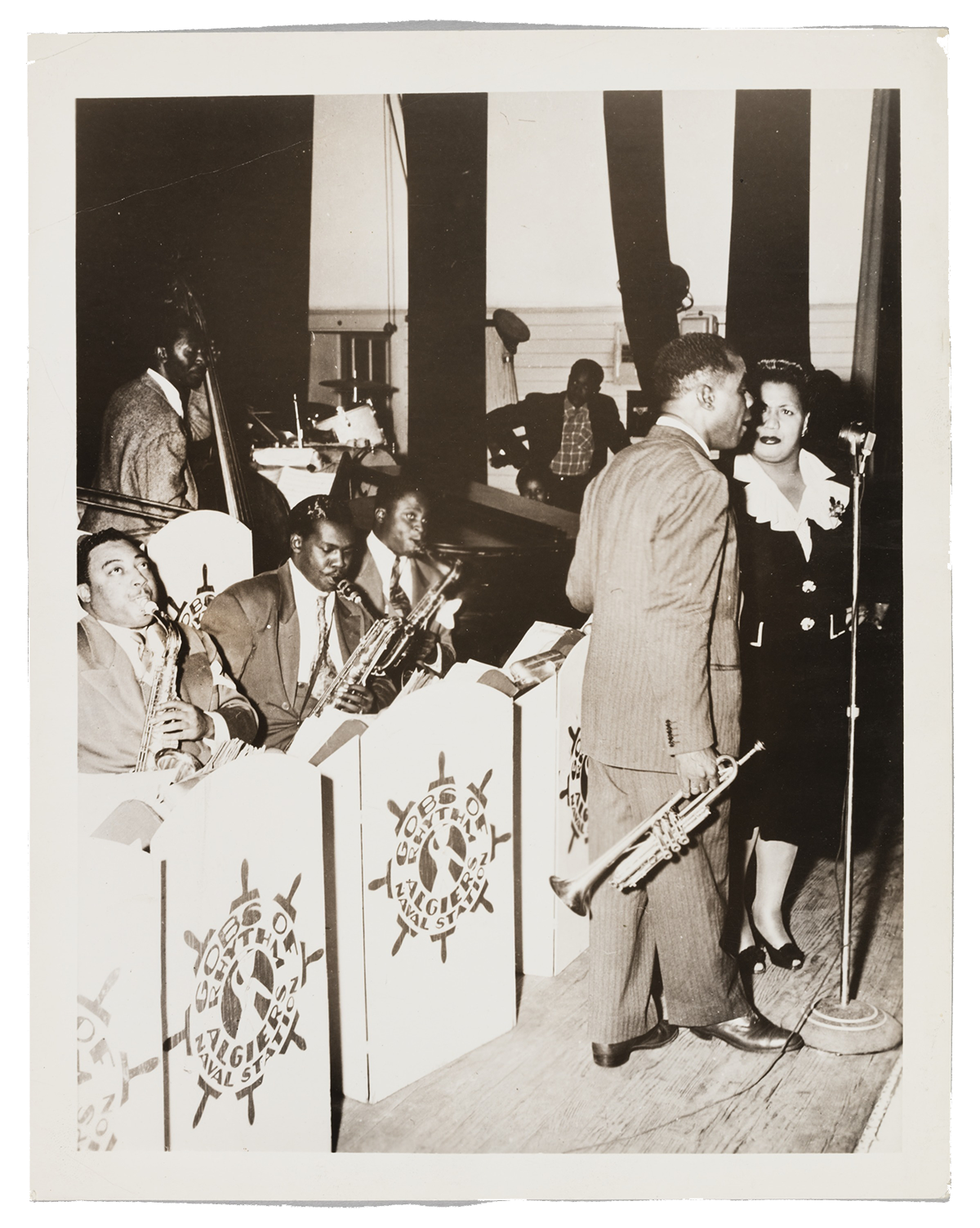 Photograph of a Gobs of Rhythm and Algiers Naval Air Station Band Performance
Pianist, composer, and arranger Ernie Freeman organized the Gobs of Rhythm, pictured here in August 1945 with the Algiers Naval Air Station Band, while serving in the Navy during World War II. This photograph of a performance features the band accompanying a female singer and male trumpeter during a "battle of the bands" at a New Orleans venue called the Tea Room.
The Gobs of Rhythm were the Navy's first all-Black swing band. Swing was America's popular music during the war years, and swing bands helped maintain morale by performing for American troops in Europe and Asia. Dance bands like the Gobs of Rhythm were also an important artistic outlet for musicians who were drafted into the armed forces.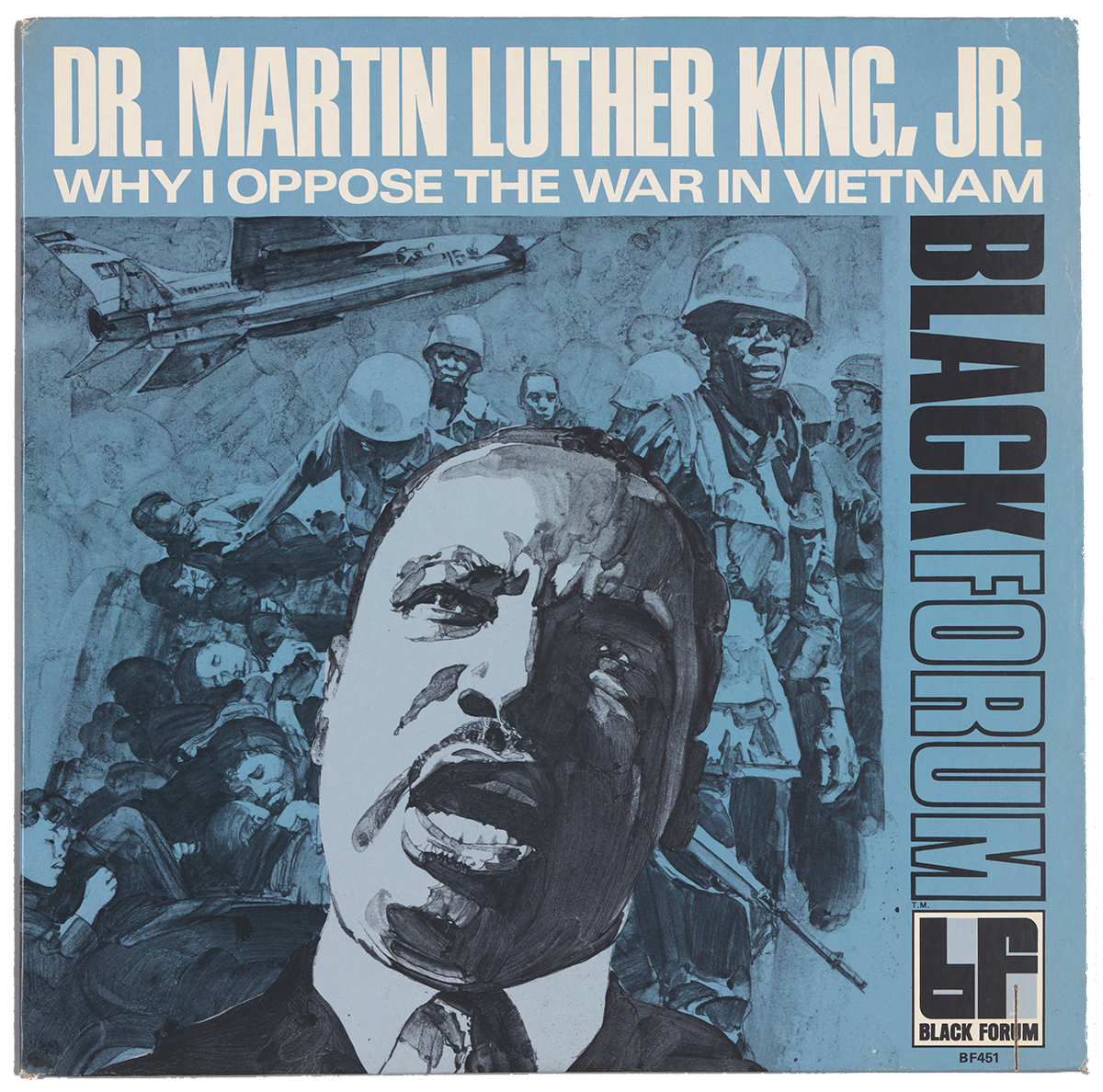 Why I Oppose the War in Vietnam
Black Forum Records, a subsidiary of Motown Records dedicated to poetry and political speeches, released this recording of Martin Luther King, Jr.'s 1967 anti-Vietnam War speech in 1970. The album's cover, which juxtaposes King's face with images of soldiers, planes, and Vietnamese civilians, emphasizes the continuing relevance of King's antiwar stance in the years immediately following his assassination in 1968.
Black Forum was a short-lived label, lasting only from 1970 to 1973. During those few years, the label amplified Black perspectives on the increasingly controversial war with albums like this one and 1972's Guess Who's Coming Home: Black Fighting Men Recorded Live in Vietnam. Black Forum's 1970s catalog illustrates the music industry's role in both supporting American troops and providing a platform for antiwar protest.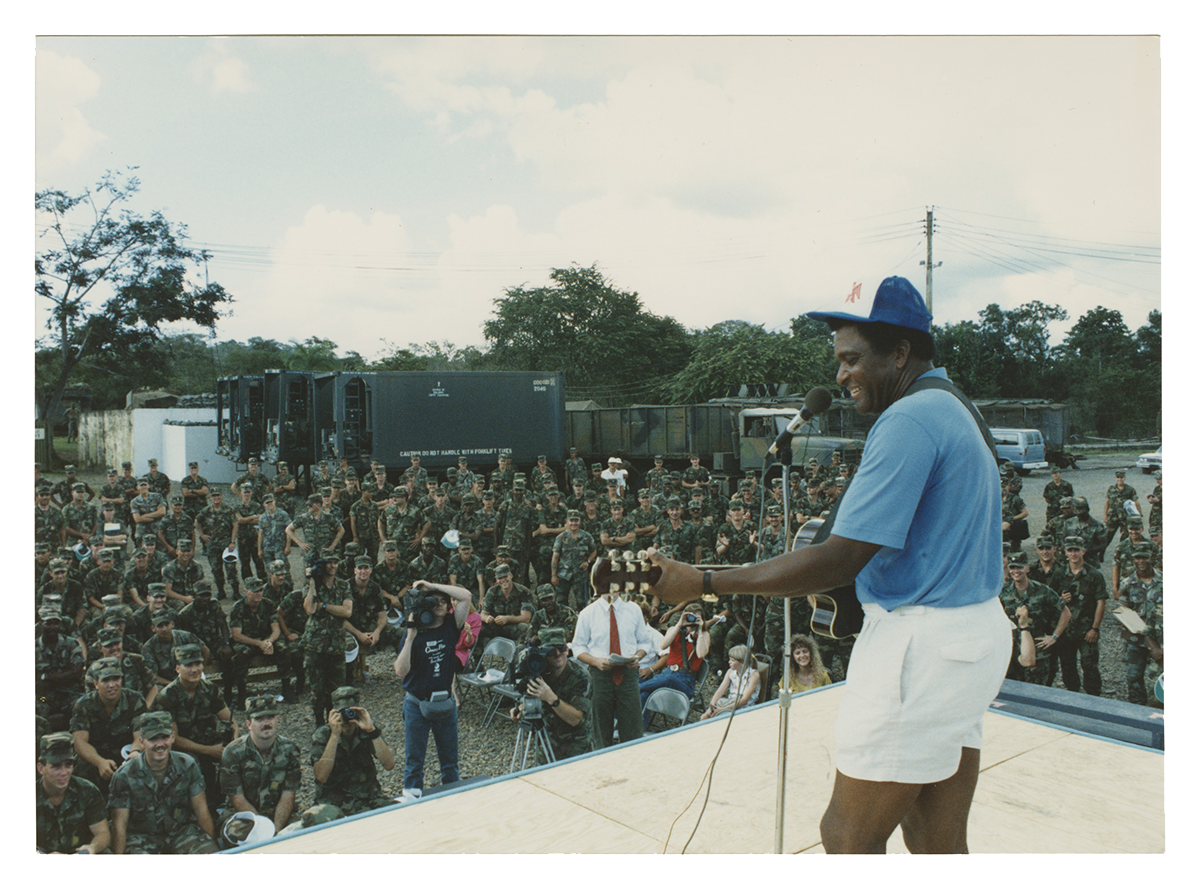 Chromogenic Print of Charley Pride on a Stage Performing for Soldiers
In this late 1980s photograph, Black country music pioneer Charley Pride performs for American troops in Honduras. Dressed casually in a baseball cap, blue shirt, and shorts, Pride strums his guitar for the admiring crowd. 
Pride, who served in the Army from 1956 to 1958, often performed for American troops abroad. This photograph was likely taken during one of his many USO (United Service Organizations) trips. Like Pride, many civilian African American musicians have contributed their time and talent in support of American soldiers at home and overseas. The USO has been an especially important organizer of these performances since its formation in 1941.