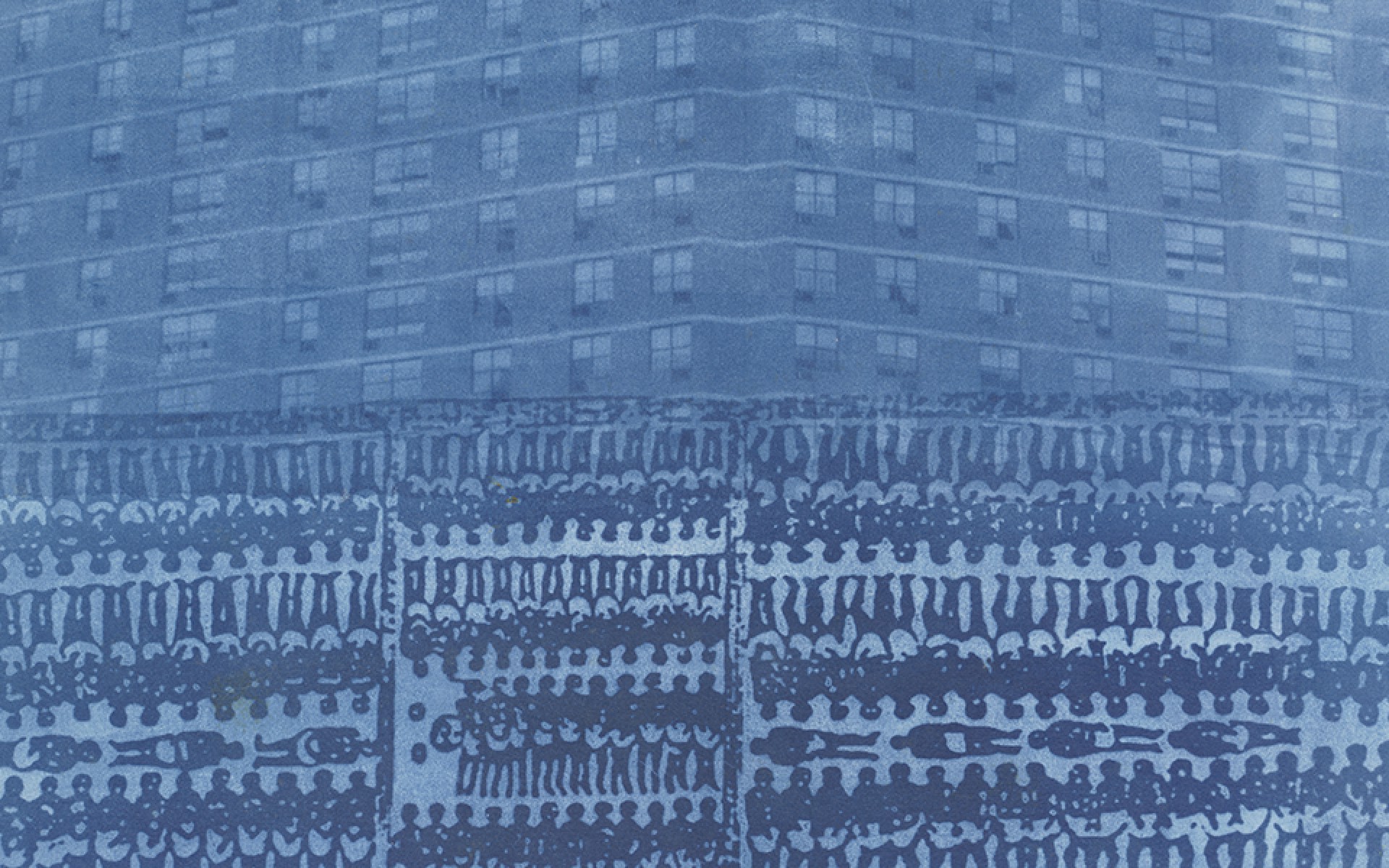 Collection Story
A Blueprint for Public Housing
Blueprints are powerful representations of imaginative stories. They explore and reveal meaningful expressions of the future.
Originally, blueprints were created to reproduce large amounts of architectural or construction drawings. Similar to the process of developing film, architects developed images of their drawings by layering a drawing on thin tracing paper against a thicker, light sensitive paper. Like the impression that an image makes onto film as a camera lens opens to light, when the two papers were exposed to light, the drawing left an impression against the light sensitive sheet. This chemical reaction then formed a blue hue from the coating of the light sensitive sheet against the white impression of the original drawing, developing an original blueprint.
Blueprint (above) was created in 2001 by photographer and multidisciplinary artist, Terry Boddie. Boddie migrated to the United States as a teenager from the Caribbean island of Nevis. His Caribbean heritage is evident in his work, which he says explores the "historical and contemporary aspects of memory, migration, and globalization." Boddie's work was featured in 2007 in the Brooklyn Museum's exhibit, Infinite Island: Contemporary Caribbean Art. In the exhibit's publication, editor and curator, Tumelo Mosaka describes Boddie's multi-disciplinary work as the "implication of the competition between subjective and objective voices for narrative space." Blueprint reveals an objective image of public housing in America, yet when placed next to the plan of the slave ship, the image of the public housing complex holds a subjective meaning as it provides insight into the experiences of black Americans within this structure.
Mosaka further highlights the placement of the images to "point to the fact that America continues to be built on the backs of immigrants, regardless of their [ethnicity], although many minorities remain powerless or voiceless in their new countries." In Boddie's artist statement for Blueprint, he reveals the power of architecture and the distinction between architectural thought and architectural practice:
In the image "Blueprint," I juxtapose the image of a housing project on 135th Street and Broadway in Harlem, with the slave ship icon that shows the way African [sic] were stowed in the holds of the ships on the journey from the African continent to the Americas and the Caribbean. The title "Blueprint" suggests that both of these acts were premeditated. One was to efficiently expedite the shipment of as many bodies that could physically fit into the holds of the ships. The other was to warehouse the descendants of those Africans post-Emancipation in as efficient a manner as possible. The color blue also references the blues, the uniquely American musical idiom created by enslaved African [sic] in response to their social and political position within American society.

Terry Boddie

Artist's Statement
Boddie associates the degrading living conditions of the overcrowded slave ship to the conditions of American public housing to convey how public housing has helped to shape America's urban fabric. Edward Goetz, who serves as the director and professor of the University of Minnesota's Center for Urban and Regional Affairs(link is external), describes public housing as "the Titanic of American social policy, launched with great hubris but sunk at the cost of so many lives."
The early stages of public housing adopted the hubris that marked the early 20th century. Hopeful of America's future despite the wrath of the Great Depression, Franklin Delano Roosevelt's New Deal enacted policies to help working-class Americans move toward prosperity and experience tangible social and economic change. As Goetz further explains, New Deal initiatives invested in permanent housing as an "economic stimulant" where the "deserving poor" were able to move into these homes as a boost back into the middle class. In Ben Austen's intensive study of Chicago's historic Cabrini Green public housing complex, High Risers: Cabrini-Green and the Fate of American Public Housing, he shares one resident's experience describing "a spot in public housing [as] a leap into the middle class."
African American architect, Hilyard Robinson also saw this age of optimism as an opportunity to build well-designed spaces for African Americans, which were often limited. Under the New Deal's Public Works Administration, created in 1933 to provide loans to public and private organizations to construct low-income housing, Robinson was commissioned to design Langston Terrace Dwellings. This complex was designed specifically for African American families in Washington D.C. and constructed by African American workers. Langston Terrace Dwellings was the first federally funded public housing complex in Washington D.C. and the second federally funded complex in the nation. The complex was featured on CBS's "10 Homes that Changed America" for its stylish, modern design consisting of open green spaces and low-rise, town-house style quarters that eventually helped to set the standard for public housing in America.
Robinson's upbringing within urban DC neighborhoods inspired him to improve issues of urban life. He studied architecture at the University of Pennsylvania and continued his studies at the esteemed Bauhaus School of Design in Germany in 1931. During this time, he was inspired by the early stages of the modern design movement which aimed to accommodate the social needs of Europeans following the detriment of the First World War. This movement classified itself with simplicity and functionality, and it soon became the international design standard because of its efficiency and low-costs in the new age of mass production. High-rise buildings were introduced in inner cities to provide housing to as many people as possible at low costs, ultimately changing the culture of urban living. Soon after the New Deal's National Housing Act of 1934, the government began to directly administer the construction of public housing, often implementing larger scale public housing complexes.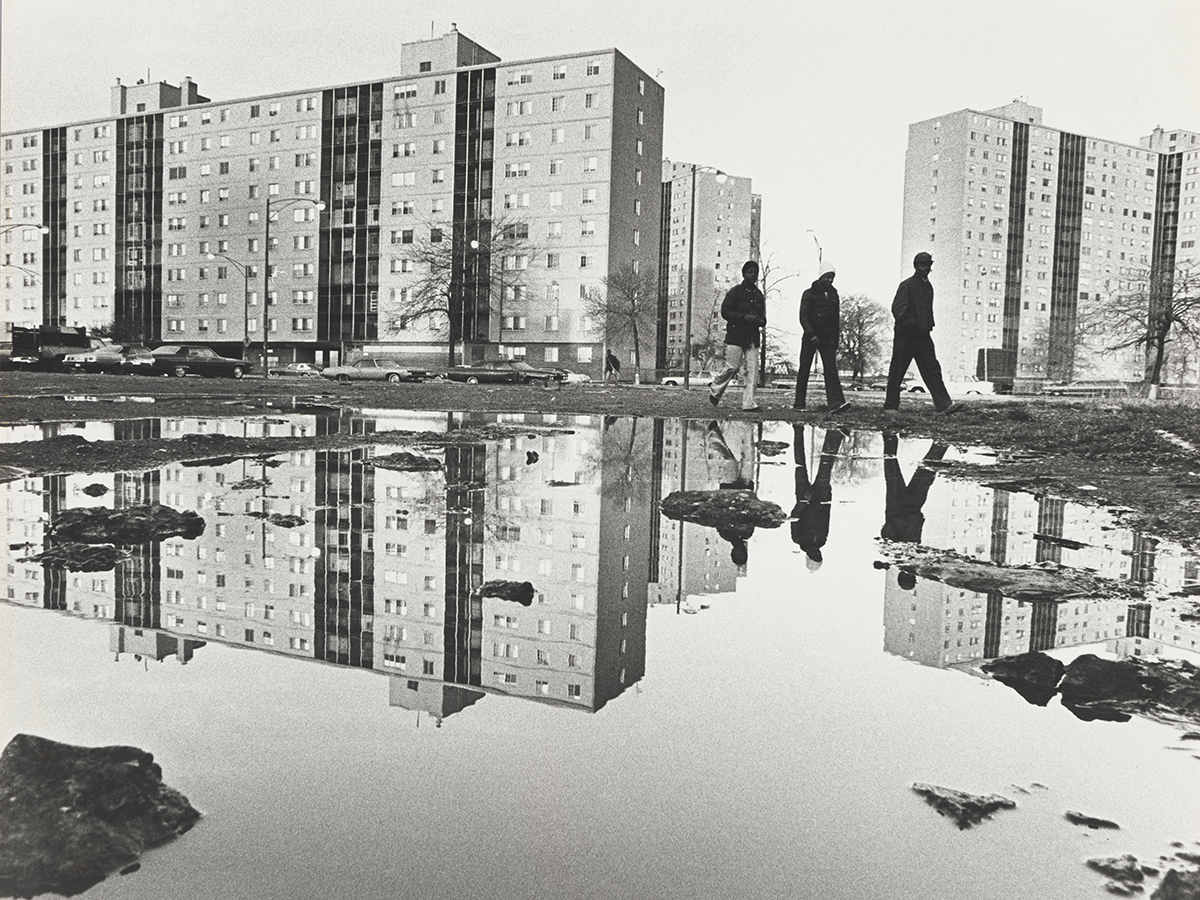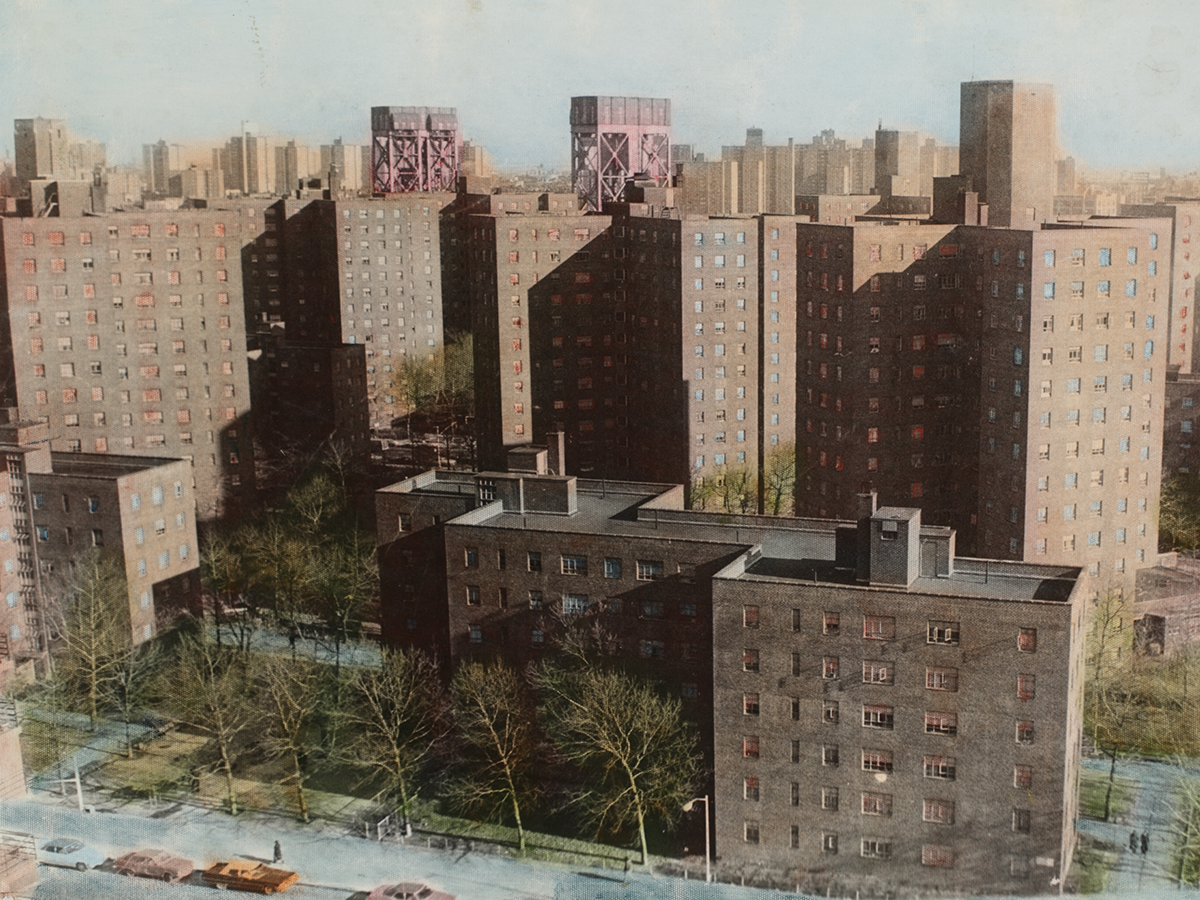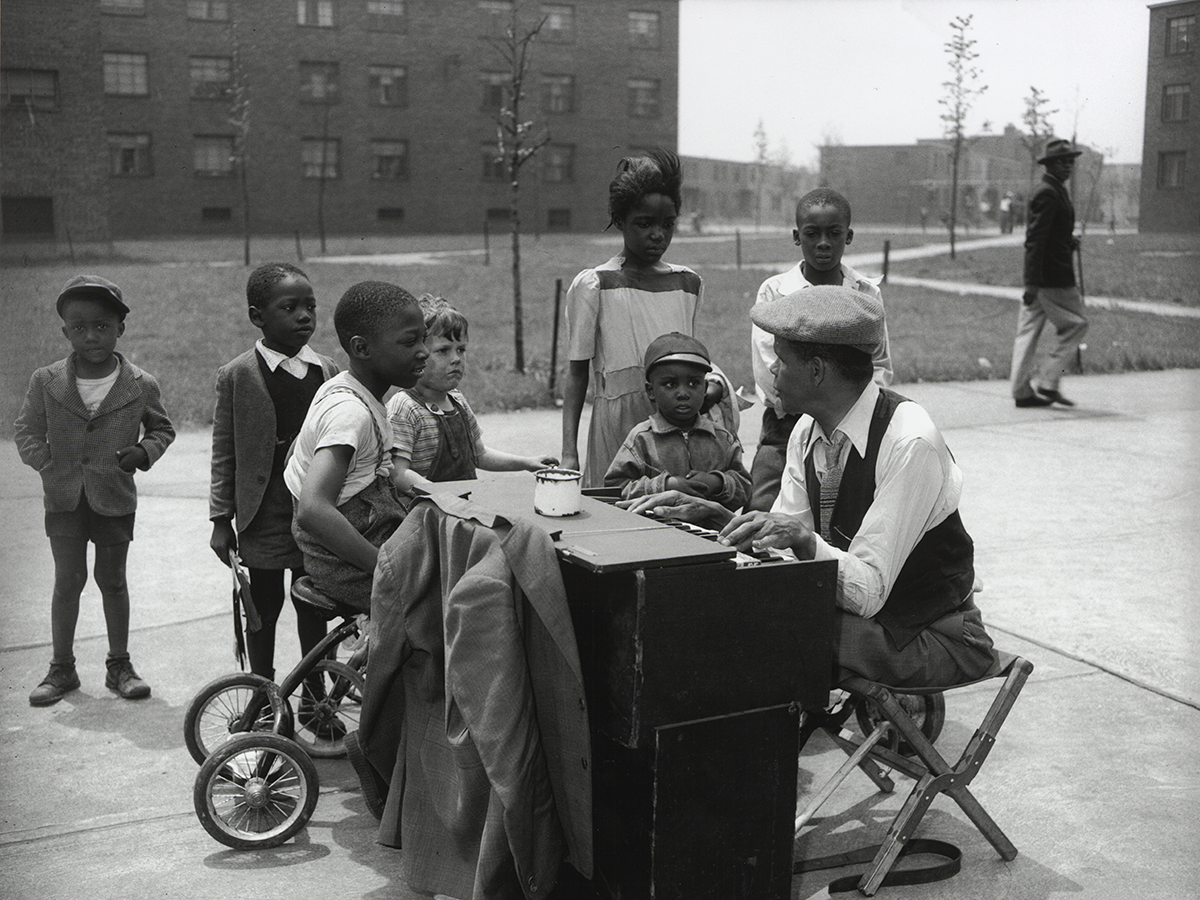 Public housing further developed under President Harry Truman's Housing Act of 1949. The Act aided cities in urban renewal programs, which functioned to demolish the slum tenements that housed many African Americans, often pushing them into new high-rise public housing complexes within inner cities. During this time, more white Americans began moving out of inner cities as they were afforded more opportunities to buy homes in suburban America. Gradually, the new housing became overcrowded and began to suffer from governmental neglect. Scholar Teresa Almeida explains that the federally funded public housing soon became "havens of social decay and crime and were eventually deemed architectural systems that reinforce structural racism."
The impact of overcrowding within urban communities has been studied extensively by behavioral researcher, John Calhoun. In 1958, he began conducting a series of experiments on rats to examine the collapse in behavior as a result from overcrowding. His studies became widely acknowledged and published in the 1962 edition of Scientific American. In his article titled, "Population Density and Social Pathology" he found that, "When a population of laboratory rats is allowed to increase in a confined space, the rats develop acutely abnormal patterns of behavior that can lead to the extinction of the population." In this study, he coined the term "behavioral sink" to describe this collapse in behavior. Calhoun's study aimed to prove that "no single area of intellectual effort can exert a greater influence on human welfare than that contributing to better design of the built environment." Like Blueprint, his experiments question the impact and psychological consequences of poor living conditions.
Calhoun's notion of the behavioral sink is also documented in Hip-Hop culture, as rappers often reveal their experiences within these structures. Michael Ford, known as "The Hip-Hop Architect," examines the intersection of Hip-Hop culture and architecture and deems Hip-Hop as "modernism's post occupancy report." Born in the 1970s within the South Bronx of New York, rappers created an art form that revealed the results of the structural laboratory of public housing. For example, in rappers Dave East and Nas' song, NYCHA (New York City Housing Authority), East documents his experience by stating: "New York City Housing Authority, honor me. Property of the ghetto, choppers popping. I should receive a medal for surviving." Hip-Hop culture thus became a therapeutic expression that demonstrates that black Americans are not solely products of their environments, but change agents capable of taking ownership of their culture and experiences.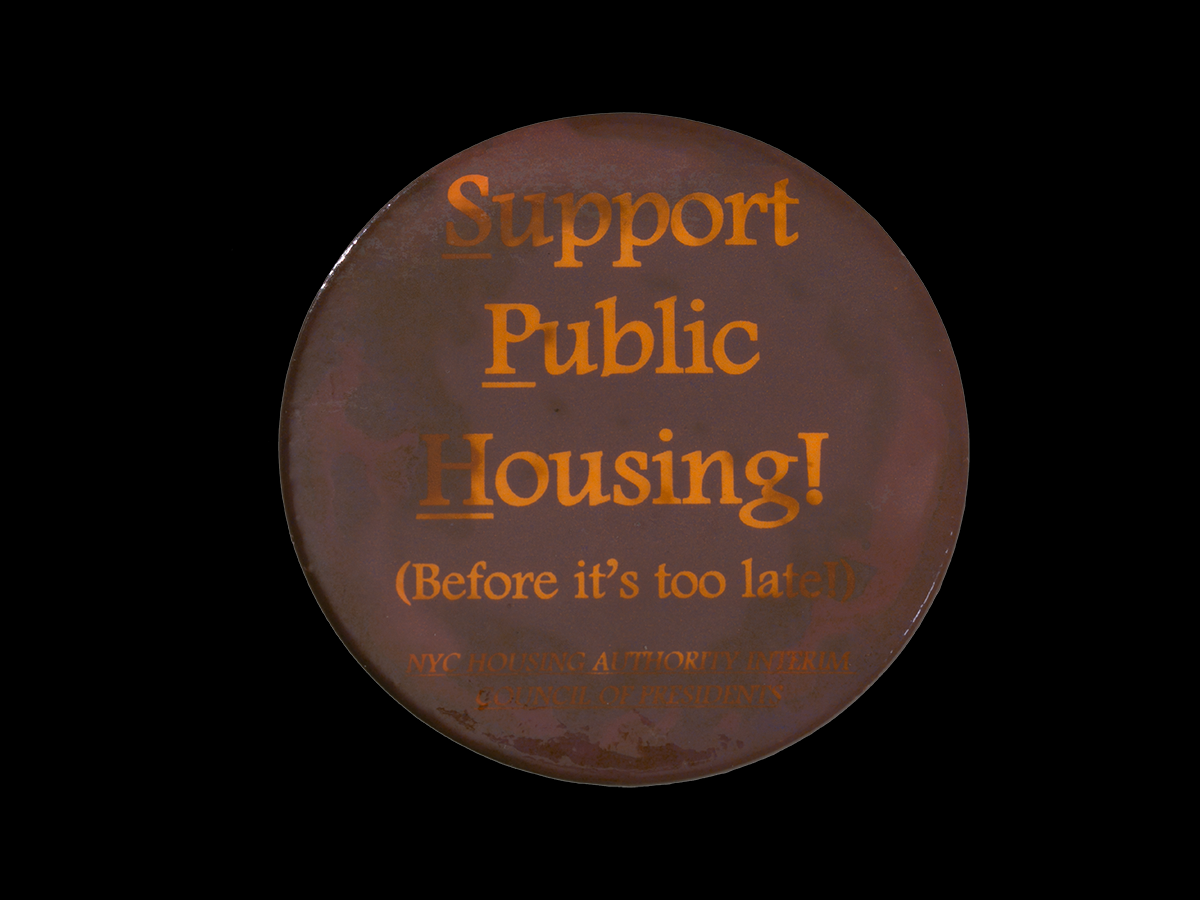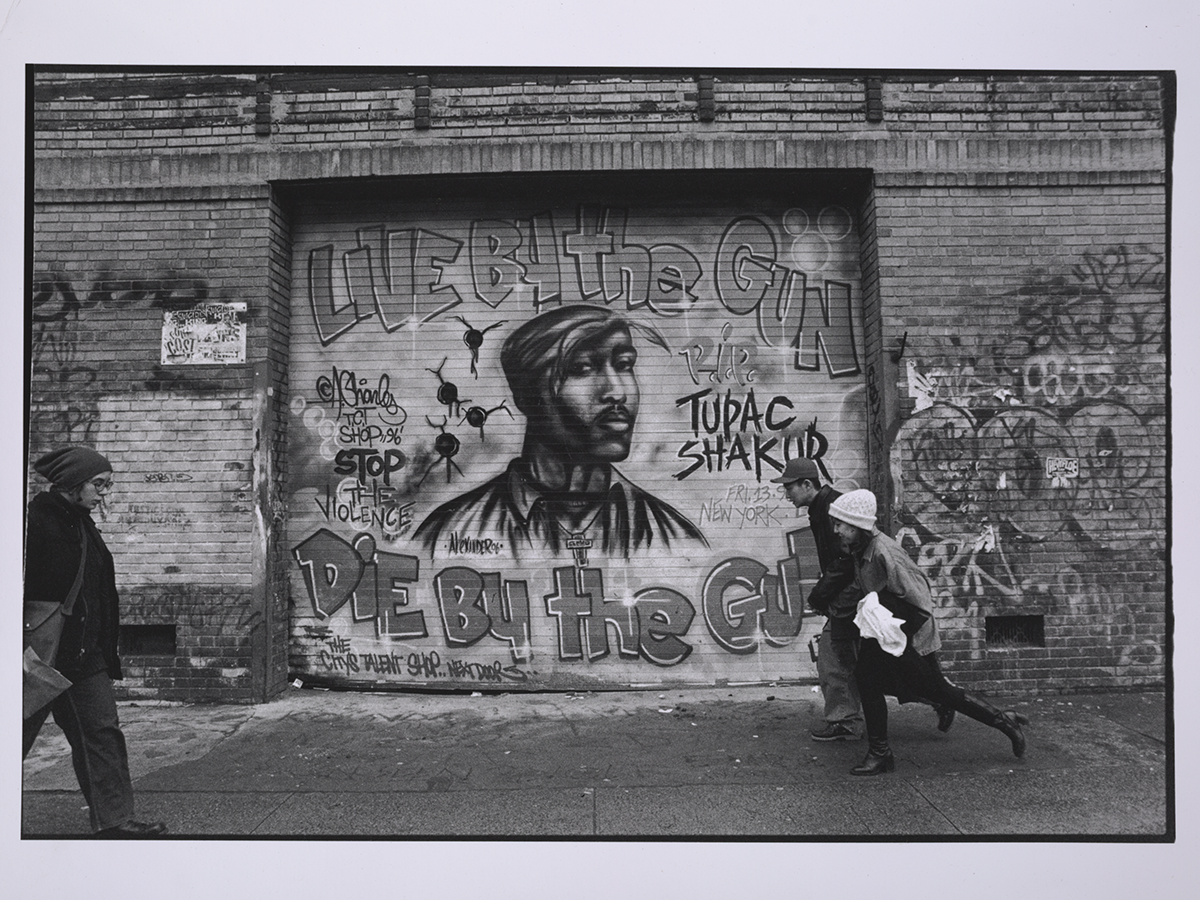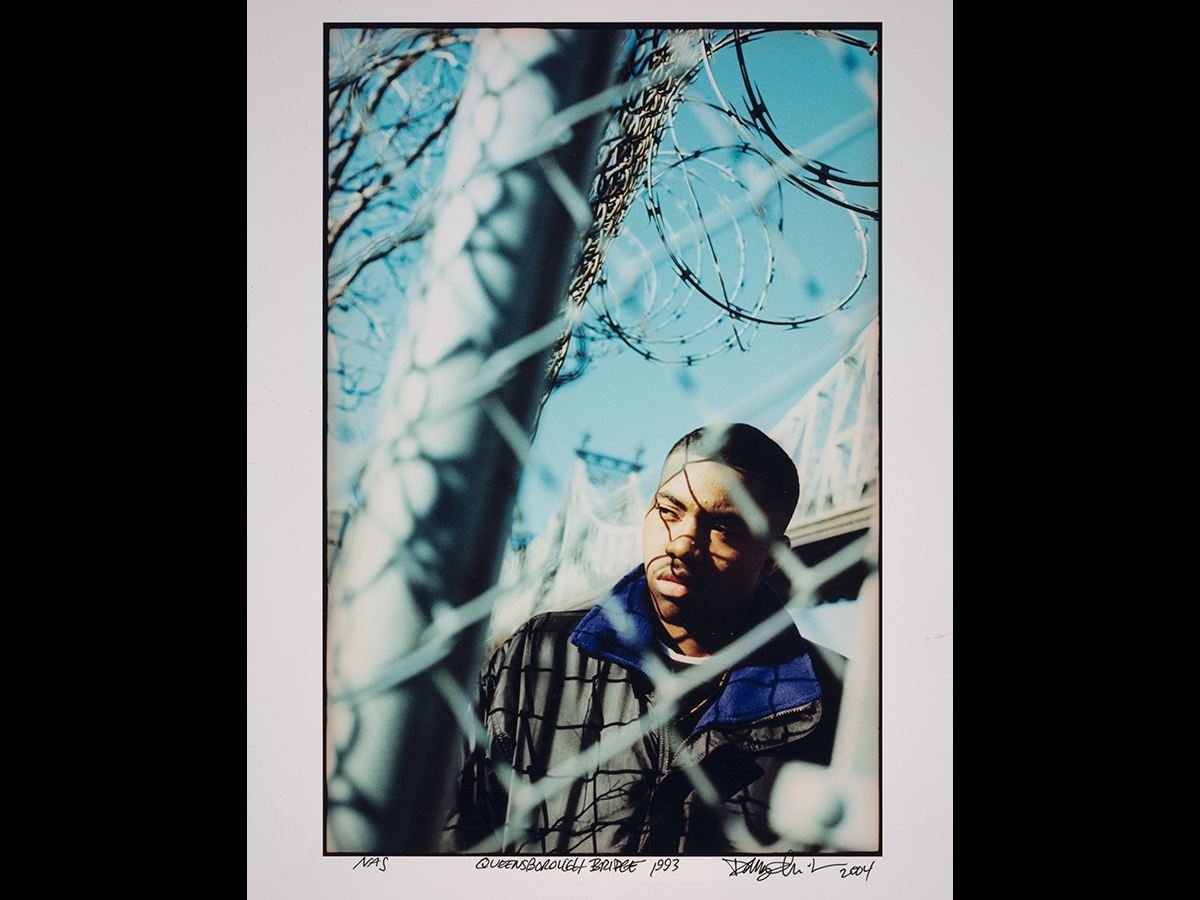 Hip-Hop culture emerged from the pre-meditated structure of urban experiments, yet became a sonic blueprint of culture. In singer/songwriter Frank Ocean's song, "Seigfried" he recalls "living in an idea, an idea from another man's mind," which depicts the essence of blueprints. Though melancholic, his song analyzes the prophetic nature of blueprints and their power.
Along with Hip-Hop artists, the work of designers such as Hilyard Robinson have had a significant impact on American urban life. Robinson's design for public housing influenced the progression of urban environments, while Hip-Hop has stimulated and transformed public involvement and understanding of these urban environments. Throughout America's history, public housing has served as the root of urban living, and the designs for these structures all began as a single blueprint or idea, significantly impacting the lives of African Americans. Though Boddie's Blueprint image references seemingly inhibiting societal conditions formed from excessive control, blueprints provoke meaningful assessments of one's environment, which ushers social change.
Written by Tayler Harrison, Summer 2019 Intern
Published on October 30, 2019