Our American Story
December 7, 1941 Heroes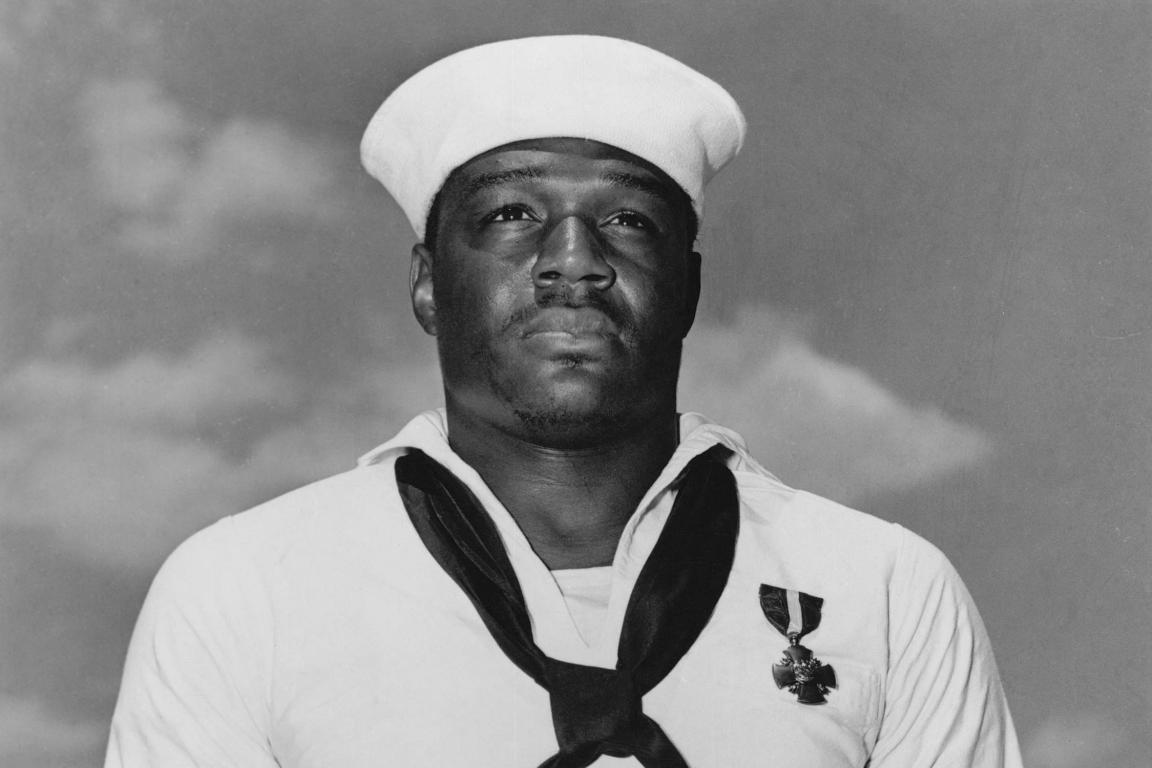 "Yesterday, December 7, 1941 — a date that will live in infamy — the United States was suddenly and deliberately attacked by the naval and air forces of the Empire of Japan."
With those historic words to Congress, Franklin Delano Roosevelt declared war on Japan and the United States entered World War II.
Even today, the surprise attack on Pearl Harbor is indelibly etched into the minds of many older Americans, a number of whom fought in that global conflict.
Sixty-eight years ago today, Doris "Dorie" Miller was stationed at Pearl Harbor on the battleship USS West Virginia. As an African American serving his nation in 1941, that meant serving in a segregated Navy. African Americans were rarely detailed beyond the mess — preparing and serving food, doing laundry or other menial tasks. Miller's assignment was no exception, he was a Mess Attendant Third Class.
That morning, as the Japanese unleashed their attack, Dorie Miller would step into our American story by becoming one of the first American heroes of World War II.
When the alarms sounded, Miller rushed from the bowels of the USS West Virginia onto its deck. Amidst the chaos, Miller immediately began carrying wounded men to safety. When Miller was ordered to the bridge, he found Captain Mervyn S. Bennion mortally wounded, and the ship still under heavy attack.
Under intense enemy fire, Miller manned a machine gun and began firing on Japanese planes. His unselfish heroics were praised by his superiors when they petitioned the War Department to award Miller with one of the Navy's highest honors, the Navy Cross, which was awarded on May 27, 1942 at Pearl Harbor.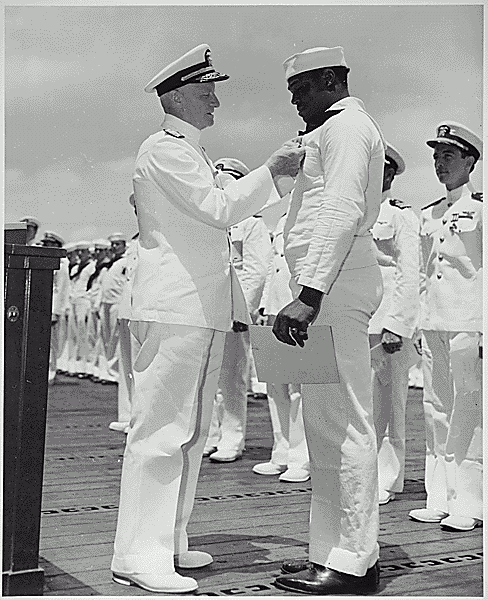 On the mainland, Miller's actions resonated with not only African Americans, but Americans of every race. Newspapers bannered his story and called on the Navy to bring Miller home for a war bond tour as the War Department had done with many white heroes. The public outcry led to Miller becoming the first African American serviceman sent on a WWII war bonds tour.
In 1942, he became one of the first African Americans to be featured on a Navy recruiting poster. That same year his story was dramatized on the CBS radio series, "They Live Forever."
Miller was serving on the escort carrier the USS Liscome Bay on November 24, 1943 when a single Japanese torpedo smashed through its hull and ignited a bomb magazine within the ship. The massive explosion caused the ship to sink in minutes. Of the 918 sailors on board, 646 were killed, Dorie Miller among them.
In June 1973, Miller's bravery was recognized again when the Navy commissioned a Knox-class frigate the USS Miller, named in tribute to Dorie. At that time, the USS Miller was only the fourth Navy vessel named for an African American.
The United States Postal Service has announced that Miller will be one of four "distinguished sailors" to adorn a 44 cent commemorative stamp to be released in February 2010.
Miller was far from being the first African American to be awarded a medal for his heroic act. Members of the famous "Buffalo Soldiers" during the U.S. Cavalry's western campaigns in the 1800s had won many medals, including our nation's highest award, the Medal of Honor.
However, World War II placed our segregated forces under a microscope, and the actions of men like Dorie Miller served to underscore, yet again, the injustice of our segregated armed forces.
Sixty-eight years later, Americans of all races and gender serve together in defense of our country. As Chairman of the Joint Chiefs of Staff from 1989-1993, Colin Powell served as the highest ranking officer in our military, the first African American to hold that position.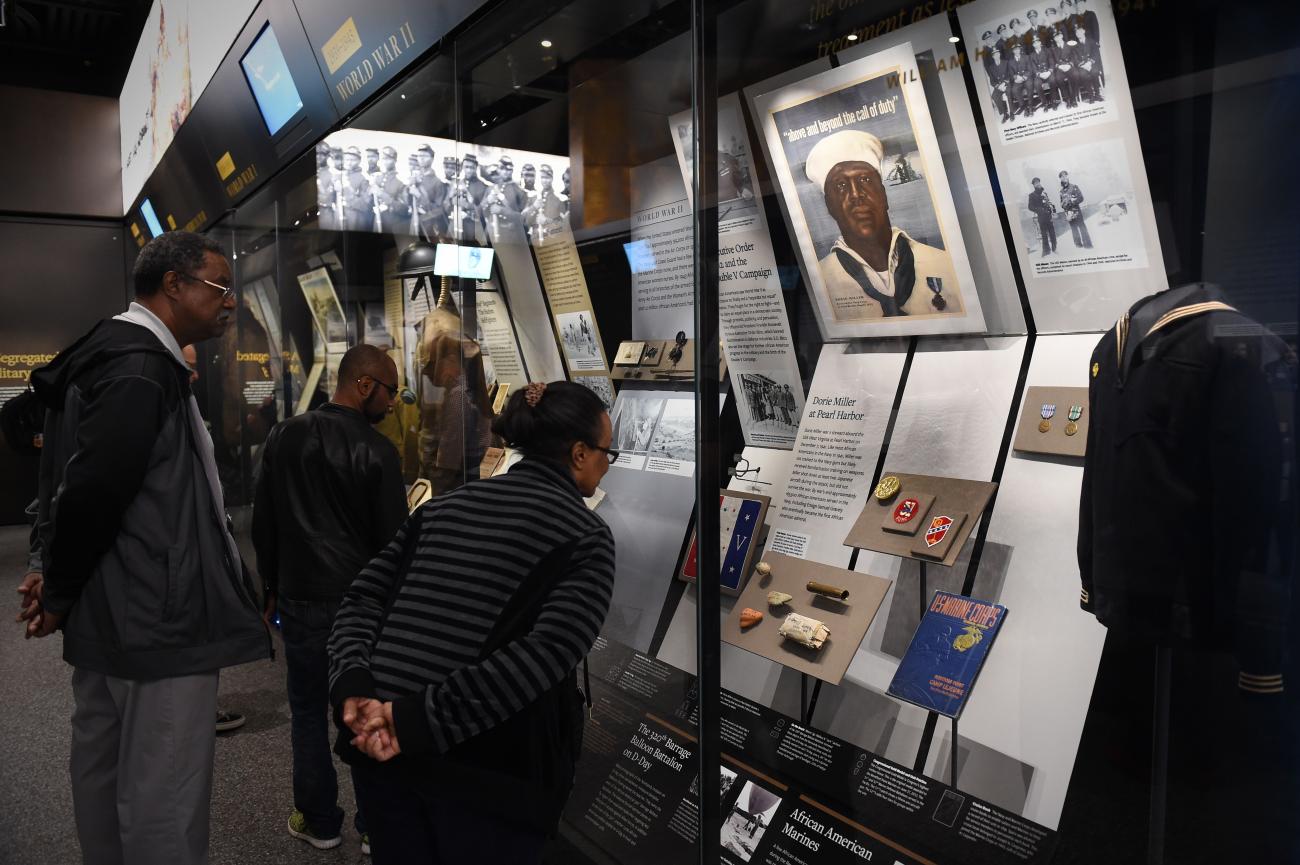 This is just one Page from Our American Story. However, it serves to underscore the mission of the Museum: to open a door to conversation and understanding not only to the African American experience, but also to how that experience has played an integral role in shaping our nation from its very beginnings.
Thank you for your support.
All the best,
Lonnie Bunch
Founding Director
Published: December 7, 2009