With Brown v. Board of Education, the Supreme Court decided in 1954 that separating children in public schools by race was unconstitutional. But it was brave children and teens, like sophomore Carlotta Walls, who took on the difficult, dangerous task of school integration. She said she hadn't intended to do anything heroic when she signed up, all she wanted, she said, was a top-quality education. Her decision would change her life, her family's, and the lives of millions of African Americans.
Carlotta Walls (now Carlotta Walls LaNier) was one of the "Little Rock Nine" who integrated Little Rock Central High School in 1957. Segregationists backed by Arkansas Governor Orval Faubus and the Arkansas National Guard would attempt to prevent Walls and her classmates from integrating the school. This led to President Dwight Eisenhower calling on the 101st Airborne Division of the U.S. Army and federalizing the Arkansas National Guard to protect Walls and the other students and ensure their attendance at the school.
In her book, A Mighty Long Way: My Journey to Justice at Little Rock Central High School (2009), Mrs. LaNier writes that her "great-uncle Emerald Holloway stopped by the house with a surprise gift for me: cash to buy a brand-new dress for my first day at Central. Everybody in the family knew that Mother was a fastidious seamstress who usually made all of my clothes. But this was no ordinary first day of school, Uncle Em said. The integration of the finest high school in Arkansas would happen just once in our lifetime, and I had to have a dress to match the occasion. Even one of Mother's perfectly tailored creations would not do. I had to have a store-bought dress."
Carlotta Walls and her mother shopped in downtown Little Rock where they found "the perfect outfit."
Two things struck me when I saw the blouse and skirt in person for the first time. First was the charming alphabet pattern on the fabric, embodying her love of learning. The second was how tiny the skirt waistband is. Both made me realize how young and vulnerable Carlotta Walls was when she entered that high school, under the threat of violence with the whole world watching, and how strong she must have been to have stayed until she graduated in 1960. She put up with racist insults, nasty looks and sharp elbows. Although she was traumatized by the bombing of her house during her last semester at Central High, she never gave up.
---
Written by Laura Coyle, Head of Cataloging and Digitization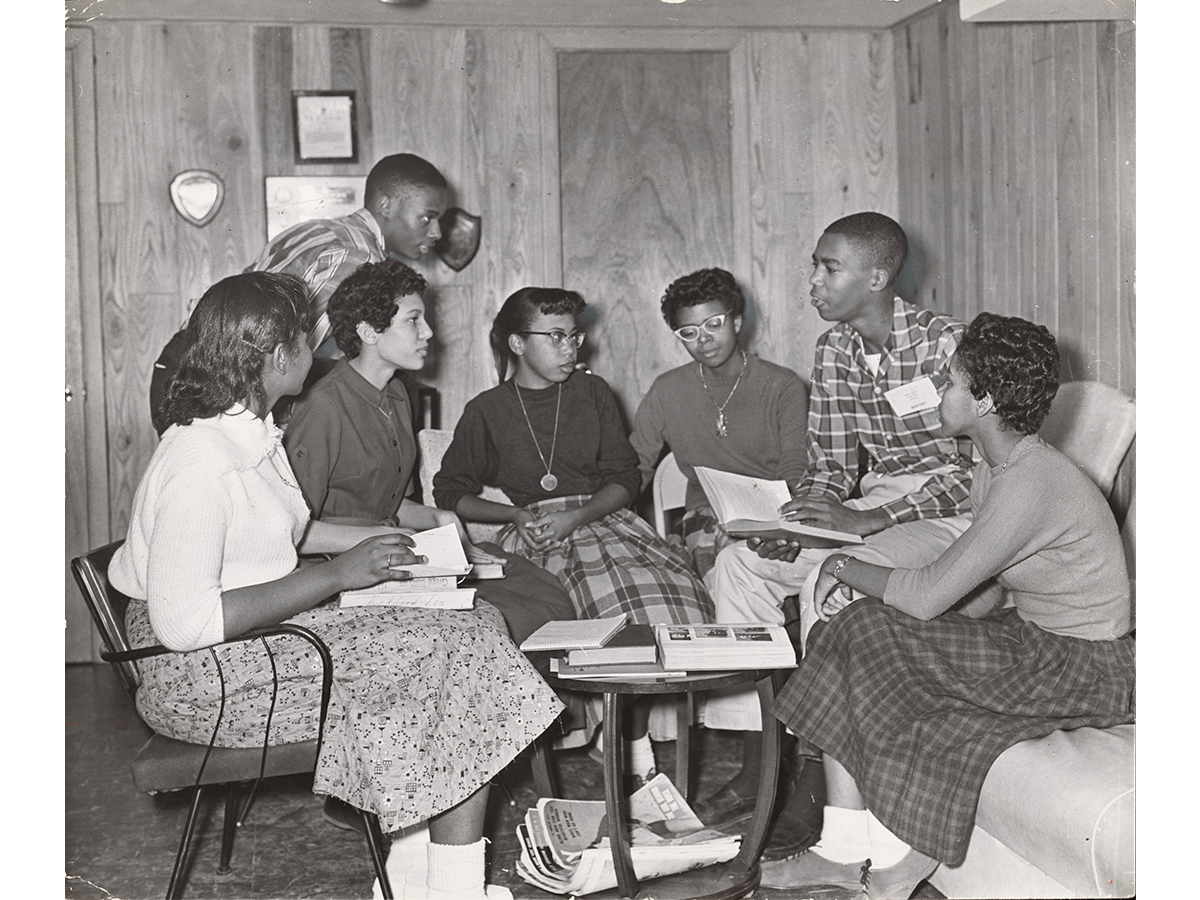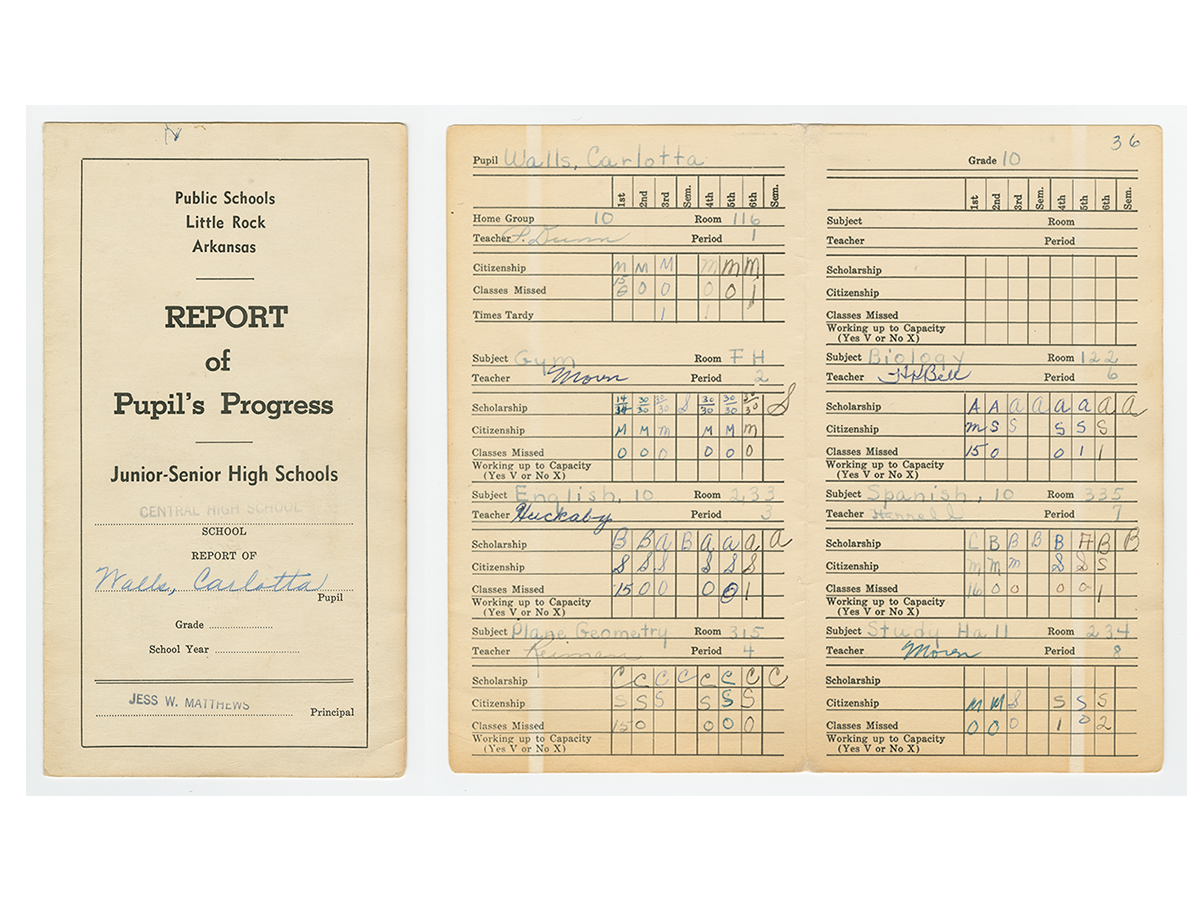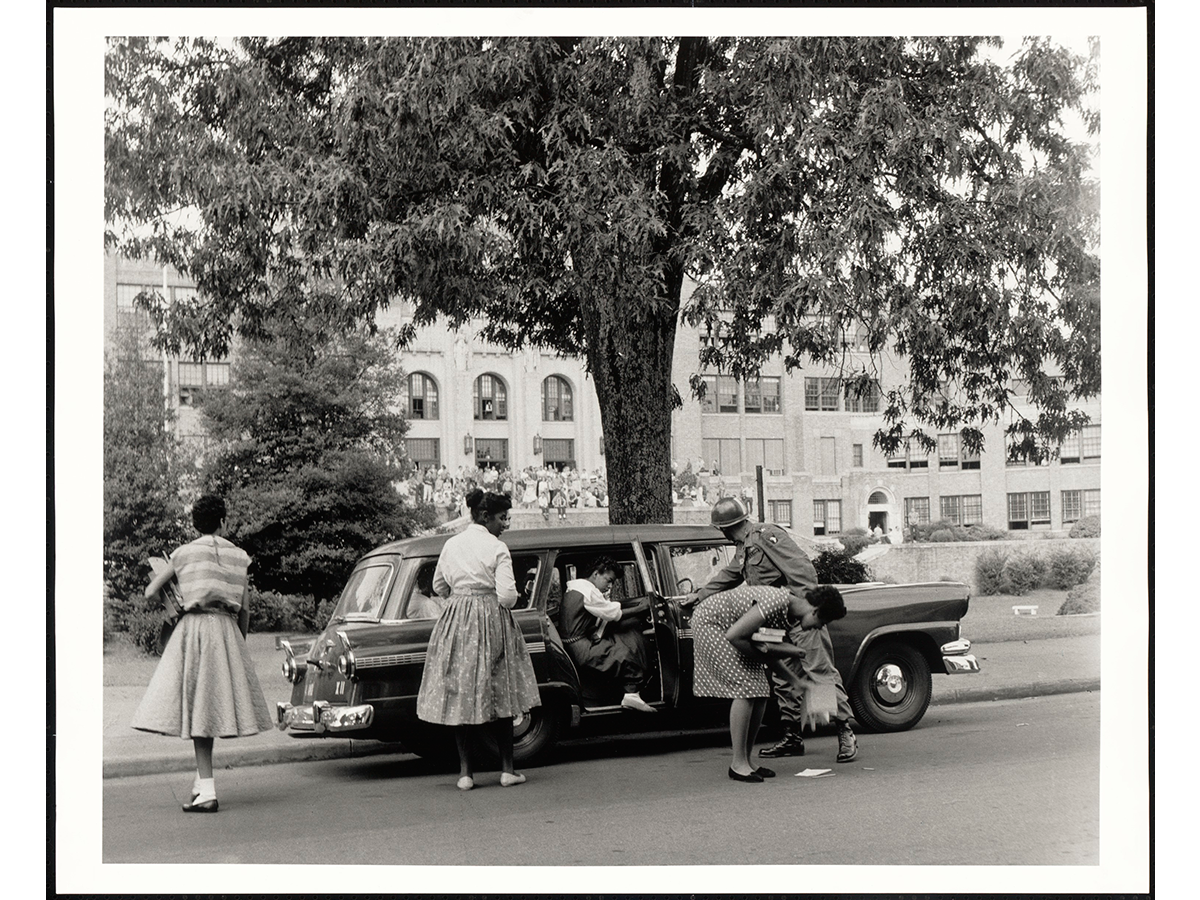 I persevered through it all and became the first black girl ever to walk across the stage to receive a diploma from Little Rock Central High School.

Carlotta Walls LaNier

A Mighty Long Way: My Journey to Justice at Little Rock High School, 2009
Carlotta Walls's school clothing evokes her personality and perseverance. The story behind that clothing extends outward from her, Central High, and Little Rock into national politics and international diplomacy. The modern Civil Rights Movement took place in the midst of the Cold War, the ideological contest between Communist and Western capitalist societies. Pro-segregationists often charged that civil rights activism was inspired by Communist agents seeking to weaken the United States from within. President Eisenhower had to weigh many contradictory factors in deciding how to respond to the opposition to desegregating Little Rock Central High School.
On the one hand, saying the nation's enemies were "gloating over this incident," the president recognized stories of black students attacked by white segregationists harmed the nation's global "prestige and influence" (Quoted in Elizabeth Jacoway, Turn Away Thy Son: Little Rock, the Crisis that Shocked the World, 2007). Cold War propagandists emphasized these violations of democratic rights as examples of the nation's hypocrisy. American leaders were especially concerned about the impact of these stories on African countries experiencing anti-colonial revolutions. Would the new governments align with the Soviet Union rather than the United States? A forceful response by the federal government could demonstrate the nation's resolve and sense of fairness.
On the other hand, the president was hesitant to employ federal authority in defiance of the traditions of local control over law enforcement and education. He knew that state and local leaders across the South would be horrified at this use of federal power, even if it was intended to support the rule of law. As the president of the Little Rock Chamber of Commerce put it, ". . . we hadn't had federal troops since [18] '67!  That was so shocking that we didn't know whether we should support the government or not" (Jacoway, Turn Away Thy Son). Eisenhower's decision established a new precedent.
Eisenhower's reluctant deployment of federal troops and the act of federalizing the Arkansas National Guard to enforce Brown v. Board in 1957 was just the beginning. To enforce court decisions and protect citizens' rights, the federal authority had to be asserted several times during the 1960s and was fundamentally expanded by the Civil Rights Act of 1964 and the Voting Rights Act of 1965. 
Carlotta Walls and her fellow African American students wanted a quality education. They helped inspire a global revolution.
Browse Objects Relating to the Little Rock Nine in NMAAHC's Collection
Written by William Pretzer, Senior History Curator
Published September 7, 2016; updated January 11, 2019