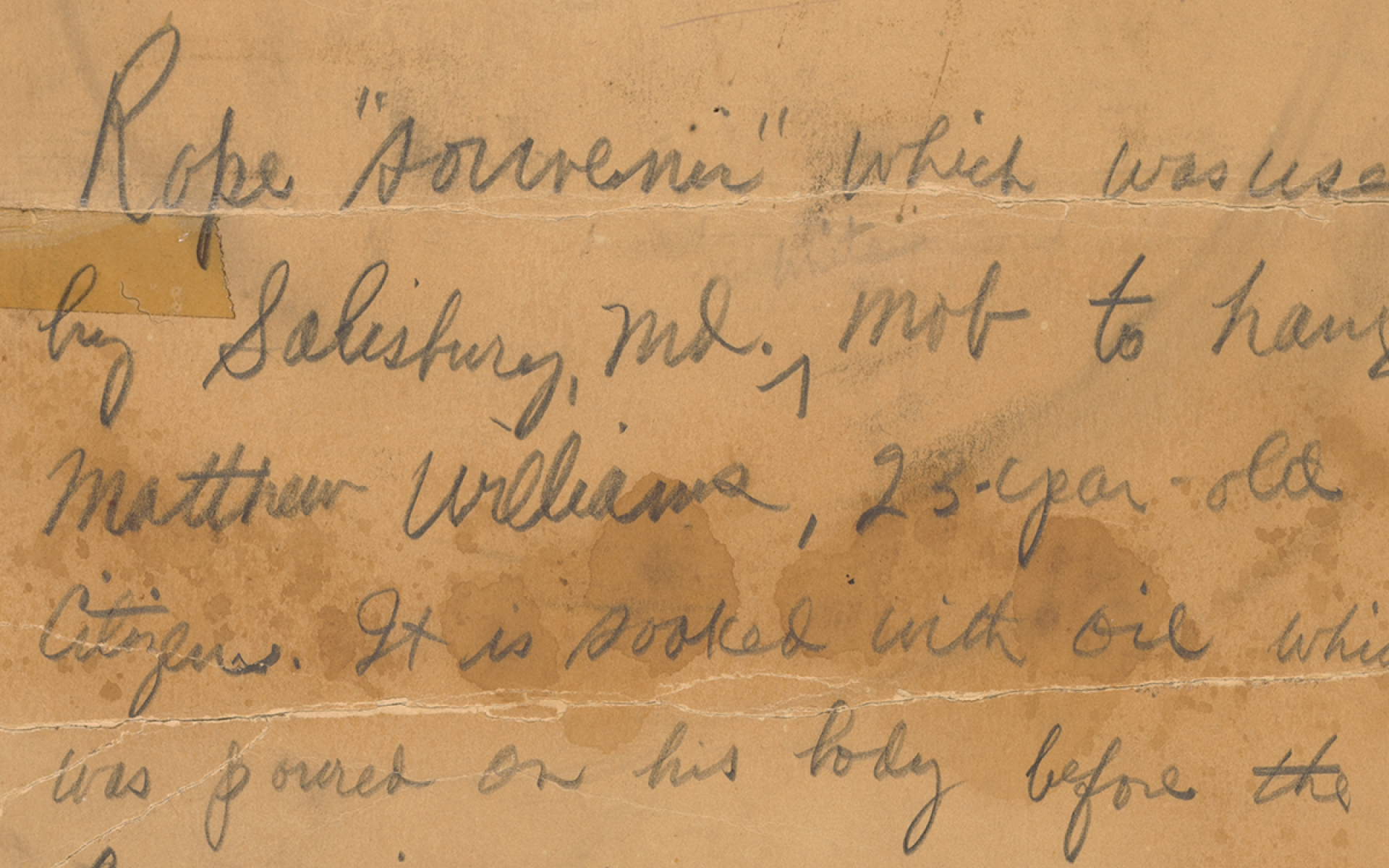 Collection Story
The Evidence of Things Unsaid
The Lynching of Matthew Williams, 1931
Just as this essay on the lynching of Matthew Williams was being finalized for publication, someone deposited a rope noose in the Museum. The noose was discovered by visitors on May 30, 2017, in the exhibition, Defending Freedom, Defining Freedom: The Era of Segregation
We hope this essay will help those unfamiliar with the history of lynching and the potent symbolism of the noose better understand the impact of this symbolic act and the response of the Museum community.
"The noose has long represented a deplorable act of cowardice and depravity—a symbol of extreme violence for African Americans. Today's incident is a painful reminder of the challenges that African Americans continue to face. Our museum is a place of learning and solace, a place to remember, to reflect and to engage in important discussions that help change America. This was a horrible act, but it is a stark reminder of why our work is so important."
—Smithsonian Secretary Lonnie G. Bunch III
***
Whether used in remote backwoods, on the side of a bridge, or on a courthouse lawn, the noose is one of this nation's most compelling and enduring symbols of lynching.
Lynching is a public act of violence that involves vigilantes (who are seldom charged with a crime), the pursuit of a victim, a rationalization for violent behavior, and objects of restraint and torture. A noose, or lynch rope, is an object that symbolizes white supremacy as a system of terror inflicted on African Americans from the late 19th century to the mid-20th century. 
Today, lynching is a sensitive issue about which people and communities often refuse to speak. The silence is due largely in part to the vile, profane, and criminal nature of lynching and to the awareness among many African Americans, historians, and others that these acts of terror were widespread and sanctioned by law enforcement and ordinary citizens. Many documented cases reveal that spectators of lynchings celebrated these events.
In light of recent acts of racial intimidation involving the hanging of nooses in public spaces, people must begin to speak candidly about the practice of lynching in hopes it can become common knowledge for everyone seeking an end to racial hatred. This article about the remnant of rope used to lynch 23-year-old Matthew Williams in 1931, underscores lynching and a present-day noose hanging as part of a historical continuum of racial violence and intimidation.
A piece of the lynch rope used to hang Matthew Williams (1908–1931) in Salisbury, Maryland, is on display in the exhibition, Defending Freedom, Defining Freedom: The Era of Segregation 1876-1968. The rope serves as a symbol of the racial terror inflicted upon African Americans, and sometimes their sympathizers, in the move toward social progress that began during Reconstruction. Despite the ratification of the 14th Amendment granting equal protection under the law to all citizens, lynching became a lethal mechanism of massive resistance to that progress. Throughout the United States, but primarily in southern and border states like Maryland, lynching became an institutionalized method of social control to maintain white authority. For the perpetrators, committing and witnessing lynching served as unifying acts in forging a white identity fueled by a consciousness that could allay internal fears and rationalize external exploitation. 
The figures and dates vary, but for roughly 80 years from 1880 to as late as 1960, nearly 5,000 lynchings occurred in the United States. As many as 72 people were lynched in 1919, the year of the Red Summer race riots when African Americans fought fiercely to protect their homes and children from white mobs.
Many lynchings were spearheaded by the Ku Klux Klan (KKK), but thousands of everyday citizens were willing participants who cheered, smiled, posed for photographs and postcards. They also collected lynching "souvenirs" that often included body parts of the victim and pieces of the lynch rope, not unlike the one used to lynch Matthew Williams on the Wicomico County Courthouse lawn.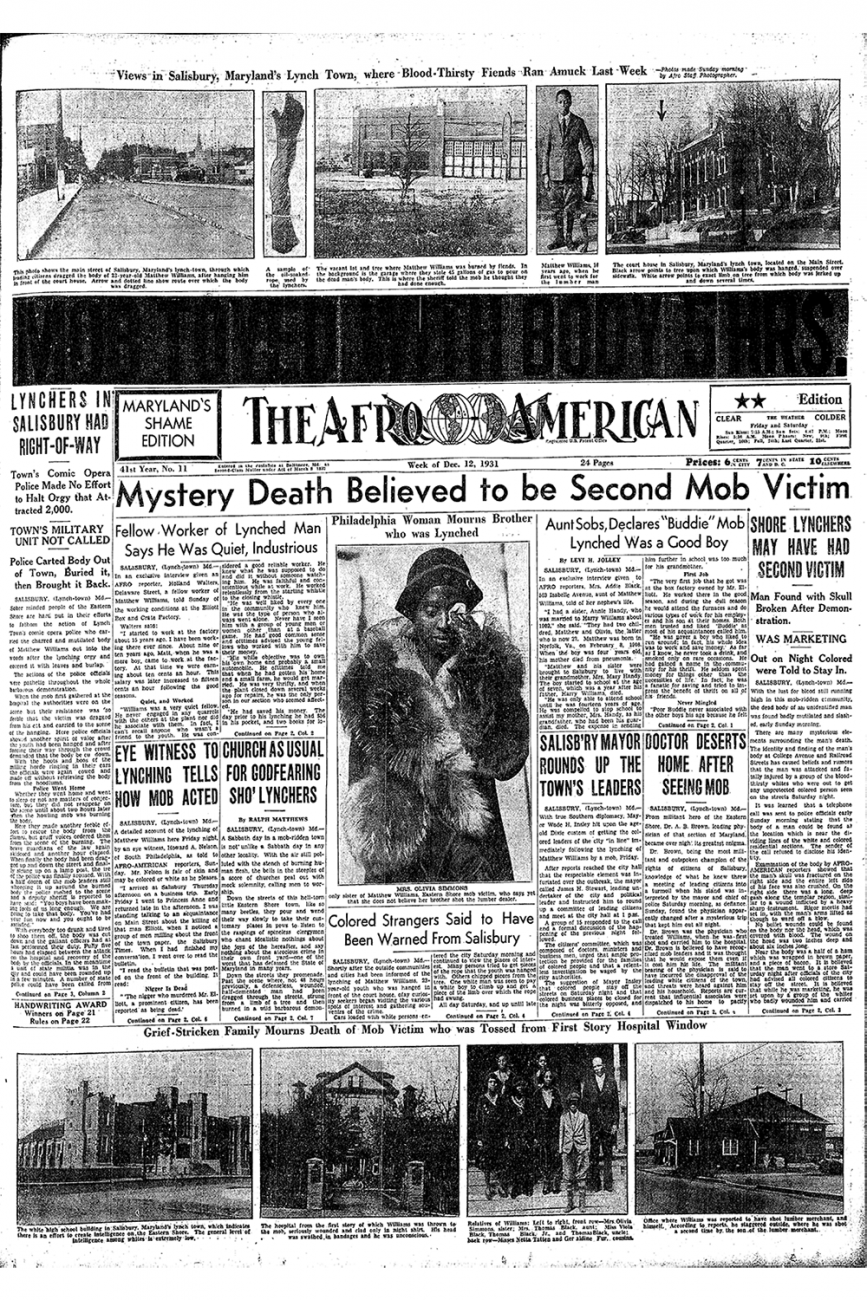 After the lynching of Williams, two accounts of the precipitating events emerged. Both the state attorney, Murray Phillips, and the local press claimed that Williams had shot and killed his employer Daniel Elliott, who owned a lumberyard and box manufacturing company in Salisbury. After Williams shot Elliot, he allegedly tried to commit suicide, which accounted for the bullet wound to his head that landed him in Peninsula General Hospital a few short blocks away.
Another widely believed account emerged based on interviews given by both black and white citizens then and years later. This account, documented in Sherrilyn Ifill's On the Courthouse Lawn, holds that Elliot's son James shot both his father and Matthew Williams.
"The prevailing view is that Williams gave James Elliot some money he had saved on the agreement that James would repay the sum. When James refused to return William's money, Williams took the matter to the elder Elliot, with whom he was close. Williams had been his trusted employee since Williams was a teenager. The father reportedly berated his son and demanded that he repay Williams. James Elliot was supposed to return Williams' money that Friday, the day Williams was lynched. Instead, James arrived with a gun, shooting his father and Williams, concocting the story that Williams had shot Daniel Elliot and then turned the gun on himself" (Ifill 46).
The only thing known for certain is that Williams, who had no history of violence or instability, would never have his day in court. Around 7:30 that evening, a group of white men congregated on street corners around the courthouse square, convinced that Williams had murdered Elliot. They soon began a march to the hospital where Williams lay critically wounded from the gunshot to his head.
When the crowd arrived, several police officers blocked the entrance to the hospital. The mob then went to a side door, where the superintendent nurse Helen Wise allowed several men to take him. They tossed Williams out the window of the first floor and dragged him several blocks toward the courthouse. The crowd grew as white residents darted from their homes and businesses to join the procession.
While Williams struggled to stand, someone from the mob stabbed him repeatedly with an ice pick. He arrived at the courthouse bloody, unconscious, and stripped of skin from his rear. Several men from among a massive hoard of onlookers then slung a rope over a tree and hanged Williams.
After being hoisted and lowered several times, Williams' body was dragged to the bridge over the Wicomico River, tied to a lamppost, doused with gasoline and set on fire. His body was left to hang as a warning to the African American community to always stay in their place. Several of the lynchers eventually dumped the severely charred body on the outskirts of town. Salisbury undertaker James Stewart collected the body for ceremony and burial.
Newspapers around the country reported the lynching. The Baltimore Sun included H. L. Mencken's scathing critique of the event, of local officials and of local newspaper coverage. Mencken's article was coupled with Edmund Duffy's illustration of a lynched Matthew Williams.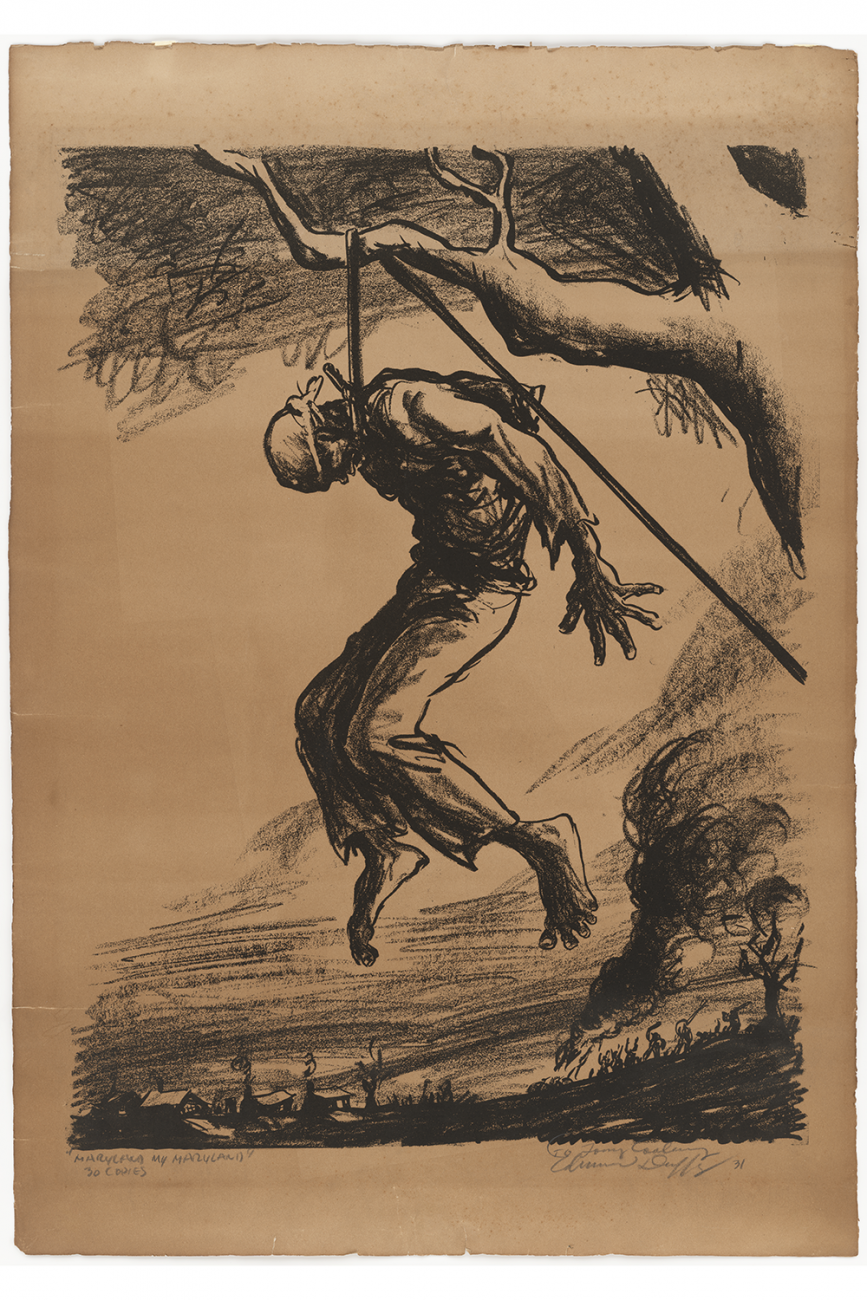 Sherrilyn Ifill writes that "Pieces of the rope used on … Williams were kept by townspeople and displayed in the days after the lynching" (60). That same rope would find its way into the hands of a Baltimore Afro American photojournalist, who arrived in Salisbury that night to cover the story. 
Paul S. Henderson (1899–1988) had been reporting for the Baltimore Afro-American for only two years when he was assigned to cover the lynching of Matthew Williams. He had begun documenting political, educational, religious, and social events in and around Baltimore City, a focal point of 20th-century civil rights activities. His poignant images, most of which the Maryland Historical Society acquired, are now considered a national treasure. His racial segregation images depicting key leaders, sit-ins, marches, and boycotts provide an unsurpassed visual record of the Civil Rights movement in Baltimore from 1933 to 1964.
Mrs. Jacquelyn Cornish, the executor of Paul Henderson's estate, presented the museum with a shoebox that contained the piece of lynch rope. Mrs. Cornish recalled Henderson's explanation of how he had acquired the rope. When Henderson arrived at the final lynching site (hours after the lynching on the courthouse lawn), the mob was still toying with the body and passing out pieces of the rope. As a light-skinned African American, Henderson could pass as a white person. Despite the risk to his own life, Henderson bravely stood on the periphery of the mob and acquired the remnant of rope.
Various individuals and organizations provided leadership in an attempt to stop lynchings. After three of her friends who owned People's Grocery Company were lynched in Memphis in 1892 for competing with white businesses, Ida B. Wells became a leading anti-lynching activist, adding to her crusade for justice in all areas of African American life. Also, the NAACP, founded in 1909, made thorough investigations of lynchings and other crimes committed against African Americans and publicized their findings. In 1919 the NAACP published Thirty Years of Lynching in the United States, 1889-1918, which revealed the accusations related to lynching and the circumstances under which the crimes occurred. Beginning in 1921, the NAACP sponsored anti-lynching legislation, such as the Dyer Anti-Lynching Bill and numerous other proposals to make lynching a federal crime. All were defeated.
Beginning in the early 1900s, some southern white organizations began to condemn lynching. They included the Commission for Interracial Cooperation formed in 1919 and led by white male ministers, academics and businessmen. They researched and published their findings on lynching. The Association of Southern Women for the Prevention of Lynching was founded in 1930 and led by Jesse Daniel Ames, a white scholar and organizer.
Further, in 1935 Walter White and Mary McLeod Bethune made attempts to persuade President Franklin Roosevelt to support the Costigan-Wagner Bill, a piece of anti-lynching legislation that proposed federal trials for any law enforcement officers who failed to exercise their responsibilities during a lynching incident. The Costigan-Wagner Bill received support from many members of Congress, but the southern opposition managed to defeat it. Not until 2005 did the United States Senate formally apologize for failing to act on roughly 200 pieces of anti-lynching legislation.
Lynching remains a critical issue that forces this nation to confront its history of violence against African Americans. But only in understanding this history can we predict and prevent the shameful acts of terror and intimidation that are blatantly on the rise today. Lynching and present-day noose hangings are part of a historical continuum of racial violence that has characterized the nation from the beginning.
On March 29, 2022, president Joe Biden signed the Emmett Till Antilynching Act into law which makes lynching a federal hate crime. The law owes its name to Emmet Till, the 14-year-old African American from Chicago who was kidnapped, tortured, and brutally murdered by a group of White men in Mississippi for allegedly whistling at a White woman in 1955. 
Speaking truthfully about the nature of history, South Africa's Archbishop Desmond Tutu once stated simply and succinctly, "The past refuses to lie down quietly." May this nation, too, refuse to rest in the fight to guarantee all its citizens equal protection under the law. 
Written by Tulani Salahu-Din, Museum Specialist, Office of Curatorial Affairs
Published on July 6, 2017
Resources
Allen, James. Without Sanctuary. Lynching Photography in America. Twin Palms Publishers, 1999.                          
"Eyewitness Tells How Mob Acted," Afro-American, Dec. 12, 1931.
"Man's Toes Cut off by Mob at Salisbury," Afro-American, Dec. 19, 1931.
Chavis, Charles L. Jr. The Silent Shore: The Lynching of Matthew Williams and the Politics of Racism in the Free State. Johns Hopkins University Press. January 11, 2022.
Cutler, James. Lynch Law: An Investigation into the History of Lynching in the United States. New York: Longman, Green, and Co., 1905.
Ifill, Sherrilyn. On the Courthouse Lawn: Confronting the Legacy of Lynching in the Twenty-first Century. Boston: Beacon Press, 2007.
Maryland Historical Society. Paul Henderson Photograph Collection, 2014
NAACP Costigan-Wagner Act
Wells-Barnett, Ida B. Southern Horrors: The Lynch Law In All Its Phases.1892.
White, Walter. "I Investigate Lynchings" American Mercury, January 1929.