Five Things
Five Things to See: The Fashion of Hip-Hop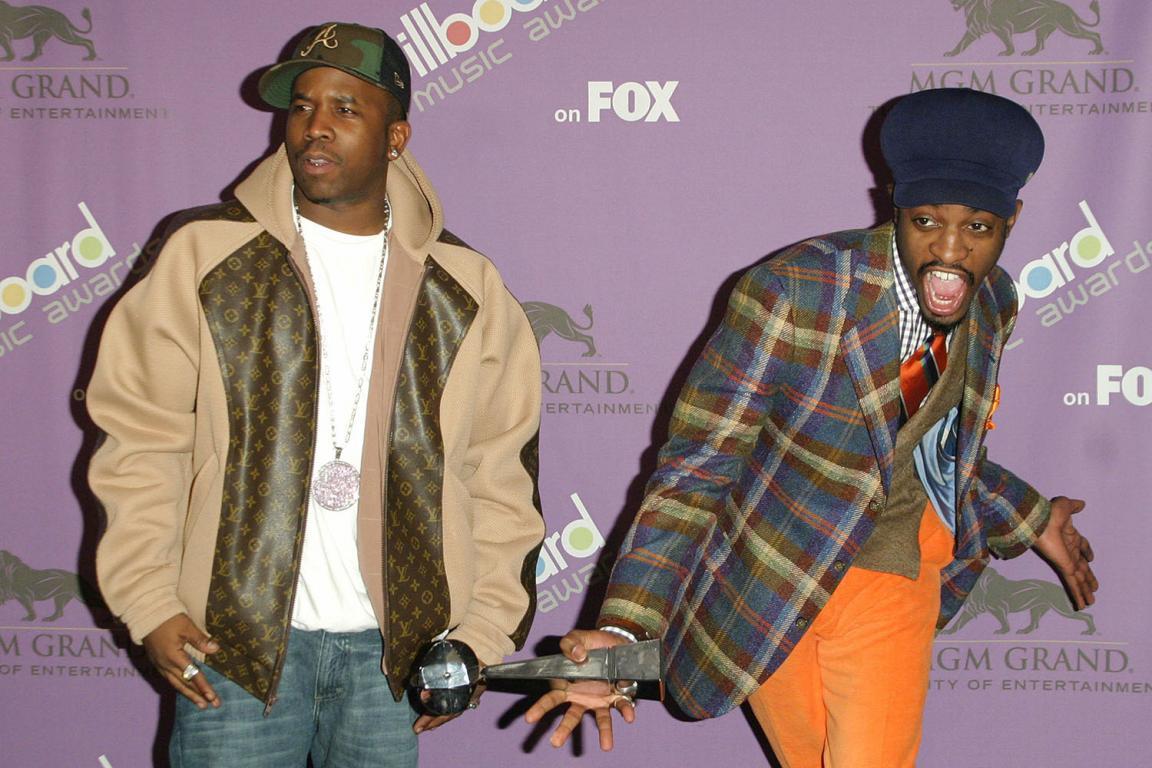 From the leather and feather of early MCs, to the classic New York City streetwear of 90s, to the revival of Afrocentric garb, to the big brand clothing line of moguls, fashion has been central to hip-hop identity. To celebrate the launch of the Smithsonian Anthology of Hip-Hop and Rap, we've highlighted five items from the collection at the National African American Museum of History and Culture (NMAAHC). These items illustrate how hip-hop has pushed the boundaries of fashion, moving from an eccentric niche at the margins to a vanguard of mainstream fashion.
Visit the publication page to take a sneak peek at the anthology and test your knowledge of rap and hip-hop history. The Anthology is available now for pre-order on Amazon.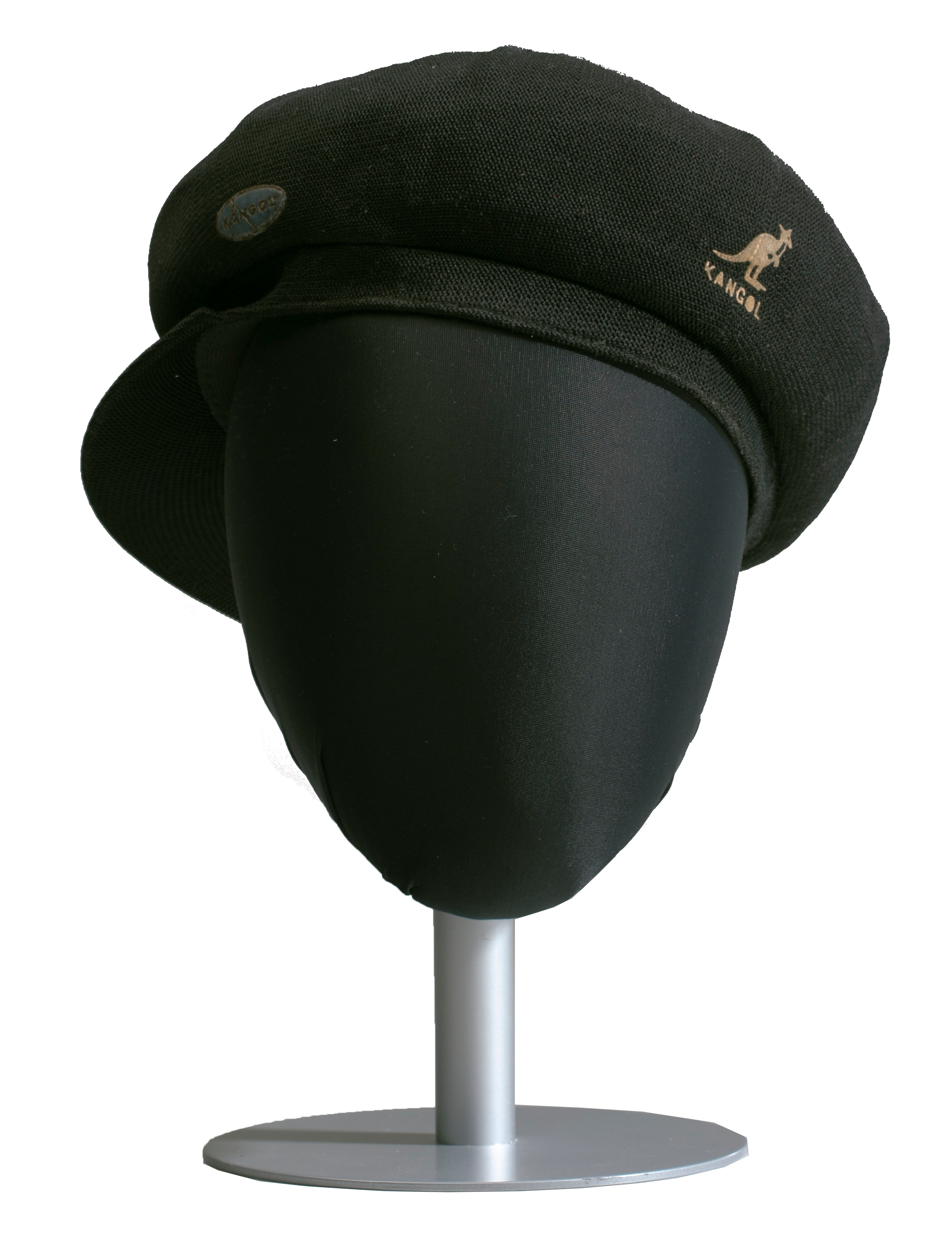 1. Kangol hat worn by The Kangol Kid
This oversized black newsboy style Kangol cap was worn and donated to the NMAAHC by hip-hop pioneer, Kangol Kid. The cap is made from a combination of black polyester and cholorfiber bland fabric with a cream felt logo in the center back of the cap's exterior. The logo includes a kangaroo above the word "KANGOL."
The connection between the brand and the MC demonstrates the early connections between hip-hop and the fashion industry. The proud owner of several Kangol caps, Kangol Kid received his nickname from childhood friends. That love for the brand would help him become the first hip-hop artist to endorse a product after negotiating a sponsorship with English clothing company, Kangol Headwear. This partnership was one of the first examples of hip-hop artists both encouraging fashion trends and profiting from corporate relationships.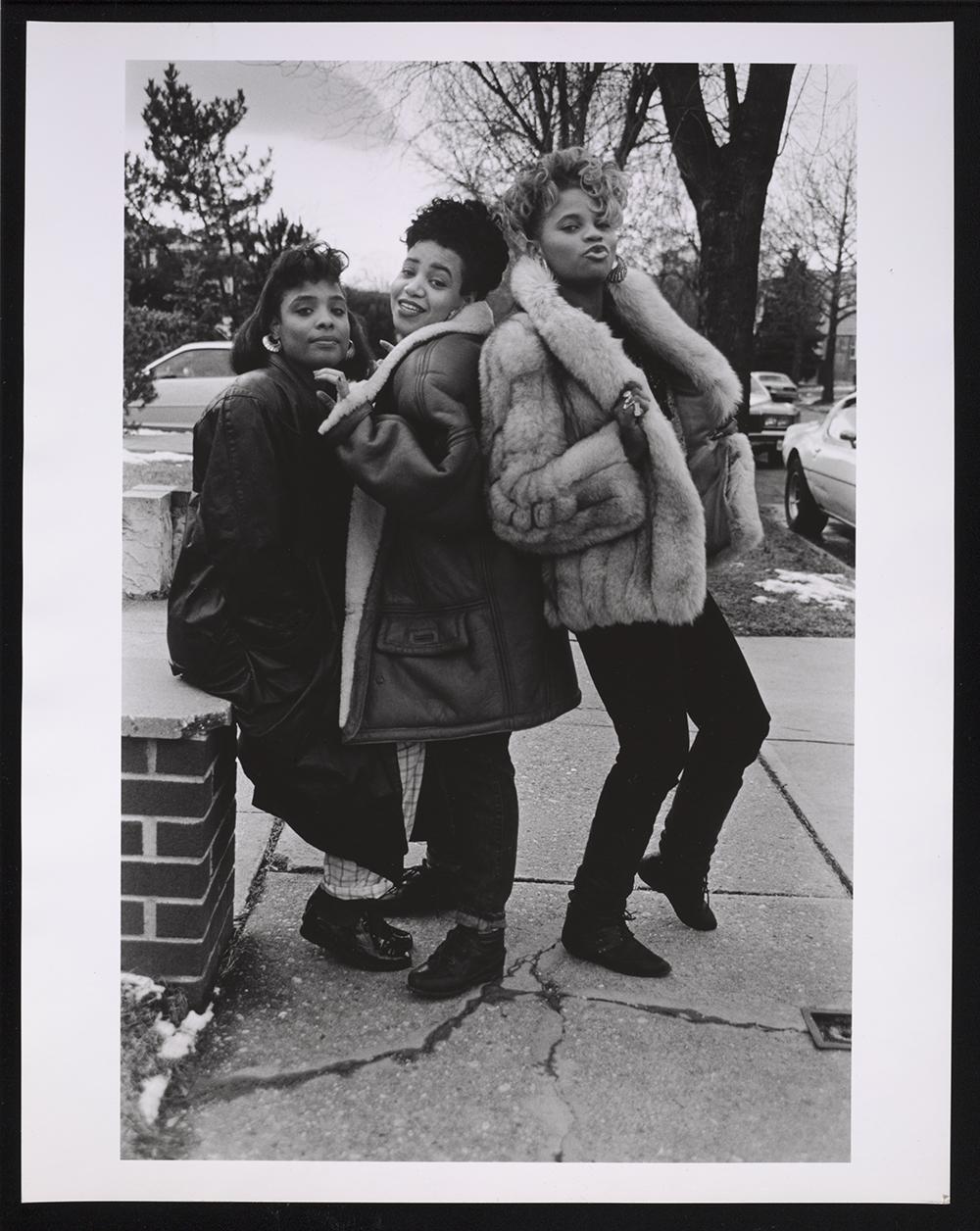 2. Photographic print of Salt-N-Pepa outside Bayside Studios
This photo of Spinderella and Salt-N-Pepa taken in 1989 by Al Pereira shows the rap trio rocking classic Queens streetstyle coats, gold hoop earrings, and black shoes. This style of long black leather and fur coats were essential for staying warm through the frigid New York winters, however the coats also presented opportunities to flaunt an artist's personal style (and often newfound wealth).
The photo was taken in Queens, New York, New York just outside Bayside Studios, which had become a launchpad for the hip-hop movement broadcast across the US. From Spinderella and Salt-N-Pepa to other artists like Kid 'N Play, Kwame, and Dana Dane, Bayside Studios was central to hip-hop music, but it was also a hub for the everyday fashions of hip-hop.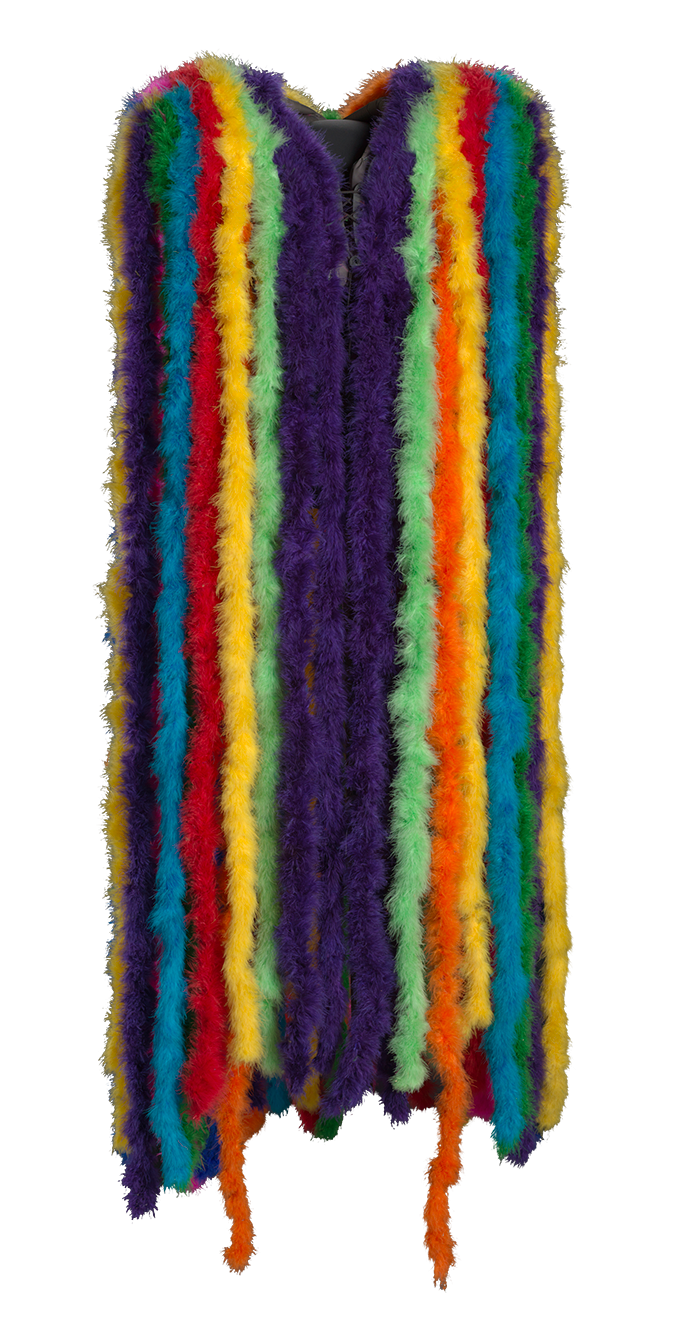 3. Rainbow feather boa and shoulder pads cape worn by André 3000
This eccentric feather boa cape was worn by André 3000 during Outkast's performance of "B.O.B. (Bombs Over Baghdad)" on the Chris Rock Show in 2000. Wearing the cape, underwear, and ski boots, André 3000 and partner Big Boi - donned in a large fur coat - captivated the audience with a the fast-paced lead single from their album Stankonia. Andre 3000's outfit choice could be seen as paying homage to the style of George Clinton and the Parliament-Funkadelic collective, Sun-Ra, and others who embraced eclectic and often afrofuturistic fashion.
The risqué fashion choice can also be acreditited to a challenge between the two artists. Earlier that night, André 3000's pants couldn't be found, so Big Boi dared him to perform in his underwear. Andre 3000 agreed, and the resulting performance was aired live on national television. The cape was gifted by André 3000 to the NMAAHC in 2016 and is a beautiful example of fearless creativity and originality in hip-hop fashion.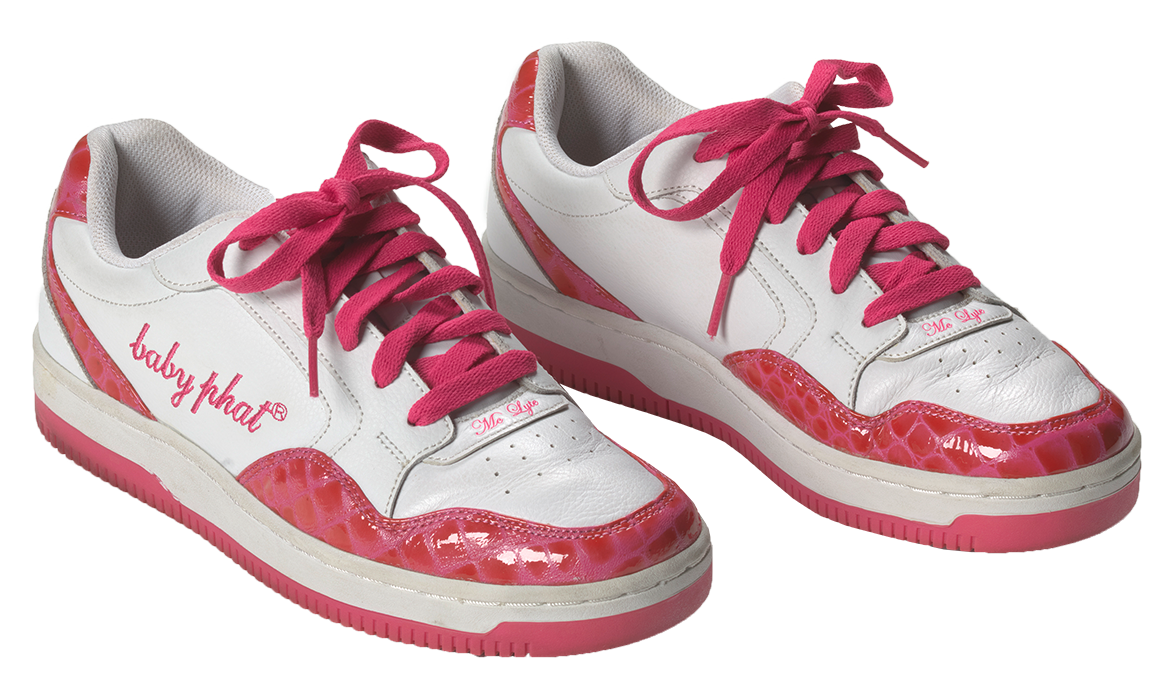 4. White and pink MC Lyte Baby Phat sneakers
These custom Baby Phat sneakers were made for MC Lyte in 1998. The sneakers are white leather with bubblegum pink faux reptile skin around the toe and heel cap. The Baby Phat logo is located in various places on the shoe, and it has a pink tag with white embroidered text that reads "baby phat / Kimora Lee Simmons" near the heel.
Baby Phat was founded in 1998 by Kimora Lee Simmons, the then wife of Def Jam founder Russel Simmons, and quickly became one of the most popular brands of the early 2000s. With the connections both Russell and Kimora had in the music and fashion industries, the brand became intertwined with hip-hop culture. Baby Phat also introduced hip-hop artists into the world of fashion like never before. Baby Phat fashion shows became a trendsetting space for creatives of all kinds. It was common for hip-hop legends, like rapper Nas and singer Aaliyah, to rub elbows with fashion icons, like supermodel Naomi Campbell or designer Alek Wek, at Baby Phat after parties.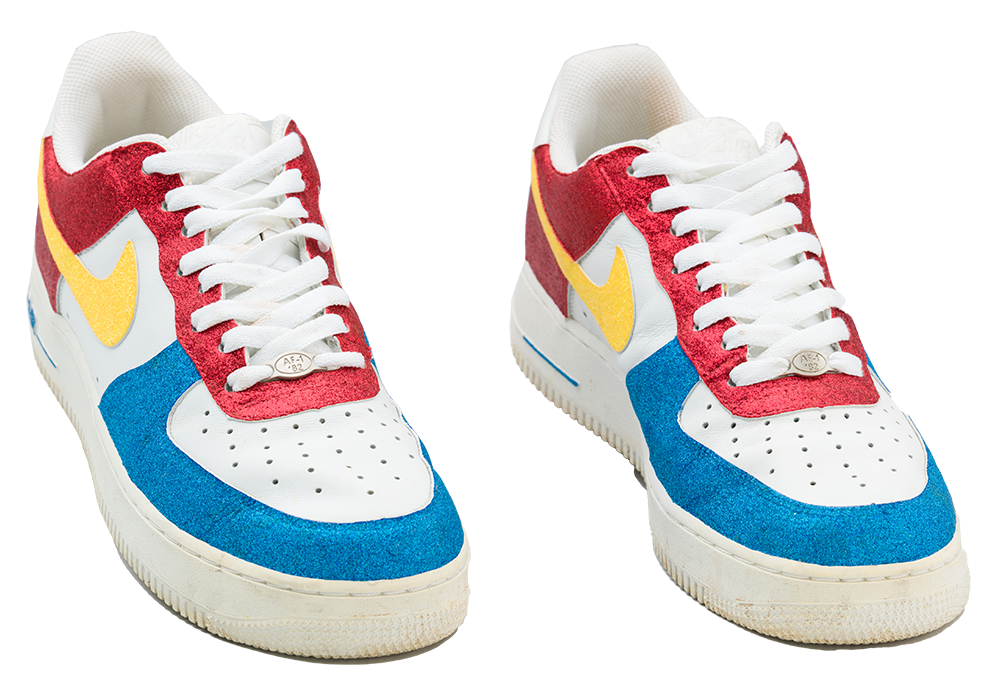 5. Red, white, yellow, and blue Nike sneakers worn by Big Boi of Outkast
These customized Nike Air Force 1 shoes belonged to Antwan Patton, a.k.a. Big Boi of Outkast. The white, low top sneakers have blue glitter panels toward the front of the shoes and red glitter panels that extend down over the sides and heels. Yellow glitter panels are sewn at the center back heels to form the Nike swoosh logo on the outer and inner sides of the shoes. These custom kicks were made in 2005 and are another example of footwear fashion in hip-hop.
From Run-DMC's song, "My Adidas" in 1986, to Nelly's "Air Force Ones," shoes have always held an important place in the significance of hip-hop fashion. Boi Boy's affinity for sneaker culture dates back to his first High School job working at a Foot Locker store in the Underground Atlanta. After achieving financial success as a musician, his private collection grew until athletic brands began approaching the band to create all new Outkast apparel. Similar endorsement deals have historically launched artists into the realm of business moguls, giving them the creative control, marketing, and investors required to create a thriving market for sneakerhead culture. Similar success can be seen with various brands like, Kanye West's Yezzys.