Freedman's Bureau
The Freedmen's Bureau: New Beginnings for Recently Freed African Americans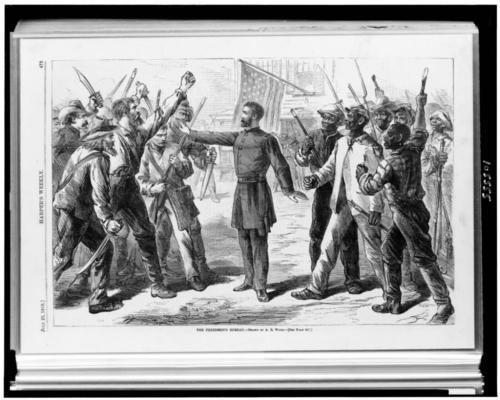 The Civil War ended on April 9, 1865, with General Robert E. Lee's surrender of the Confederate Army to the Union Army. The country was in complete chaos. How could a country that was so strongly divided mend itself into one cohesive unit? What would happen to over 3.5 million enslaved persons who have now been freed? 
With the Emancipation Proclamation, issued by President Abraham Lincoln to take effect Jan. 1, 1863, the aim of the Civil War evolved to include the liberation of enslaved African Americans in 10 rebellious states. The 13th Amendment, which passed Dec. 6, 1865, made slavery illegal in the United States. 
"I never, in my life, felt more certain that I was doing right, than I do in signing this paper," he declared. "If my name ever goes into history it will be for this act, and my whole soul is in it." President Abraham Lincoln said about the Emancipation Proclamation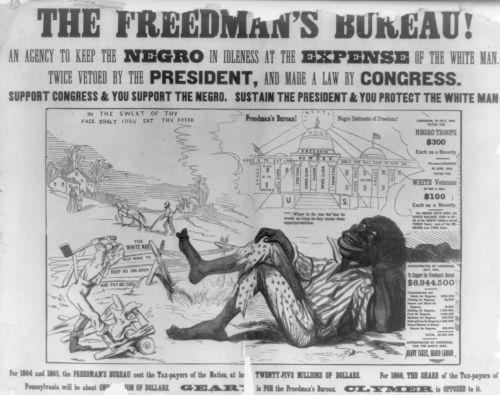 On December 18, 1865, the 13th Amendment was ratified, abolishing slavery throughout the United States. This was the first of three Reconstruction amendments to the U.S. Constitution giving Congress new power to define and protect civil rights at the federal level. 
During Reconstruction, the period following the Civil War and lasting until 1877, one essential organization was established to secure the things newly freed enslaved persons needed to live as free citizens, including land, family, education, safety and justice. In March of 1865, an act of Congress established the U.S. Bureau of Refugees, Freedmen, and Abandoned Lands, commonly known as the Freedmen's Bureau. The bureau was established to assist in the political and social reconstruction of post-war Southern states and help formerly enslaved African Americans transition from slavery to freedom and citizenship. 
Lincoln signed the act into law for the bureau to oversee all affairs relating to refugees and freedmen and lands abandoned or seized during the war.  
President Andrew Johnson appointed U.S. Army officer Oliver Otis Howard as commissioner of the Freedmen's Bureau in 1865. The bureau provided food, clothing and healthcare and helped negotiate contracts between formerly enslaved persons and landowners. The new federal agency also set up a banking system, reunited displaced families and established schools.  
Freedom offered African Americans the opportunity to work for themselves. But the Black Codes, discriminatory laws passed by southern state governments, required newly freed people to sign labor contracts with white planters on terms almost indistinguishable from slavery. 
Freedmen's Bureau agents sometimes required planters to agree to more fair conditions and compensation. But some agents sided with white employers and used their position to procure cheap labor for southern plantations. 
Agents and assistant commissioners worked in the former Confederate states, the border states and the District of Columbia where the bureau was based. 
The bureau lacked military and monetary support to fully implement its first efforts. It was most successful in the establishment of schools and record keeping. Along with the American Missionary Association, wealthy philanthropists and black churches, the bureau was able to educate African Americans, who once were denied that right.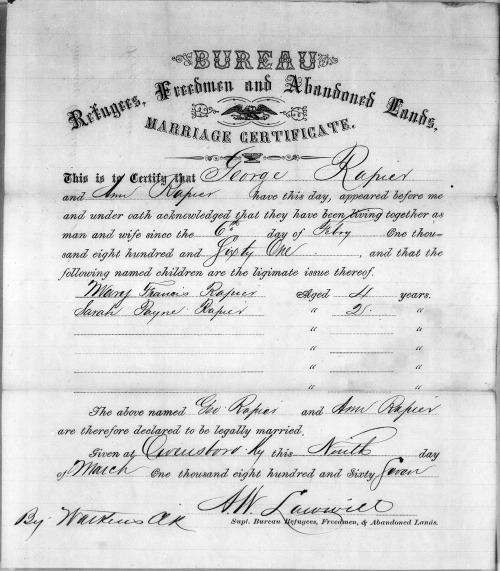 The Freedmen's Bureau established schools for freedmen, women, children and poor whites. The most visible success of the bureau and its associates was the establishment of Historically Black Colleges and Universities (HBCUs). Howard University, Fisk University and Morehouse College are some of the most well-known HBCUs that were established during Reconstruction. Oliver Otis Howard, a staunch supporter of African American education, cofounded Howard University in Washington, D.C., in 1867 through an act by Congress. He used Freedmen's Bureau funds to purchase land and construct several campus buildings. From 1869 to 1873 he also served as the third president of the university, which was named in his honor.  
While a few white southerners supported the establishment of schools for newly freed African Americans, many more reacted with hostility and violence. White terrorists threatened and attacked teachers and students, and burned down schoolhouses along with Black churches and businesses to intimidate Black communities. 
With the establishment of the Freedmen's Bureau, for the first time in U.S. history, the names of formerly enslaved individuals were systematically recorded and preserved for future generations.  
"The Freedmen's Bureau is a story that needs to be told. All Americans would benefit by it. African Americans would greatly benefit by it. It comes as Abraham Lincoln's greatest gesture, certainly his final gesture before he was murdered. Some four million slaves were set free and they would not have any place to stay, any place to sleep, or any food to eat had it not been for the concept of the Freedmen's Bureau. When you know your background then your foreground pretty well takes care of itself. When you know where you're coming from then you can design where you are going."

Rev. Dr. Cecil L. Murray,

Theologian and former pastor of the First African Methodist Episcopal Church of Los Angeles 
In 2022, the Smithsonian National Museum of African American History and Culture launched the launched the Freedmen's Bureau Search Portal. The portal is designed to help family historians and genealogists search for their ancestors and for scholars and students to research various topics found in thousands of pages of the Freedmen's Bureau records. From 1865 to 1872, the Freedmen's Bureau created millions of handwritten records that contained the names and information of hundreds of thousands of formerly enslaved individuals and Southern white refugees. 
The museum is leading a volunteer effort to transcribe the digitized records of the Freedmen's Bureau so they can be more useful for scholars and genealogists researching the Reconstruction era. The more than 1.5 million files include labor contracts, land leases, marriage certificates, hospital registers, ration orders and teachers' reports. 
The portal and the ongoing Freedmen's Bureau Transcription Project provide a better understanding of Reconstruction and post-emancipation African American life and allow African Americans to connect with their ancestors in a way that was previously thought impossible. 
To learn more about the Freedmen's Bureau Project, visit the Robert Frederick Smith Explore Your Family History Center on the museum's second floor or the Smithsonian Transcription Center webpage to volunteer.