Baldwin At A Glance
An Introduction to James Baldwin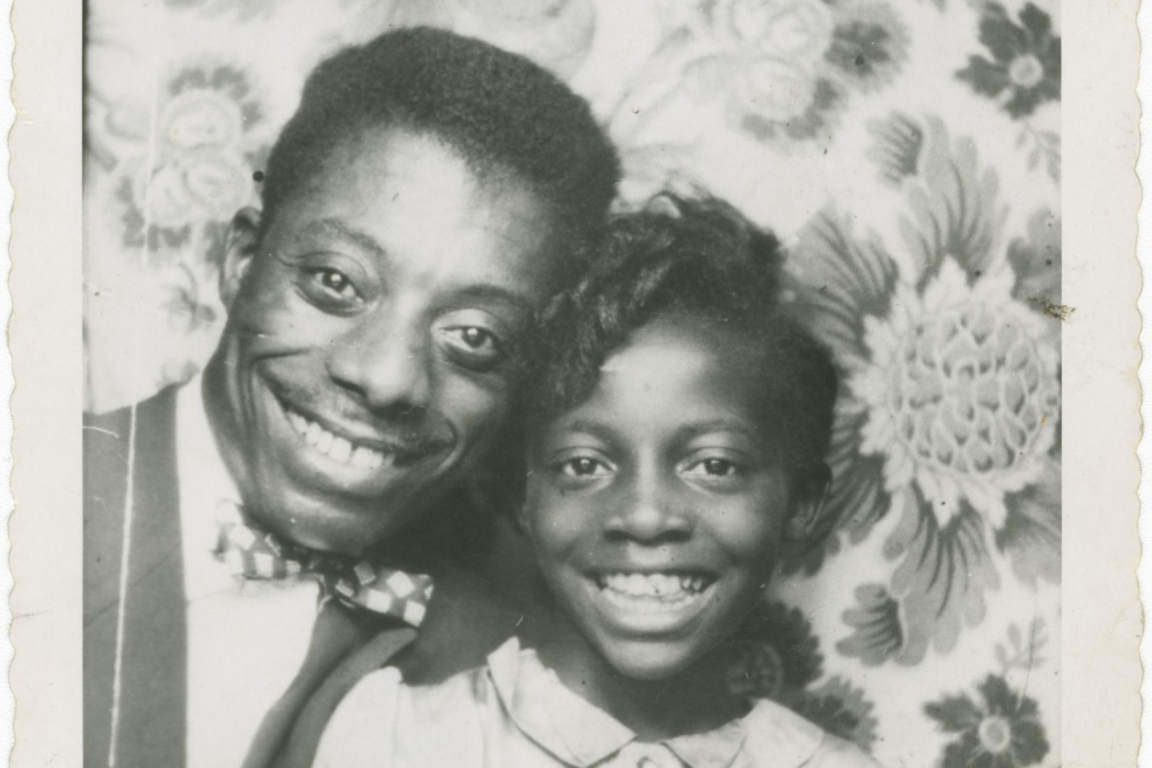 James Arthur Baldwin (1924 – 1987) was born in Harlem, New York on August 2, 1924 to Emma Berdis Jones, originally from Deal Island, Maryland. He was reared by his mother and stepfather David Baldwin, a Baptist preacher, originally from New Orleans, Louisiana, whom Baldwin referred to as his father and whom he described as extremely strict. He did not know his biological father. As the eldest of nine children, Baldwin took seriously the responsibility of being a big brother and his mother's right hand. He cared for and protected his three younger brothers and five sisters in a household governed by the rigid rules of their father.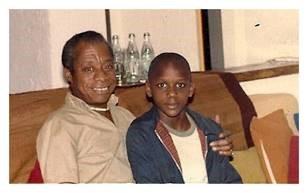 Between the ages of fourteen and seventeen, Baldwin became a preacher at the Fireside Pentecostal Assembly, where he developed a celebrated preaching style. His brief experience in the church would have a sustained impact on his rhetorical style and on the themes, symbols, and biblical allusions in his writings. Baldwin's Pentecostal experience is, in fact, essential to understanding his complex views on Christianity, which he espoused in his speeches and publications. His experience in the pulpit also served to inflect his overall stance on religion, and his ultimate rejection of it in the name of humanistic love. In The Fire Next Time, Baldwin proclaims, "If the concept of God has any validity or any use, it can only be to make us larger, freer, and more loving. If God cannot do this, it is time we got rid of Him."
During his early teen years, Baldwin attended Frederick Douglass Junior High School, where he met his French teacher and mentor Countee Cullen, who achieved prominence as a poet of the Harlem Renaissance. Baldwin went on to DeWitt Clinton High School, where he edited the school literary magazine Magpie and participated in the literary club, just as Cullen had done when he was a student there. By high school graduation, he had a group of close friends from DeWitt Clinton—Richard Avedon, Emile Capouya, and Sol Stein—with whom he kept in touch and even collaborated on some of his works (e.g., Avedon and Stein).
The 1940s marked several turning points in Baldwin's life. In 1942, he graduated from high school, and a year later he witnessed the Harlem Race Riot of 1943 and experienced the death of his father. After this emotional loss, Baldwin felt more than ever that it was important to play father figure to his eight brothers and sisters. He could not even dream of college and, therefore, worked at menial jobs during the day and at night played guitar in Greenwich Village cafes, where he also wrote for long hours, trying to fulfill his dream of becoming a writer.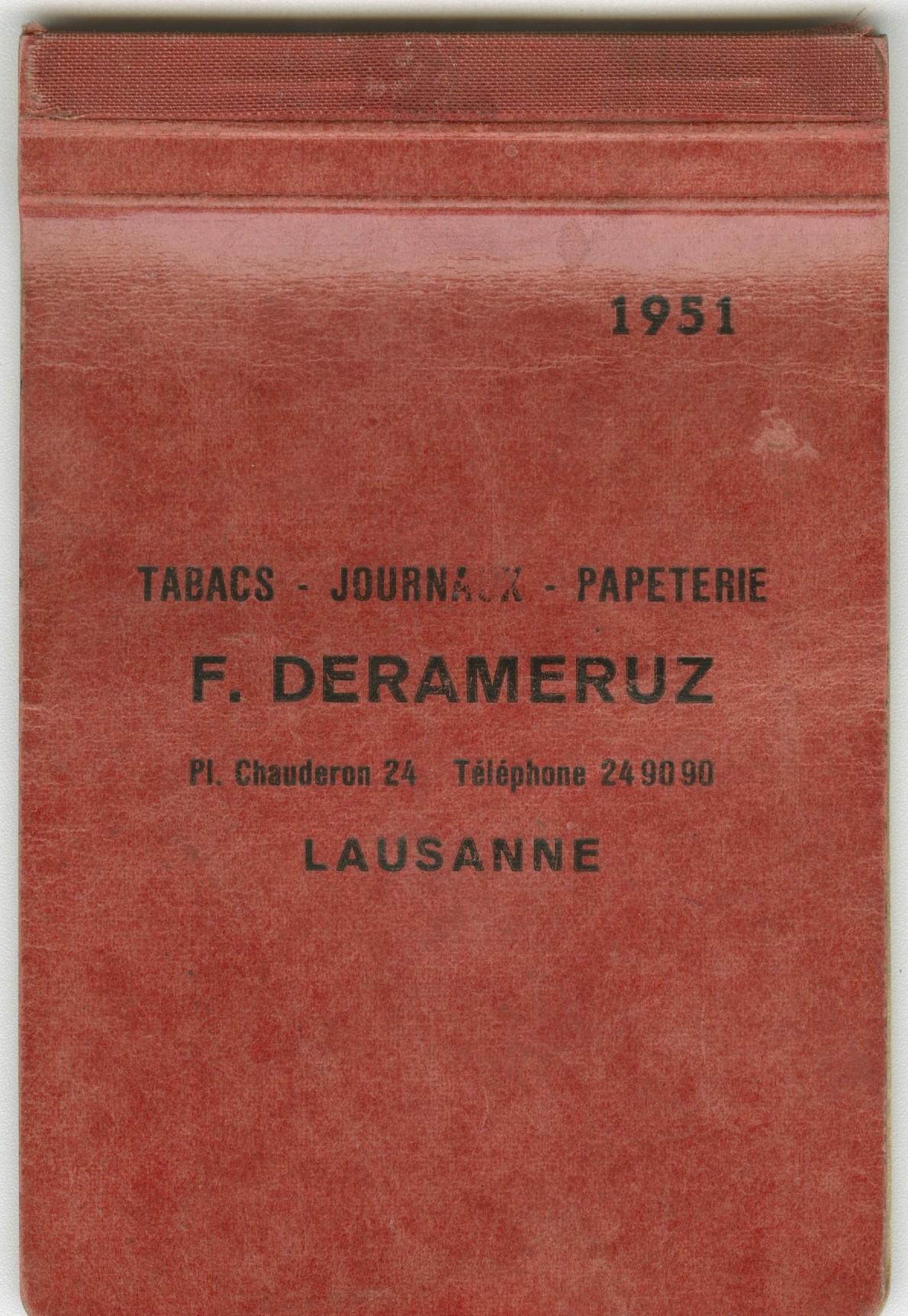 In 1944, Baldwin met Richard Wright, who was the famous African American male writer at the time, and whose work spoke to his sensibility. In time, Wright would also become his mentor, for Baldwin appreciated Wright's strong opinions about race in America, and he also greatly valued their intellectual exchanges. Wright helped Baldwin to obtain a fellowship to write his first novel, which enabled him to leave for Paris in 1948, where the older writer had relocated a few years earlier. However, while in France, the two were often at odds about the ways in which they approached race in their writings. Baldwin wrote three essays explicating his critique of Wright's "protest art" in the novel Native Son (1940); their disagreement eventually led to the demise of their friendship, which Baldwin regretted after Wright's death in 1960.
In 1948, at age twenty-four, Baldwin left the United States to live in Paris, France, as he could not tolerate the racial and sexual discrimination he experienced daily. As Kendall Thomas, professor of law and critical race studies at Columbia University, explains, Baldwin left his country because of racism, and Harlem because of homophobia—two aspects of his identity that made him a frequent target of beatings by local youth and the police. When asked about his departure, Baldwin explained in a The Paris Review interview from 1984, "My luck was running out. I was going to go to jail, I was going to kill somebody or be killed." In Paris, Baldwin began to interact with other writers. He reconnected with Richard Wright, and for the first time, he met Maya Angelou, with whom he maintained a close relationship until the end of his life.
Baldwin would spend the next forty years abroad, where he wrote and published most of his works. Between 1948 and 1957 he lived in France and traveled in Europe, and from 1961 to 1970, Baldwin lived for long periods in Istanbul and visited many other places in Turkey. The violence and assassinations of black leaders in the United States during the politically turbulent 1960s took an emotional toll on him. After the assassination of his three friends—Medgar Evers in 1963, Malcolm X in 1965, and Martin Luther King, Jr. in 1968—Baldwin suffered an emotional breakdown, became ill, and eventually moved to the South of France to recuperate. In 1971, he settled in a house in the village of St. Paul de Vence, which he would later buy piece by piece, as he received payments for his publications (accounts vary as to the final sale having taken place). In St. Paul, he would create his most enduring household.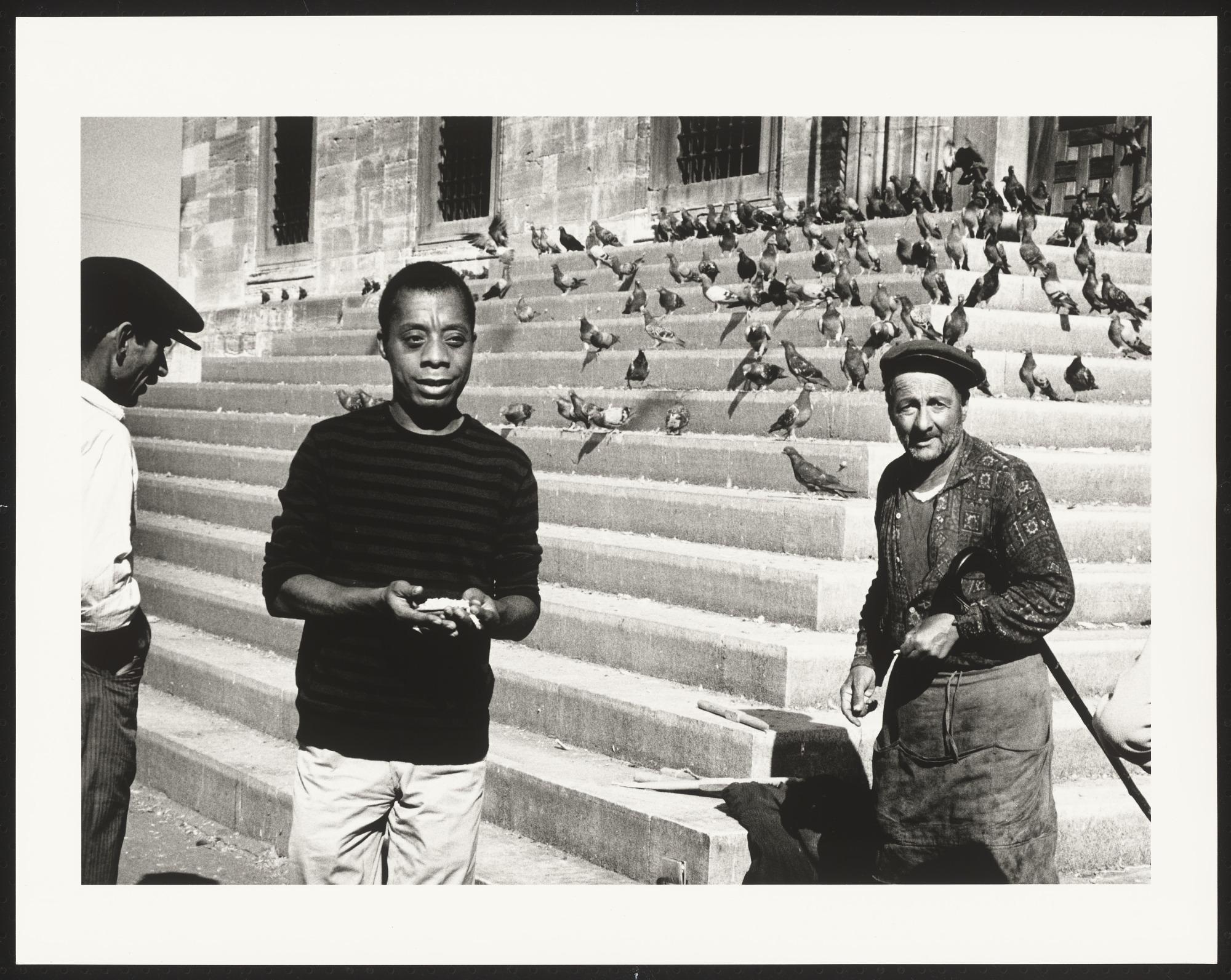 During his earlier years abroad, Baldwin returned to the United States frequently and considered himself a "transatlantic commuter." In 1955, he signed a lease for an apartment at 63 West 97th Street in New York, and from the mid-1960s on, he maintained a home nearby at 137 West 71st Street.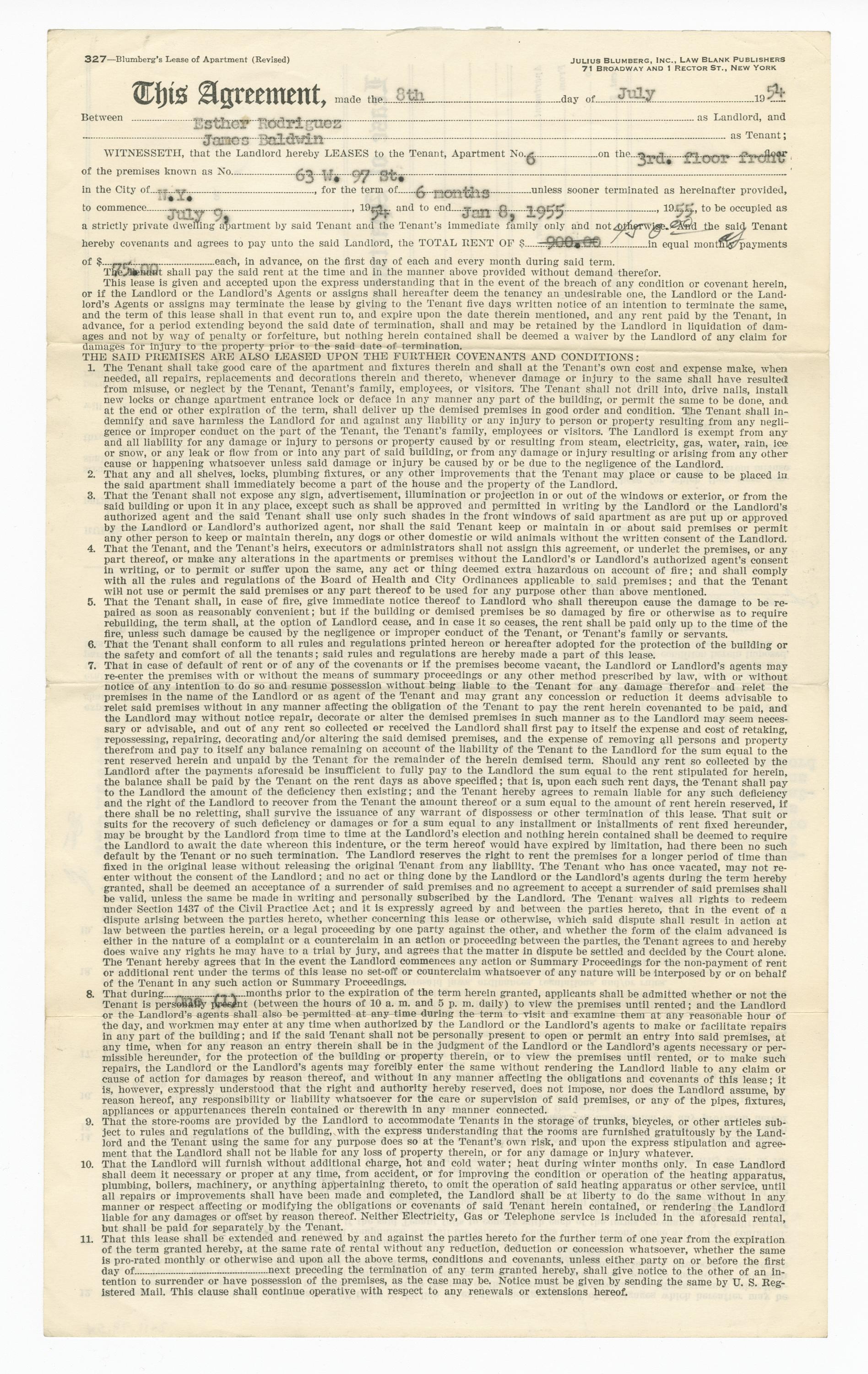 When Martin Luther King, Jr. was assassinated in 1968, Baldwin was living in California in a rented house in Los Angeles, where he was writing a screenplay based on Alex Haley's The Autobiography of Malcolm X. He received the tragic news while visiting London with his sister Gloria. Many of Baldwin's extended visits to the United States were to spend time with his large and beloved family and to participate in Civil Rights Movement events. He attended the March on Washington in 1963 and the Selma to Montgomery March in 1965. Baldwin also participated in literary events, such as the 1965 conference titled "The Negro Writer's Vision of America" sponsored by the New School of Social Research in New York. During his presentation, Baldwin addressed the conference theme, saying, "I know a story which America denies. And it denies it for the very good reason that my story, once told, confronts it with the truth about itself. In fact, my story, once told, will liberate America. The possibility of liberation—the necessity of becoming responsible for one's own life—is what most people most profoundly fear."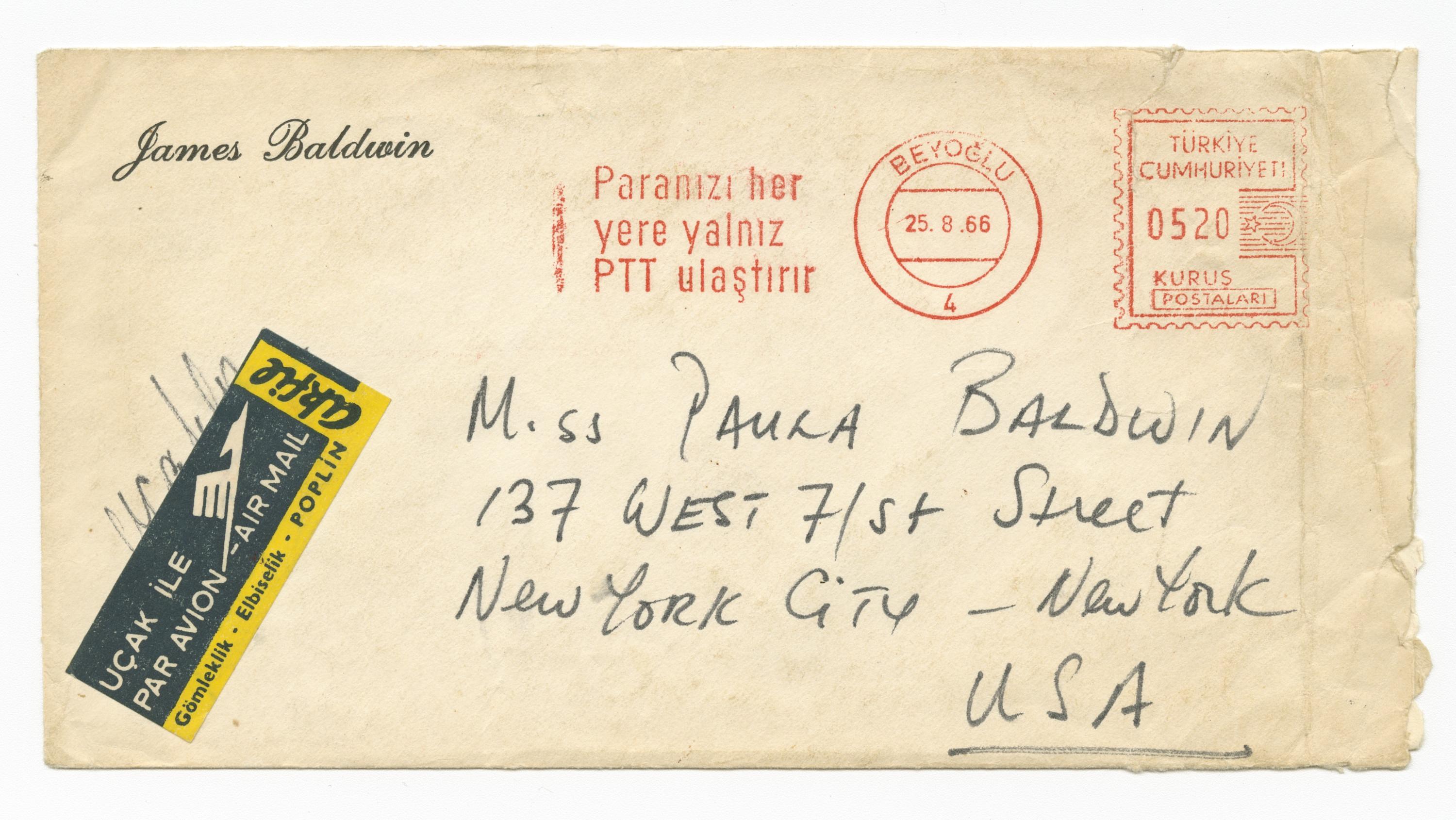 After a short battle with stomach cancer, Baldwin passed away on November 30, 1987 in his house in St. Paul de Vence. A week later, he was laid to rest at the Cathedral of St. John the Divine in New York City and buried at the Ferncliff Cemetery in New York. Family members and friends participated in a large service during which Toni Morrison, Amiri Baraka, and Maya Angelou delivered touching remarks about their friend and brother. Angelou said Baldwin's love "opened the unusual door for me, and I am blessed that James Baldwin was my brother."