Our American Story
Joe Louis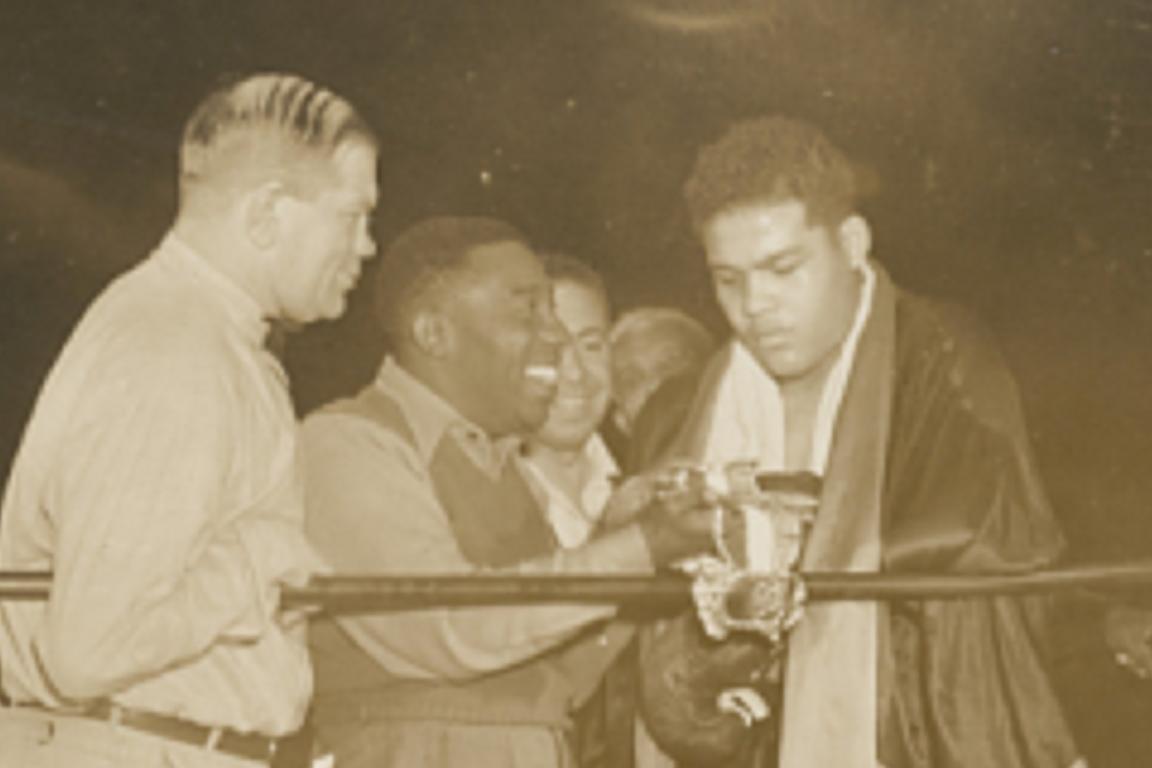 During what is often described as boxing's "Golden Age" — approximately 1930 to 1955 — Joe Louis, the "Brown Bomber," would become its undisputed king. Not only would Louis dominate his sport during this period, he transcended the color barrier and was cheered by Americans of all races.
Joe Louis Barrow — the grandson of a slave and the great grandson of a slave owner — was born in poverty on May 13, 1914. The Barrow home in Lafayette, Alabama was next to a cotton field. Growing up, Louis and his seven siblings often slept three and four to a bed.
The lack of jobs and the violence waged against African Americans by a revived Ku Klux Klan in the South led Louis' mother, Lily, to take her family and join thousands of blacks in the Great Migration north.
They settled in Detroit, and Joe began learning the craft of cabinet making and taking violin lessons. He was about 11-years-old when a friend introduced him to boxing. As a teenager, Louis gained a reputation as a top-flight amateur fighter. He dropped "Barrow" from his name, hoping to keep his boxing a secret from his mother. But winning 50 of 54 amateur fights – 43 by knockouts — brought headlines on newspaper sports pages in Detroit and around the Midwest. It was impossible to hide his remarkable power, speed, and innate tactical mind — skills that helped Louis become one of the greatest boxers in history.
He soon gained the attention of John Roxborough, head of the illegal gambling rackets in the black communities of Detroit. What Roxborough offered Louis was unique to the sport of boxing at the time. Roxborough had watched countless white managers burn out African American fighters before their prime. He promised Louis the best training and opportunities.
Roxborough quickly brought in boxing promoter Julian Black and respected trainer Jack Blackburn to groom Louis for greatness.
Roxborough was true to his word, guiding Louis with care and, in the process, attaining record prize purses — not just for a black boxer, but for boxers of any color. Roxborough was also a keen marketer. The image white America had of African American boxers had been shaped by Jack Johnson. Johnson, though a powerful champion, was viewed as militant and a womanizer, among other things. With "the shadow of Johnson" stalking Louis, Roxborough created a list of "commandments" that Louis would have to follow. These "commandments" included:
Never be photographed with a white woman.
Never gloat over a fallen opponent.
Never engage in fixed fights.
Live clean and fight clean.
The public relations strategy worked. Louis' talent did the rest. As Louis wrote in his autobiography: "Mr. Roxborough was talking about Black Power before it became popular."
His first professional bouts of note were victories against Italian giant Primo Carnera, and American Max Baer, both former champions. The bout with Carnera foreshadowed how Louis' life and career would become politicized. Carnera was touted by Benito Mussolini as the symbol of his new, fascist Italy. Louis battered Carnera, winning by knockout in the sixth round.
Louis won 27 professional fights in a row — 23 by knockouts — and was on track to fight "Cinderella Man" James Braddock for the title. However, Louis' surprising loss to German Max Schmeling on June 19, 1936 temporarily delayed a title shot. Schmeling, who was not a Nazi, was hailed by Adolf Hitler as an example of the superiority of the Aryan race.
Eventually, Louis got his title fight against Braddock, knocking him out on June 22, 1937 and winning the heavyweight crown. After the fight, Malcolm X said, "Every Negro boy who could walk wanted to be the next Brown Bomber."
Now it was time for Schmeling again. By the late 1930s, Hitler had started his attempt to conquer Europe, and the Louis-Schmeling rematch took on even more meaning. It was reported that Hitler called Schmeling just before the fight and ordered him to win for the sake of Nazi Germany. Louis, despite America's racial divide, was seen as freedom and democracy's defender. Franklin Roosevelt invited Louis to the White House. There, more than two years before the United States entered the war, Roosevelt felt Louis' bicep and said, "Joe, we need muscles like these to defeat Germany."
It wasn't a fight between two men; it was a battle of ideologies.
On June 22, 1938 — exactly one year after becoming world champion — Louis dispatched Schmeling two minutes into Round One. Instantly Louis became more than just a champion. At a time when boxing was at its zenith and the heavyweight champion was considered the greatest athlete in the world, Louis achieved even more. He became a hero to Americans of every race and background.
Louis would hold the crown for 12 years — longer than any fighter past or present has held a title in any weight class. At his prime, Louis enlisted in the Army in 1942, where he rose to the rank of sergeant. He fought hundreds of exhibition matches to entertain the troops and raise money for the Armed Services. Louis even donated money to military relief funds.
After the war, Louis won four more fights — two against Jersey Joe Walcott — and retired. He had defended his title 25 times, another record, and only three of those bouts went the distance.
Almost two years later, Louis had to change his plans. Louis' lifestyle — his generosity to friends and family was well known — coupled with his boxing schedule had left little time for keeping track of the accounting, including filing his taxes. Ignoring all that Louis had done for his country during the war, the IRS demanded more than $1 million in back taxes. He stepped back into the ring well past his prime and was pummeled by the current champion, Ezzard Charles. Then, in 1951, Louis was knocked out by Rocky Marciano.
Louis retired from the ring again, but he still needed money to pay the IRS. He took odd jobs, including a stint as a professional wrestler. His last job was as the official greeter at Caesar's Palace in Las Vegas.
After his boxing career was over, Louis would become good friends with Schmeling. Sports writers respected Louis as much for his kind, generous nature as they did for his boxing brilliance. When he died on April 12, 1981, President Ronald Reagan said Louis was "more than a sports legend — his career was an indictment of racial bigotry and a source of pride and inspiration for people around the world." Honoring the family's request, Reagan waived the requirements and Sgt. Joe Louis was buried in Arlington National Cemetery with full military honors.
At the height of his popularity, people said Louis was "a credit to his race." In response, Boxing Hall of Fame sports writer Jimmy Cannon wrote: "Yes, Joe Louis is a credit to his race — the human race."