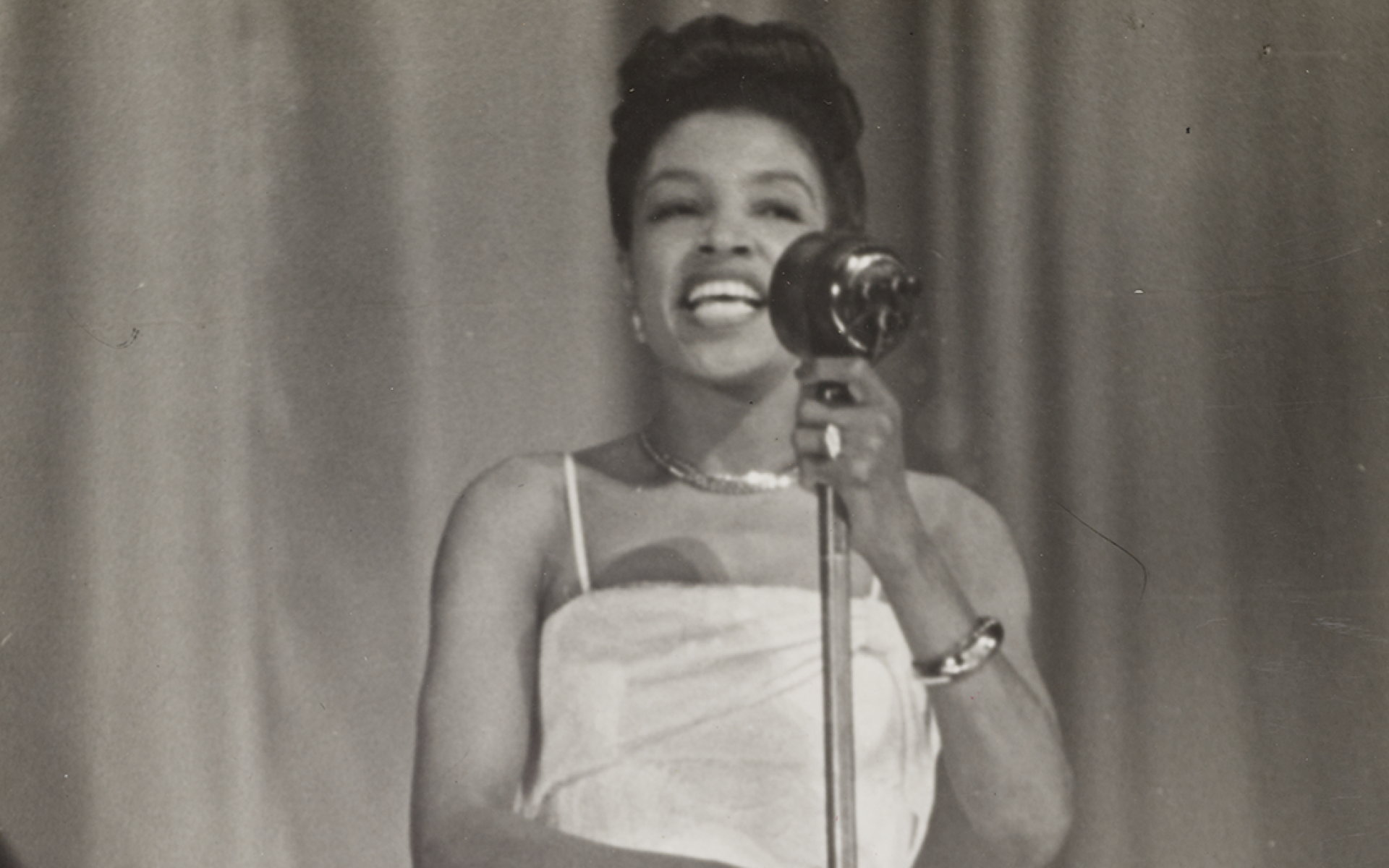 Collection Story
A Life Well-Sung
Maxine Sullivan (1911-1987)
Singer Maxine Sullivan (1911-1987) used her voice to represent the Bronx community she and other jazz artists called home.
In 1937, a swinging version of the traditional Scottish folk song "Loch Lomond" captured widespread attention and catapulted young jazz singer Maxine Sullivan to stardom. The song, her only big hit, followed her over the course of a 40-year career, but behind the sweet voice was a woman juggling multiple roles and a passion for giving back to the Bronx community she loved. A portion of her life's work housed in the Museum's collection tells the story of Maxine Sullivan as a jazz musician, a mother, a wife, an entertainer, and an active community organizer.
Maxine Sullivan, born Marietta Williams in Homestead, Pennsylvania, in 1911, began singing and playing music at a young age. Although none of her family members were trained musicians, many of her relatives played musical instruments and contributed to the sounds of what she fondly called the family's "front porch orchestra"— an informal type of musical education common across the United States in the early twentieth century. During this period, Marietta honed her singing skills, learned to play trumpet and valve trombone, and sang around Homestead and nearby Pittsburgh sitting in with various bands taking advantage of her status as the only singer in town. 
 
With assistance from her Uncle Harry, a saxophonist, and leader of the Red Hot Peppers, Marietta got a gig as a singer for Homestead's local speakeasy the Benjamin Harris Literary Society in 1936, leaving her work as a domestic behind. Floating from table to table serenading audiences gave her performing experience and aided her in garnering a reputation. At the request of pianist Gladys Mosier, Marietta traveled to New York City for a brief trip to explore the city and meet Mosier's contacts. The short excursion to the city became a permanent move after she was offered a spot to sing at the Onyx Club on 52nd Street, also known as "Swing Street."
To keep the momentum going following "Loch Lomond," Maxine released a number of other swing arrangements such as American composer Stephen Foster's (1826-1864) popular parlor song "Jeanie with the Light Brown Hair." Hollywood too came knocking on Sullivan's door, eager to feature her in musical films including Going Places (1938) alongside other jazz star Louis Armstrong and St. Louis Blues in 1939. Both films placed Maxine in the few roles open to African American women at the time, maids and singers. Maxine returned to New York City in 1939 and quickly rejoined Armstrong to star opposite him and many other African American entertainers in Swingin' the Dream. The musical, a jazzed up version of Shakespeare's A Midsummer Night's Dream set in 1890 New Orleans, ran for only nine performances and went down in history as a disaster. Despite the failure, the musical featured Maxine introducing the world to the beloved jazz standard "Darn that Dream" as Queen Titania. The song became a huge hit for fellow Swingin' the Dream musician, Benny Goodman in 1940 with Mildred Bailey on vocals.
From 1940 through 1941, Maxine and then-husband John Kirby headlined the popular CBS radio show "Flow Gently, Sweet Rhythm." The pair were among the first African Americans to star on a nationally syndicated radio program and included many of their friends within the jazz community, including fellow singer Ella Fitzgerald. This radio program, along with her roles in film and continued recording work throughout the 1940s made Maxine a household name throughout the United States. Increasingly in the 1950s, Maxine opted towards staying home with her children and fourth husband Cliff Jackson as performing opportunities slowed down. By 1958 (following her appearance as one of three female musicians in Art Kane's photograph A Great Day in Harlem), she stepped away from the stage to throw herself into life with her family and the Bronx Community. In place of an active performing schedule, Maxine joined the Parent Teacher Association and other service organizations and found a new passion that stayed with her for the rest of her life.
Starting in the mid-1960s, Maxine returned to performing with bassist Bob Haggart and the World's Greatest Jazz Band. Her comeback consisted of recordings of jazz hits and collaborations with other jazz pioneers living in New York City. In 1971, she revisited Shakespeare on the album Sullivan, Shakespeare, & Hyman. Performing pianist Dick Hyman's arrangements of sonnets from various comedies, Maxine flaunted her ability to sing sixteenth-century poems while hanging tight with the swift-paced tempos of Hyman's interpretations. To promote the album, the pair brought on stage-actor Earle Hyman to read the sonnets for performances in the spring of 1976.
Maxine's community service went in a new direction after the loss of her husband, stride-pianist Cliff Jackson, in 1970. For years the couple had rented out rooms in their second home to jazz musicians, but after Jackson's death, Maxine transformed the house on Stebbins Avenue into a community center for jazz education dedicated to her husband's memory. Maxine opened The House That Jazz Built in 1975 with programs and concerts focused on exposing children in the South Bronx to jazz and its history in the Bronx. The House That Jazz Built continued to be a large part of her life through the 1980s and was one of her many projects giving back to the Bronx community.
In 1979, Maxine also made a return to the Broadway stage in My Old Friends. Her role as the sassy Miss Cooper living in a retirement hotel earned her a Tony Award nomination in 1979. She remained in the part through 1985, but also kept a busy recording schedule supported by international tours billing her as "The Queen." Her comeback included Grammy nominations for her performances on Maxine Sullivan with the Ike Isaacs Quartet (1982), The Great Songs from the Cotton Club (1985), and Uptown (1986).
In the fourth decade of her career, Maxine's voice, huskier with age, no longer had the wide range it did in the 1940s, but had a depth that conveyed experience and a life well lived. Despite not having widespread fame like other vocalists, she was appreciated by instrumentalists for her musicianship and willingness to share the spotlight.
Maxine Sullivan never quite got away from the shadow of "Loch Lomond," and remains a hidden jewel in the history of jazz singing. Her accomplishments as a singer earned the respect of her peers, but perhaps, her more meaningful contributions came through her work as a community advocate.
Written by Hannah Grantham, Summer 2018 intern
Published on July 19, 2019
Resources
Dunning, John. On the Air: The Encyclopedia of Old-Time Radio (Oxford: Oxford university Press, 1998), 256.
Friewald, Will. Jazz Singing: America's Great Voices from Bessie Smith to Bebop and Beyond (New York: C. Scribner's Songs, 1990), 81, 109, 197, 370, 417-420.
"Inside the Playbill: Swingin' the Dream – Opening the Night at the Center Theatre." Playbill. http://www.playbill.com/playbillpagegallery/inside-playbill?asset=00000150-aea7-d936-a7fd-eef751880001&type=InsidePlaybill&slide=1.
Kerr, Alison. "Long Live The Queen." Alison Kerr's Jazz Blog. May 22, 2011. https://jazzmatters.wordpress.com/tag/flow-gently-sweet-rhythm/.
"Maxine Sullivan Papers: 1936-1987." New York Public Library, Archives and Manuscripts. http://archives.nypl.org/uploads/collection/pdf_finding_aid/Sullivan__Maxine.pdf.
Palmer, Robert. "Shakespeare Songs Get a Jazz Setting." The New York Times. April 16, 1976. https://www.nytimes.com/1976/04/16/archives/shakespeare-songs-get-a-jazz-setting.html.
Robinson, J. Bradford and Barry Kernfeld. "Sullivan, Maxine." Grove Music Online. January 20, 2002. http://www.oxfordmusiconline.com.ezproxy.usd.edu/grovemusic/view/10.1093/gmo/9781561592630.001.0001/omo-9781561592630-e-2000434300?rskey=6cw4Fe&result=1.
Yanow, Scott. Jazz on Film: The Complete Story of the Musicians and Music Onscreen (San Francisco, CA: Backbeat Books, 2004), 98-99.
Yeung, Bernice. "Step into the Attic. Enter the Jazz Age." The New York Times. January 28, 2007. https://www.nytimes.com/2007/01/28/nyregion/thecity/28jazz.html.