Our American Story
Mahalia Jackson: Gospel Takes Flight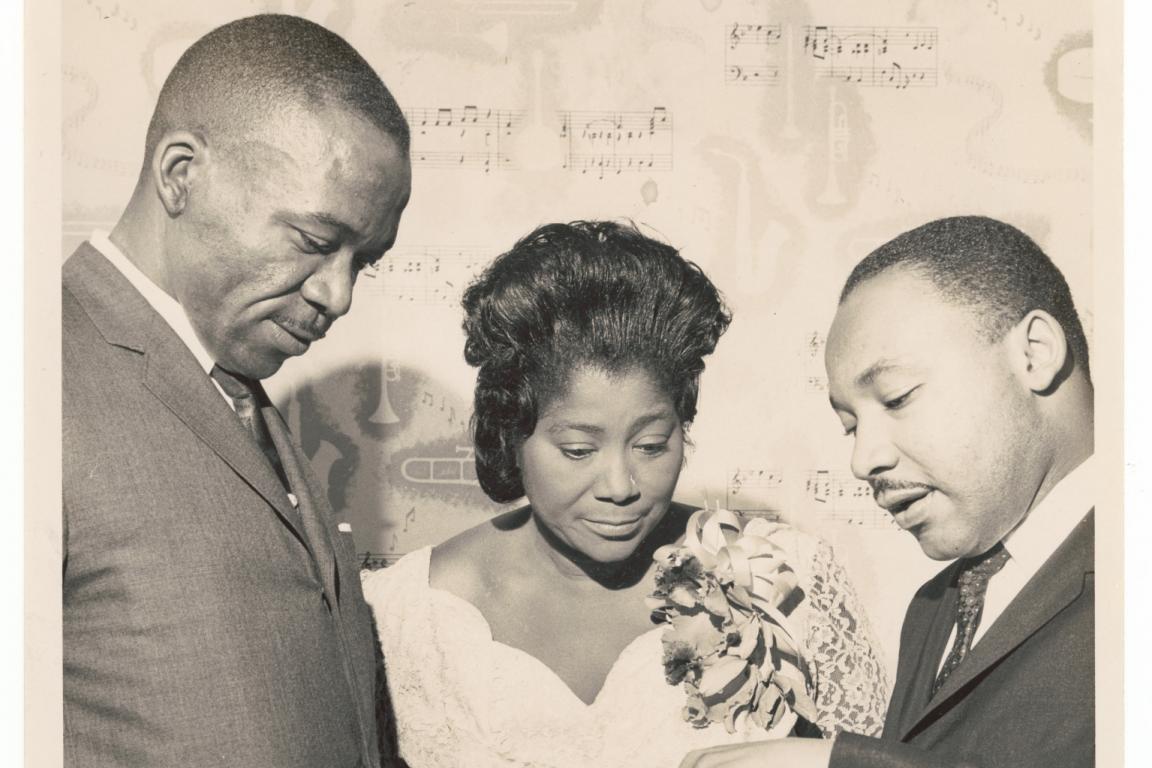 To speak of Mahalia Jackson's voice is to speak of magic and mystery and majesty. Hers is not a voice. It is a force of nature. It moves with the power of a tornado and soothes with the tenderness of a spring rain.
In describing the legendary gospel singer, Dr. Martin Luther King Jr. once said: "A voice like hers comes along once in a millennium."
He could just as well have been talking about her life's journey and the influence she had not only on gospel music, but on American music itself — from blues to rock and roll — and its impact on the world.
The woman who would one day be called the greatest gospel singer in the world was born in New Orleans on October 26, 1911. Her childhood home was a three-room house in the Black Pearl section of the city. It was a tiny space, home not only to little "Halie," and her mother and brother, but to assorted aunts and cousins, too. In total, thirteen people and a dog shared that home.
Mahalia's mother died when she was five, adding more hardship to her young life. She was raised by her Aunt "Duke," who allowed no secular records in the home and who treated Mahalia and her cousins harshly when they failed to keep the family home immaculate.
Mahalia began singing in church as a child. Quickly it became apparent that she had a tremendous talent and possessed a voice that was rich, strong and impressive. One family member said Mahalia would one day sing before royalty. Eventually, that came true.
After moving to Chicago in 1927 as a teenager during the Great Migration north, word of her amazing voice began to spread — first in local churches, and soon in churches across America. In 1948, she recorded "Move On Up a Little Higher" for Apollo records.
It was a spectacular success — groundbreaking, in fact, because no gospel song had ever achieved such sales on the secular side of the music industry. Stores across the nation scrambled to keep up with the demand for Mahalia Jackson's first and greatest hit.
The song propelled Jackson to worldwide celebrity; she became a force in radio and television, areas off-limits to African American musicians and entertainers. In 1954 she began hosting a popular Sunday night radio show for CBS. Her appearance in 1956 on the Ed Sullivan Show lifted gospel music from churches and revivals into mainstream American music, where it remains to this day.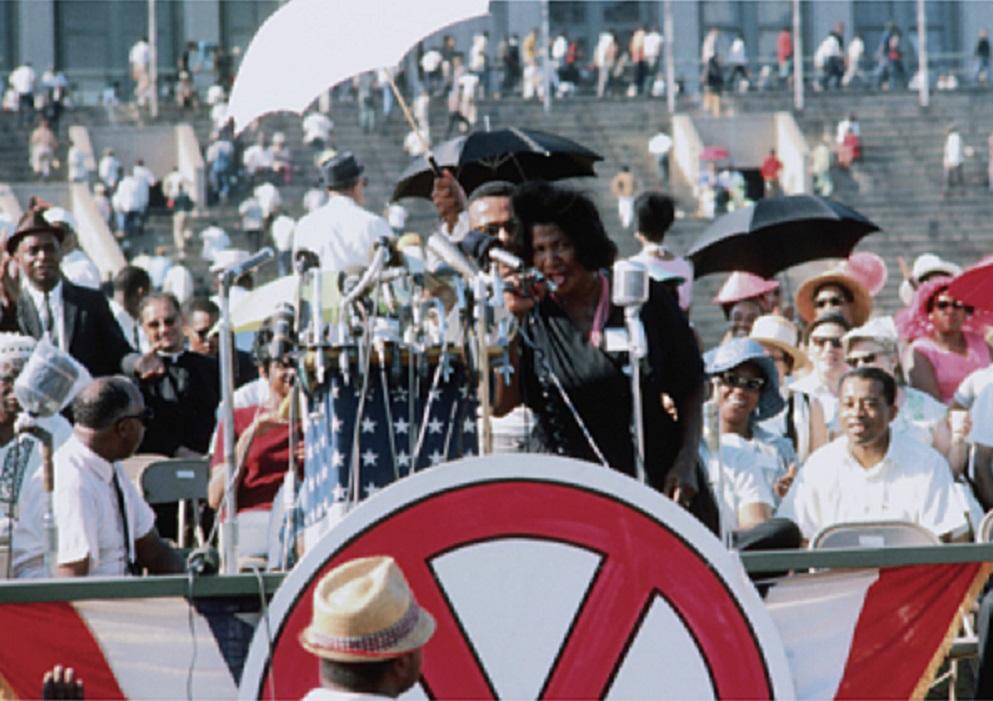 She performed in the White House for President Eisenhower, sang at the inauguration of John F. Kennedy, and travelled with Dr. King throughout the South, singing powerful gospel hymns before many of his speeches, including, at his request, a spiritual just before his "I Have a Dream" speech in Washington, D.C., in 1963.
Just as her family had predicted, she performed before royalty, singing at London's Royal Albert Hall when her first European concert tour brought her to England in the mid-1950s. During that tour she would also sing in France, Germany and Denmark.
Later international tours found Jackson performing before the royal family in Japan and meeting numerous heads of state such as Indira Gandhi, prime minister of India.
Countless singers and other musicians recognized her talent. In 1958, she collaborated with famed African American composer and band leader, Duke Ellington, on the album Black, Brown and Beige. Many music scholars believe this was Ellington's finest and most ambitious work, and certainly the one in which he made his deepest emotional investment. Mahalia Jackson's contribution was substantial. It was on this recording that she gave one of music history's most stirring performances — a heart-stopping rendition of "Come Sunday." Ellington wrote it specifically for her and she made it her own thanks to her deep-velvet voice and her soul-stirring spirituality.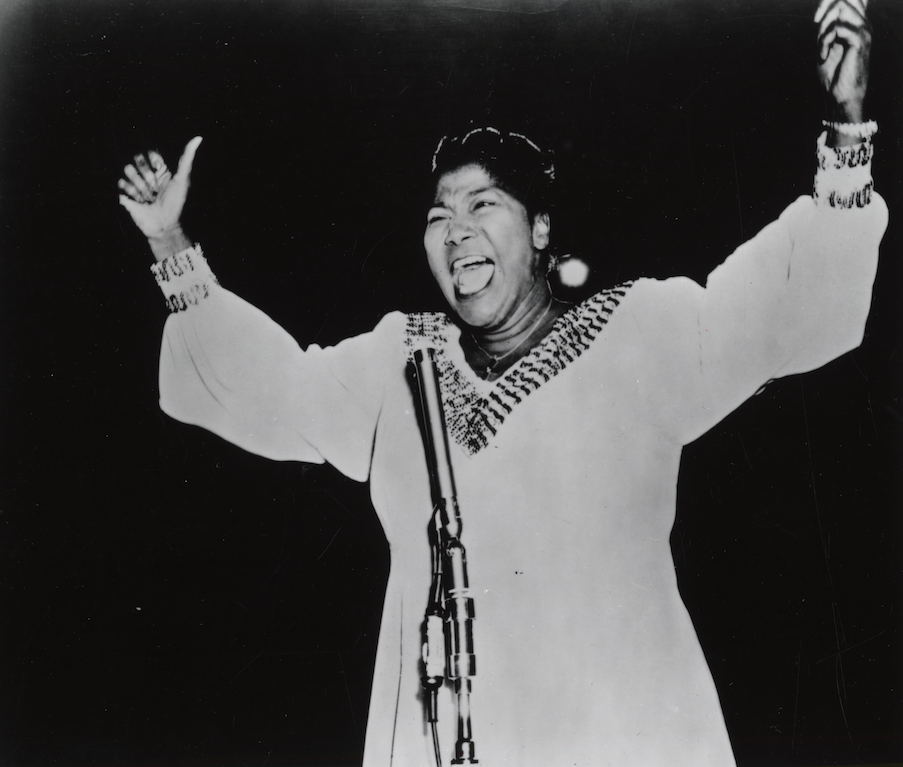 Jackson was frequently offered lucrative deals to sing in more popular secular styles, declining those offers, for the most part, to stay faithful to her gospel roots. Mahalia Jackson passed away in 1972, just a few months after her 60th birthday. Both Chicago and New Orleans honored her, with tens of thousands silently filing past her casket in tribute. It is estimated as many as 6,000 people attended her funeral service in Chicago; among them were Sammy Davis Jr. and Ella Fitzgerald. At service's end, Aretha Franklin sang "Precious Lord, Take My Hand," which had become one of Mahalia Jackson's signature songs.
Gospel music historian Horace C. Boyer wrote that through her voice and personality Jackson enlightened people worldwide to "respect gospel music as an idiom distinct from classical black spirituals." True to the idea that the African American story is an American story, it is hard to imagine contemporary music without the influence of Mahalia Jackson. This point is underscored by her induction into the Rock and Roll Music Hall of Fame in Cleveland, Ohio in 1997.
This is just one Page from Our American Story. However, it serves to underscore the mission of the Museum: to open a door to conversation and understanding not only to the African American experience, but also to how that experience has played an integral role in shaping our nation from its very beginnings.
Thank you for your support.
All the best,
Lonnie Bunch
Director