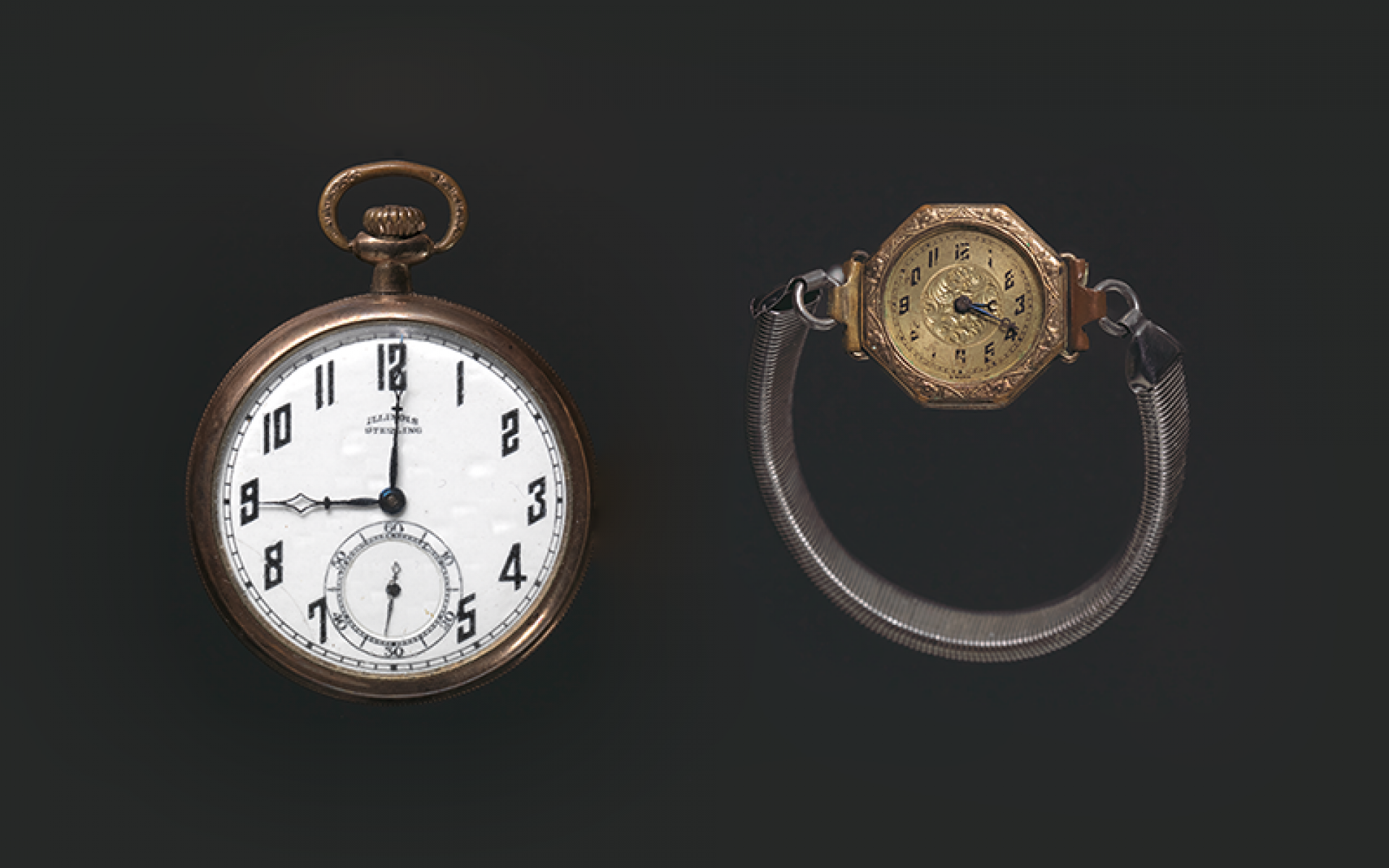 Collection Story
A Moment Captured in Time
Objects that Survived an Assassination
On Christmas Day, 1951, the NAACP's field secretary for Florida Harry Tyson Moore, and his wife, Harriette, were murdered.
It was the first killing of a prominent civil rights leader after World War II. Mr. Moore and his wife fought tirelessly for better schools, voting rights, and an end to lynching in Florida in the 1930s, 1940s, and early-1950s.
A Cataloger's Story
Cataloging this object was profoundly moving. This pocket watch, owned originally by Mr. Moore, appeared to be in good condition when I first lifted it out of its storage container. You would never have known by looking at it that it had survived a bomb blast.
The knowledge that a human being has given his or her life for a cause is sobering. Mr. Moore was the founder of his local NAACP chapter in Brevard County, Florida, and was a leader in the African American voter registration movement. A vocal activist against police brutality and systemic violence against African Americans, he waged an active letter-writing campaign to government officials at both state and national levels. He was particularly vociferous about a 1951 murder in which a white sheriff shot two handcuffed African American defendants in his custody. Six weeks later, December 25, 1951, a bomb went off under Mr. Moore's bedroom floor, killing him and fatally injuring his wife. Law enforcement never solved the crime.
Freedom never descends upon a people. It is always bought with a price.

Harry T. Moore

NAACP Leader
Among the ruins of the bedroom, this watch was found and handed over to one of Mr. Moore's daughters, who had survived the blast uninjured. To hold this watch in one's hand, to realize that Mr. Moore originally held it every day, is to be both physically and emotionally connected to a man who died half a century ago. It is a way to reach through time and experience this man's courage and the violence perpetrated against him for that courage.
This watch, along with Mr. Moore's personal wallet, and a wristwatch and locket belonging to Mrs. Moore, were donated to the museum by their youngest daughter, Juanita Evangeline Moore.
Browse Objects Relating to the Moores in the NMAAHC Collection
Written by J. Smithken-Lindsay, Cataloger
Published on September 9, 2017; updated January 11, 2019