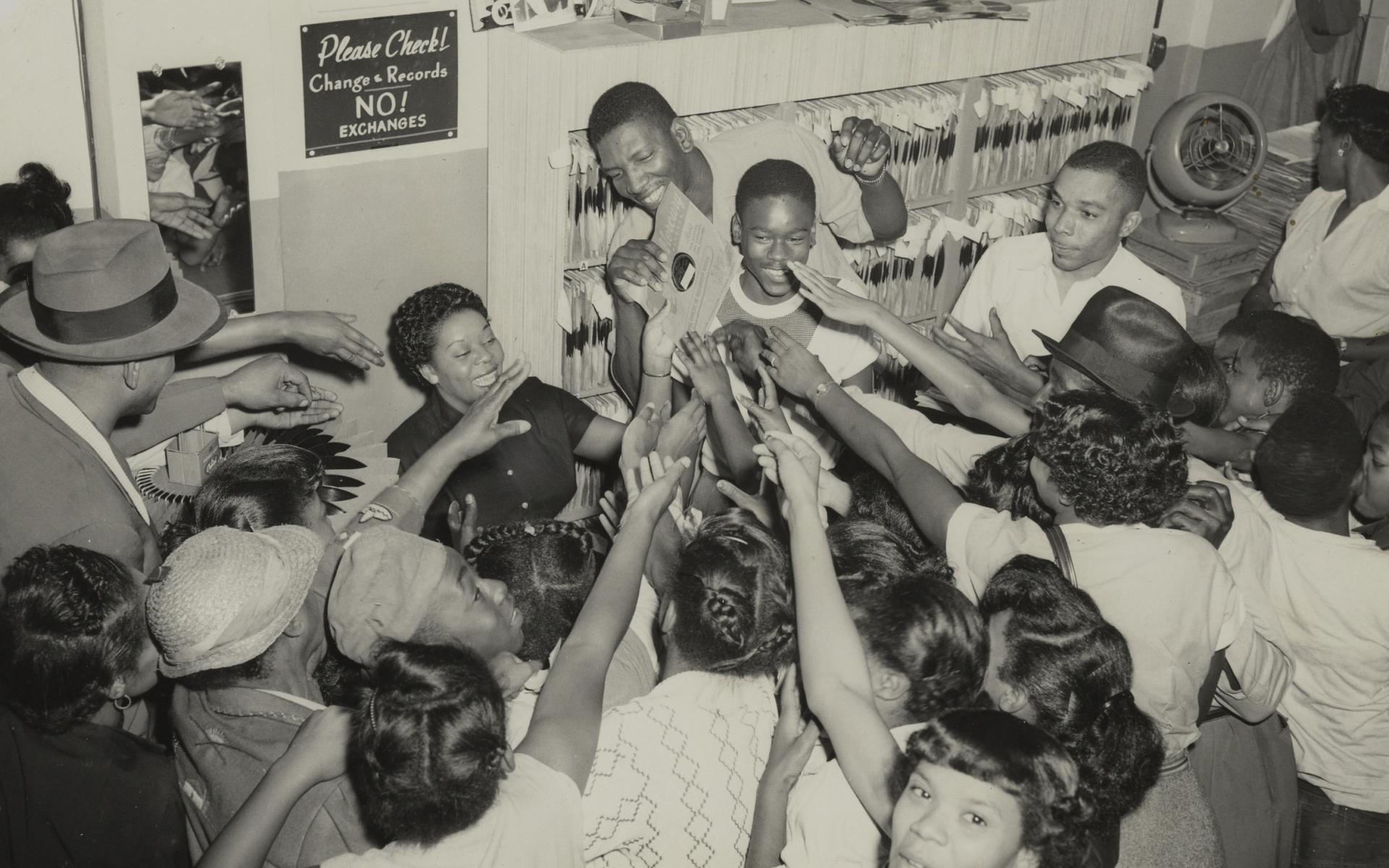 Collection Story
Neighborhood Record Stores
Supplying Music and Cultural Education
Record stores have long acted as important community spaces selling music of many styles and offering various cultural products like jewelry and clothing.
In African American neighborhoods, record stores were places where the community—especially youth—could come together to listen to, purchase, and sometimes come face-to-face with the artists behind their favorite music.
Neighborhood record stores bolstered the American music retail business with their impressive knowledge and networks that connected Black artists to listening audiences.
In 2018, the museum received a collection from storyteller W. Allen Taylor, documenting the tremendous presence of his father, Bill Hawkins, in Cleveland's musical scene during the 1950s. Hawkins' small, community-based music empire was built by juggling a busy schedule that epitomizes the hustle of musical entrepreneurship. His work spanned radio broadcasting, recording, and music retail.
The pinnacle of his base in Cleveland's Cedar-Central neighborhood was his record shop at Carnegie and 105th Streets. Hawkins hosted radio broadcasts with stars from his shop and recorded up-and-coming musicians in the attached studio. He and his staff sold records that appealed to mixed generations of families that had lived in Cleveland for years or who had recently arrived in the city as part of the Great Migration.
Black merchandisers envisioned the record trade as an arena in which African Americans could pursue a broader strategy of bolstering economic self-sufficiency and sustaining Black public life. And by seeking out music from Black-owned record stores, African American consumers partook in a vibrant form of commercial public life, a community-based consumer culture that welcomed shoppers regardless of their color, age, or financial means.

Joshua Clark Davis

For the Records: How African American Consumers and Music Retailers Created Commercial Public Space in the 1960s and 1970s South
Hawkins's shop was a favorite of local children growing up in the nearby Outhwaite Homes Estates who eagerly looked forward to the allowance provided by their families to spend on new records. Likewise, teens and adults made the trek to Hawkins's store to see their favorite artists who visited to meet with their fans. Photographs documenting the record shop's activity exemplify a type of business model employed by countless African American entrepreneurs throughout the United States. These owners positioned their stores as multipurpose spaces where they served communities and musicians while cultivating music listening tastes that have had an enduring impact on American music.
Hawkins opened his store amidst a wave of new music business activity led by African Americans in the years succeeding the Second World War. Around 400 to 500 record shops were estimated to be in the Southern United States during the mid-twentieth century. Hundreds more operated in communities throughout the Northeast, Midwest, and Western regions. For many, the entrepreneurial venture seemed friendly based on their familiarity with music, its business, and its practitioners.
Bill Hawkins, for example, had a musical background that contributed to the network that came through his record shop. He sang with the vocal harmony quartet, The Riff Brothers, as a young man, and he was a cousin of trumpeter and bandleader Erskine Hawkins. The Alabama-born entrepreneur traveled widely as a Pullman Porter and understood what his community, comprised of a growing population of Southern migrants joining an established Black community in Cleveland, wanted to hear.
Running music shops dovetailed nicely with broadcasting radio programs. The pairing allowed creative-minded dealers to cultivate stores that acted as broadcast centers, enriching their local communities and providing important support for Black artists. Like his contemporaries, Hawkins saw record shops as profitable enterprises that also served his community's needs. Documents in a scrapbook that he used to support his sales pitches illustrate how he perceived that the radio and music industry neglected the Black community as consumers. There weren't many stores in Cleveland catering to the Black music-listening community or focusing on Black artists more specifically. His location within the Cedar-Central area also conveniently saved Black residents a longer trip on the bus or light rail to visit stores downtown. So, his store became a musical hub in the community and an active space where people gathered around music and cultural happenings.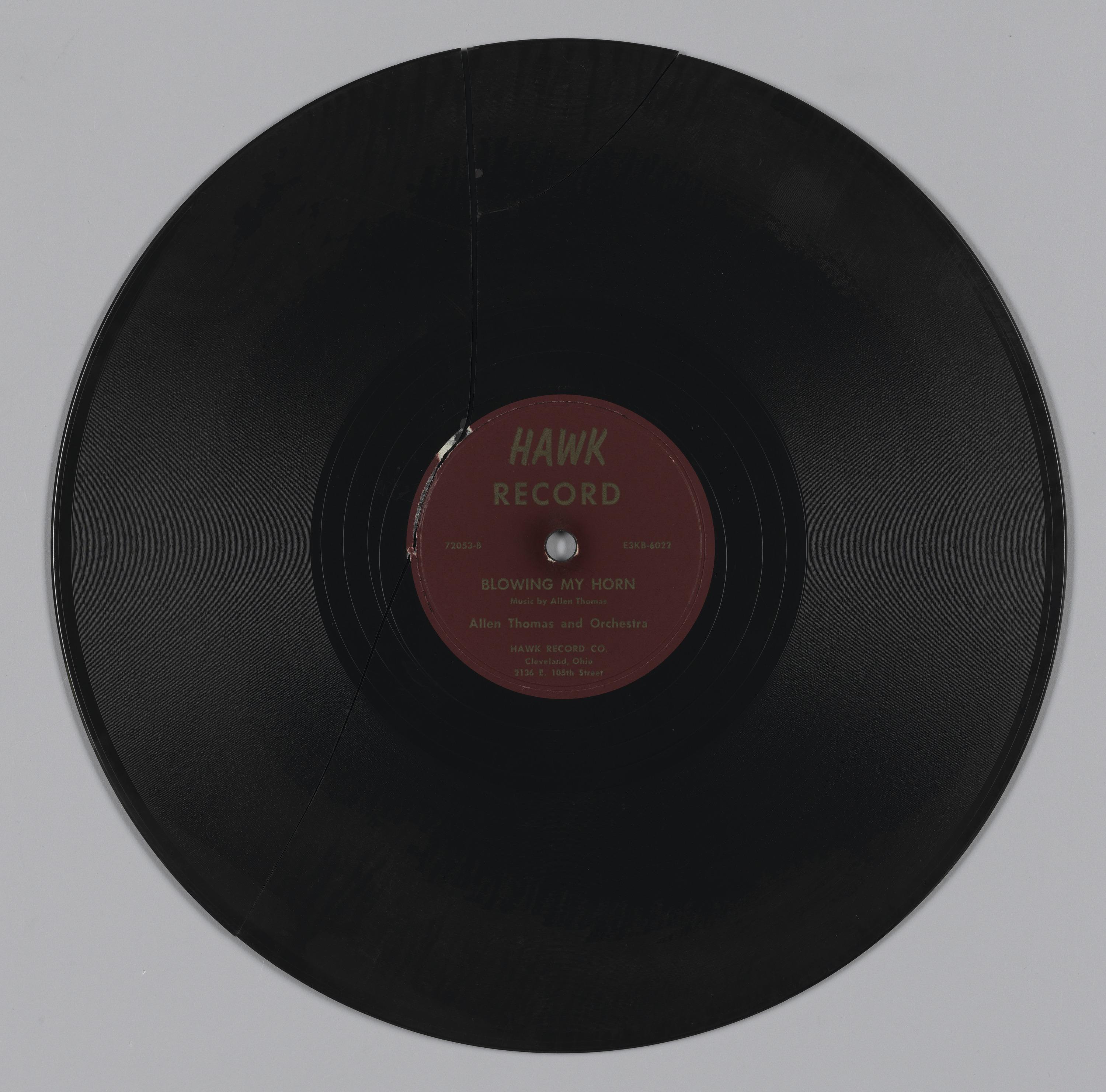 In addition to the record store, Hawkins also operated the Bill Hawkins Record Studio, which was aimed at tapping the market of Cleveland's Black consumers that Hawkins saw being overlooked. He drew on the success achieved with his radio shows to capably supply Black Clevelanders looking for gospel, jazz, and R&B music. He generated interest in his store by hosting radio broadcasts from the display window of his shop, and locals crowded out front of his shop to watch his live interviews. It solidified his role as a fixture in the Cedar-Central community, as people could encounter Hawkins at his store, over the radio, or at any number of community events where he played music or emceed. Over time, he even recorded up-and-coming local acts in the recording studio he built in the shop and released their music on the Hawk Record imprint.
Bill Hawkins's approach to blending different musical pursuits into one business model was put into action by many music business owners. Other record shop owners similarly used their shop as a launching point or training ground as they expanded into recording music or booking concerts. Successful record executives like Berry Gordy of Motown Records got some of their first lessons in the music industry by owning record shops.
Gordy opened the 3D Record Mart in Detroit several years before starting Motown. Gordy's determination to sell the "hip" music he heard in local clubs like the Flame Show Bar quickly ran him out of business. Unable to move enough product to stay afloat within a community that wanted to hear other genres too—including the blues—the store folded, and Gordy better understood how a company needed to offer what their customers demanded.
As Gordy's and Hawkins's experiences suggest, record stores, when run well, supply a diverse array of music for their customers to peruse. Hawkins, for example, sold gospel, jazz, and R&B records that people heard on his different radio programs. Reflecting this variety, his shop hosted various artists over the years during their stops in Cleveland. Among these visiting musicians were esteemed jazz pianist Mary Lou Williams and the popular act Billy Ward and His Dominoes with star lead tenor Clyde McPhatter.
Across the country, Black-owned record shops from the mid-twentieth century onwards offered customers numerous styles to explore, including classical music, gospel and sacred music, blues, pop, jazz and its branches, R&B, rock, country music, and even hip-hop as it emerged. The accumulated selections for their customers demonstrated the eclectic tastes of listening communities, and the many different paths Black musicians were taking.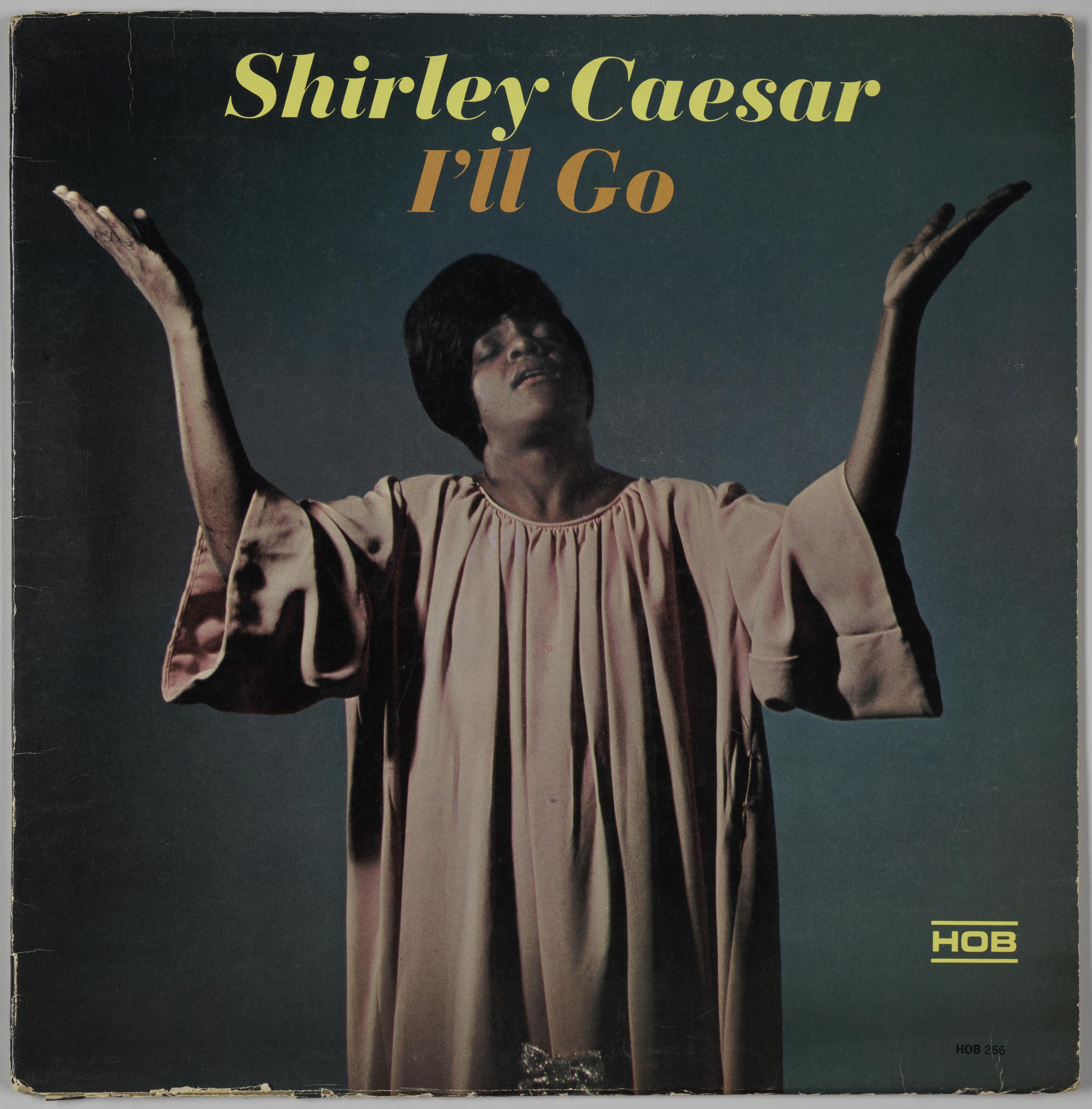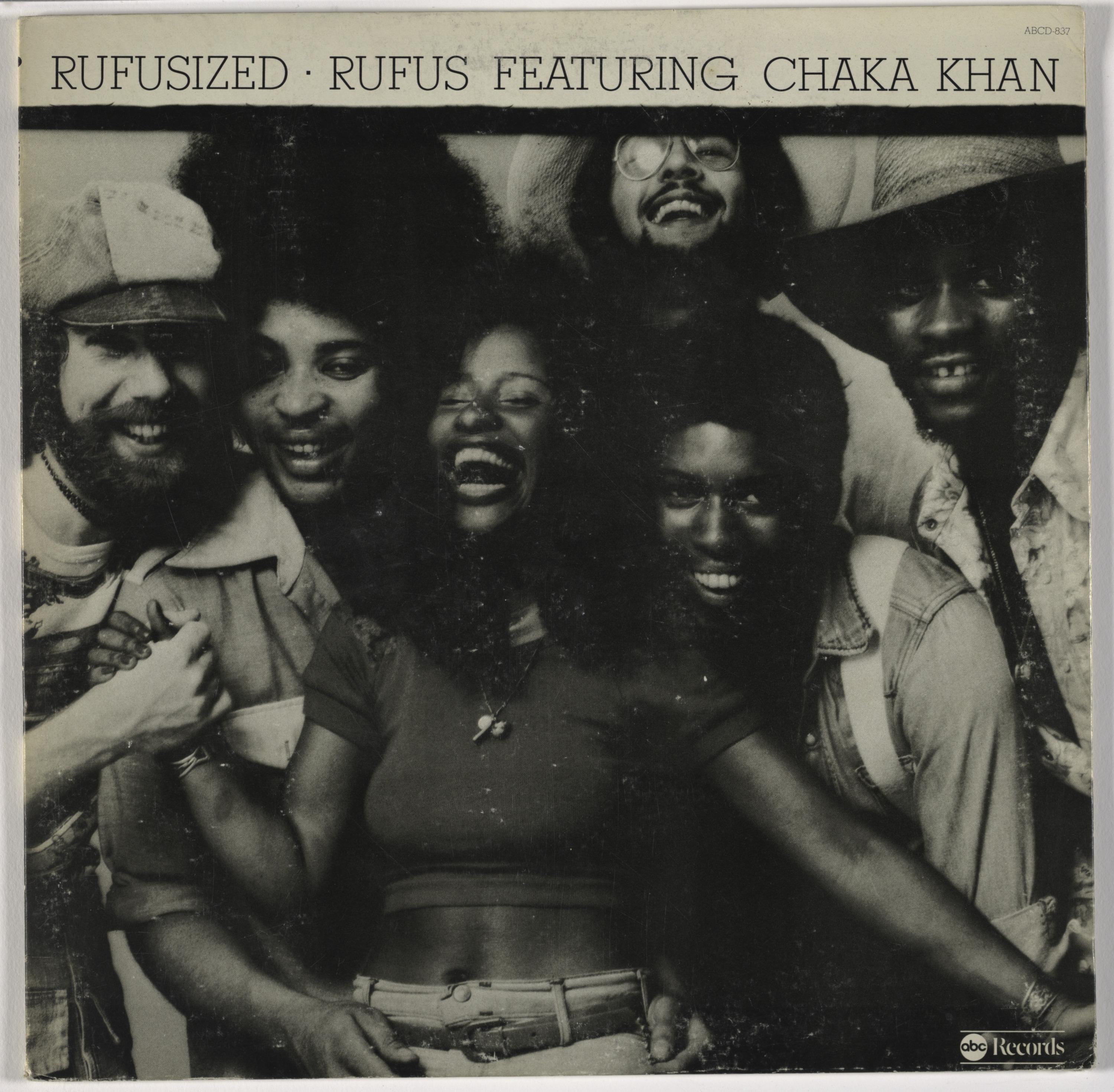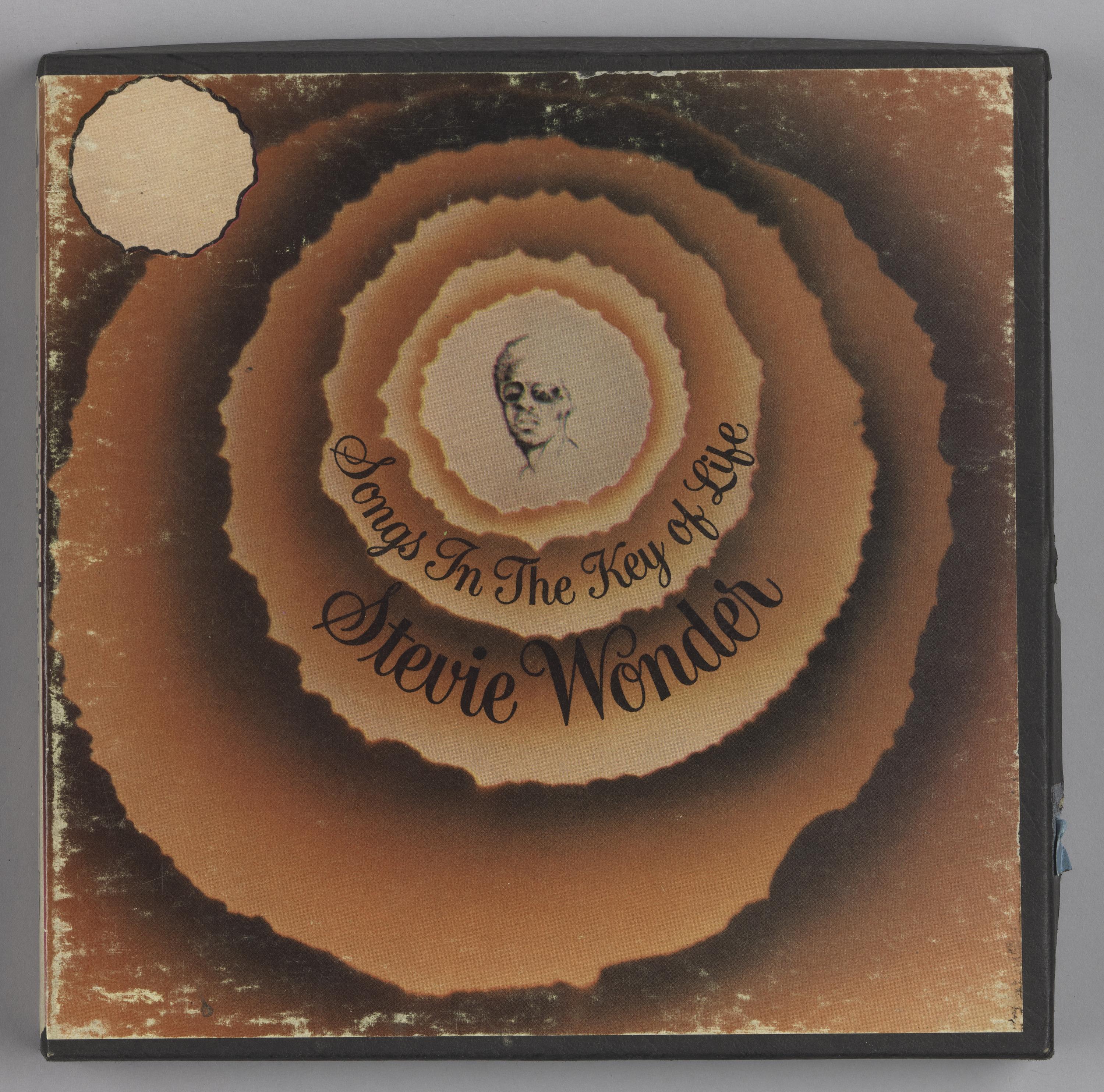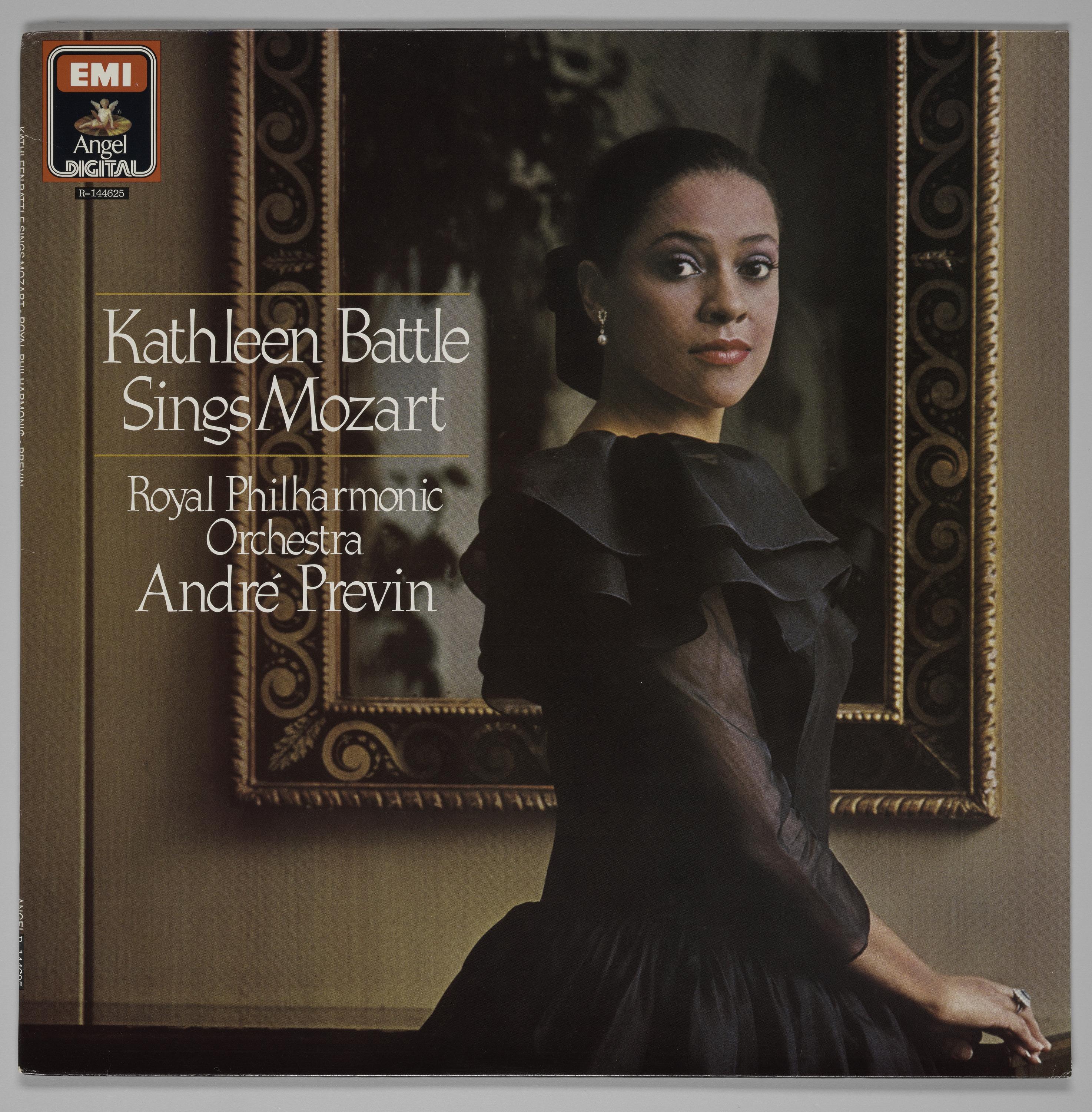 Record Shops as Community Spaces
Record shops continued to occupy prominent places within their communities as the twentieth century progressed. They attracted followings of audiophiles who trekked to shops to find new additions to their music collections. Young music listeners frequented shops, even if they didn't have money. They flocked to shops to experience the glamour and professionalism they saw modeled by shop owners, their staff, and the leading entertainers who visited frequently. Customers knew they could hear good music, bump into friends, and maybe fall into a conversation with others hanging around to flip through records in the easy-going atmosphere.
Within their neighborhoods and among the network of entertainment circuits, record shops were significant places for people of all ages and different backgrounds to gather around shared interests in music and culture. Shops, therefore, were more than just profitable businesses. They could be regarded as community spaces, clubs, and perhaps even schools of culture, teaching their customers how to engage and find common ground with others through music.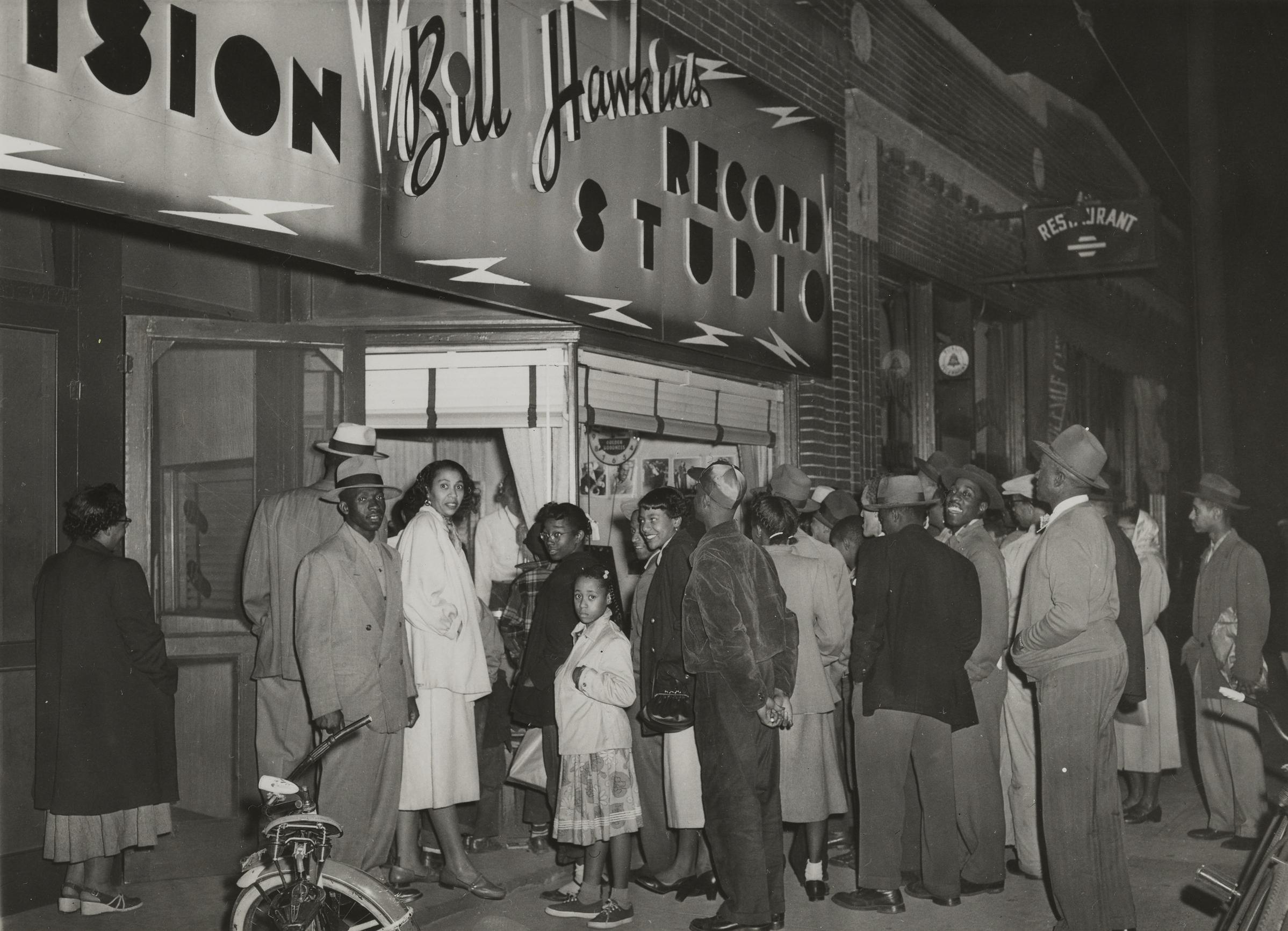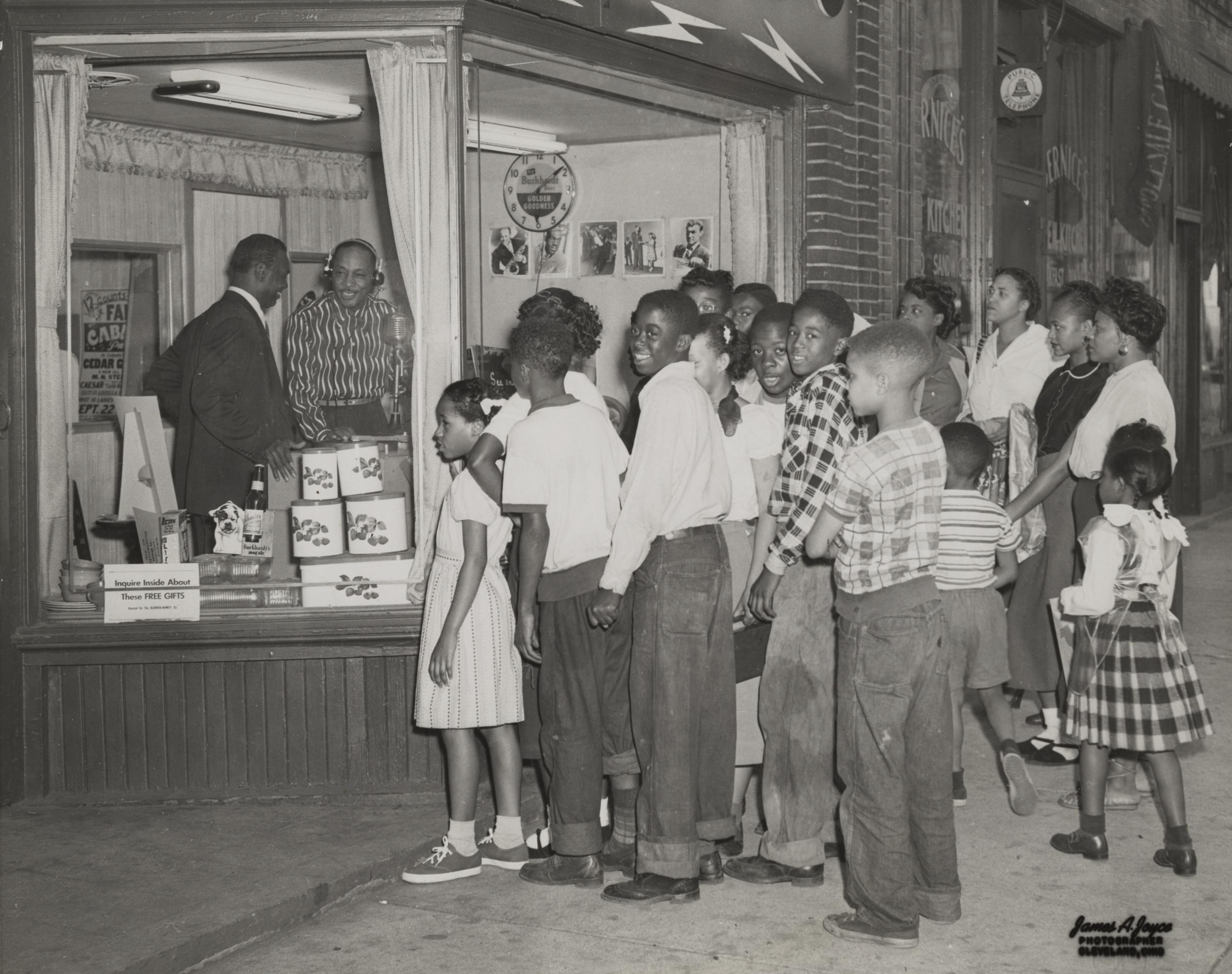 Material culture within the collection of the National Museum of African American History and Culture preserves decades of memories and legacies of record stores. Objects like the photographs donated by Bill Hawkins's son join other images, records, programs, posters, and listening technology that illustrate how people participated as listeners, fans, artists, promoters, distributors, and salespersons within record shops.
Artifacts help situate record stores within the larger ecosystem of American music and illustrate their relevance in connecting musicians to audiences and making music accessible. Shops sold wares, but owners and staff also provided their communities with musical experiences that extended beyond the physical boundaries of their stores. Records purchased at record stores and the conversations and ideas had in those spaces traveled with customers into their homes, influenced their interpersonal relationships, and contributed to their outlook on life. This type of transaction, though intangible, can be perceived through material culture that illustrates how people's interactions with shops carried into their everyday lives.
Connecting to Musicians
Record shops in the twentieth century frequently hosted meet-and-greets, private concerts, and autograph sessions with musicians. Musicians relied on stores to sell not only their music but tickets to their shows and to have availability to host events where artists could see their fans. While on tour, artists regularly scheduled shop visits where they could gather to have face-to-face time with their audiences. Events were an exciting way for customers to interact with musicians, but shops also supported musicians and listeners by advertising upcoming shows and organizing or funding concert series with community organizations.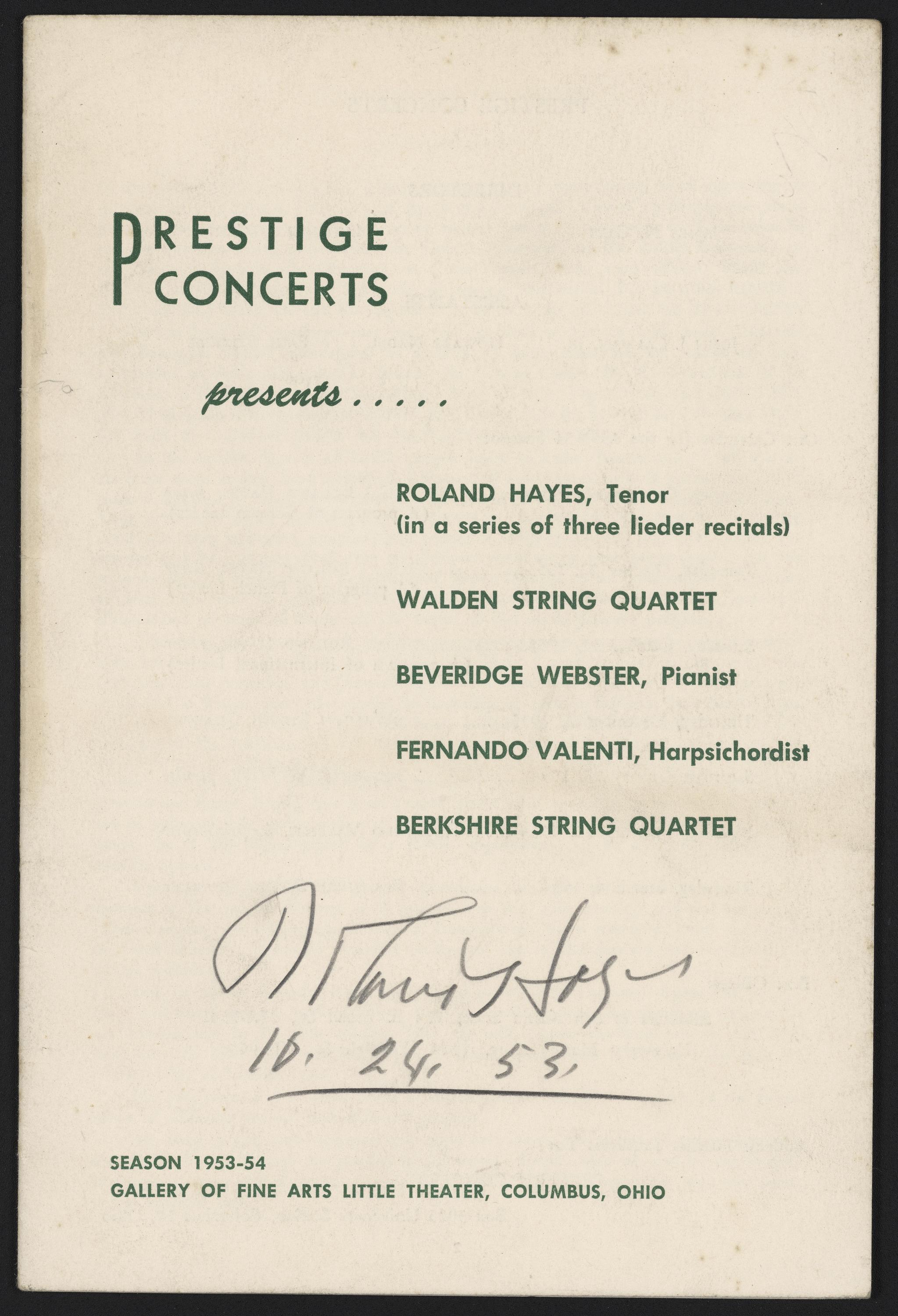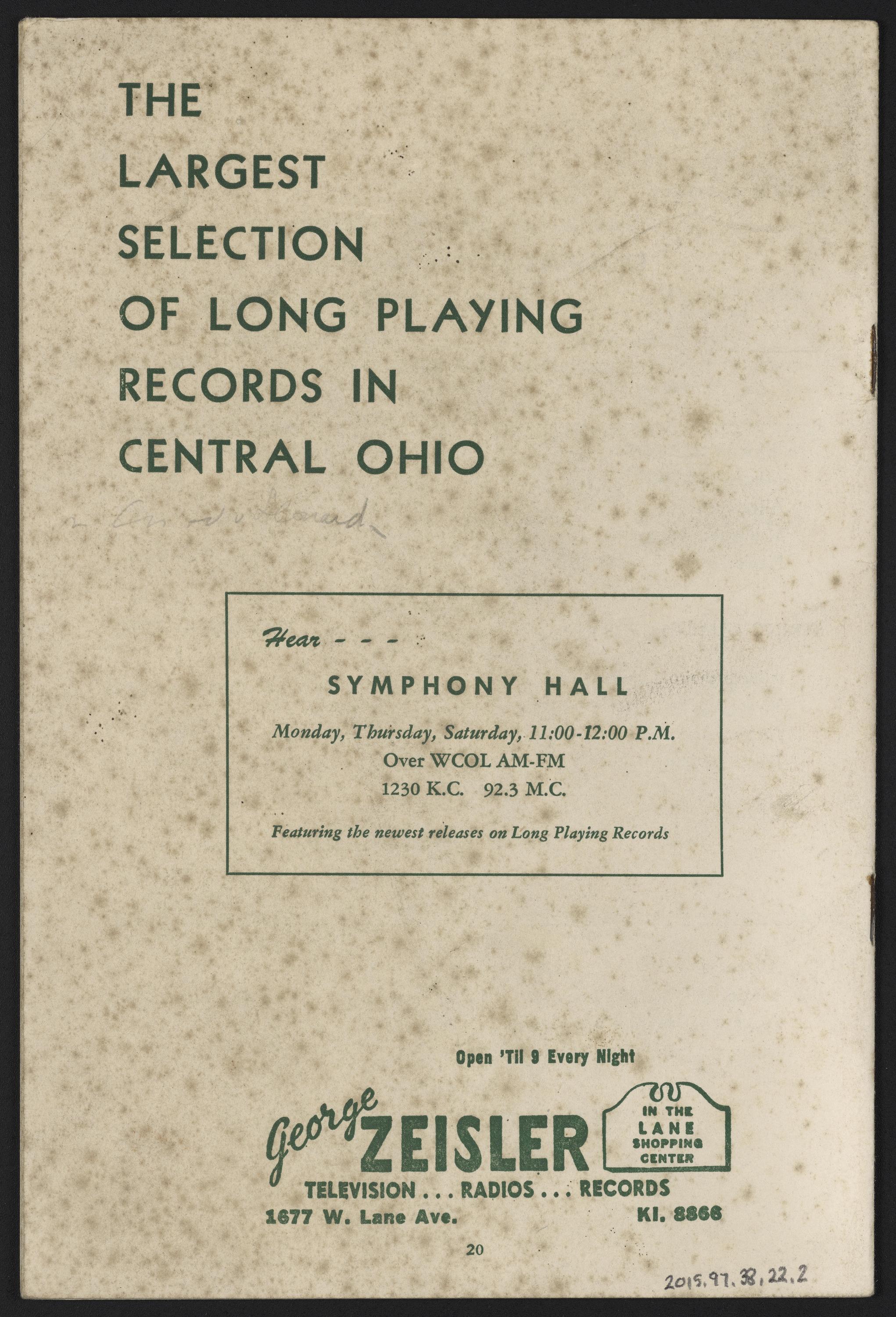 Before websites like Ticketmaster came along or social media platforms like Twitter or Instagram emerged, record shops helped keep people in the loop with musical happenings and their favorite musicians. Posters and programs within the NMAAHC collection document how record shops across the United States from the 1950s through the 1990s supported musicians' careers.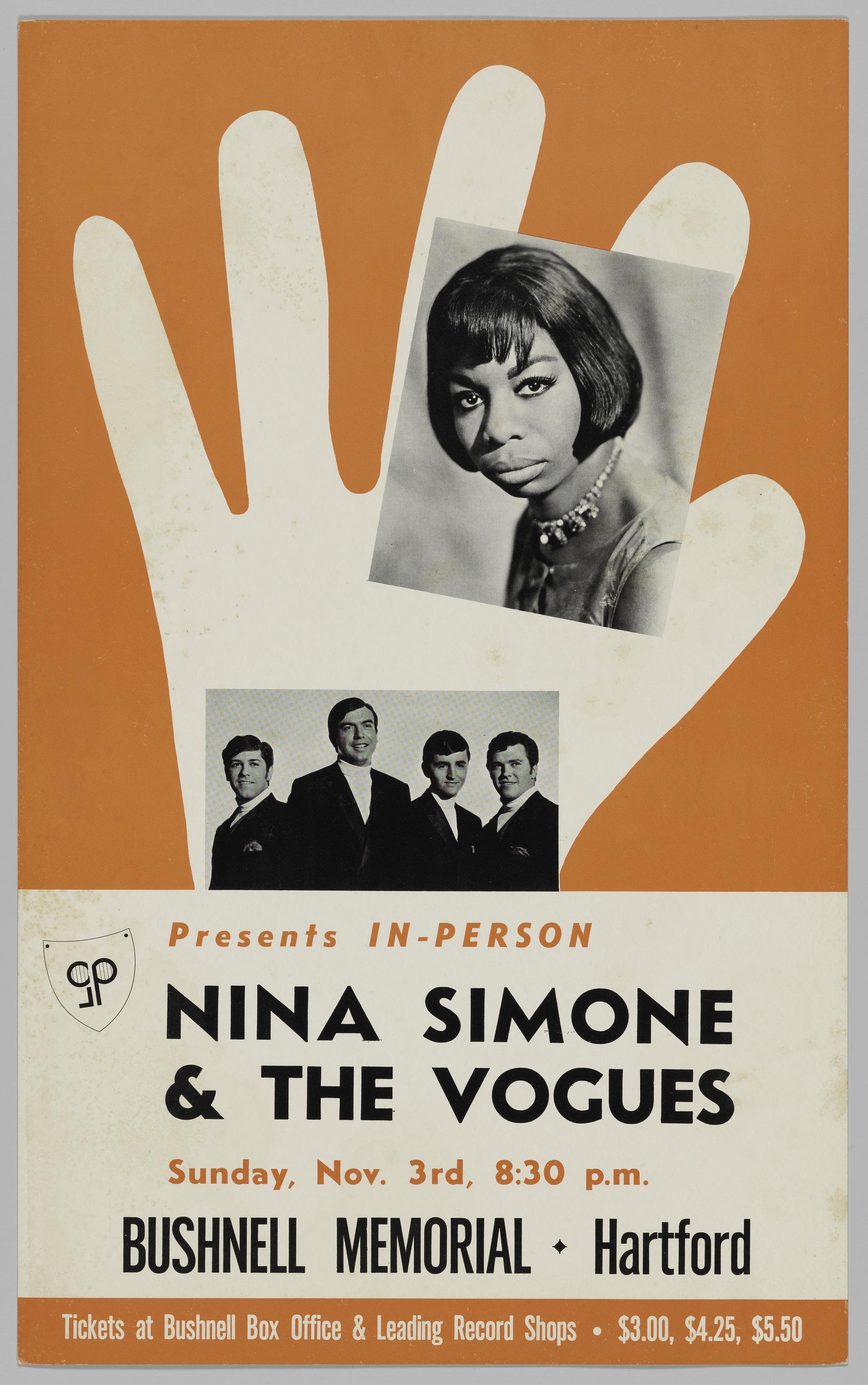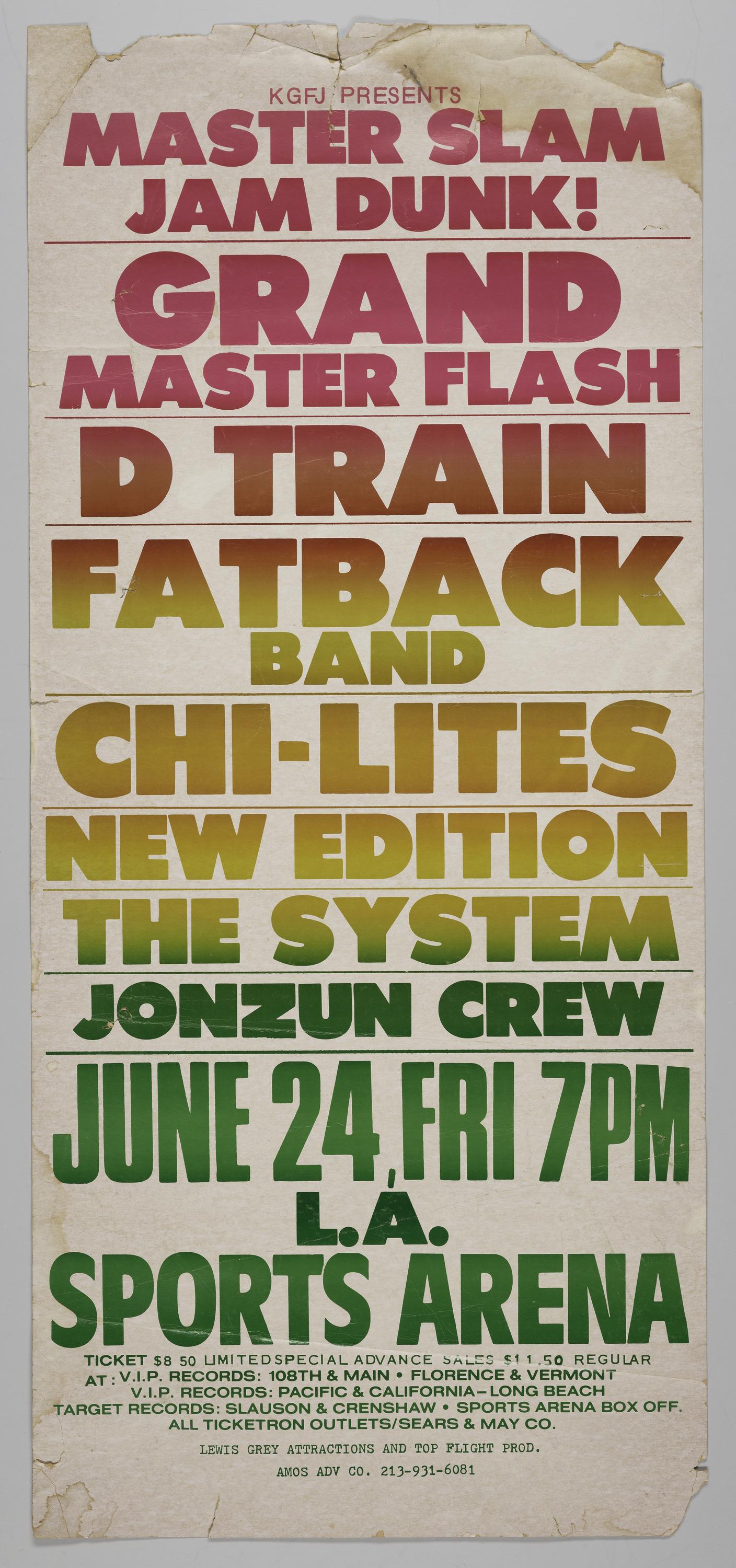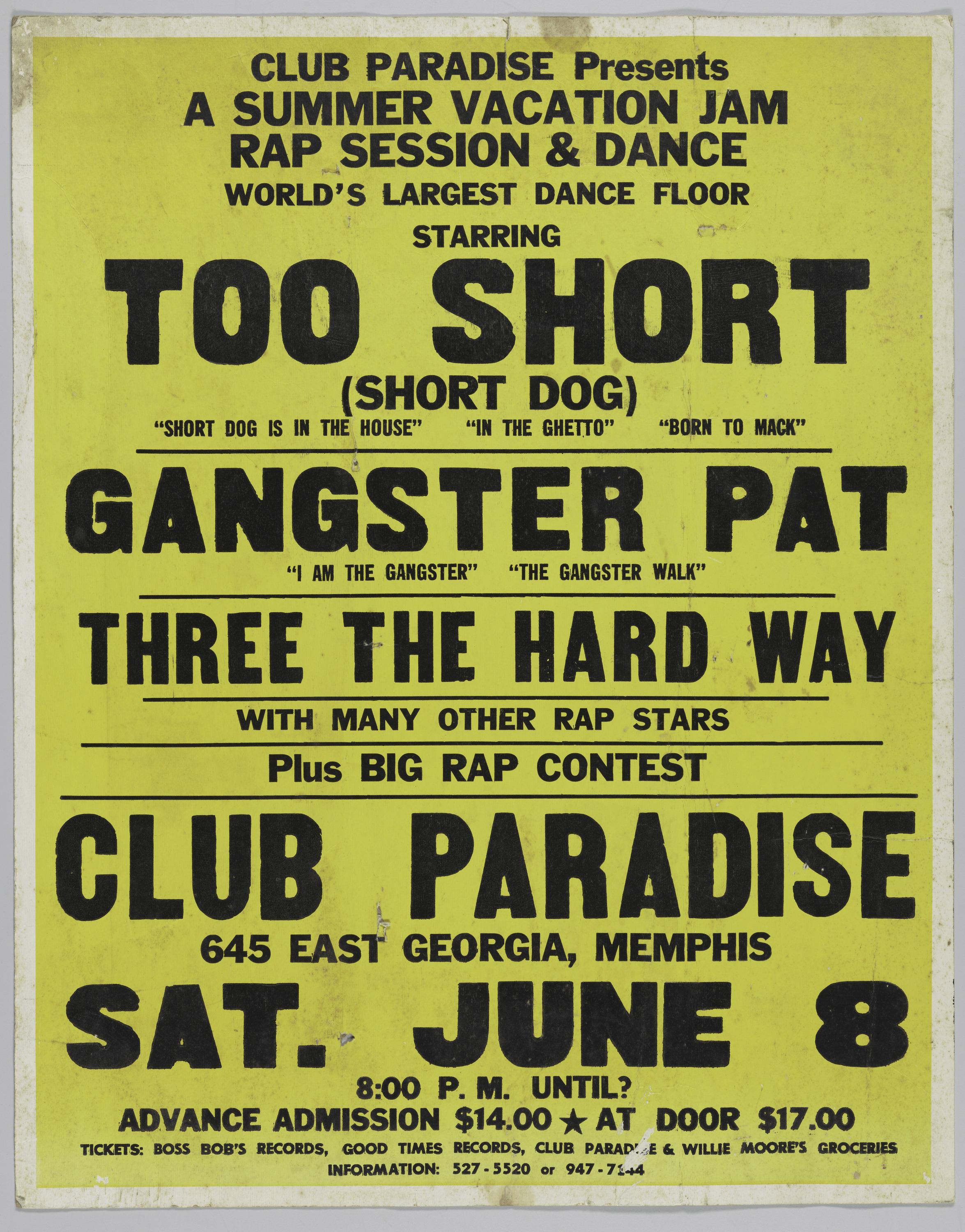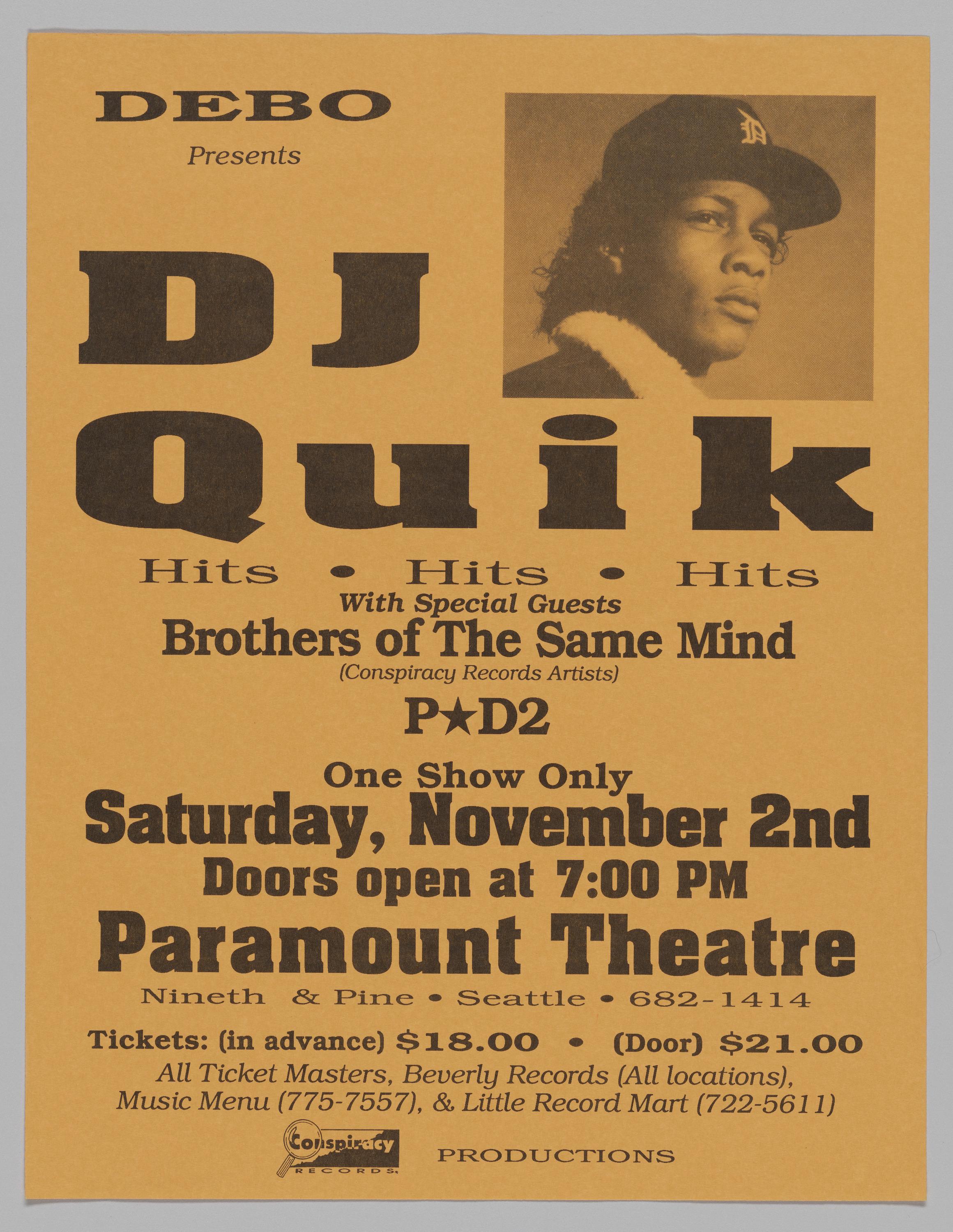 As television and the internet changed the business of music, record stores across the United States persisted, adapted, or closed. Neighborhood record stores were cultural incubators that shaped listening for decades and created opportunities for Black artists and listeners when the music industry, as well as many other aspects of American society, was largely segregated. Libraries amassed by parents, aunts and uncles, or friends, also fed the imaginations of younger children. Those in the hip-hop generation grew up digging through their parents record collections or bins in stores as they explored ways to use records and turntables as instruments.
Enduring Legacy
Though many record shops closed as digital music stores and mass retailers expanded their music sales activities, the legacy of these independent record shops endures. The increased use of sampling and accompanying technological innovations in the twentieth and twenty-first centuries grew out of engagement with spinning records and the art of deejaying pioneered by musicians like Grandmaster Flash. DJs have steadily supported stores for decades. This population and their consistent presence at parties and events are a clear example of the impact these spaces had on culture broadly, but especially on young musicians. Through their efforts to expose customers to the vast amount of music out there, record shops created ripples throughout the American music landscape.
Independent record stores are still sustaining active communities of locals and audiophiles nationwide. A resurgence of interest in vinyl records bolstered by events like Record Store Day on April 15th brings new customers into stores. Only a few dozen Black-owned record stores are active nationwide today and they have navigated the ups and downs of the industry as well as impacts brought about by the COVID-19 pandemic. Some have hung on for years, while others have opened more recently. They continue the traditions of early record shops by supplying music that reflects their neighborhoods and providing welcoming spaces for people to embrace their musical curiosities in community with others.
Browse Objects in the NMAAHC Collection Relating to Bill Hawkins
Written by Hannah Grantham, Curatorial Assistant for Music & Performing Arts
Published on July 19, 2022