Our American Story
The Only African American Automobile Company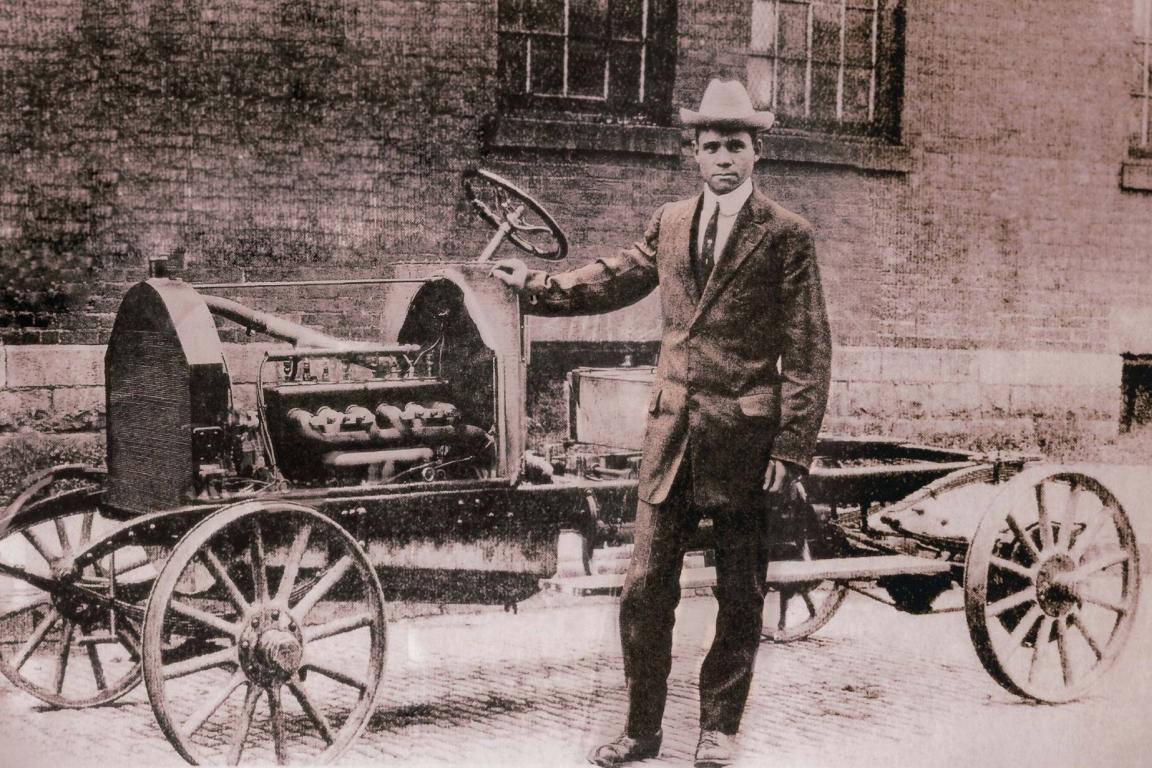 At the dawn of the Automobile Age in the early 20th century, hundreds of small auto companies sprouted up across America as entrepreneurs recognized that society was transitioning from horse-drawn carriages to transportation powered by the internal combustion engine. Some of these early companies grew to become giants that are still with us today, such as Ford and Chevrolet. Many others remained small, struggling to compete against the assembly lines of the larger manufacturers.
One such company was C.R. Patterson & Sons of Greenfield, Ohio, makers of the Patterson-Greenfield automobile from 1915 to 1918. Though its name is little recognized today, there is in fact a very important reason to ensure that it is not lost to history: it was, and remains to this day, the only African American owned and operated automobile company.
Charles Richard Patterson was born into slavery on a Virginia plantation in 1833. Not much is known about his life on the plantation, and historians have to sift through conflicting reports about how he came to settle in Greenfield, Ohio, a town with strong abolitionist sympathies. Some say his family arrived in the 1840s, possibly after purchasing their freedom; others suggest Patterson alone escaped in 1861. In any case, he learned the skills of the blacksmith and found work in the carriage-making trade, where he developed a reputation for building a high quality product. In 1873, he formed a business partnership with another carriage maker in town, J.P. Lowe, who was white, and eventually became sole proprietor of the renamed C.R. Patterson & Sons in 1893. It was a successful business employing an integrated workforce of 35-50 by the turn of the century, and Charles Patterson became a prominent and respected citizen in Greenfield. His catalog listed some 28 models, from simple open buggies to larger and more expensive closed carriages for doctors and other professionals.
When Patterson died in 1910, the business passed to his son Frederick, who was already something of a pioneer. He was college-educated and was the first black athlete to play football for Ohio State University. He was also an early member and vice president of the National Negro Business League founded by Booker T. Washington. Now, as owner and operator of the enterprise his father started, Frederick Patterson began to see the handwriting on the wall: the days of carriages and horse-drawn buggies were nearing an end.
At first, the company offered repair and restoration services for the "horseless carriages" that were beginning to proliferate on the streets of Greenfield. No doubt this gave workers the opportunity to gain some hands-on knowledge about these noisy, smoky and often unreliable contraptions. Like his father, Frederick was a strong believer in advertising and placed his first ad for auto repair services in the local paper in 1913. Initially, the work mostly involved repainting bodies and reupholstering interiors, but as the shop gained more experience with engines and drivetrains, they began to offer sophisticated upgrades and improvements to electrical and mechanical systems as well.
This valuable experience allowed C.R. Patterson & Sons to take the next great step in its own story as well as in African American history: in 1915, it announced the availability of the Patterson-Greenfield automobile at a price of $685. From the company's publicity efforts, it is evident they were bursting with pride:
"Our car is made with three distinct purposes in mind. First — It is not intended for a large car. It is designed to take the place originally held by the family surrey. It is a 5-passenger vehicle, ample and luxurious. Second — It is intended to meet the requirements of that class of users, who, though perfectly able to spend twice the amount, yet feel that a machine should not engross a disproportionate share of expenditure, and especially it should not do so to the exclusion of proper provisions for home and home comfort, and the travel of varied other pleasurable and beneficial entertainment. It is a sensibly priced car. Third — It is intended to carry with it (and it does so to perfection) every conceivable convenience and every luxury known to car manufacture. There is absolutely nothing shoddy about it. Nothing skimp and stingy."
Orders began to come in, and C.R. Patterson & Sons officially entered the ranks of American auto manufacturers. Over the years, several models of coupes and sedans were offered, including a stylish "Red Devil" speedster. Ads featured the car's 30hp Continental 4-cylinder engine, full floating rear axle, cantilever springs, electric starting and lighting, and a split windshield for ventilation. The build quality of the Patterson-Greenfield automobile was as highly regarded as it had been with their carriages.
The initial hope and optimism, however, proved to be fairly short-lived. In an age of increased mechanization and production lines, small independent shops featuring hand-built, high quality products weren't able to scale up production or compete on price against the rapidly growing car companies out of Detroit. In small quantities, parts and supplies were expensive and hard to come by when major manufacturers were buying them by the trainload at greatly reduced costs. Plus, the labor hours per car were much higher than that of assembly line manufacturers. As a result, the profit margin on each Patterson-Greenfield was low.
In 1918, having built by some estimates between 30 and 150 vehicles, C.R. Patterson & Sons halted auto production and concentrated once again on the repair side of the business. But they weren't done yet. In the 1920s, the company began building truck and bus bodies to be fitted on chassis made by other manufacturers. It was in a sense a return to their original skills in building carriage bodies without engines and drivetrains and, for a period of time, the company was quite profitable. Then in 1929, the stock market crashed and the Great Depression set in. As with many small businesses, sales dried up and loans were hard to obtain. The company, now run by the sons of Frederick Patterson, soldiered on until 1939 when, after 74 years, C.R. Patterson & Sons closed its doors forever.
Sadly, no Patterson-Greenfield automobiles are known to survive today. But we should not let that dim the fact that two great entrepreneurs, Charles Richard Patterson and his son Frederick Patterson built and sustained a business that lasted several generations and earned a place not just in African American history, but in automotive history as well.
Further reading:  The C. R. Patterson and Sons Company, Black Pioneers in the Vehicle Building Industry, 1865-1939 by Christopher Nelson