You Should Know
Pauli Murray's Literary Achievements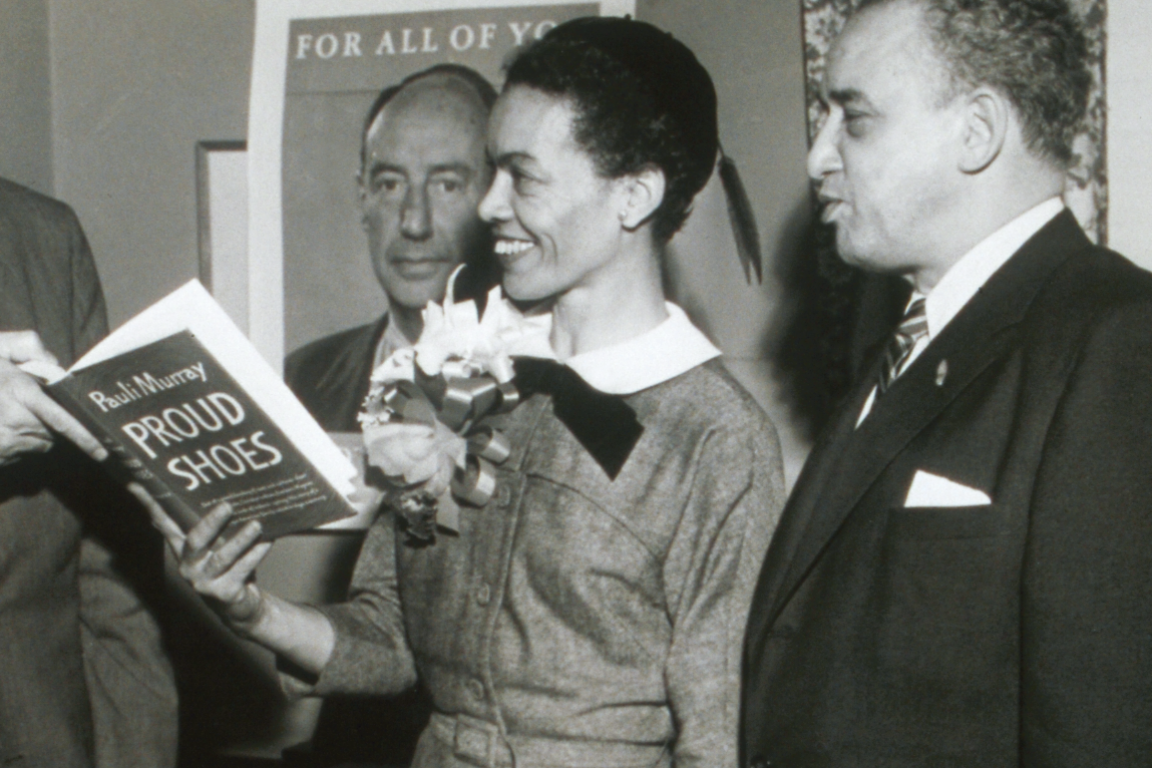 According to Pauli Murray scholar Patricia Bell-Scott, Murray's greatest ambition was to become a prolific writer of short stories, poetry and novels. Only the demands of her civil and human rights activism and her work as a lawyer could keep her from achieving that distinction.  
Although she is known primarily for her contributions as a human rights activist whose intellectual energy lit the path for the modern-day civil and women's rights movements, it was writing, in particular poetry, that held center stage in her heart.

Patricia Bell-Scott
Still, strongly inspired by the memory of her father, William H. Murray, a teacher and poet, and by noted 19th-century poet Paul Laurence Dunbar, Murray found the time and resources to write and publish. Although not an extensive collection, her impressive body of works includes memoirs, poetry, short stories, and a host of essays and legal writings that reveal her extraordinary literary talent, keen intellect, and acute artistic sensibility.  
Memoirs 
Published as early as 1956, Murray's memoir Proud Shoes: The Story of an American Family was a seminal work of African American genealogy. Her claim that her grandfather influenced the stature of her family generated the book's title: 
If Grandfather had not volunteered for the Union in 1863 and come south three years later as a missionary among the Negro freedmen, our family might not have walked in such proud shoes and felt so assured of its place in history.

Pauli Murray

Proud Shoes: The Story of an American Family
Murray originally derived this title from the esteemed poet and novelist Stephen Vincent Benet, who critiqued the poetry of Paul Engles: "its clear incisive speech cuts deep into native ground. Here is somebody walking in America in proud shoes." Benet had personally reviewed and encouraged Murray's writings before she decided to make law school a priority.  
 
A beautifully written work of creative nonfiction, rich with breathtaking imagery and metaphors, Proud Shoes is fortified by Murray's years of extensive field research in state archives, historical societies, the National Archives, and oral history interviews with her two aunts. Today, historians and researchers consider Proud Shoes a classic in African American genealogy and a foreshadowing of the form and style of the contemporary American memoir. 
A second autobiographical work by Murray was first published posthumously in 1987. Song in a Weary Throat: Memoir of An American Pilgrimage received critical acclaim, winning both the Robert F. Kennedy Book Award and the Lillian Smith Book Award. The book details her life in Baltimore as a child, who lost her parents at age four. Soon thereafter, she moves to Durham, North Carolina, to live with an aunt, who would rear her into adulthood.
As a civil rights autobiography, it documents her activities as a Freedom Rider, her arrest in 1940 for sitting in the whites-only section of a Virginia bus, and her relationships with Thurgood Marshall and Eleanor Roosevelt. Despite financial and health challenges, Murray engaged in a lifelong fight against both racism and sexism, helping to form the National Organization for Women.
I'm really a submerged writer, but the exigencies of the period have driven me into social action.

Pauli Murray
Song in a Weary Throat also underscores Murray's gender identity. As a child, Murray was tomboyish. Her aunt referred to her as "my little boy-girl." Throughout her life, she struggled with feelings of dwelling between genders. Song was reissued in 1989 as Pauli Murray: The Autobiography of a Black Activist, Feminist, Lawyer, Priest, and Poet. 
Poetry 
Almost 15 years after the release of Proud Shoes, Murray published her first and only book of poetry, Dark Testament and Other Poems. Above all else, Murray's poems in this collection consistently carry a humanistic message reflecting her belief in the oneness of humanity and equality for all people. She embellishes this message with rich visual imagery, metaphors, similes, allusions to lineage, and repetition of words and phraseology. Murray held a fundamental belief that poets are: "prophets [who] see and feel intuitively the 'shape of things to come' long before people . . .  are able to comprehend them."
Published during the Black Arts Movement, Murray's poems have contemporary resonance. In Mr. Roosevelt Regrets Murray uses stark visual imagery and repetition to condemn police brutality against black men, and critiques President Franklin D. Roosevelt's disappointing response to it. 
In Words Murray uses the simile, "like pennies" to emphasize the lack of value that people place on expressions of love and caring for one another, while they are generous with words that divide, alienate, and injure one another. Murray distills a lesson on the power of words to harm or heal. 
In To the Oppressors, Murray uses the metaphor of the grapes to underscore the relationship of the oppressed to the oppressors. Grapes can be smashed under foot, yet the skin can be tough and durable. The oppressed may appear vulnerable, but they are fortified by years of struggle and neglect, and in the end, they shall prevail, while the oppressor will grieve in defeat. 
Dark Testament: Verse 8 employs a series of metaphors wrapped in a montage of visual images that define the notion of hope. Hope is a concept so essential to a people who have endured slavery and are still bond by the shackles of Jim Crow. The poem represents both the personal plea of a brown girl and the collective plea of her people. As a writer of two memoirs, Murray also infuses into Verse 8 her consciousness of the essential nature of lineage as she continues to define hope:
Conflict 
One day the poet and warrior 
Who grapple in my brain 
Shall lock in final contest 
And I will be ground under. 
Short Stories 
In addition to poetry, Murray had a deep and abiding interest in writing short stories. In Song in a Weary Throat, she states that Stephen Vincent Benet, esteemed poet of the time, critiqued her work: 
Benet had urged me to write about what I knew best, so I experimented with several short stories about a little girl named Bennie, growing up in the South. . . . Encouraged by his interest, I sent him two of the Bennie stories, with a note saying: 'Bennie might well be the subject of a series of stories bearing on the bewilderment and perplexity of a natural, normal American child first experiencing the frustrations of racial inequality'

Pauli Murray

Song in a Weary Throat: Memoir of An American Pilgrimage
One of Murray's earliest writings was a short story titled Three Thousand Miles on a Dime in Ten Days published in Negro, a 1934 comprehensive anthology of works by and about African Americans, including poetry, music, historical studies, speeches, and reports covering 1931 – 1933, edited by Nancy Cunard. 
Other Writings 
Beyond Murray's creative works are speeches and sermons written during the last 20 years of her life, essays on race and gender discrimination, and books on law. Still considered works of great relevance by legal scholars are States' Laws on Race and Color and The Constitution and Government of Ghana. Supreme Court Justice Thurgood Marshall referred to the former publication as the "bible" for civil rights lawyers.  
 
In Song in a Weary Throat, Murray's chapter titled "Writing or Law School?" reveals her passion for writing and details the reasons she ultimately chose law school. Despite her journey into law and civil rights activism, she maintained a yearning to articulate her thoughts and feelings through creative writing. Bell-Scott states, "whenever Murray was asked to name the accomplishments of which she was most proud, she consistently placed her writing at the top of the list. Clearly, it was her desire that assessments of her life consider the merits of all the work she left behind. . . . For the fruits of this enduring yearning, she deserves a place among the women and men of American letters."