Our American Story
Remembering a Milestone in Entertainment History
Jun 09, 2014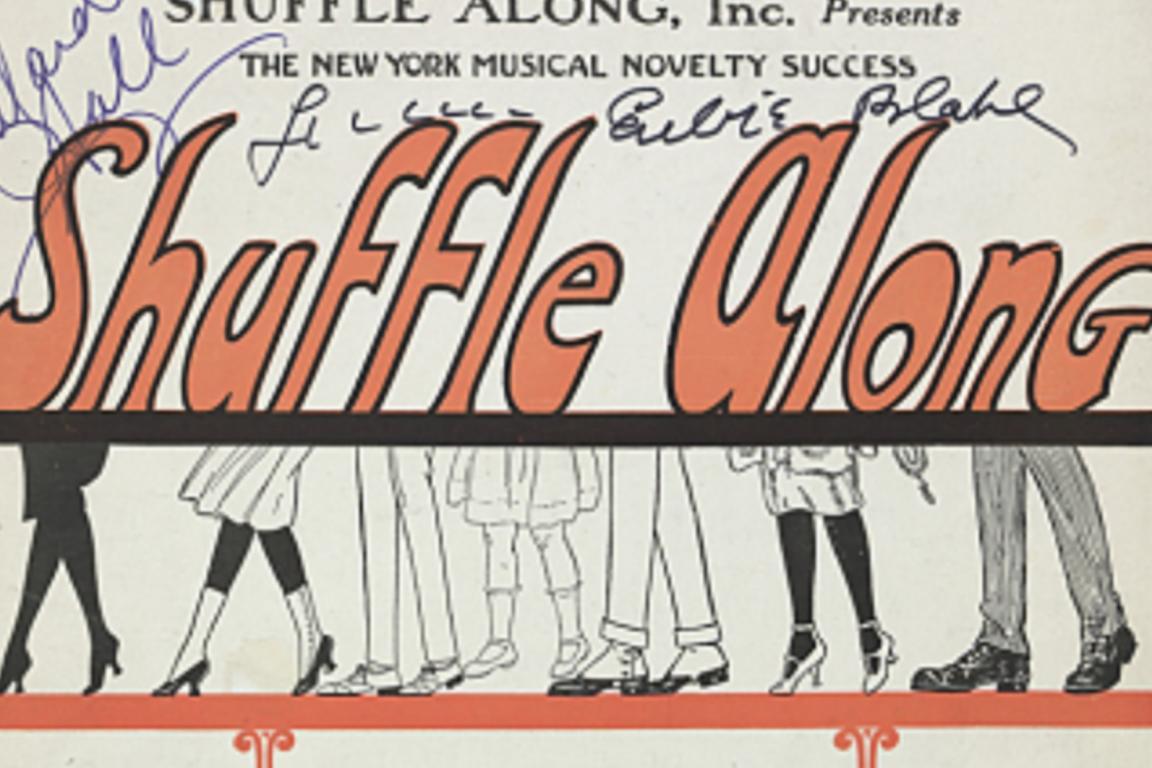 The recent announcement of an upcoming Broadway re-imagining of Shuffle Along – one of the earliest hit musical comedies produced, written and performed entirely by African Americans – is shining a spotlight on this largely forgotten piece of African American history.
The musical revue was written by Flournoy Miller and Aubrey Lyle, with music and lyrics by Noble Sissle and Eubie Blake – all vaudeville veterans who met for the first time at an NAACP benefit in Philadelphia in 1920. In early 1921, Shuffle Along toured through New Jersey and Pennsylvania, with little money left over to pay the cast after covering travel and production expenses. But all that changed when the show arrived on Broadway.
Shuffle Along had its Broadway premiere on May 23, 1921 at the 63rd Street Music Hall, which was renamed Daly's 63rd Street Theater the following year. The show quickly became a major hit, so popular that it caused curtain time traffic jams that led police to convert 63rd Street into a one-way thoroughfare to ease the gridlock.
The groundbreaking musical was unique in the wide array of talent it brought to the production, including choral conductor Hall Johnson and composer William Grant Still, who played oboe in the orchestra. The show gave several stage legends their first big breaks, including Paul Robeson, Adelaide Hall, Florence Mills and a 16-year-old Josephine Baker, who emerged as an instant star. The show featured hit songs like "Love Will Find a Way" and "I'm Just Wild About Harry" – which President Harry S. Truman later chose as his 1948 campaign anthem – and its jazzy, modern musical style distinguished it from the mainstream song-and-dance shows that predominated on Broadway at the time.
On July 15, 1922, Shuffle Along closed on Broadway after 484 performances, an unusually long run at the time. Once the show left New York, it went on a successful three-year tour across the United States, the first black musical to play in many white theaters nationwide. The show was briefly revived in the 1930s and 1950s, but neither production was successful and the show quickly slipped from the public consciousness.
While forgotten by many, Shuffle Along inspired a new interest in black musicals and was a breakthrough for African American theater, proving that audiences – both black and white – would pay to see African American talent on Broadway. The show also helped pave the way for the desegregation of theaters – black audiences sat in orchestra seats rather than being relegated to the balcony – and gave many black actors their first chance to appear on Broadway. And Shuffle Along played a key role in launching the Harlem Renaissance, according to observers like renowned writer and poet Langston Hughes, who believed that by spurring widespread interest in black creativity, the show helped to advance African Americans' social status through excellence in the arts.
A new musical based on the making of Shuffle Along – entitled Shuffle Along, Or, The Making of the Musical Sensation of 1921 and All That Followed – is scheduled to officially open on April 21, 2016 at Broadway's Music Box Theatre. This new production will be directed by George C. Wolfe, who has won Tony Awards for directing Angels in America: Millennium Approaches and Bring in 'da Noise, Bring in 'da Funk, and is choreographed by world-renowned tap dancer Savion Glover, who also won a Tony for choreographing Bring in 'da Noise, Bring in 'da Funk.
This re-imagining, which will feature the original music from Shuffle Along, will tell two stories – the original show's plot about a corruption-riddled mayoral election, as well as the real-life story of the impacts of the musical's success on the actors and writers involved. The production is slated to star six-time Tony winner Audra McDonald, fellow Tony winners Brian Stokes Mitchell and Billy Porter, and twice Tony-nominated Joshua Henry. McDonald recently remarked that she thought it was important for her to do this show, saying, "This is a part of my history, and I didn't know it."
While much of the original Shuffle Along would be considered offensive by today's standards – including comedy based on demeaning racial stereotypes and African American actors wearing blackface – many African Americans embraced the show's self-conscious parody of the minstrel show tradition, juxtaposed with more modern and authentic music and dance elements. The renewed interest in this pioneering musical, which ushered in a new era for blacks on Broadway and in all creative fields, helps us all to understand the full African American experience and the influence it had on the development of our shared culture.