Shoes for Obama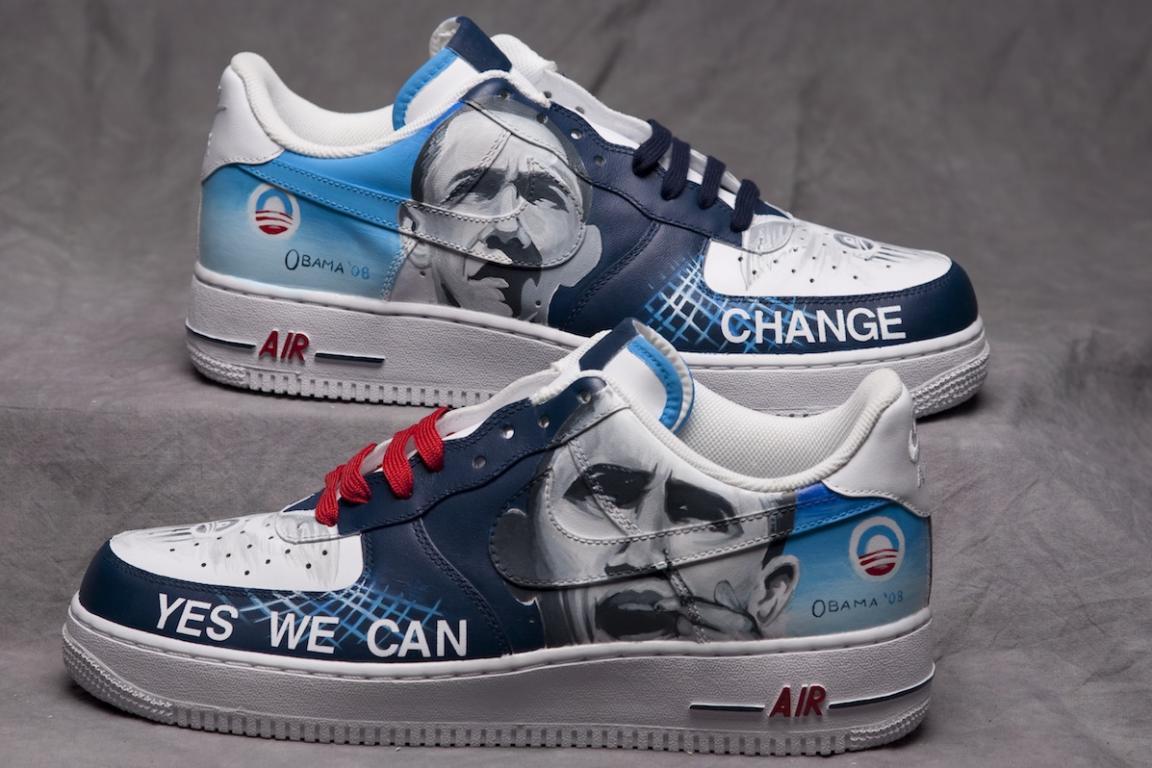 Van Taylor Monroe, III, is a Cleveland native who does custom designs for sneakers. He began customizing sneakers when he was 21, in his college dorm room. Monroe has created custom designs for a host people, some of the most notable being Spike Lee, Sean "P. Diddy" Combs, Ellen DeGeneres, Charles Barkley, Nicki Minaj, Queen Latifah, Hugh Jackman, Adam Sandler, and President Barack Obama. On average it takes Monroe about 12-16 hours to create sneaker. The price for a custom designed pair of sneakers typically range from $200 to $2,000. 
The Barack Obama '08 Sneakers are the first customized sneakers in the whole museum. According to Van Taylor Monroe the artist of the customized sneakers, these are one of his favorite sneakers that he has created.
In an interview with XXL Magazine, Monroe explained that he left his job as a broker for a logistics firm in 2007 to pursue his art career fulltime. He struggled financially while trying to achieve his dreams. Just as Senator Barack Obama believed that he would become president, Monroe said he also believed he would make it as an artist. While listening to Senator Barack Obama's campaign speeches, Monroe created the shoes to remind himself to "keep hope alive" and that he would achieve his dreams.
I would say my 'Obama 08' show would be the one that brought me the most recognition. Not only from the sneaker community but from the general public.

Van Taylor Monroe

XXL Magazine
A few months after receiving an eviction notice, Monroe said that he opened an email from the Smithsonian Museum requesting the "Obama 08" shoes for its collection. "Are you serious you want my shoe in the largest museum in the world!," was Monroe's reaction. He called the Smithsonian museum to confirm the request and was extremely excited.