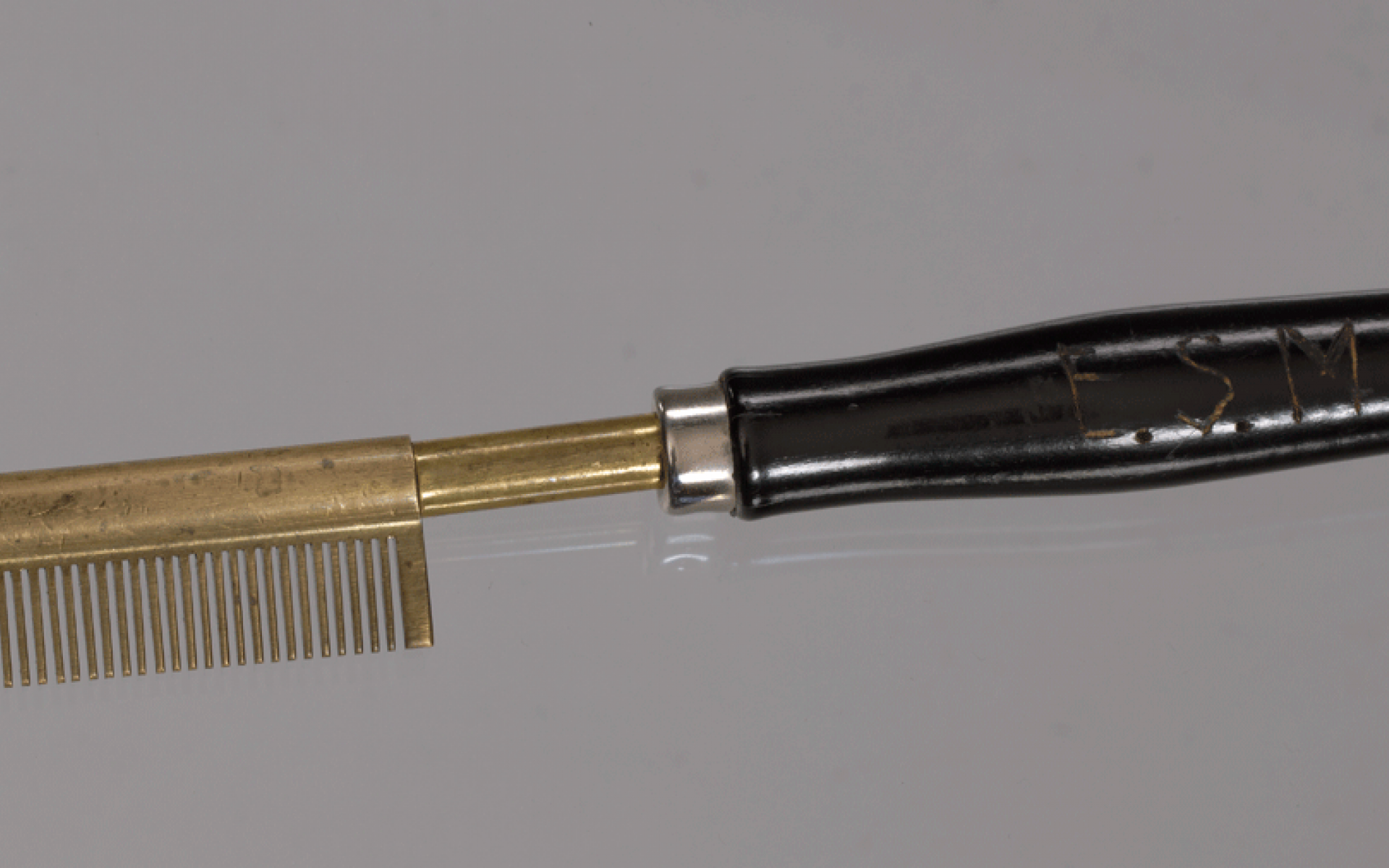 Collection Story
Sizzle
Annie Turnbo Malone, Madam C.J. Walker, and the Complicated History of the Hot Comb
Many black women remember it: the smoky smell of heated hair, the tense craning of necks to keep still while the darkened comb hovered closer to the scalp, and the occasional burns. Whether it was heated on the kitchen stove, in a heater at the salon, or plugged into the wall, the hot comb promoted beauty while masking a complicated history.
It is a common misconception that Madam C.J. Walker invented the hot comb. It is also a misconception that she was the only African American woman to make a fortune from the black hair care industry. The truth, however, is that while her accomplishments were extraordinary, another African American woman named Annie Turnbo Malone initially pioneered the path that Walker took. The successes of Malone and Walker in expanding the black hair and beauty industry are closely intertwined with the history of the hot comb and changing beauty standards.
Tracing the history of the hot comb is complicated, largely due to misinformation and missing or unclear documentation. Tracing its patents also proves to be troublesome because the hot comb was referred to by many names and seems to have had several inventors. It is difficult to identify precisely when the first hot comb was invented. A Frenchman named Marcel Grateau, who went by several names, is often accredited with its invention in the late 1800s when the hot comb was used by white women in Europe. According to the European Patent Office, Grateau is listed as having patents for a "hair-waving iron" and a curling iron rather than a hot comb. (Note it is very possible for him to have invented the hot comb without having a registered patent for it.) In 1886, the invention was being marketed to white women in popular American store catalogs like Bloomingdale's. Other individuals with patents for hot combs include, but are not limited to, Walter Sammons in 1920 and a St. Louis based woman named Clara Grant in 1925.
The hot comb works much like an iron, using a combination of heat and the comb's fine teeth to press and transform women's curly or wavy hair texture into hair that is straightened from root to tip. The reasons for straightening hair vary from person to person. For some, it marked the passage to adulthood, from the childhood tradition of wearing braids. Thus, having straightened hair allowed a woman to wear it "out" as a preferred style before natural styles were considered fashionable. For other women, having straight hair aided with assimilating into a society where having long, straight hair was valued as "good hair," an asset that many perceived as more attractive. Straightened hair could also result in elevating a woman's personal, social, and economic status and providing more opportunities for success.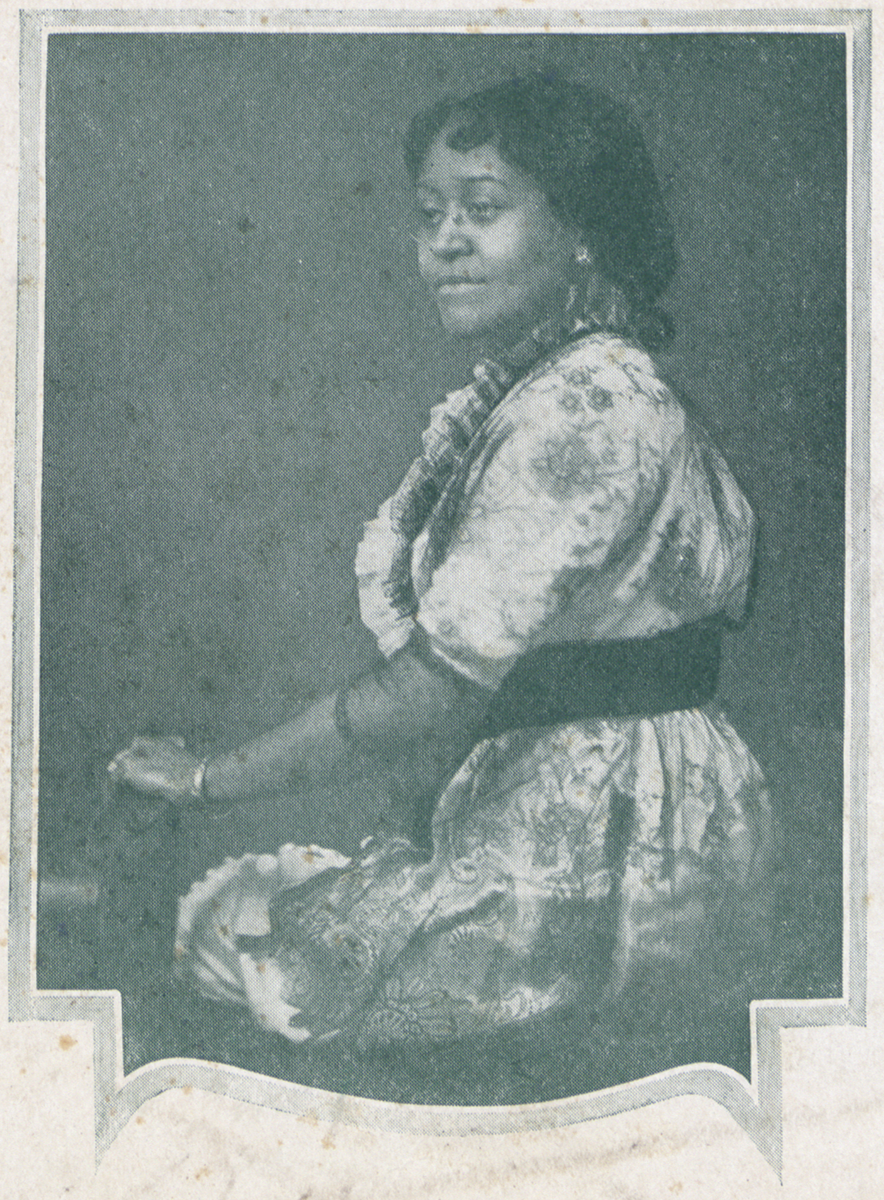 Annie Malone was born in 1869, in Metropolis, Illinois, to formerly enslaved parents and orphaned at a young age. From an early age, Malone understood that for African American women, appearance and grooming represented more than their personal style. It could also indicate a woman's class and social standing. 
Growing up in southern Illinois along the Ohio River, Malone witnessed firsthand how southern blacks migrating to northern states around the turn of the 19th century tended to treat their hair. African American women who worked labor-intensive jobs in the South sometimes had little time or money to properly care for their hair, causing it to become susceptible to ailments such as dandruff, alopecia, and other forms of scalp disease. 
Malone realized that improving hair health could also have a positive effect on the lives of African American women and men and sought to provide assistance. This motivation, along with her early passion for styling her sisters' hair, inspired Malone to help other black women improve their grooming habits. By doing so, it allowed them an option to adapt to a society that judged them based on how they met the American standard of beauty, which excluded the natural appearance of most African Americans. 
As a businesswoman, Malone had to overcome many challenges, including being a black woman in a segregated and sexist society. She began experimenting with chemistry and established a successful business after developing a line of products that were advertised to help improve scalp health and promote hair growth. Some of these products included scalp preparations and her famous "Hair Grower." After early success in Illinois, she moved to Missouri in 1902 and founded Poro College.
In less than a quarter of a century we have built up an institution nationwide in its scope. The name "Poro" has come to stand as a mark of our service to the Race, a service that is economic, inspirational, [and] religious.

Poro College Handbook, 1920s
Located in a black upper-class district of St. Louis, Poro College was founded as a cosmetics school and named after the Poro society—a secret organization in West Africa that exemplified physicality and spirituality. Not only did Poro College act as a training center to nurture and style black hair, but it was also a significant source of employment for African Americans, especially women. It was there where Malone hired, mostly women, as "Poro agents." They were trained to sell her products around the United States. This workforce ranged in age from 16 to 80 years old and was trained through coursework that taught them the "Poro system" of scalp cleaning and hair nourishing. The later beauty magnate, Madam C.J. Walker became one of those agents. Over the company's life span, there were tens of thousands of women and men who would come to sell Poro products around the U.S. and the world. 
Poro College also provided a meeting place for African Americans and major black organizations such as the National Negro Business League to meet since they were denied access to most public spaces. In addition to the main building, which was dedicated in 1918 and commonly referred to as "Poro Corner," the site also featured many additional amenities including dormitories, conference rooms, dining halls, a chapel, and even an ice cream parlor. These facilities were staffed by male and female employees. 
Malone's company offered a range of beauty and hair supplies. Among the list of "Poro Toilet Preparations" were cold cream, lipstick, and face powders in a variety of shades like "Poro Brown," "White," and browns in multiple hues. Among the list of "Poro Hair Preparations" available for purchase were Hair Grower, Special Hair Grower and Tetter Relief. (Tetter is a severe form of dandruff that creates patches on the scalp and prevents hair growth.) Only Poro agents could buy specialty items like pressing oils and liquid shampoos. Heat-related styling tools were also offered to Malone's Poro agents - pressing irons in multiple sizes, curling irons, crimpers, the "Marcel Waving Iron," and the "Marcel Comb" were all advertised in the Poro catalog to be used on clients' hair.
The Marcel Comb listed in the Poro catalog may have been among the first popularized pressing comb prototypes. This heat-styling tool was used to straighten hair before making Marcel Grateau's iconic Marcel Wave. "Marcelling," as it was called, was a short and wavy hairstyle worn by women during the 1920s and was styled using curlers; a small, cylindrical hair iron that was heated and pressed against the hair to make a uniform wave across the hair.
During the 1920s, Annie Malone's Poro brand soared, increasing the value of her company and making her one of the wealthiest African American women in the country. With a newfound fortune from a company that had a global reach, Malone donated large sums of money to philanthropic efforts around the St. Louis area and beyond to institutions such as Howard University. Unfortunately, even with her successes, the Poro Company fell upon difficult times. Malone's beauty empire was hit hard by financial strife due to a bitter divorce settlement, a number of lawsuits and the hardships of the Great Depression. Although her business survived, it was reduced to a fraction of its original size. She continued to sell products until she died, at the age of 79, in 1957. 
While Malone's story ends in decline, one of her former Poro agents, Madam C.J. Walker, would become the most recognized woman in the African American hair and beauty industry.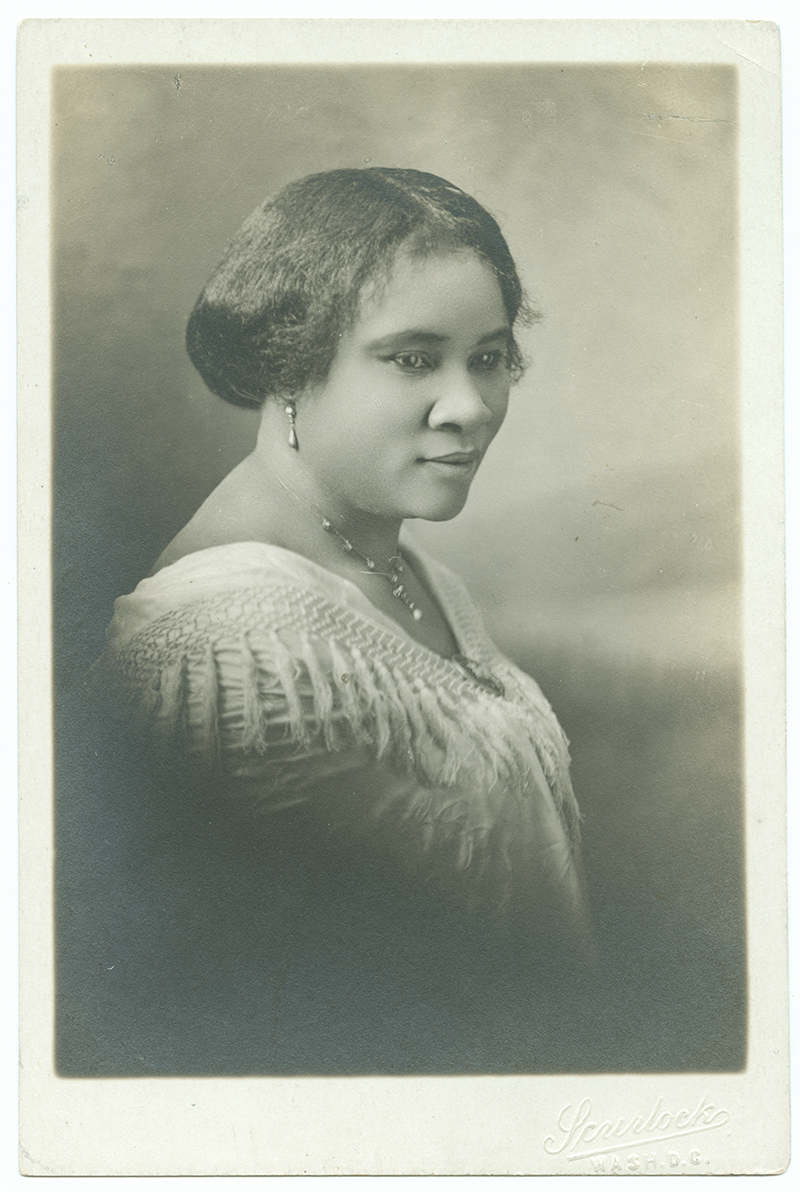 Like Malone, Madam C.J. Walker (born Sarah Breedlove in 1867) was also the daughter of formerly enslaved parents and orphaned at a young age. During the early part of her life, Walker lived in Delta, Louisiana, before moving to Vicksburg, Mississippi, following the death of her parents. Fleeing the economic, racial, and familial hardships present in Vicksburg, she followed the trail that her brothers embarked on and moved to St. Louis, Missouri. It was there where Walker found work as a laundress. Widowed at an early age, she needed to find work to support herself and her daughter A'Lelia. During the mid-1890s, she also struggled with hair issues of her own. During this period of experimenting with her own solutions, Walker became involved with Annie Malone's Poro College. Both Walker's personal hair journey and the foundation of Malone's training would motivate Walker to begin manufacturing and selling her own products.
I had to make my own living and my own opportunity. But I made it! Don't sit down and wait for the opportunities to come. Get up and make them!

Madam C.J. Walker
In 1905, Walker moved from St. Louis to Denver, Colorado, to sell Poro products. It was in Denver where she changed her name to Madam C.J. Walker and decided to begin selling her own hair products. According to her biography, On Her Own: The Life and Times of Madam C.J. Walker, Walker received the formula for her own hair grower through a dream. Other hair products included her "Glossine and Pressing Oil," and the "Wonderful Hair Grower." Among other beauty supplies like creams and cosmetics, the most popular product was Walker's Wonderful Hair Grower, which consisted of petrolatum, coconut oil, beeswax, copper sulfate, carbolic acid, precipitated sulfur and perfume.
In 1908, Madam C.J. Walker relocated to Pittsburgh, Pennsylvania, and opened a factory and hair school called Lelia College. At Lelia College, she taught women to become "hair culturists" - Madam C. J. Walker beauty agents. Madam C.J. Walker's beauty empire expanded vastly, making her America's first recognized, self-made female millionaire. (Sources vary widely about recognizing Malone as the woman to hold such a position.) 
Although Walker did not invent the hot comb, she and her "hair culturists" regularly used it for hair styling. In her science and beauty manual titled, Text Book of the Madam C. J. Walker Schools of Beauty Culture, a chapter is dedicated to Walker's hair straightening process. This process included applying glossine "sparingly but evenly" on clean hair and then advising her agents to use both the comb side and the back side of the hot comb to achieve the desired look of straightened hair. Walker's handbook states, "…this treatment [of hair straightening] is much in vogue now and when given correctly, will produce a decided improvement in the appearance of hair that is inclined to be very curly."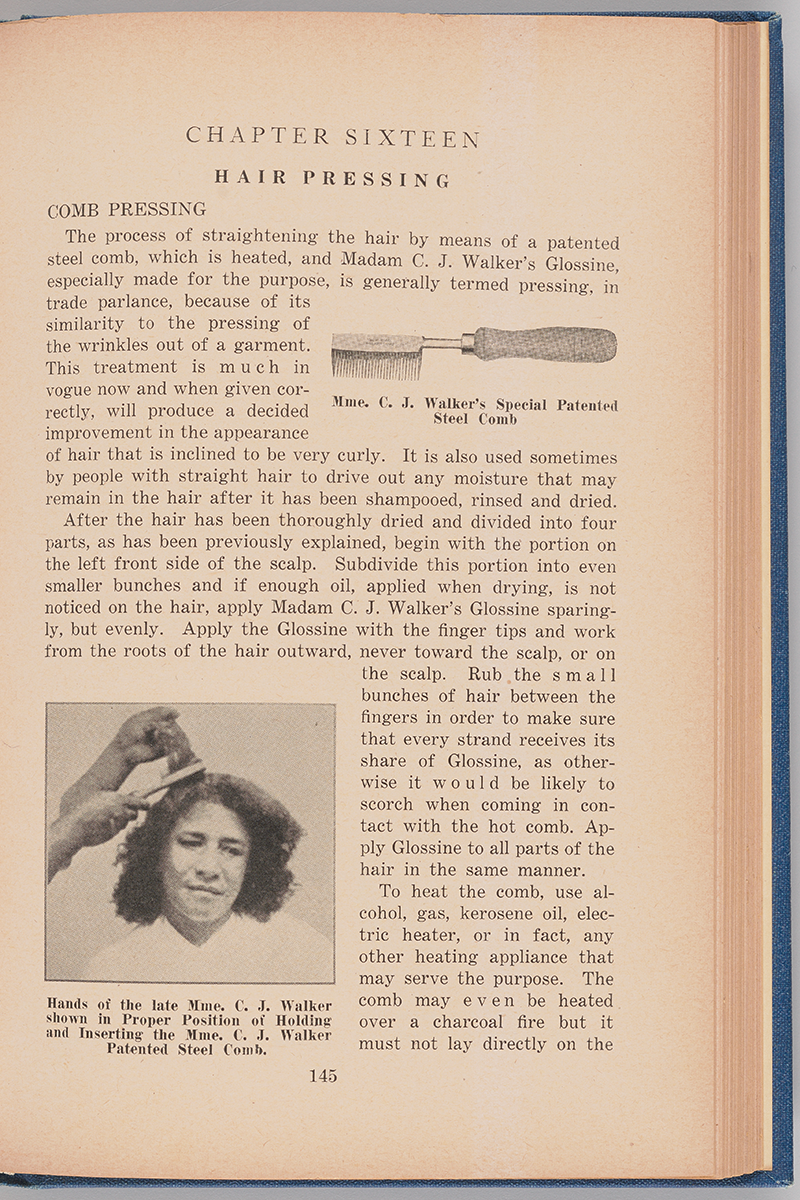 Hair straightening has been a historically complicated and controversial topic that continues to be debated within the black community. Some African Americans have viewed Walker's use of hot combs and other heat-styling tools as a negative action because it was giving into Eurocentric beauty standards. However, others saw it in a positive light, including W.E.B. Dubois who is identified in Walker's biography as having stated that the tool was "widely misunderstood and ridiculed." Madam C.J. Walker herself claimed that her products were created to maintain healthy hair, not straighten it. Regarding straightening hair, another commonly held misconception was that Walker invented chemical straighteners for black hair. While she helped women to straighten their hair, she only used heat-styling tools.
By the late 20th century, the use of the hot comb declined in popularity as black women either used more modern straightening devices, or chose to wear their hair naturally or in a number of other styles. The pioneering legacies of Annie Turnbo Malone and Madam C.J. Walker were responsible for developing specialized black hair care and beauty products in the United States. They have undeniably shaped today's black hair care and beauty industry.
Written by Moriah James, Robert F. Smith Fund intern
Published on January 10, 2019