An Author for the Ages
Spreading the Word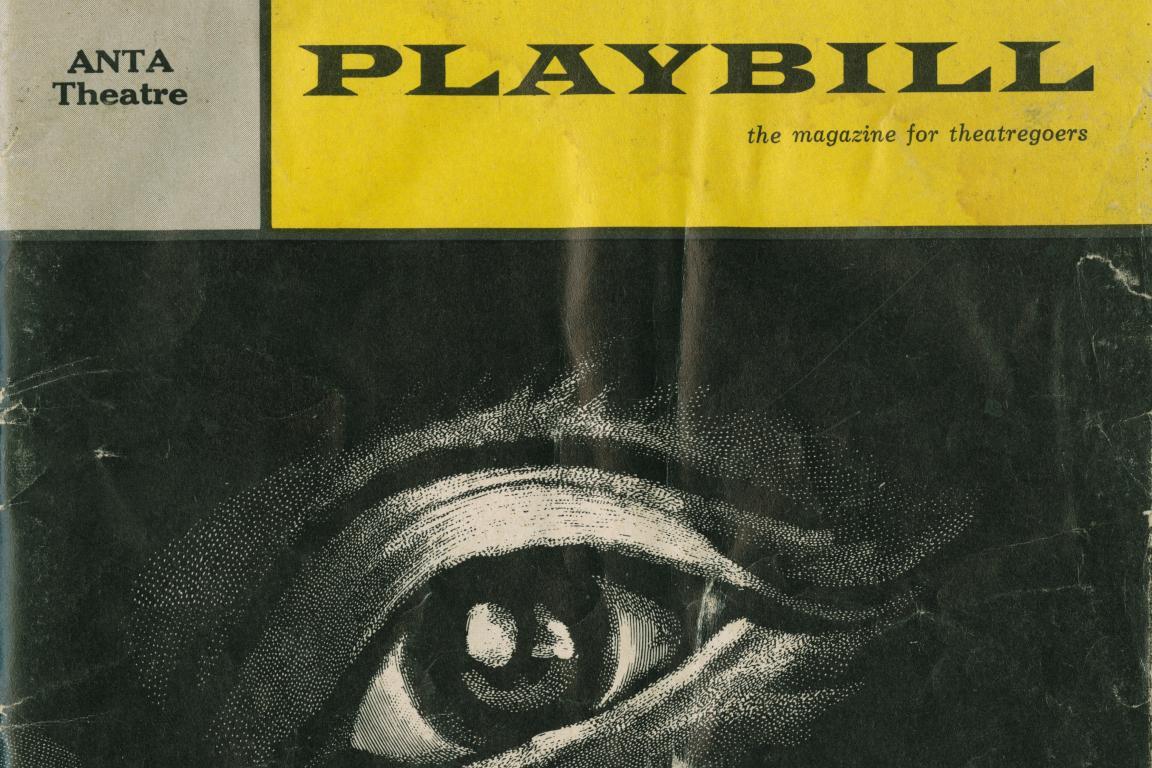 After writing reviews for The Nation and the New Leader in 1945, Baldwin was commissioned to write an essay on Harlem that ultimately launched his literary career. Titled "The Harlem Ghetto," the essay was published in Commentary in 1948. He critiqued worsening socio-economic conditions and did not shy away from pointing out ethnic animosities in Harlem between African Americans and Jewish people. Its candor concerning how the local situation in Harlem reflected broader U.S. racial politics ultimately garnered him invitations from other magazines.
Following this budding national recognition, Baldwin moved to Paris and soon published the first of his three scathing critiques of Richard Wright's Native Son. "Everybody's Protest Novel" in 1949 was followed by "Many Thousands Gone" in 1951 and led to a falling out between Baldwin and Wright. A year after Wright's sudden death from a heart attack in 1960, Baldwin published the essay "Alas, Poor Richard," a final reflection on Wright's legacy and Baldwin's relationship with the older writer. In his 1984 interview with the writer Julius Lester, Baldwin recalls his conflict with Richard Wright and his subsequent understanding of why he had interrogated Wright's work before:
By the time I went to see Richard I was committed to the idea of being a writer ... He was very nice to me. He was very distant in a way—we never got to be close friends. But he was very tender, very helpful and we saw each other from time to time. I was very proud of him and I think he was proud of me … for a while. He may have been always, in fact … I knew Richard and I loved him … I was not attacking him; I was trying to clarify something for myself.
"Everybody's Protest Novel" sparked intense debate in the U.S. and abroad and further established Baldwin as a major American essayist.
A year after Baldwin's 1948 move to Paris, he was arrested and jailed for theft—falsely accused of stealing hotel bed sheets. He would write about the details of his arrest and his eight-day ordeal behind bars in "Equal in Paris" published in Commentary, and would later republish it in his acclaimed collection of essays Notes of A Native Son (1955).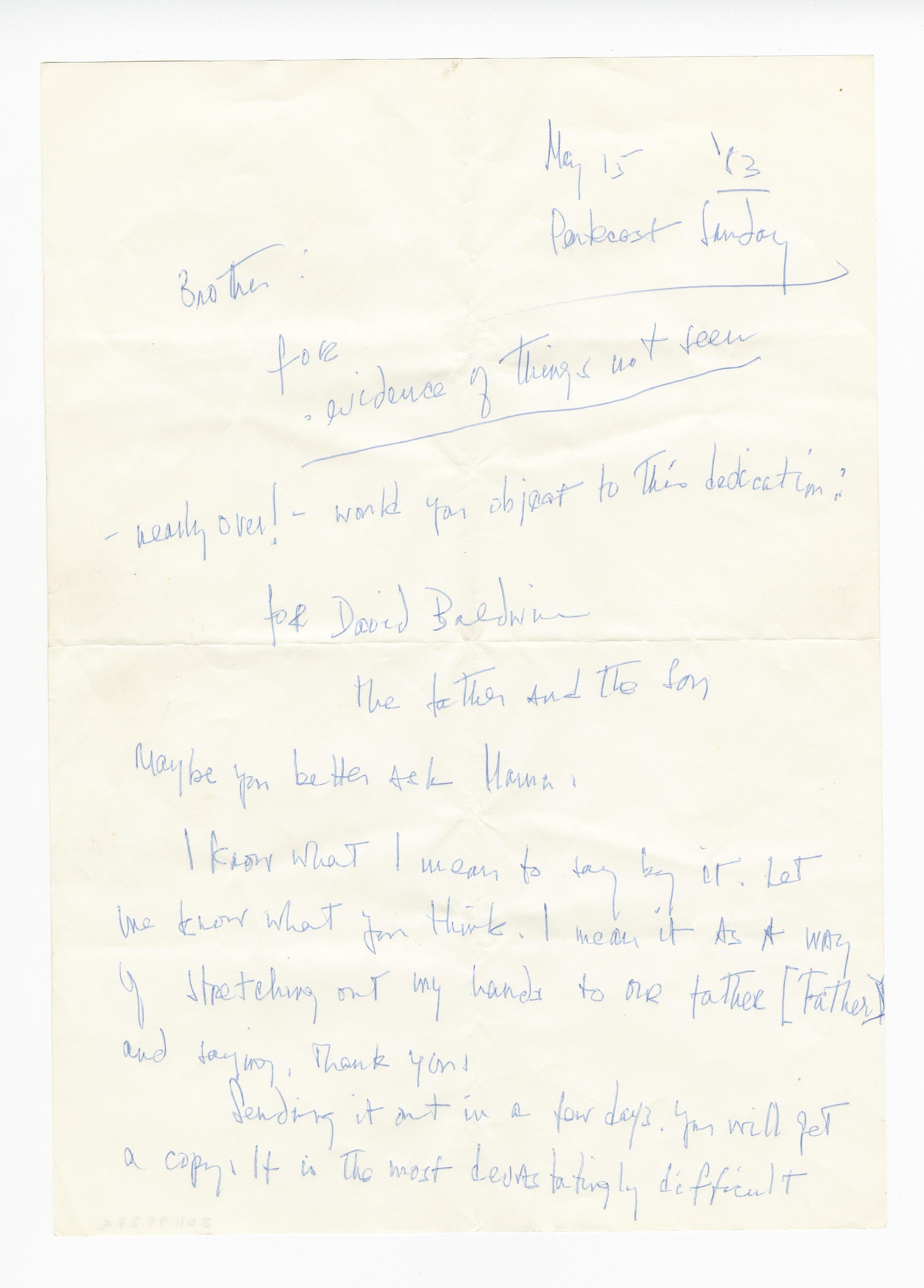 Baldwin completed his first novel while residing in a village in the Swiss Alps with his friend and lover, the Swiss painter Lucien Happersberger. He had begun Go Tell It On The Mountain in 1944, when he was twenty years old, and published it almost ten years later in 1953 to excellent reviews. Go Tell It On The Mountain is a semi-autobiographical narrative underscoring the struggle between fathers and sons. It is specifically a coming of age story loosely based on the strained relationship between Baldwin and his stepfather, an evangelical preacher, who imposed strict, rigid rules on his household and often called Baldwin "ugly."
Although Baldwin would go on to publish five more novels—Giovanni's Room (1956), Another Country (1962), Tell Me How Long the Train's Been Gone (1968), If Beale Street Could Talk (1974), and Just Above My Head (1979)—many literary critics in the 20th century considered Go Tell It On The Mountain his most technically-sophisticated and accomplished novel. However, unlike those earlier critics, subsequent scholars have recognized the complexity and accomplishment of his complete body of works.
While he was still alive, Baldwin's collections of essays won him more praise than his novels. Those essays collected in Notes of a Native Son (1955), Nobody Knows My Name (1961), The Fire Next Time (1963), No Name in the Street (1972), and The Evidence of Things Not Seen (1985) distinguished Baldwin as the "conscience of the nation." He wrote with such clarity, precision, and sharp criticism about the country's moral failings and dissected the issue of race with insight and language unsurpassed by any American writer before him. The Norton Anthology of African American Literature (1996) notes the following:
Baldwin brought to racial discourse a passion and honesty that demanded notice. [His] knife-edged criticism of the failed promises of American democracy, and the consequent social injustices, is unrelenting and demonstrates a piercing understanding of the function of blacks in the white racial imagination.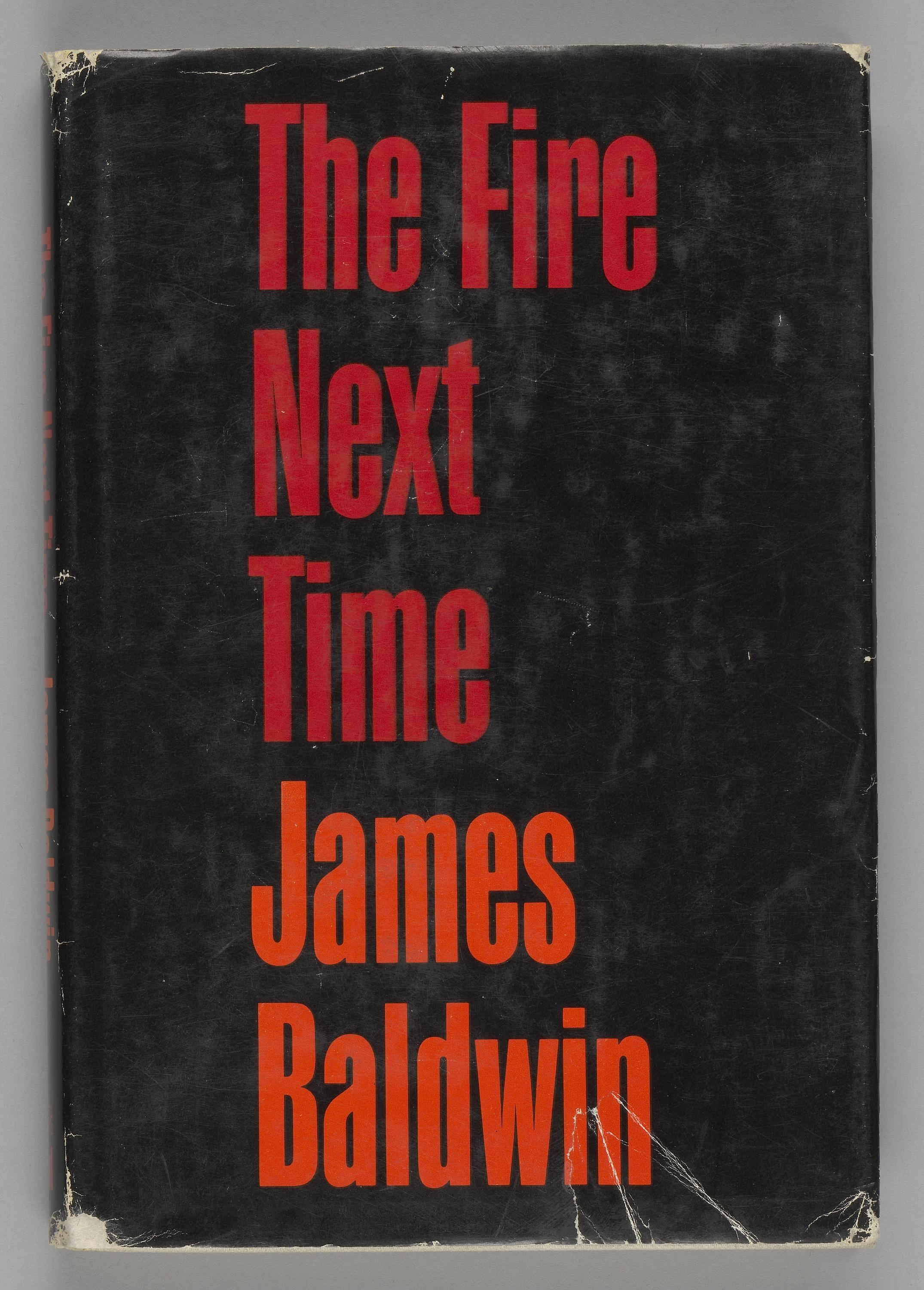 Throughout the 1960s, Baldwin was a prolific writer of op-eds, articles, and essays for diverse publications. He wrote think pieces for national publications, such as Mademoiselle, The New York Times, and Esquire, and journalistic pieces for a variety of magazines, such as Playboy and the lesser known Nugget, in which he covered the 1962 Patterson vs. Liston boxing match.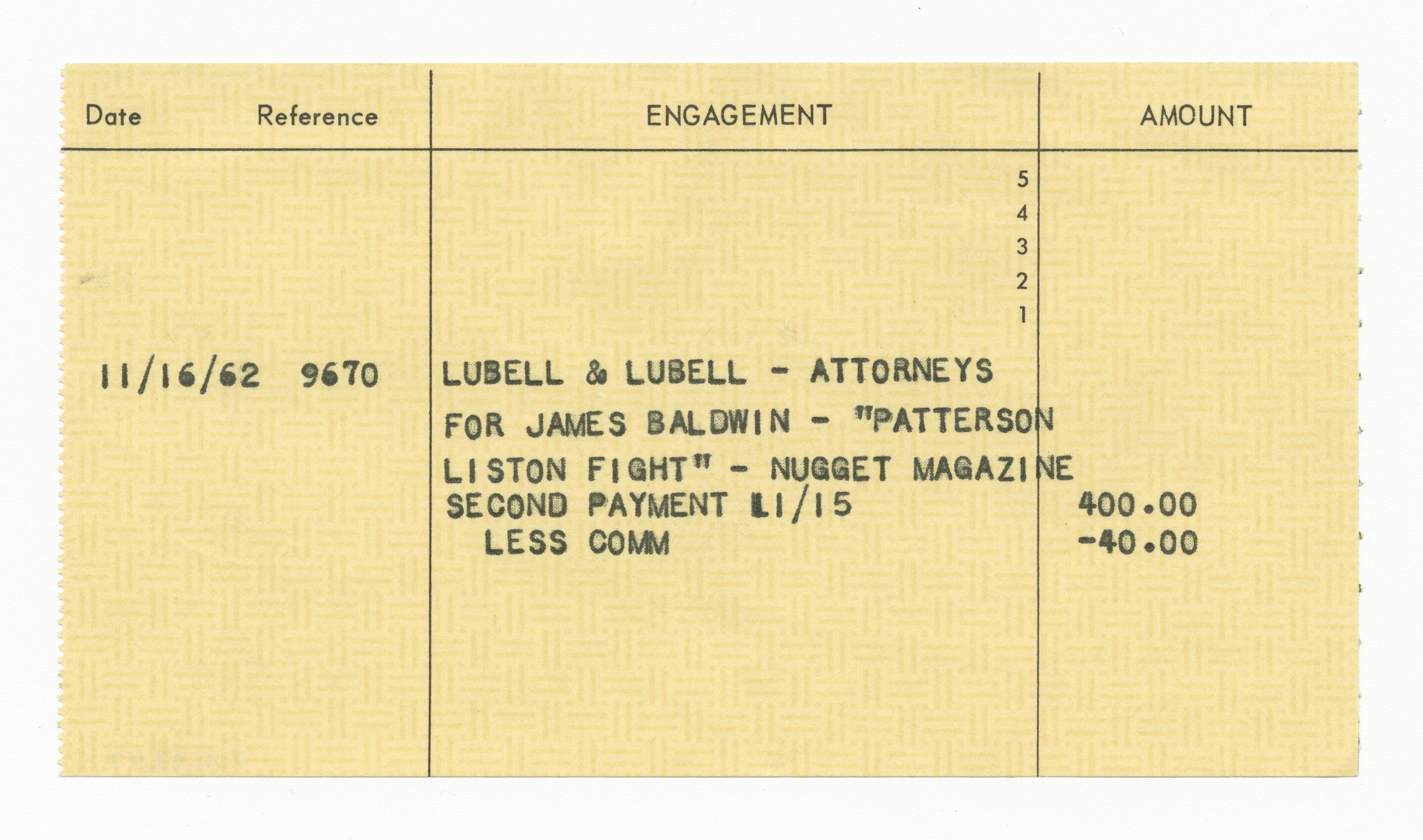 Baldwin published two successful plays in his lifetime. The Amen Corner, published in 1954, was a dedication to the legacy of "my father." The play was performed in May of the next year by the Howard Players at Howard University's Spaulding Hall in Washington, DC. The second play Blues for Mister Charlie, published in 1964, was dramatized the same year at the historic American National Theater and Academy (ANTA) in New York. In 1972, he also published a screenplay One Day When I Was Lost. Had Baldwin lived beyond 1987, it is likely he would have published The Welcome Table, a play set at his home in St. Paul de Vence, on which he collaborated with the theater director Walter Dallas.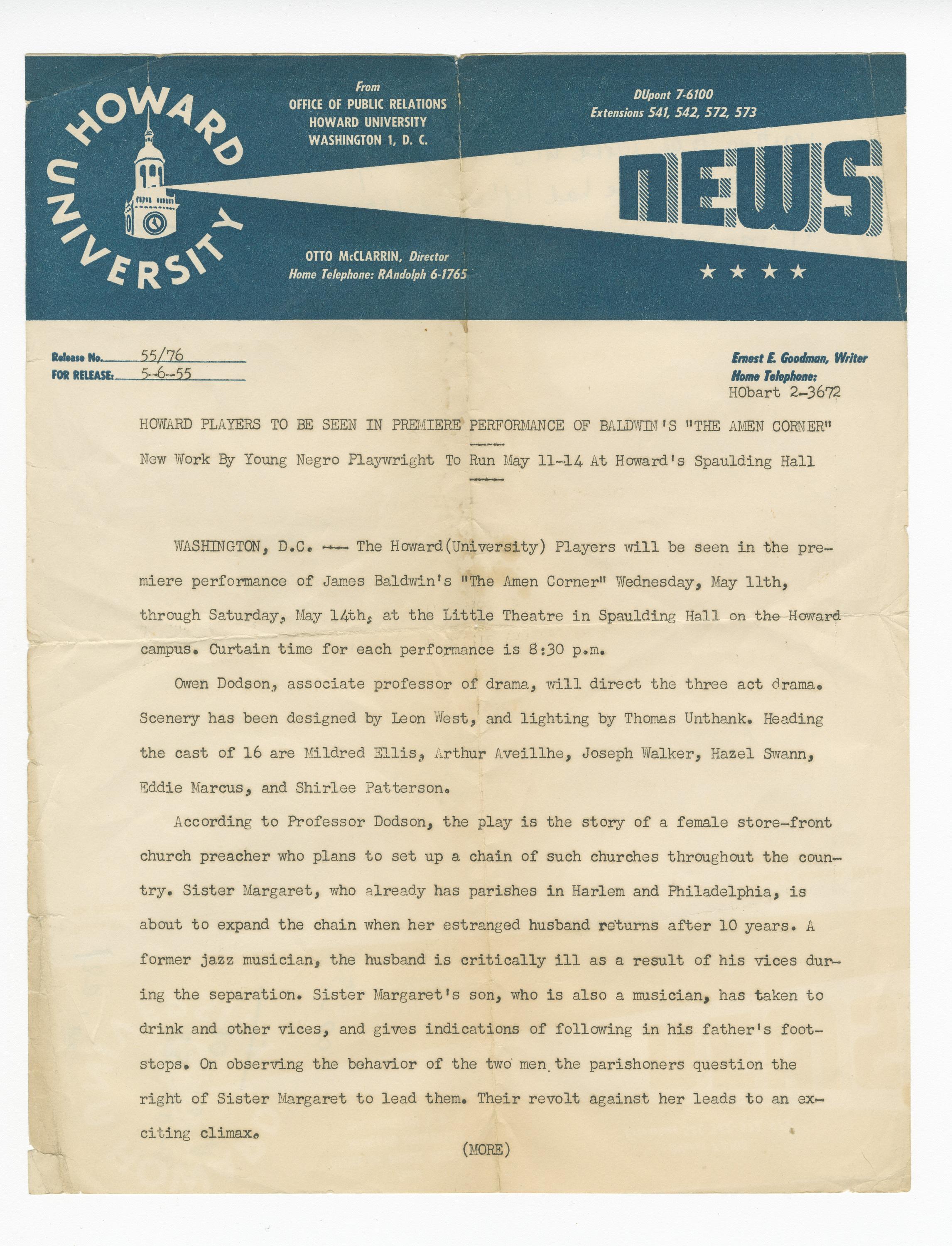 Baldwin's only children's book Little Man, Little Man: A Story of Childhood was published in 1976. Recently re-released by Duke University Press, the book includes illustrations by French artist Yoran Cazac, a foreword by Baldwin's nephew Tejan Karefa-Smart, and an afterword by Baldwin's niece Aisha Karefa-Smart. Both his nephew and niece were inspirations for the story.
Jimmy's Blues: Selected Poems (1983) is Baldwin's only collection of poetry. Included in this collection is a poem "Some Days," originally written for his sister Paula on her birthday, later set to music and interpreted by acclaimed opera singer Audra McDonald. In 2014, Beacon Press published Jimmy's Blues and Other Poems, a compilation of the 1983 selection plus six other limited-edition poems. The celebrated poet Nikky Finney wrote the introduction:
With prophetic understanding, harmony, and swing, creating his own style and using his own gauges to navigate the journey, Baldwin often wrote counter-metrically, reflecting his African, Southern, Harlem and Paris roots … Baldwin wrote poetry because he felt close to this particular form and this particular way of saying. Poetry helped thread his ideas from the essays, to the novels, to the love letters, to the book reviews, stitching images and feeling into the music, back to his imagination.