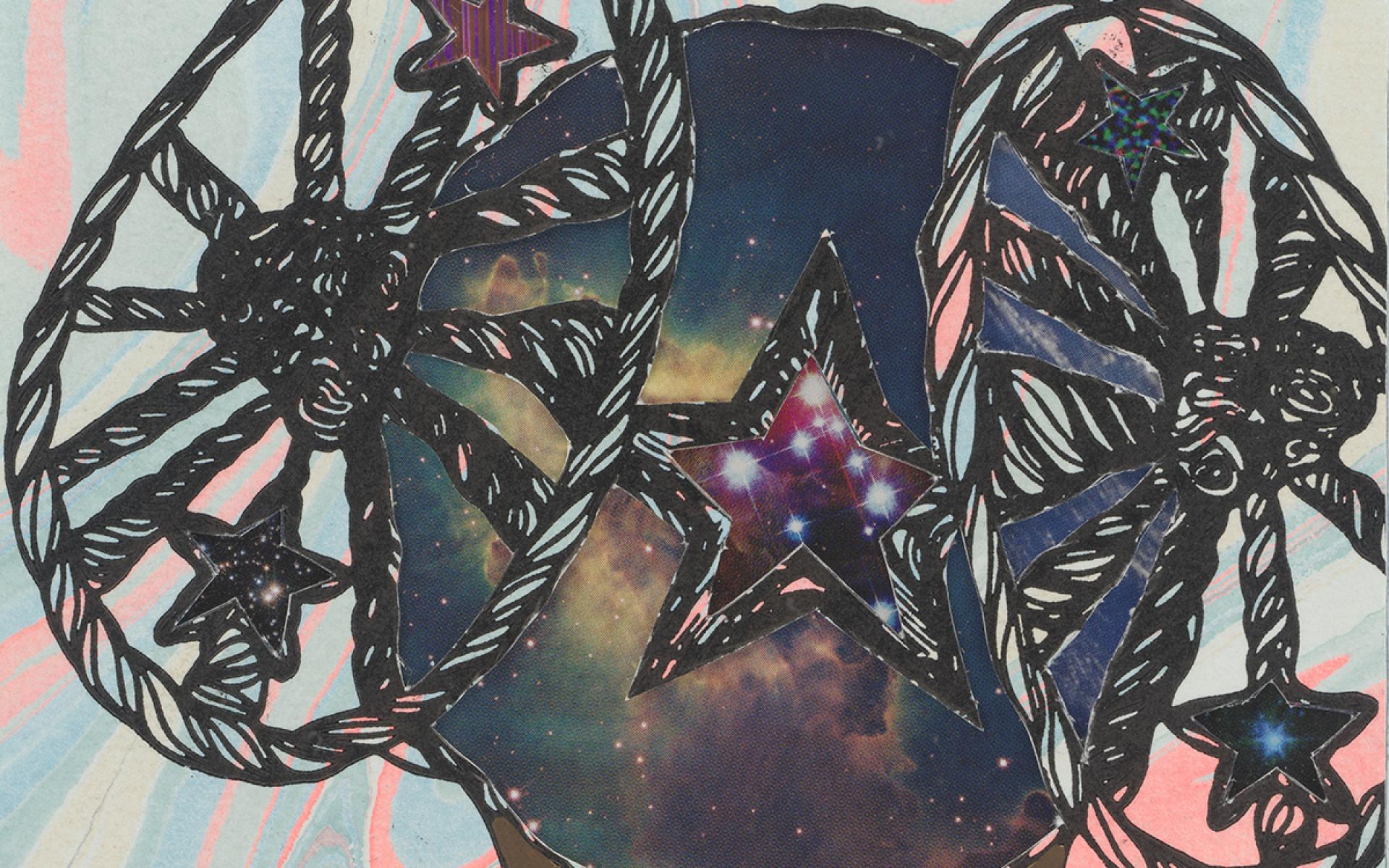 Collection Story
Strands of Inspiration
Exploring Black Identities through Hair
"I feel that the kinks, curls, or tight coils in Afro hair is beautiful and unique. No other race on this planet has hair like ours—that makes me proud."
—Monica Millner, Natural & Free: Journey to Natural Beauty
Historically, hair has remained at the center of Black identity formation. Hair comes in various textures and can be crafted into a variety of styles. Some of these styles, like Bantu Knots and cornrows, have become staples among Black populations who have repeated them over millennia. Hairstyles serve not only functional roles, such as protecting hair, but also societal roles. In some cultures, they convey messages about background, tribe, and status, and document life events such as childbirth, war drafts, and funerals. Hair care and styling define Black identities by allowing individuals and groups to express their personal style.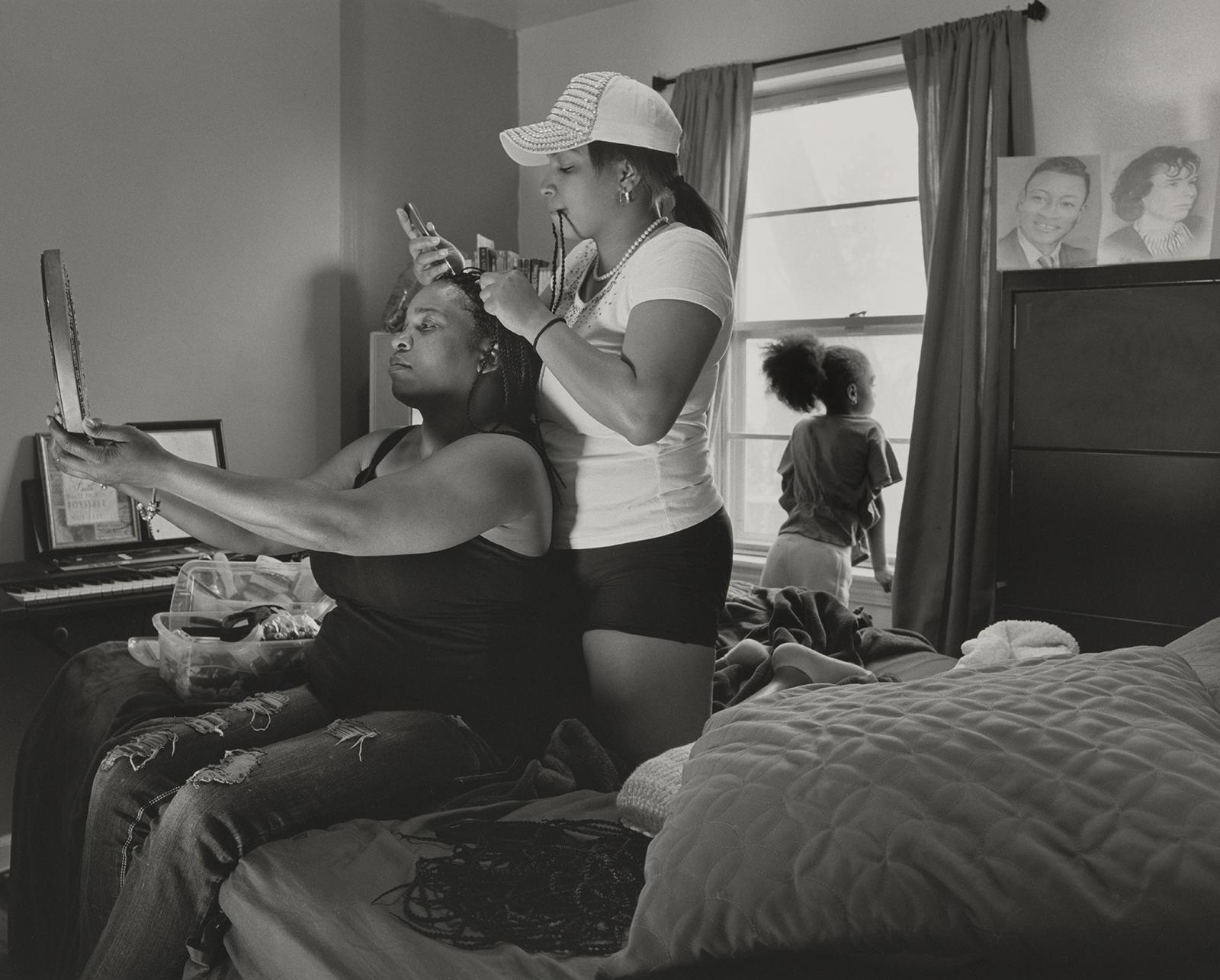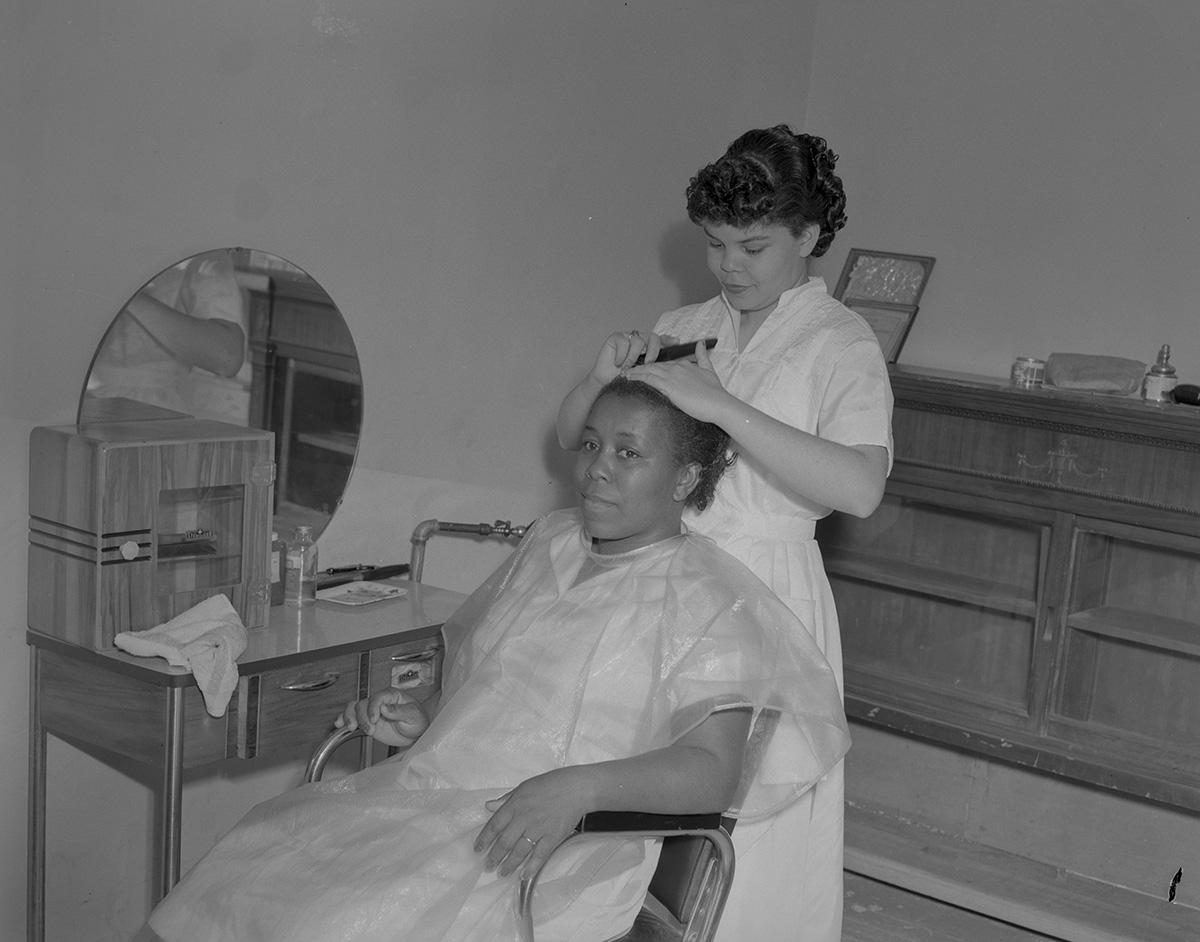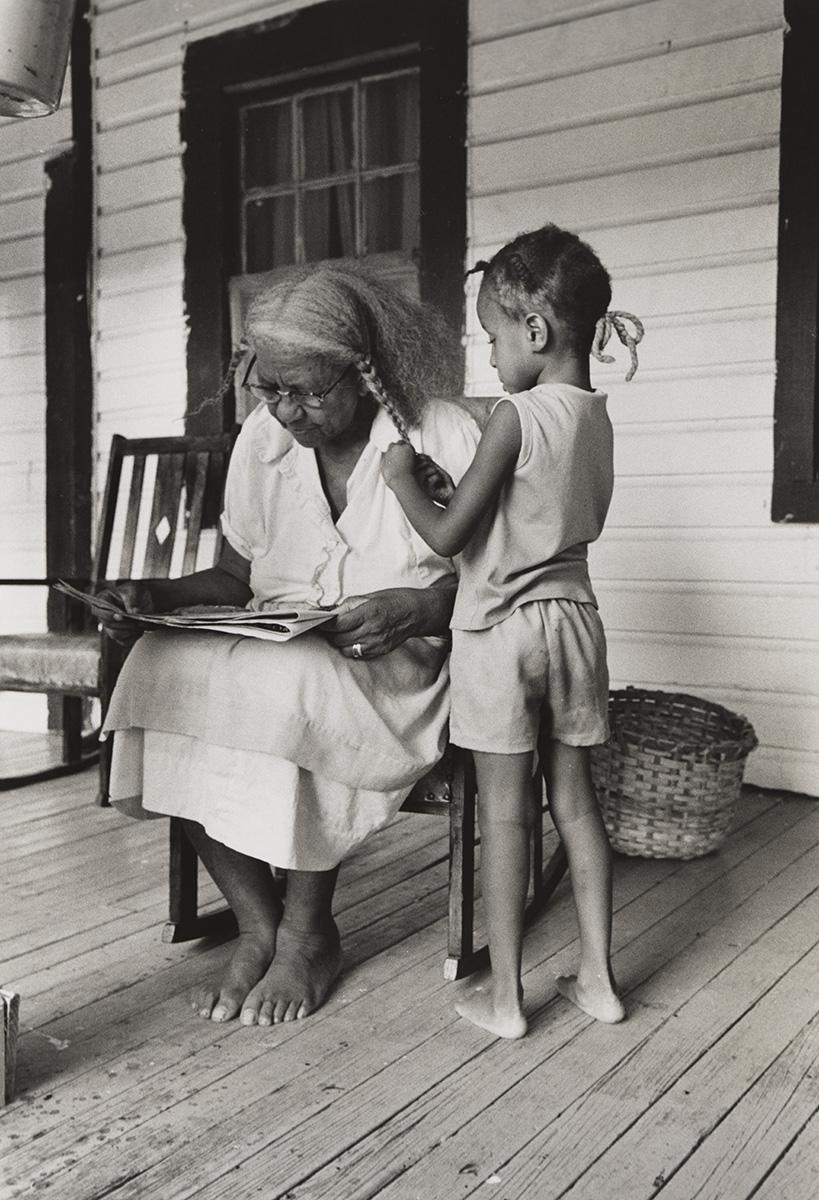 Despite this cultural significance, Black hair has become the subject of scrutiny in a post-colonial era that upholds Eurocentric aesthetics. Over the past few centuries, Black people have been discriminated against for styles and textures that have become symbolic of Blackness. African Americans face barriers to opportunities to employment and education due to stereotypes that mark them as improper or unsuitable due to their hairstyles. As a result, many Black people, especially women, have been driven to chemically alter their hair texture or cover their natural hair with wigs or weave-in extensions. As of 2023, twenty-three states have passed the CROWN act—a law the prohibits race-based hair discrimination—to acknowledge that Black hairstyles hold equal value within American society.
Many artists and designers in the NMAAHC collection consider this history by exploring the role that hair plays within their own Black identities. These artists highlight Black hair's ability to form meaning due to its malleable nature that gives way to creative symbolism. The cultural significance of Black hair manifests through the themes demonstrated in art works that consider race through the lenses of gender, space, and time.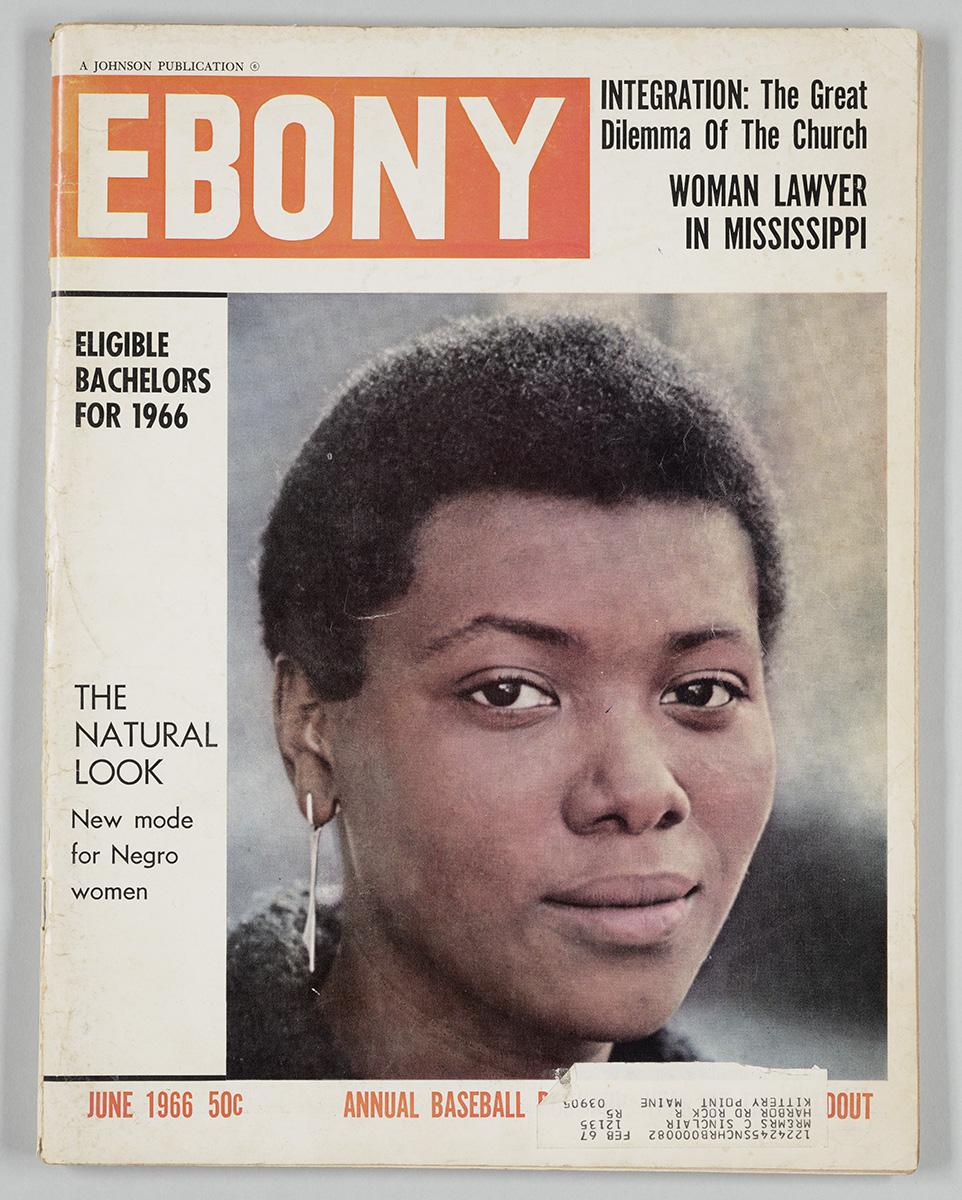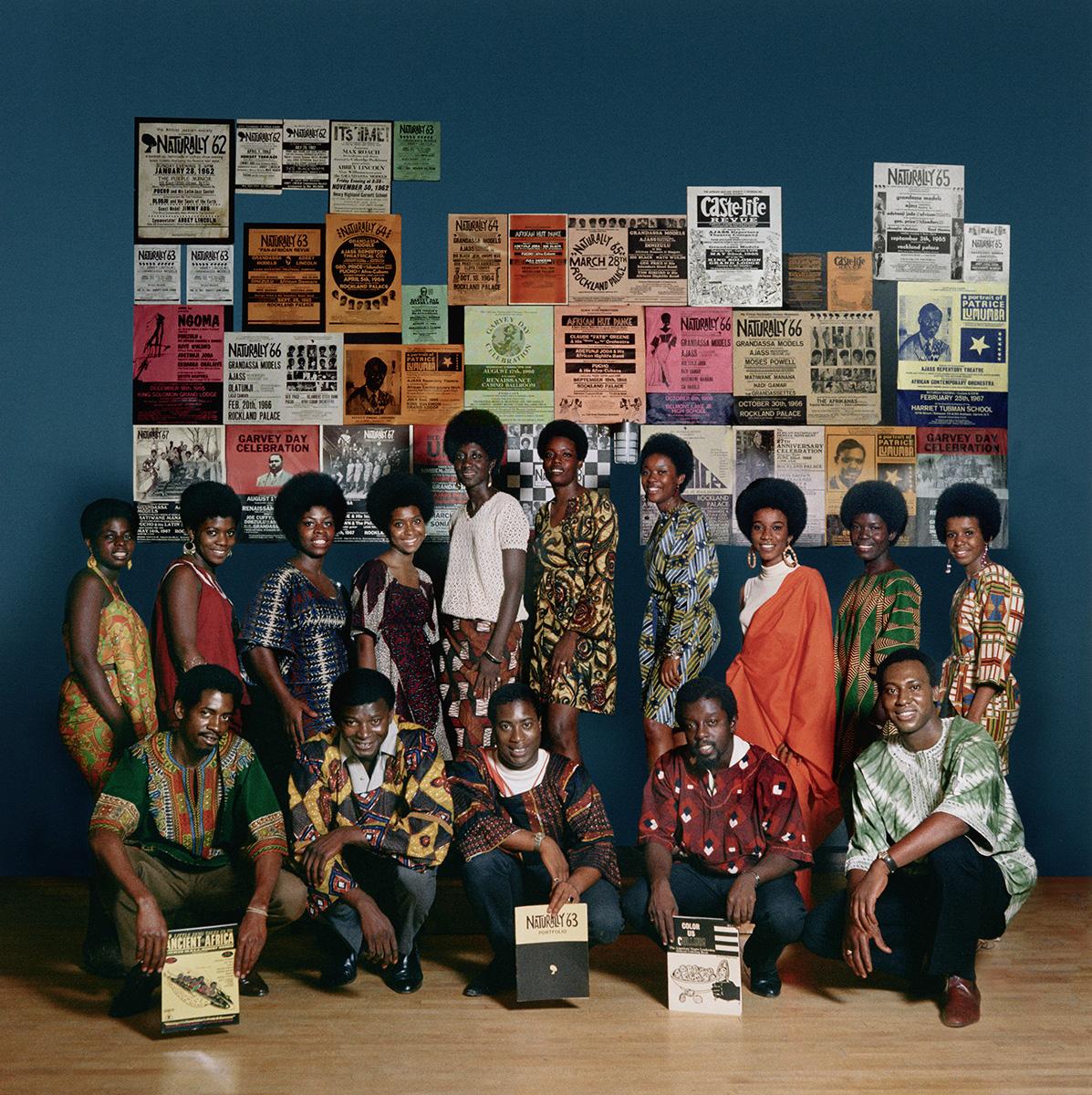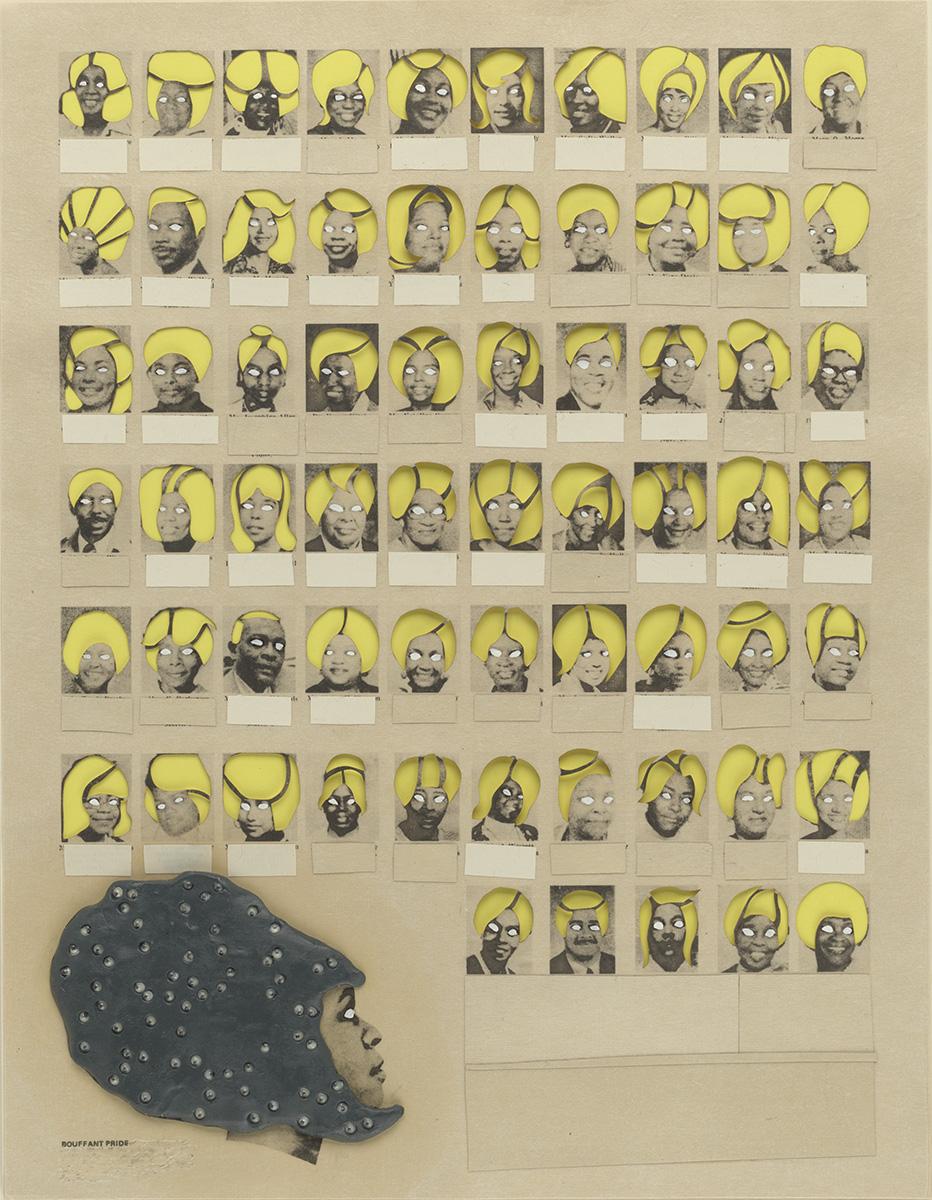 Tanekeya Word's Supernova Study
In her Supernova Study series, Tanekeya Word uses hair styling to consider what it means to be a Black girl. In each rendition of her mixed media series, Word crafts a universe centered around the Fulani braid hairstyle, which come from the Fula, Fulani, or Fulɓe people of the Sahel region. The hairstyle captivates the viewer with its vast volume that emphasizes the design within the braids. The stars braided into the hair define the space created by this structure as celestial. Placed against different paper collaged backdrops, the hairstyle sits at the center of a universe that has been created around each woman in the series.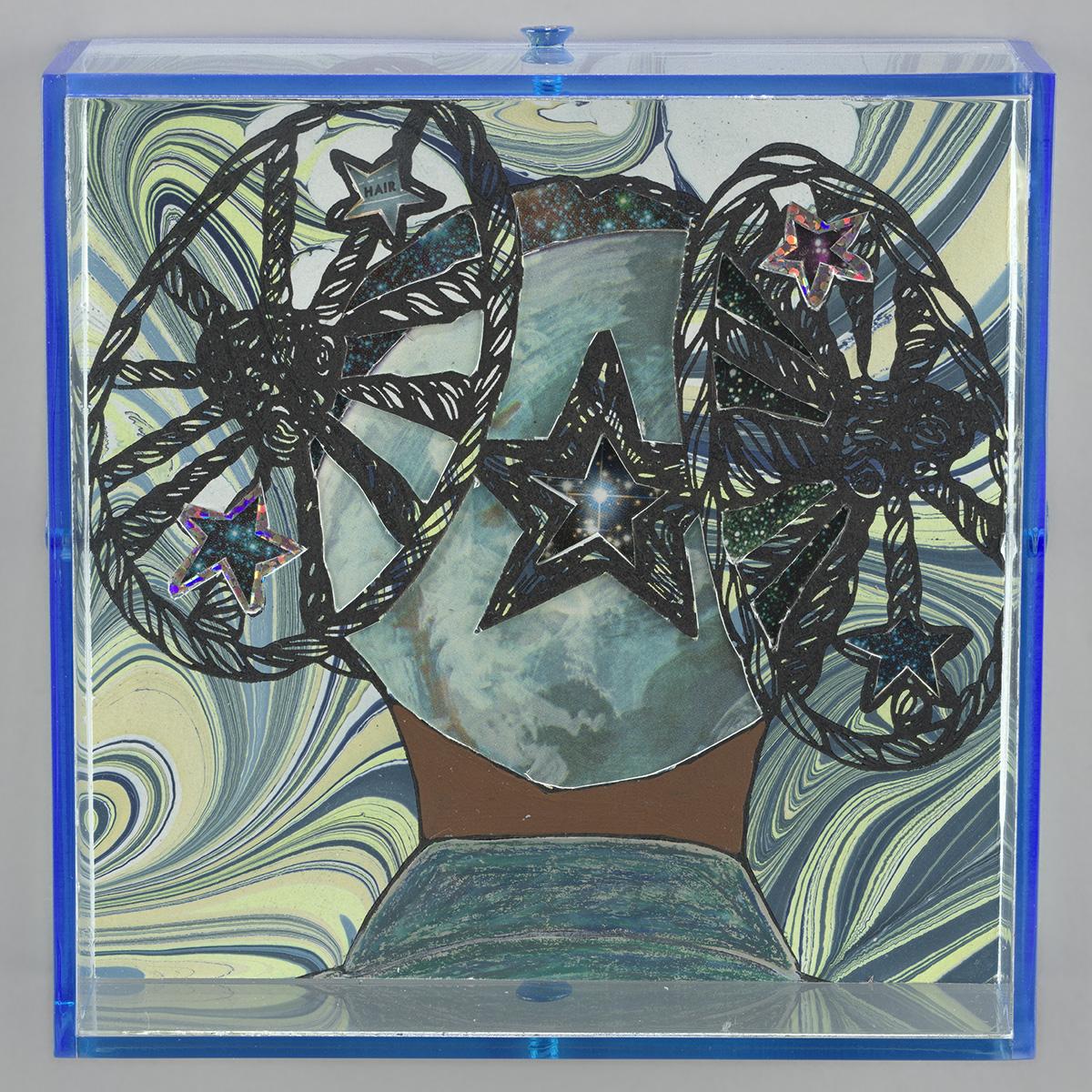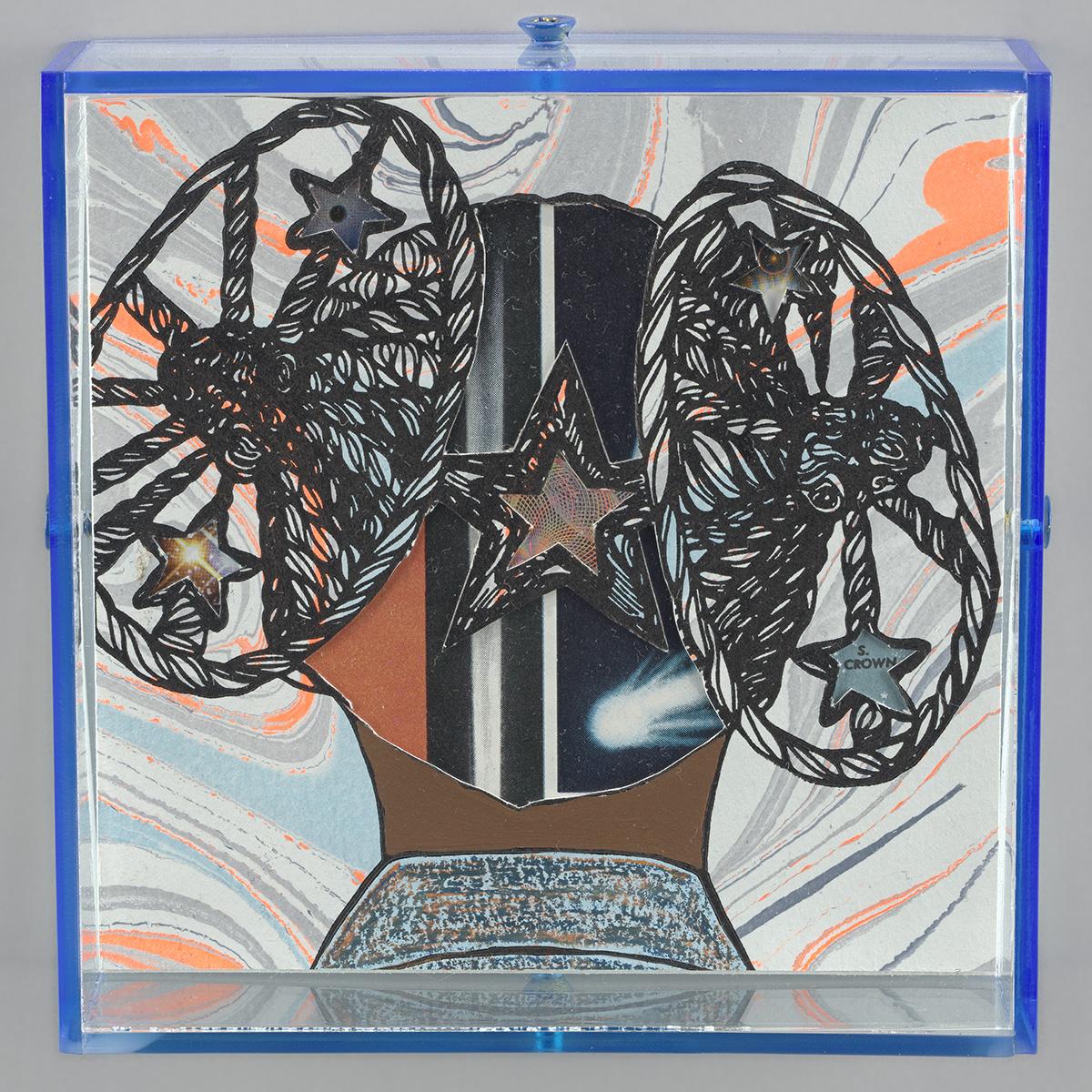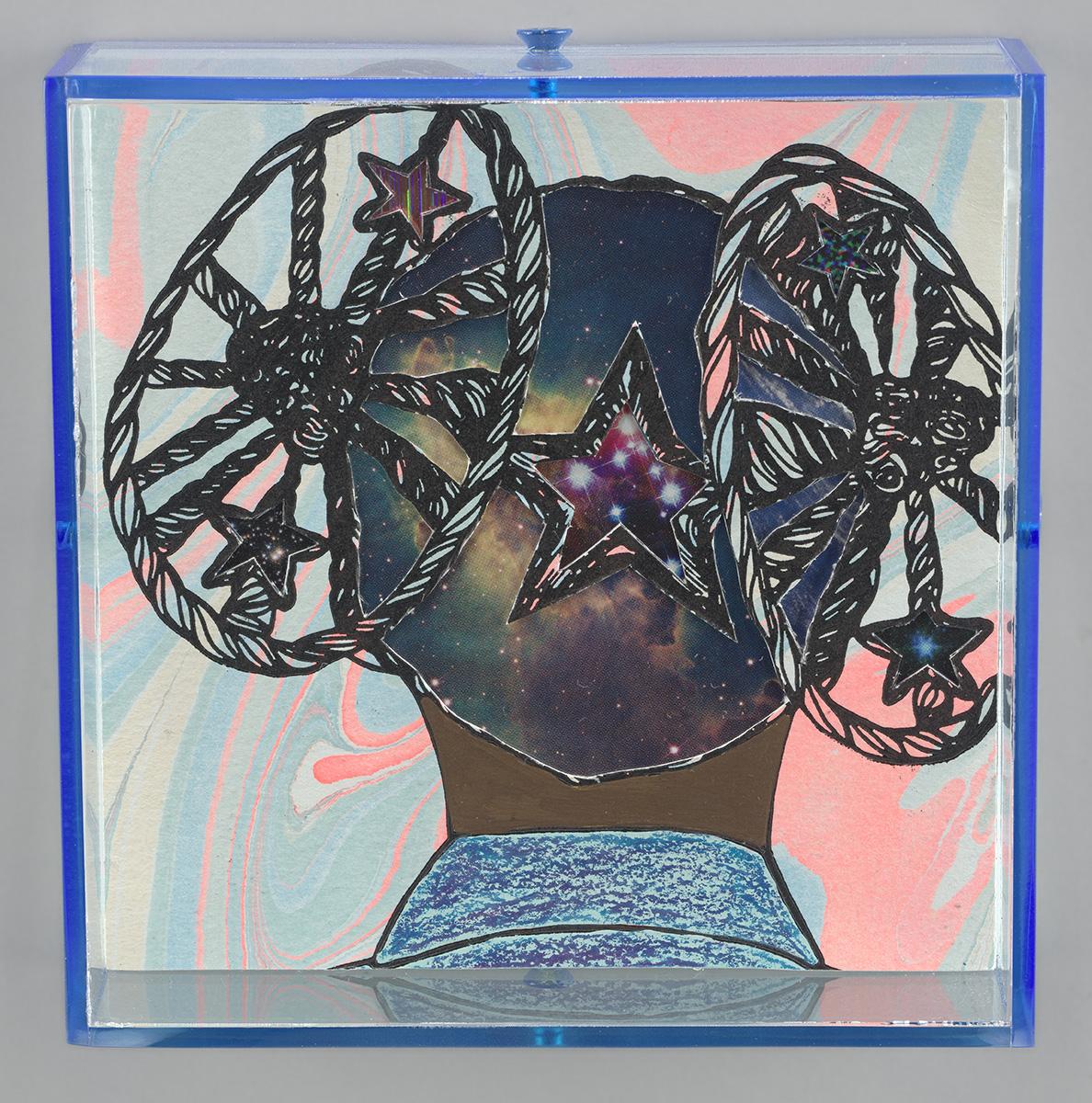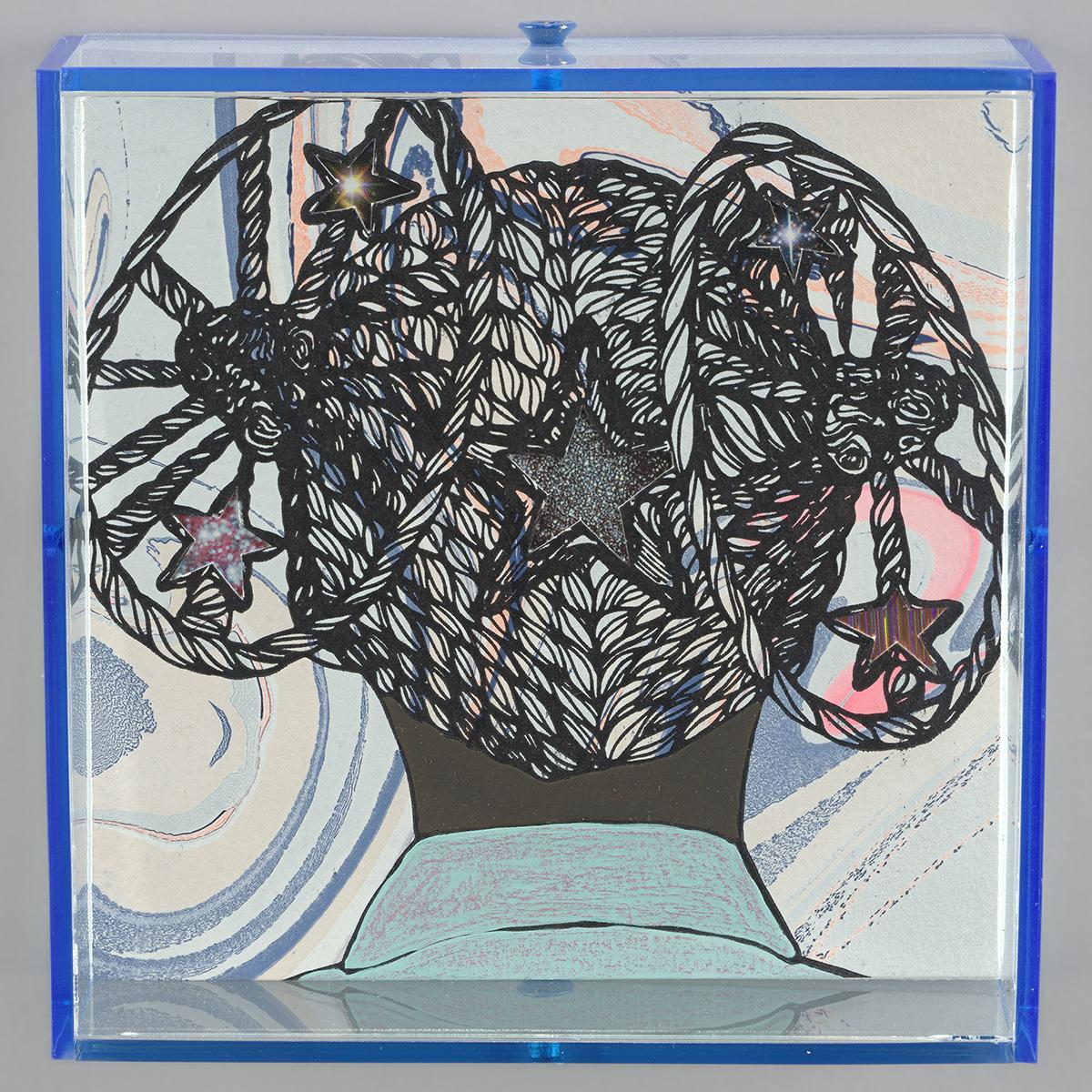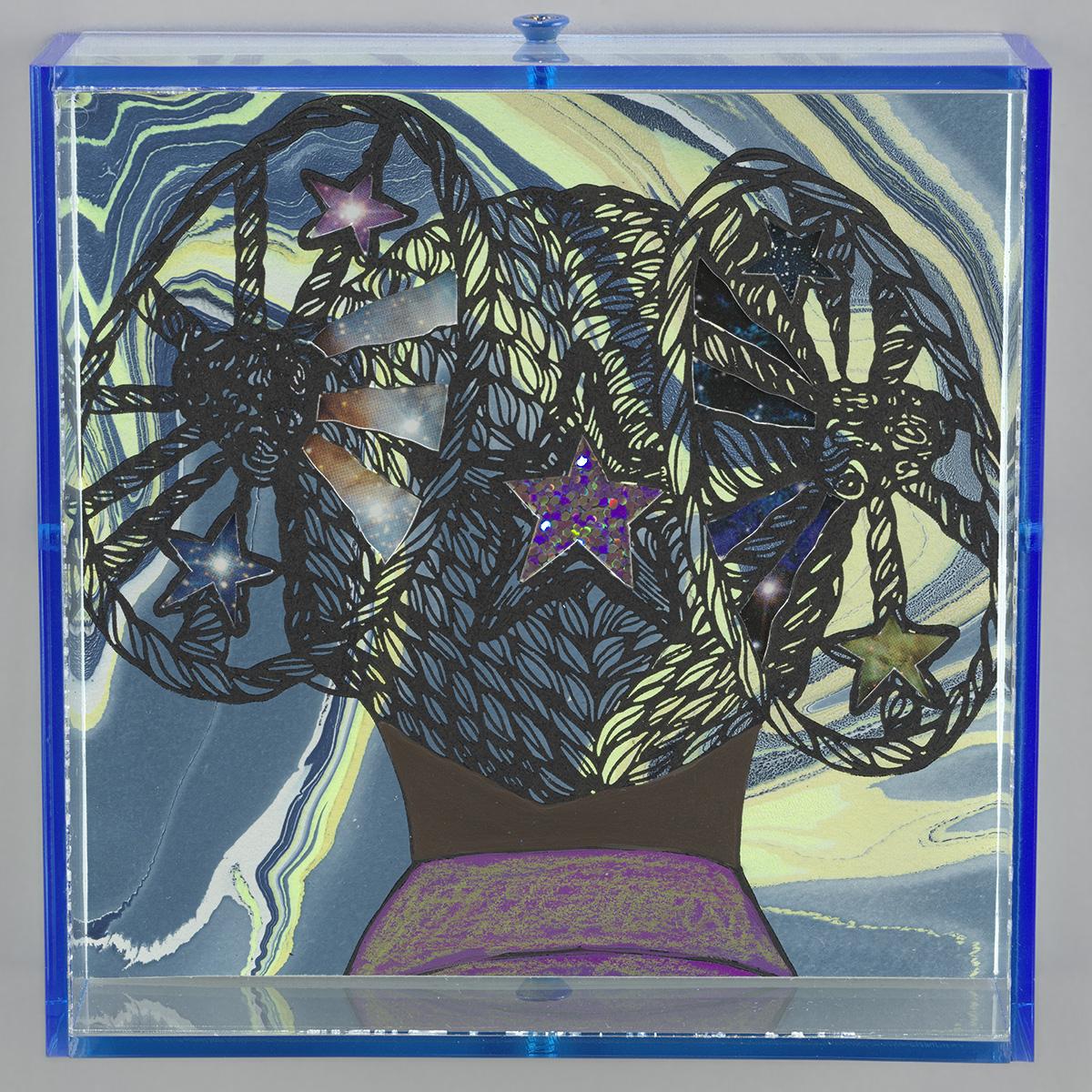 Throughout the series, hair serves as a bridge between the outside world and the individual. Word describes that her artwork has a "focus on Black interiority, material culture, nature, and subaltern mappings in harmony with the body." While hair can be manipulated to interact with external influences, it still harmonizes with the preferences of the individual who grows the hair and wears the style. By using Fulani braids, Word highlights an international cultural expression by taking influence from a hairstyle worn by Black folks across continents. Furthermore, she uses the braids to consider a different type of Black space, taking an Afrofuturistic approach by using the hair style to tell a cosmic story. Word creates an extraterrestrial world with the Fulani braids as its structural supports, imagining a place where the temporalities, geographies, and traditions of the African Diaspora come together to create a universe where Black femininity thrives.
By extracting parts of the letterpress print and collaging images and mappings of space and the natural world within the head and hairstyle, I call upon the African Diaspora's continuum where traditions are mindfully re-shaped through the passage of time and Black womanhood is counter-mapped via an emic perspective.

Tanekeya Word
Germane Barnes' Porch Chairs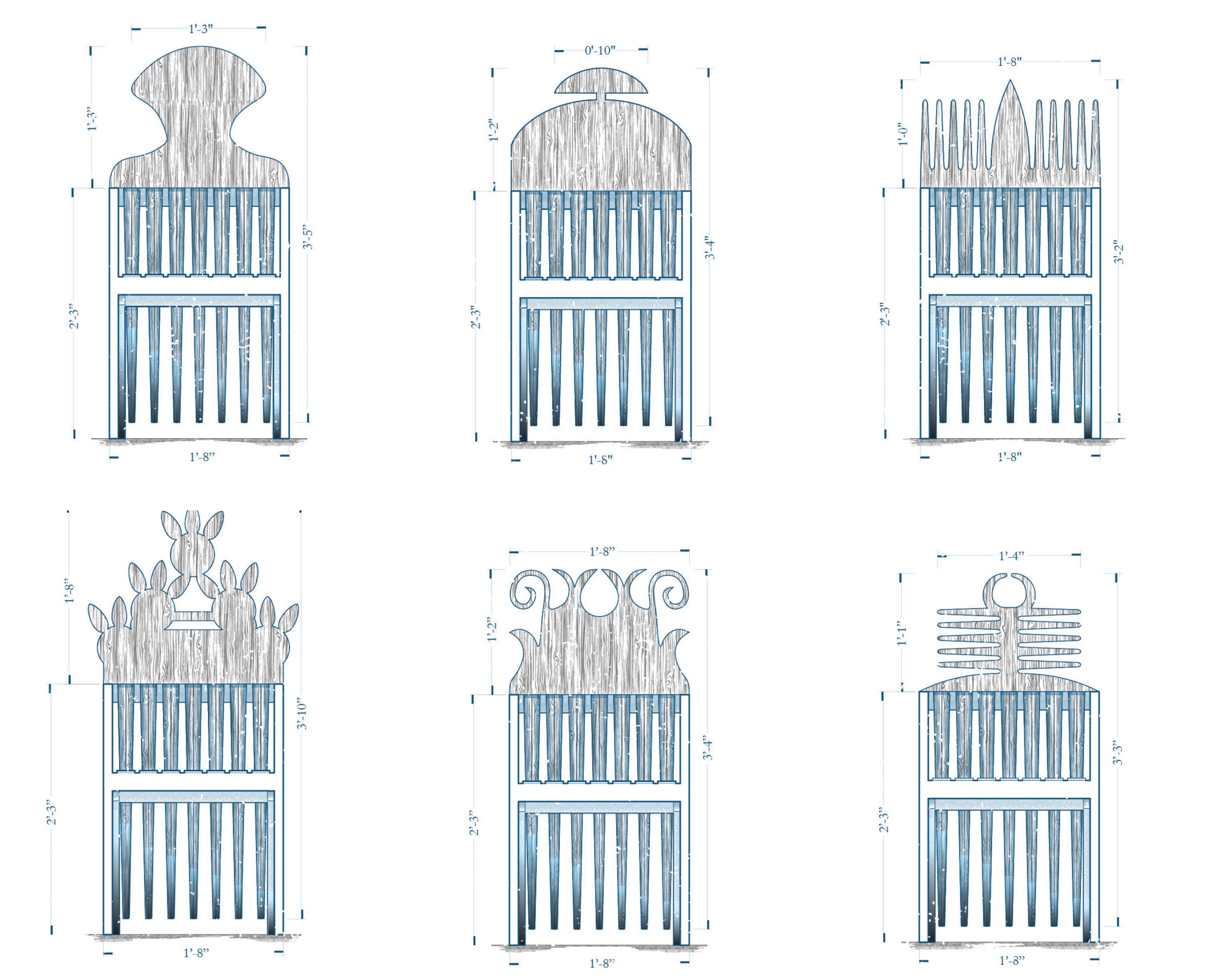 Germane Barnes' series of porch chairs Uneasy Lies the Head that Wears the Crown borrows imagery from Afro picks and headdresses from across the diaspora, such as those worn at Miami carnival and Caribbean Junkanoo parades. The inspiration for the chairs' backrests comes from a well-known symbol of Black power associated with Black hair—the Afro pick. During the Civil Rights Era of the 1960s, the Afro pick became a symbol of Black nationalism as more Black people began to wear their natural hair. The Afro hairstyle signified a return to Black roots and demonstrated the ethos of the "Black is Beautiful" movement, which celebrated the inherent beauty of Afrocentric aesthetics and features. The specialized structure of the Afro pick features wide gaps between the teeth of the comb and an easily-grippable handle, allowing users to efficiently maneuver the comb through coily hair while maintaining the integrity of the curl pattern.
The afro picks above are very similar in style yet demonstrate different aesthetic relationships to Black identity formation. The Ghanian comb (left) remains simple in its wooden material and abstract ornamentation. In some Ghanian cultures, combs hold specific meanings. The Asante people of Ghana's Ashanti region use symbols called Adinkra to link verbal and visual messages, assigning meaning to specific aesthetic motifs. The comb symbol, Duafe, translates to wooden comb and is associated with femininity as well as traditional feminine virtues such as patience, prudence, fondness, love, and care. Here, Blackness is considered through the overlapping lenses of ethnicity, culture, and gender. Rather than a cultural or gendered connotation, the designer of the fist comb instead links hair styling with Black power imagery. Symbols of Black power—such as the clenched fist at the top of the sleek, shiny, black comb—link Black hair with political meanings. Through their artisanry, both designers express their individual relationships with hair to conceive of culturally, ethnically, and politically Black spaces. The headdresses on Barnes' chairs replicate the positions of the Afro pick handles, recalling the designs featured on these Afro picks.
The milled wooden back post works as interior framing and is derived from combs used to style Black hair. Black hair that is often policed and frowned upon instead of celebrated as it should.

Studio Barnes
Each chair in Barnes' series reflects a different cultural context, asking the viewer to consider the interconnectedness of the relationships that Black people have with their hair and each other. Barnes emphasizes this theme of cultural transmission by adapting the concept of the porch chair, noting the porch as a site of Black community making. By linking motifs such as headdresses, Afro picks, and porches, Barnes's chairs represent a diasporic understanding of Blackness. Barnes brings the cultural and the political aspects into community with each other through his designs.
Though connected through themes such as national, cultural, and gender identities, each designer uses their work to convey a different message about their relationship with hair. Like these artists and designers, each Black person has an individual relationship with their hair, through which they find themselves in community with others. As a manifestation of personal identity, hair conveys a millennia long history of aesthetic message making. Hairstyles have become integral to Blackness by weaving together peoples, places, and practices.
BROWSE OBJECTS RELATING TO HAIR IN THE NMAAHC COLLECTION
Written by Deana-Rae Weatherly, Design and Architecture Curatorial Research Intern
Published on August 16, 2023