Bearing Witness to the Movement
Swear to Tell the Truth
Jul 30, 2017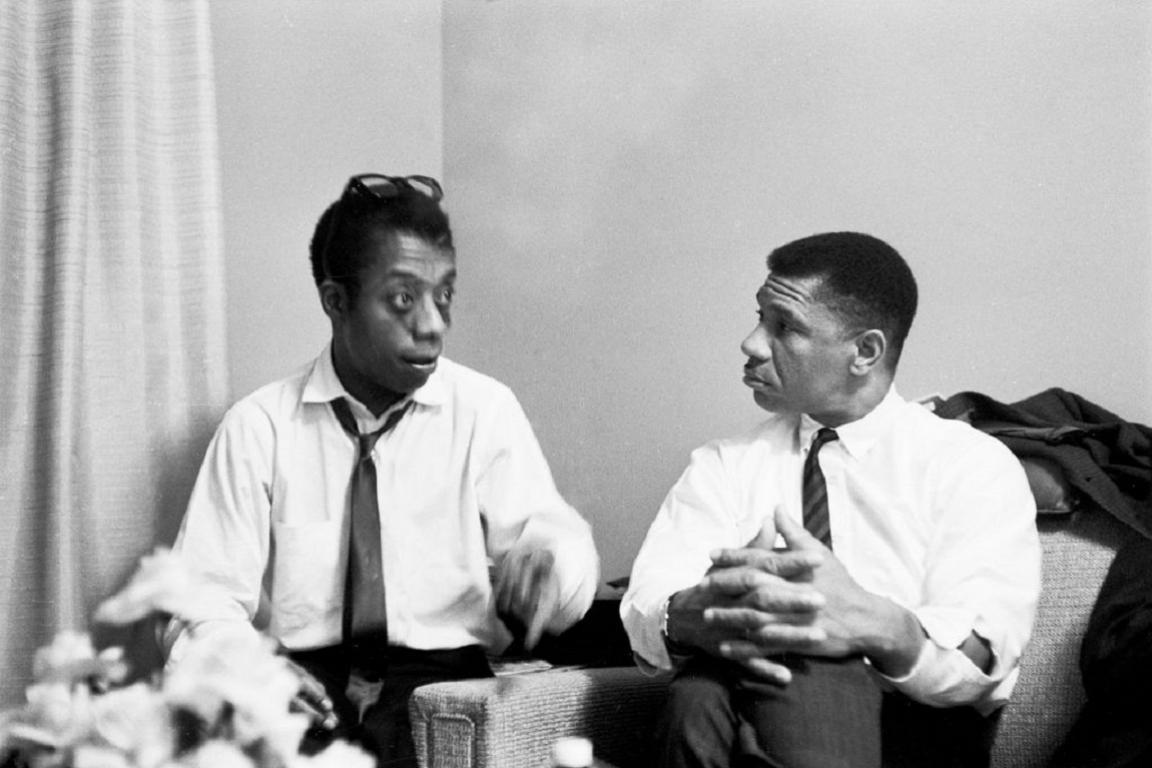 James Baldwin was committed to telling the truth about the culture, politics, and history of the United States. His commitment often led him to testify at hearings related to issues of civil rights and education and in court cases for the unjustly accused and wrongfully convicted. At some of these legal proceedings, he eloquently advanced arguments, and at others he let his presence alone do the talking.
His testimony at the March 18, 1968 Hearing Before the Committee on Education and Labor, House of Representatives had an enduring and far reaching impact. Baldwin testified at this hearing in support of a proposed bill to establish a Commission on Negro History and Culture. The purpose of this Commission was to explore the feasibility of developing a national museum that would document and celebrate the contributions of African Americans to world history and American history and culture. During this hearing, Baldwin testified with Betty Shabazz, the widow of Malcolm X, by his side. Together they addressed the issue of skewed American history, the miseducation of Americans, perceptions on integration, and the lack of meaningful black labor, black identity, and black American heroes. Baldwin expressed to the Committee that he, "particularly enjoyed what I considered to be the point that you made that the objective of such a commission would be to teach American history, making it plain and clear that the history of the black man in America is that part of American history. There is not reason to separate it. It is our common history. My history is also yours." In the country's efforts to come to terms with our shared history, Baldwin made it explicitly clear that, "If we are going to build a multiracial society, which is our only hope, then one has got to accept that I have learned a lot from you and a lot of it is bitter, but you have a lot to learn from me and a lot of that will be bitter. That bitterness is our only hope. That is the only way we get past it." This hearing would ultimately serve as the catalyst and foundation for the establishment of the National Museum of African American History and Culture in Washington, DC.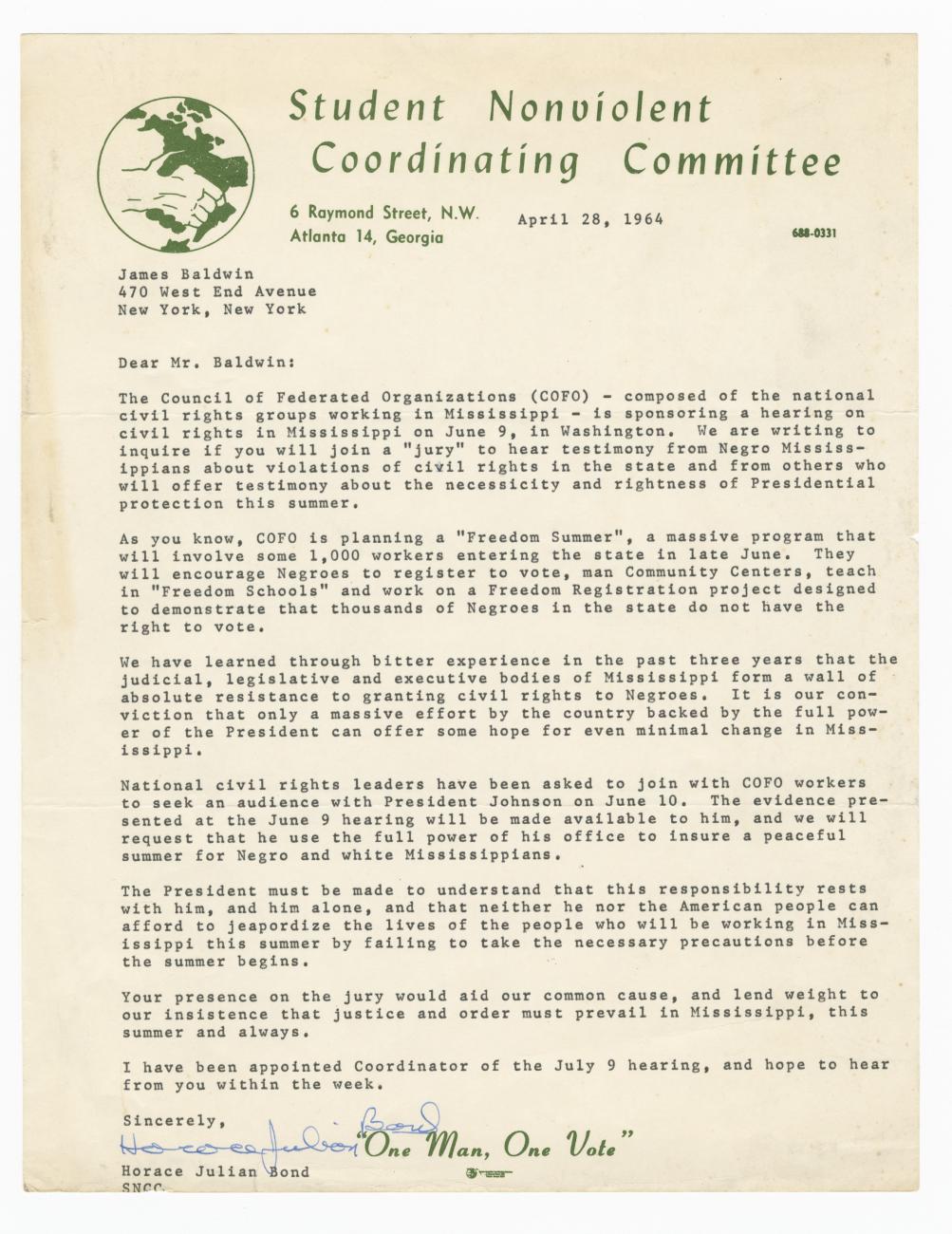 Years before the Commission on Negro History and Culture, Horace Julian Bond of the Student Non-violent Coordinating Committee (SNCC) wrote to James Baldwin on April 28, 1964. In this letter, he inquired about whether Baldwin would join a "jury" to hear testimony from black Mississippians about violations of their civil rights and from others who would offer testimony about the necessity and rightness of presidential protection for workers during "Freedom Summer." SNCC planned to use the evidence of Mississippians and the testimonies that National Civil Rights leaders provided on the 9th of June 1964 to gain an audience with President Johnson on June 10th. Baldwin's participation on this "jury" would lend a great deal of weight to Mississippians' insistence on justice and order.
The year Julian Bond wrote to James Baldwin was the year following the assassination of Baldwin's close friend Medgar Evers on June 12, 1963. Charles Evers, Medgar's brother, telegrammed Baldwin with this request: "Please plan to attend trial of Byron De La Beckwith beginning January 27. Feel that your presence will help prove to the world that Medgar did not die in Vain."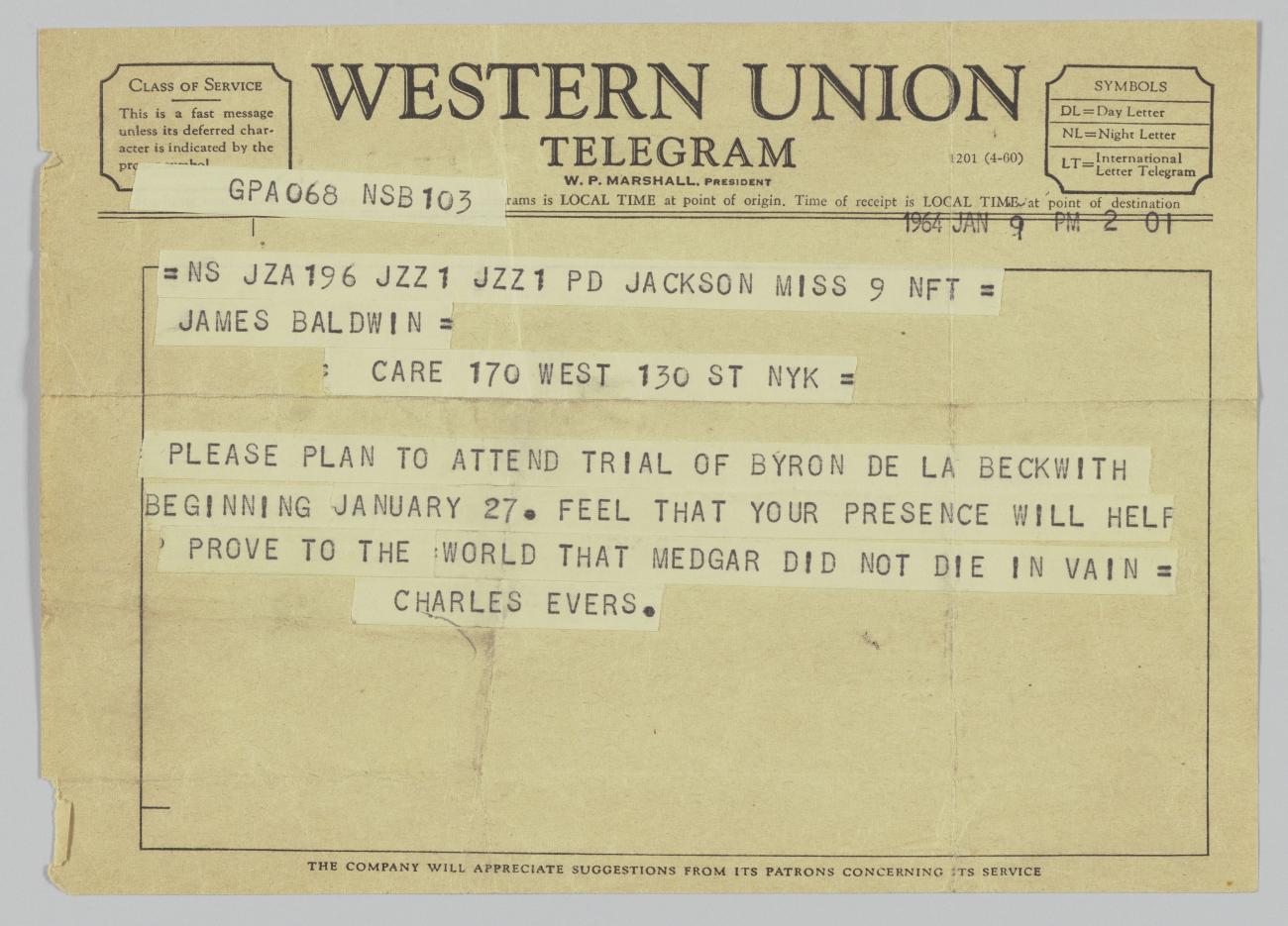 Others, like William "Tony" Maynard, Jr., would also look to James Baldwin's presence for a measure of influence and support. Maynard, a friend of Baldwin's, was falsely accused of murdering twenty-one-year-old white Marine Sergeant Michael Kroll in October 1967 and spent more than six years behind bars. Baldwin traveled to New York for Maynard's second trial, which ended in a hung jury. And even though the third trial ended in a conviction, Baldwin's show of support was invaluable.
Even before Maynard's case, Baldwin was exerting a lot of effort in the case of the Harlem Six. The arrests of the Harlem Six in May of 1964 and subsequent trial in March of 1965 stemmed from their connection with an incident known as the Little Fruit Stand Riot, followed by the fatal stabbing of a white woman twelve days later. Baldwin played a large role in the release of five young men convicted of the crime. During all the legal commotion, Baldwin wrote in "A Report from Occupied Territory," "No one in Harlem will ever believe that The Harlem Six are guilty—God knows their guilt has certainly not been proved. Harlem knows though, that they have been abused and ... possibly destroyed and Harlem knows why—we have lived with it since our eyes opened on the world." In response to the arrests, Baldwin called for a "massive national economic boycott" by African Americans in a 1967 speech in Greenwich Village. He called on the black community to refuse to buy on credit, and "turn away from General Motors." He said that "if we cannot reach the American conscience, we must find some way of intimidating its self-interest." The speech, in the Village Theater at 105 Second Avenue, marked the author's return from a two-year writing stay in Turkey. About 2,000 people attended. Ultimately, all but one of the men were found not guilty and released by 1971.