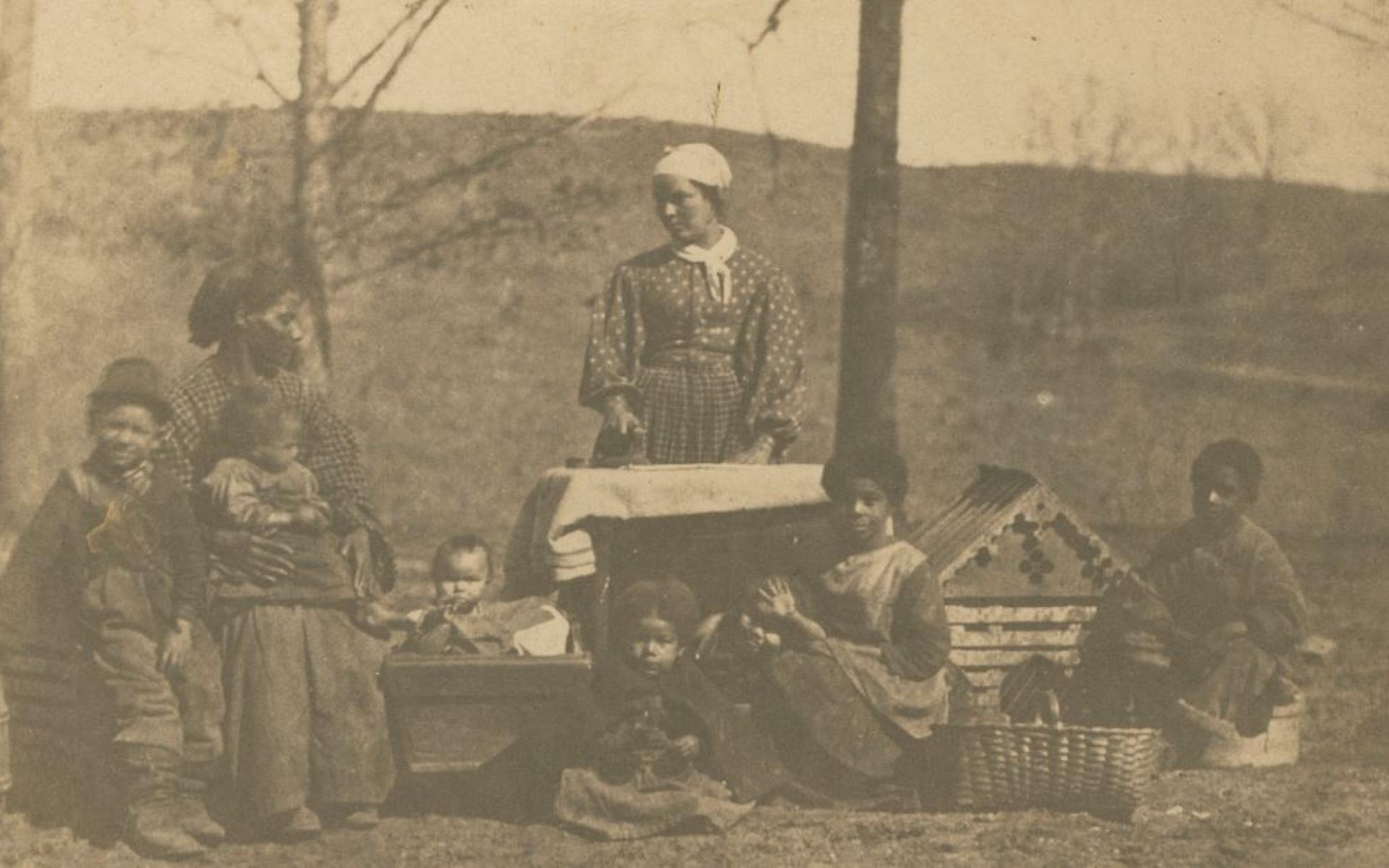 Collection Story
We Are Family
Kinship bonds that survived bondage
The featured photograph above came to the Museum with only a short summary from a historian. But after contacting this historian, she generously shared her years of research about the people in the photograph, the soldier who took the photo, and the location where it was taken. All of her research was possible because, many years ago, someone thought to write, "Felix Richards slaves" on the paper the photograph was mounted on.
One hundred and fifty years later, she was able to use archival records to learn the names of the women and children photographed: William, Lucinda, Fannie, Mary, Frances, Martha, Julia, Harriet, and Charles or Marshall. She traced the children as they grew through pension and census records and eventually was able to find living descendants of these enslaved people. One of these descendants come to Washington, D.C., for an event and I was able to meet her to learn more about her family's history.
I had a woman's pride, and a mother's love for my children; and I resolved that out of the darkness of this hour a brighter dawn should rise for them.

Harriet Jacobs

Incidents in the Life of a Slave Girl, 1860
What I thought would be a straightforward cataloging assignment became a wonderful experience that allowed me to collaborate with another scholar who generously shared her research notes with the Museum. The experience also allowed me to connect with a living family member of people photographed a century and a half ago. Working on this object reminded me why I love to study history and material culture – this photograph captures a moment in the lives of many people, especially the enslaved subjects of the photograph, but also the soldier photographer and even the enslaver. Now their descendants will be able to come and see their family on the walls of the Museum.
Browse Photographs in the NMAAHC Collection from the Era of Slavery
Written by Katie Knowles, cataloger
Published on July 6, 2016; updated January 11, 2019