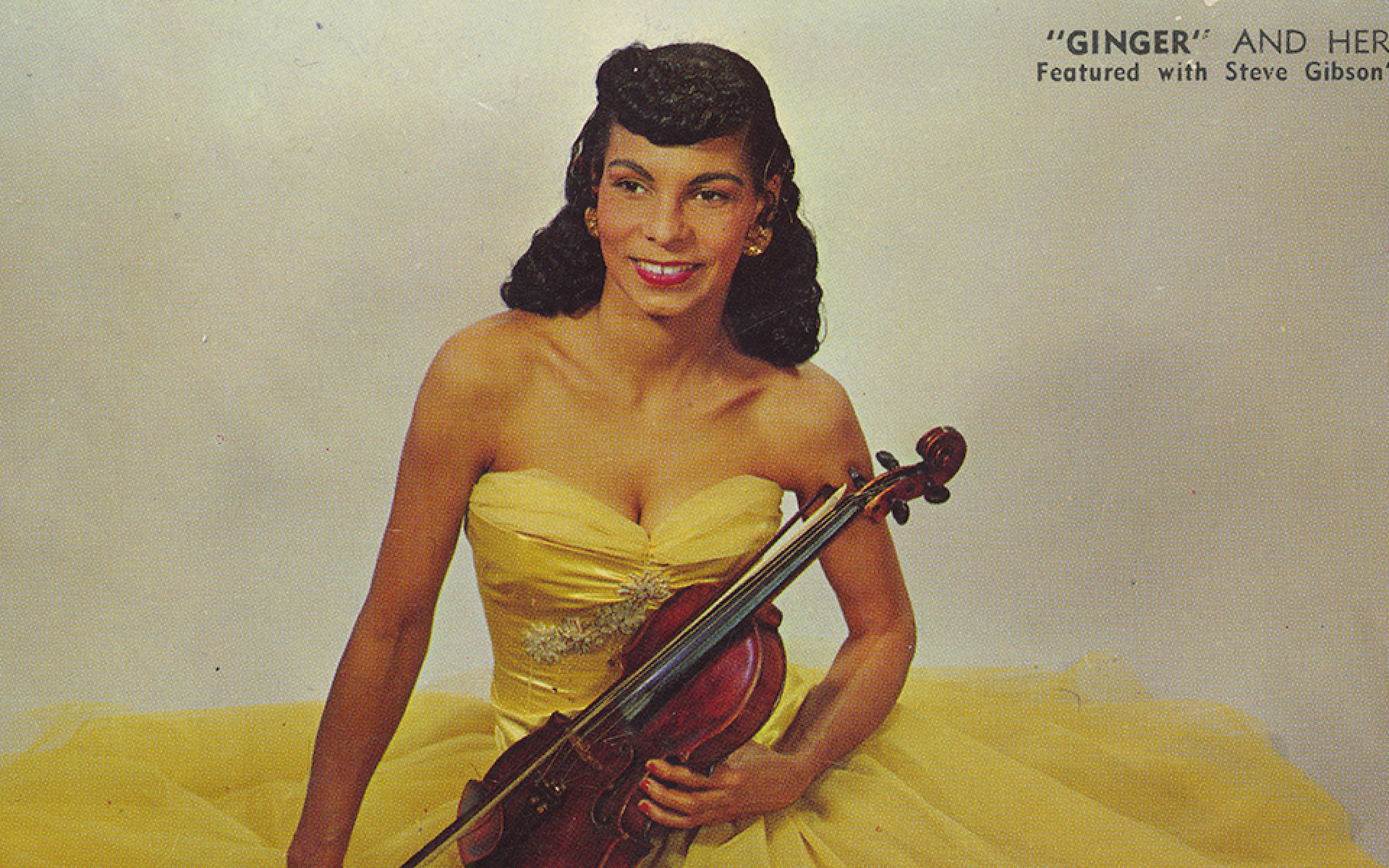 Collection Story
The Woman with the Violin
Ginger Smock and the Los Angeles Jazz Scene
Violinist Ginger Smock was a critical figure in the development of the Los Angeles jazz scene and a trailblazing leader for female musicians in the male-dominated music industry of the 1940s and 1950s. Her work helped to pave the way for future jazz violinists like India Cooke and Regina Carter.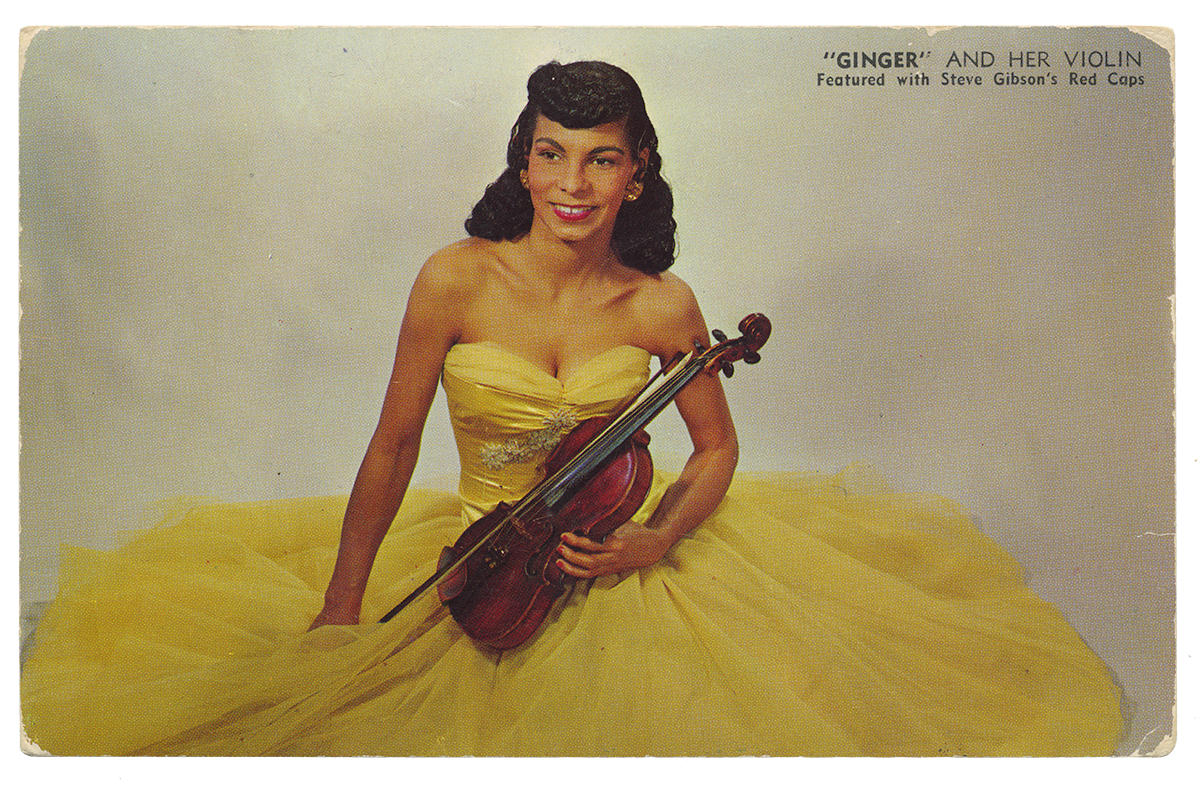 Jazz violinist Emma "Ginger" Smock was born in Chicago in 1920. After her parents' untimely deaths left her orphaned at age six, Smock moved to Los Angeles where she was raised by her aunt and uncle. She soon displayed precocious musical talent. Realizing their adopted daughter was a prodigy, Smock's aunt and uncle bought her a violin and arranged for her to receive private music lessons. Within a few years, "Little" Emma Smock could be seen performing around Los Angeles as a solo violinist. At age 10 she played the Hollywood Bowl and gave her first solo recital at Los Angeles's First AME Church the following year. As a teenager, Smock played violin in prominent musical organizations including the All-City Student Symphony and the Los Angeles Junior Philharmonic, of which she was the only African American member.
Smock spent the early 1940s performing light concert music before becoming a protégé of veteran jazz violinist Stuff Smith in 1943. Smock had already begun experimenting with improvisation and was an admirer of jazz violinists like Stéphane Grappelli and Joe Venuti. It was Smith, however, who launched her career when he arranged for her first professional job as a jazz musician. By the time she was 23, Smock was playing jazz around Southern California with an all-female trio called the Sepia Tones and she would go on to become a prominent figure in the Los Angeles jazz scene in the years following World War II. 
LA's black jazz scene on Central Avenue, where Smock often played, had an important influence on jazz history. Jazz had arrived in Los Angeles by 1908 when New Orleans bassist Bill Johnson led a band in a Central Avenue bar. The city's fledgling jazz community continued to grow as more black musicians from New Orleans arrived during and after World War I when many black musicians joined the first wave of the Great Migration. Influential pianist and composer Ferdinand "Jelly Roll" Morton was the most famous New Orleans transplant to work on Central Avenue in these early years. By the 1930s, Central Avenue was the center of a booming black music scene that attracted iconic performers like Duke Ellington, Louis Armstrong and Nat "King" Cole, drawing the attention of jazz fans nationwide. Celebrated local musicians including alto saxophonist Marshal Royal, trombonist Britt Woodman, and percussionist Lionel Hampton were fixtures of the avenue's busy nightlife during the '30s and '40s and helped establish Los Angeles's reputation as an important incubator of jazz talent. 
    
Central Avenue's influence on the national jazz landscape continued into the postwar decades. Many of the younger generations black Los Angeles musicians, like bassist Charles Mingus, tenor saxophonist Dexter Gordon, and pianist Hampton Hawes, became key contributors to the development of bebop during the '40s and '50s. The informal center of the black music scene was the musicians' union, Local 767, where black musicians rehearsed and congregated. With 330 members, it was the second largest black chapter of the American Federation of Musicians, surpassed only by the Chicago chapter.
 
While Los Angeles' music community grew in talent and influence, female musicians like Ginger Smock faced limited opportunities in the male-dominated world of jazz on Central Avenue. Her situation would improve however with the start of World War II. Bandleaders and club owners found themselves short-handed because of the draft, which led them to hire female musicians and even all-female ensembles more regularly. The new openings created by the war allowed Smock to establish herself as an artist and bandleader. From 1943 to 1945, she led the Sepia Tones at a Central Avenue club called the Last Word. Other outstanding black women musicians like saxophonist Vi Redd, trumpeter Clora Bryant, and trombonist Melba Liston also began playing regularly on Central Avenue during these years.
After making a name for herself during the war, Smock found more work as a studio musician, occasional recording artist, and violinist in show orchestras. Her most significant appearances in the postwar years were in the new medium of television. In 1951, Smock led the Hollywood Sepia Tones on a thirty-minute TV show that ran for six weeks on Los Angeles' CBS affiliate KTSL. The sextet, which also included celebrated female trumpeter Clora Bryant, became the first black band to host a regular TV program on a major channel. Smock would also go on to host her own show, Rhythm Review, in 1957. Under the leadership of bandleaders like Cecil Count Carter and the Jackson Brothers, Smock made a handful of recordings during this period as well. For four years in the early 1960s, Smock led a quartet on a cruise ship that made frequent trips to Catalina Island. While working on this ship, she recorded her only LP, On the S.S. Catalina with the Shipmates and Ginger. Smock, however, would spend the last two decades of her music career in relative obscurity, working as a concertmaster in show orchestras in Los Angeles and Las Vegas.
Despite her prominence on Central Avenue and her groundbreaking work on television, Smock never received wide recognition for her talent and pioneering accomplishments. The discrimination Smock struggled against throughout her career was representative of the obstacles facing black women instrumentalists in the mid-20th century. Although performing music was one of the few ways black women could move beyond a life of domestic or industrial labor, they often found themselves confined by the expectations and conventions of the male-dominated music industry. In their depictions of black female musicians, jazz promoters and writers often relied on stereotypes of "exotic" black femininity that devalued and denigrated black women's musical skills.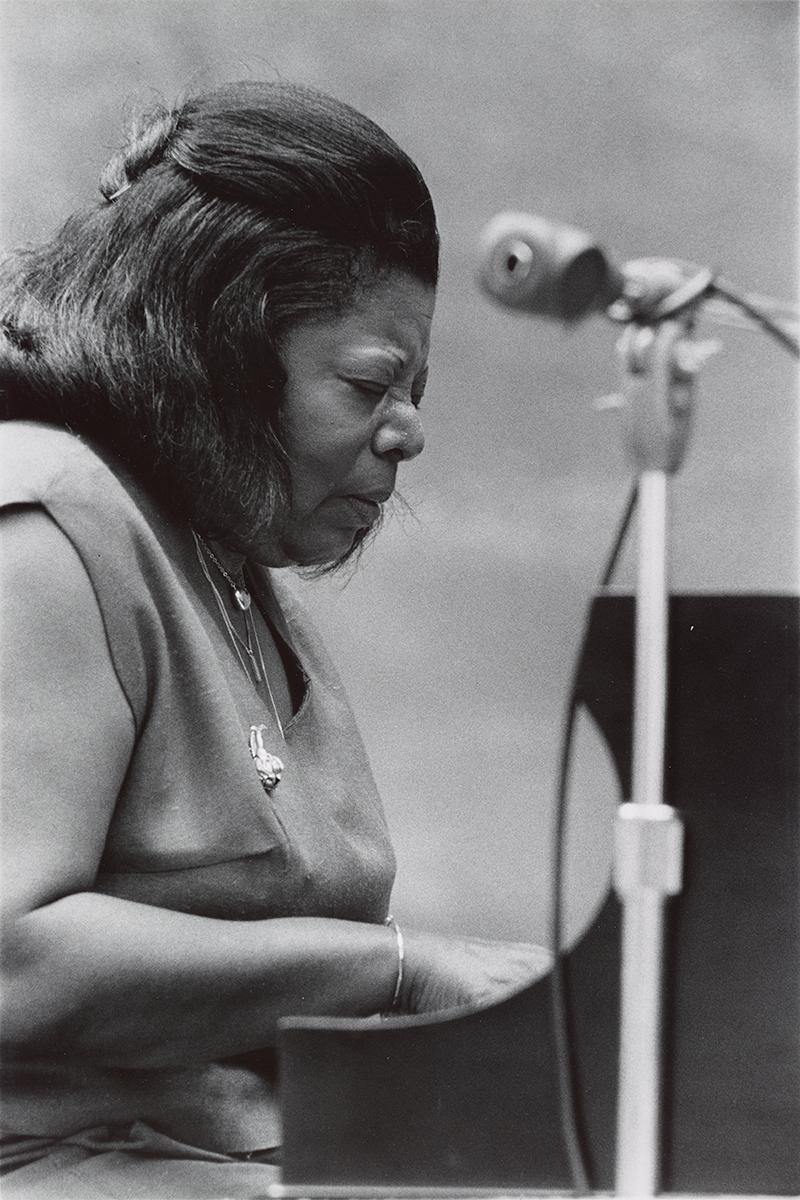 Many women instrumentalists—black and white—were confined to all-female or novelty ensembles that limited their professional opportunities. Even the few exceptions, such as pianist Mary Lou Williams and trombonist Melba Liston, often had to downplay their identities as women to be taken seriously in mainstream jazz contexts. When the influential French critic Hugues Panassié praised Williams' playing as "like that of a man," he illustrated the fundamental misogyny of the era.
Smock faced these barriers with the additional struggle of being an improvising violinist during a period in jazz history when violin soloists were becoming increasingly rare. Her career achievements should be seen as a remarkable example of her dedication to her craft.
In 2016, Lydia Bennett donated to the National Museum of African American History and Culture a number of personal objects belonging to Ginger Smock. The objects donated to the Museum include her violin, a collection of record albums, a few pieces of jewelry, and other mementos.
Written by Steven Lewis, Research Assistant
Published on June 27, 2017; updated January 11, 2019
Resources
Ginger Smock Interview. Part of Bette Yarbrough Cox's Black Experience as Expressed through Music Series, Musical Heroes and Heroines in the Black Community of Southern California.
Musicologist and Violinist Laura Risk is currently researching the life and music of Ginger Smock. View her research. 
Women in Jazz, NPR.