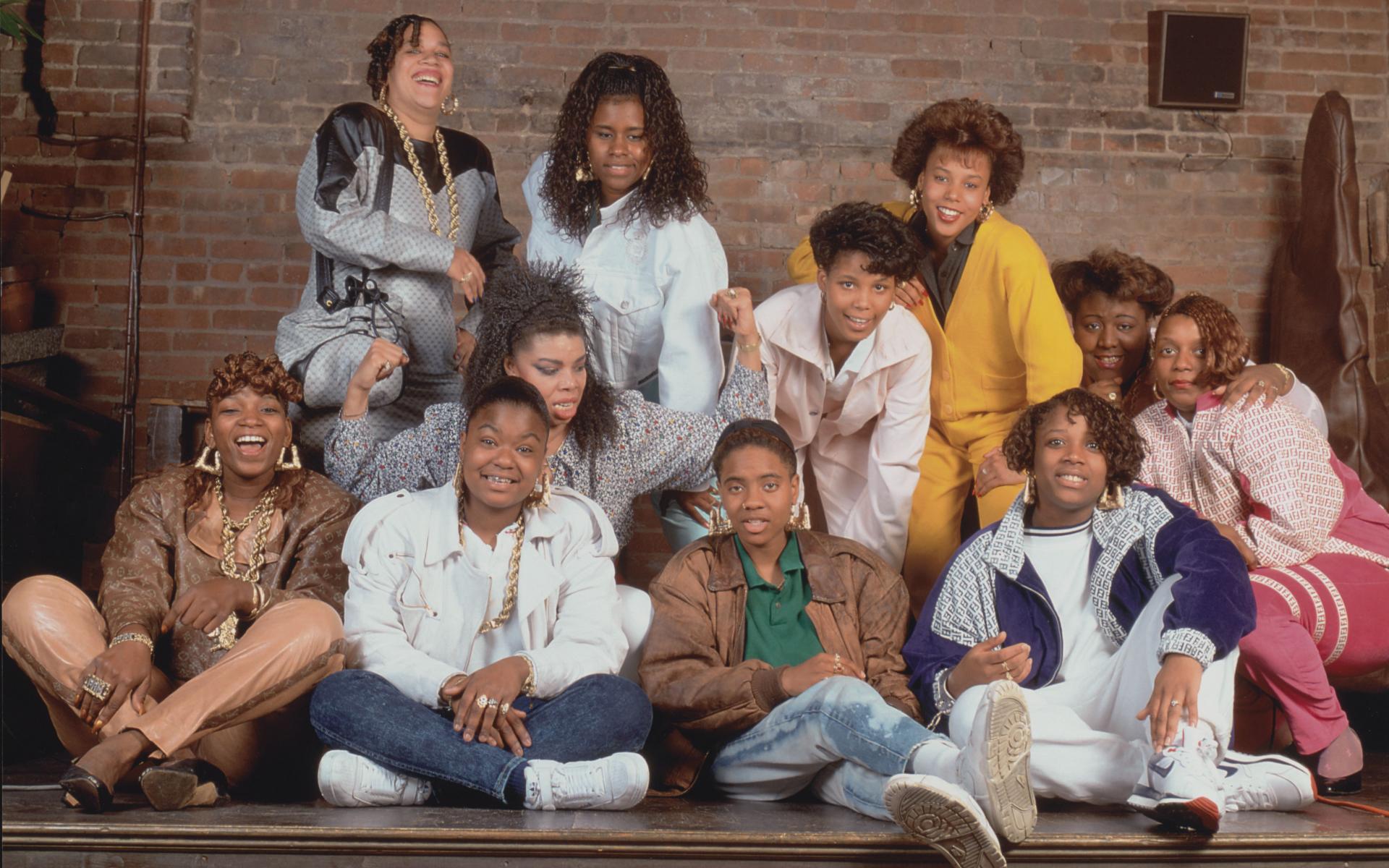 Collection Story
Fashioning Power and Gender in Hip-Hop
There would be no hip-hop without women. From the start, women scratched the vinyl, grabbed the mic, and pressed record on what would become one of the most dynamic and influential genres in African American culture. Furthermore, women participated in and influenced one of the main pillars of hip-hop culture: fashion and style.
The 1970s witnessed the rise of streetwear, from denim to tennis shoes to casual dresses, all in reaction to the Black Power Movement, which shunned the "respectability politics" woven into the previous generation's style of dress. When hip-hop emerged in the late 1970s and early 1980s, the already present emphasis on the vernacular style of Black urban life was refined into the iconic looks we know today: tracksuits, ballcaps and Kangol hats, pristine sneakers, gold chains, and denim—and often in colorful, loud, eye-catching prints that reflected Pan-African and African American pride.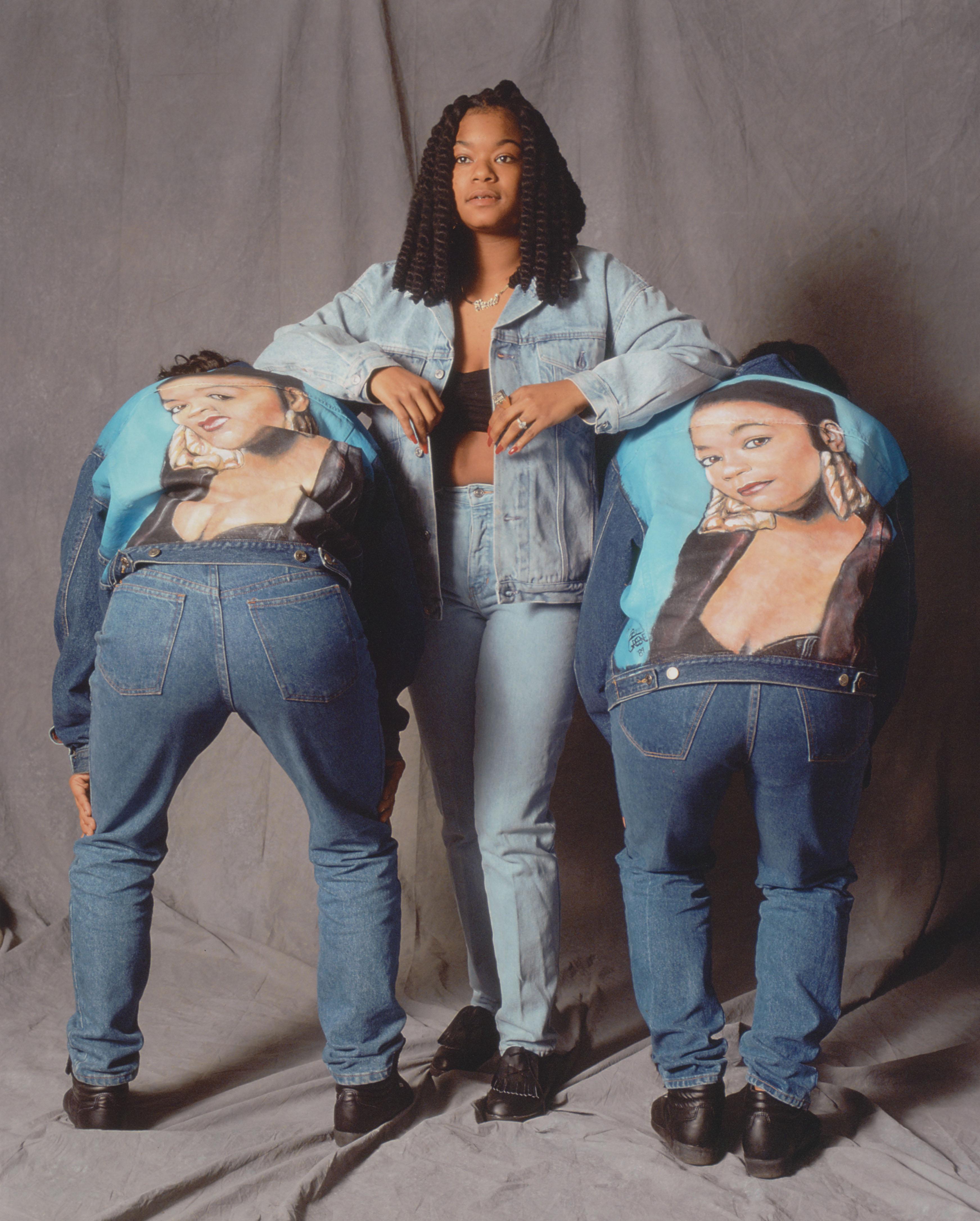 Women in hip-hop were also drawn to similar aesthetics. But they encountered a conundrum wherein their style signaled their inclusion in hip-hop. However, they would risk being treated as mere eye candy if they fully leaned into feminine trends in fashion. Between the 1980s and the early 2000s, women in hip-hop navigated the emergence of a hip-hop culture that set the trends. They also demanded respect for their prowess on the 1s and 2s or on the mic through their own adaptation of the hip-hop aesthetic.
Their navigation of what it meant to be a woman in a very masculine and male-driven genre and culture and how they reclaimed their power is visible in the evolution of women's hip-hop style over three decades. From baggy jeans and finger waves to luxe furs and diamonds, style was the battleground on which women demanded respect as MCs, producers, DJs, and executives in hip-hop.
1980s
Black women have historically contended with stereotypes and assumptions about their womanhood and sexuality. By the 1980s, these stereotypes and assumptions developed in continued harmful ways, sparked by the Moynihan Report, a government publication released in 1965 that placed the ills of the African American community on its women. The abandonment of cities to housing projects inhabited by African Americans—known as "white flight"—and the crack-cocaine epidemic of America's inner cities were the backdrop against which hip-hop artists detailed the divestment, crime, and oppression of city life. Because of these harmful stereotypes, women had double the struggle to assert their voices into the conversation and earn respect. The earliest women in hip-hop adopted the swagger and baggy clothes of their male counterparts, not only for protection from harm but to establish their equality on the mic.
MC Lyte (aka Lana Michele Moorer) is considered a pioneer in women in hip-hop. She expressed her authority in both her seminal single "Paper Thin"—about a philandering boyfriend—and her style in the music video—tracksuit, varsity jacket, sneakers, and turtleneck, with doorknocker earrings swinging as she confronts said boyfriend on the New York subway with his arms around big haired, acrylic wearing women.
Though MC Lyte and other women rappers of her generation wore streetwear that was almost unisex in fashion, the addition of large earrings, neatly pressed or crimped hair (often dyed a bold shade of auburn), and pastel colors to their sartorial repertoire marked a striving towards a specific expression of womanhood in hip-hop. This is most present in the Female Rappers, Class of '88 photograph. MC Lyte is flanked by several pioneers: Sparky D, Sweet Tee, MC Peaches, Yvette Money, Ms. Melodie, Synquis, Roxanne Shante, and Finesse. In a nod to the soon-to-be ubiquitous melding of R&B and hip-hop, and the bold bombast of female rappers in the 90s, the singer Millie Jackson, whose songs often featured talking/rapping sections, kneels in the middle of the group with her arms raised.
By the end of the decade, women had begun to make space for themselves in the still male-dominated genre. The emergence of Salt-N-Pepa, the first all-female rap group, provided a new template for women in hip-hop. Instead of adopting the more androgynous style of previous female MCs, Salt, Pepa, and DJ Spinderella announced their presence in sequined jackets, big hats, ripped jeans, and later in loud colors and Afrocentric patterns, spandex, and teased blonde hair. Their rhymes matched their style, with frank lyrics about sex and men and a playfulness about both topics that demanded everyone dismantle stereotypes about Black women.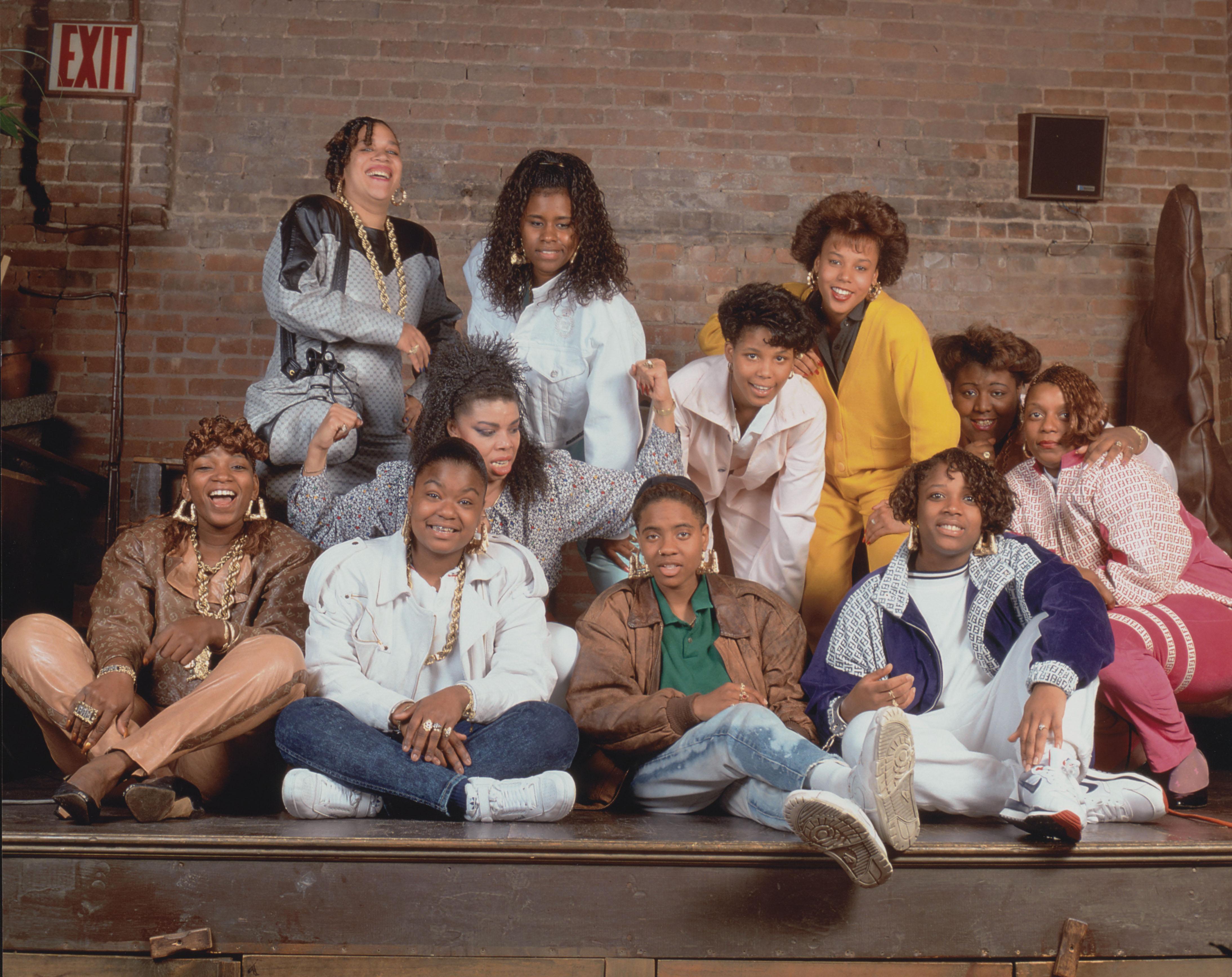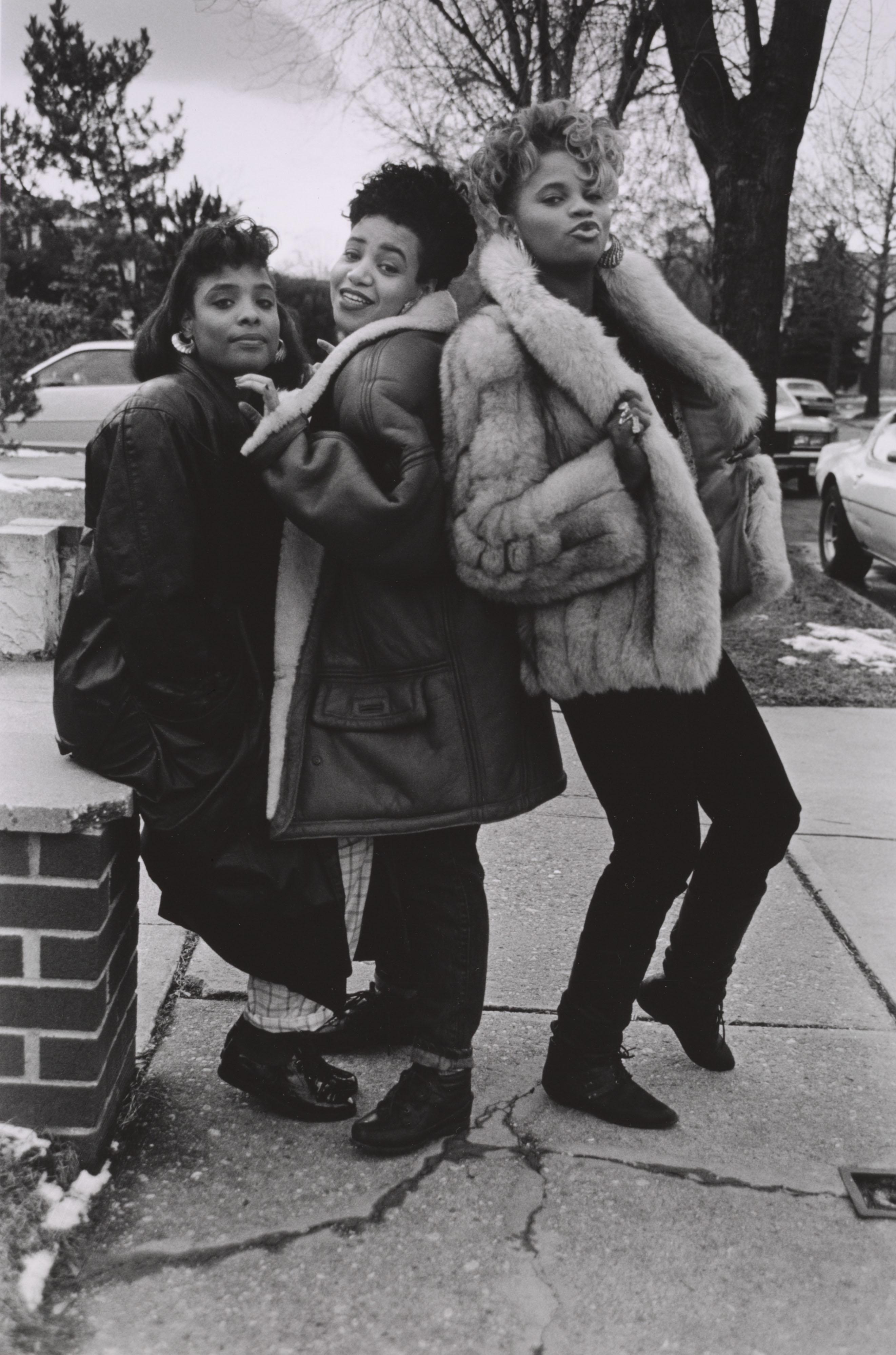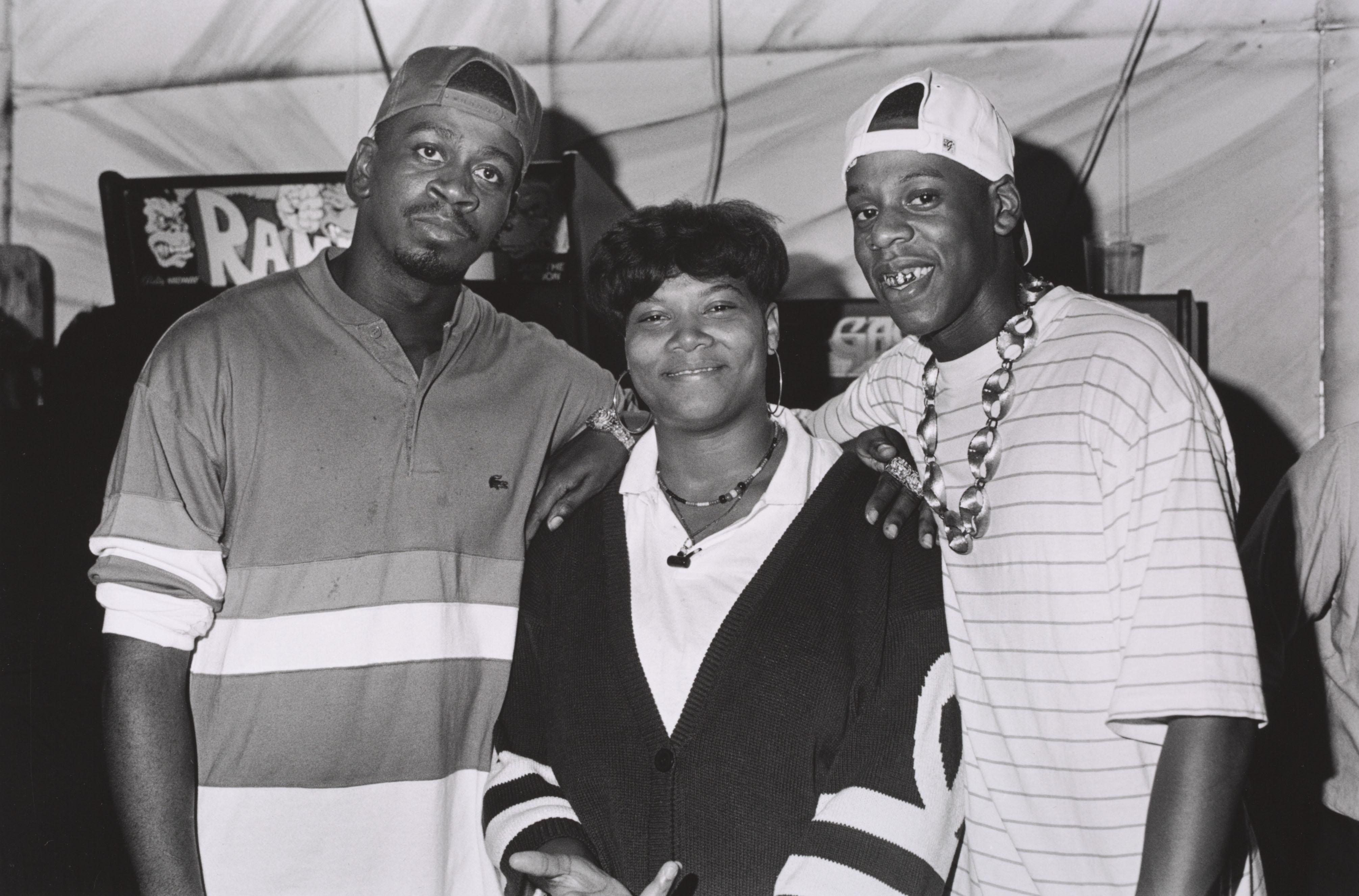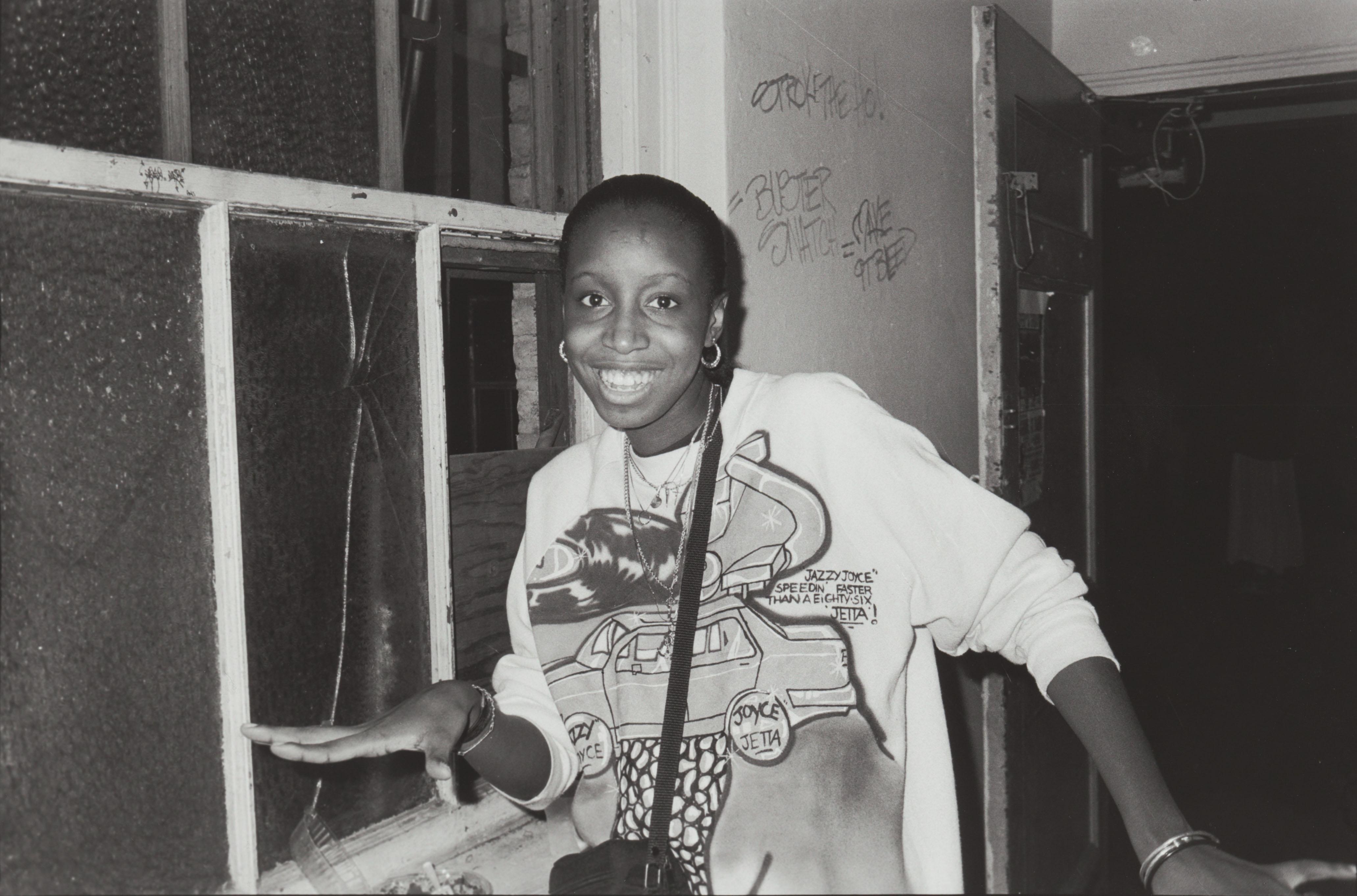 1990s
During the early 90s, hip-hop style still held remnants of the decade before. Women rappers like Queen Latifah, Da Brat, and MC Lyte continued to draw on elements of masculine styles, such as Da Brat's mini twists tied with colorful elastics. The Afrocentric trend also remained, with Queen Latifah using this imagery as a nod to her positioning herself as queen, while also connecting to the shared heritage of men in hip-hop.
The rise of hip-hop-inspired entertainment, such as In Living Color, Def Comedy Jam, New York Undercover, Living Single, The Fresh Prince of Bel-Air, and more, brought streetwear into the homes of millions of Americans every week. These shows tended to blend more traditional 90s style with touches of hip-hop style in women's clothes. But in music, the mainstreaming of hip-hop and the rise of New Jack Swing—which combined the sound of sultry R&B with hip-hop braggadocio—provided a new path for them to enter hip-hop in a unique way.
The hybrid hip-hop/R&B group TLC courted controversy in their sound, fashion, and message. Taking a cue from Salt-N-Pepa's frank discussion of sex and sexuality in singles like "Whatta Man" and "Let's Talk About Sex," TLC burst onto the scene with midriff-baring tops and baggy pants. Their candid lyrics were open about their pleasure and relationships, and Lisa "Left Eye" Lopes wore a condom in the frame of her glasses to promote safe sex.
By the mid to late 90s, women in hip-hop pushed the line even further. Lil Kim and Foxy Brown declined to adopt masculine-inspired attire; instead, they played up their femininity and sexuality in luxurious furs, colorful wigs, bikinis, high heels, pencil-thin brows, and dark lipstick. Their explicit lyrics also pushed the limits of the space women took in hip-hop to the point of The Source magazine pondering: Harlots or Heroines? As much controversy as Lil Kim and Foxy created, their style made fashion designers flock to help them blend their highly sexual style with luxury pieces. These collaborations showed that women in hip-hop could be sexy, stylish, and fierce on the microphone.
The 90s were defined by the closer relationship between hip-hop and R&B, and many R&B artists drew from hip-hop style. Mary J. Blige, dubbed the Queen of Hip-Hop Soul by Sean "Puffy" Combs during her debut in 1992, embodied this in her attire. Her signature blonde hair was styled in braids, French rolls, or roller-set curls in contrast to her hi-top sneakers and baggy jeans. Later in the 90s, she moved closer in style to Lil Kim and Foxy Brown. Her designer clothes were often in shades of white and cream—a color that made her stand out amongst her male hip-hop collaborators.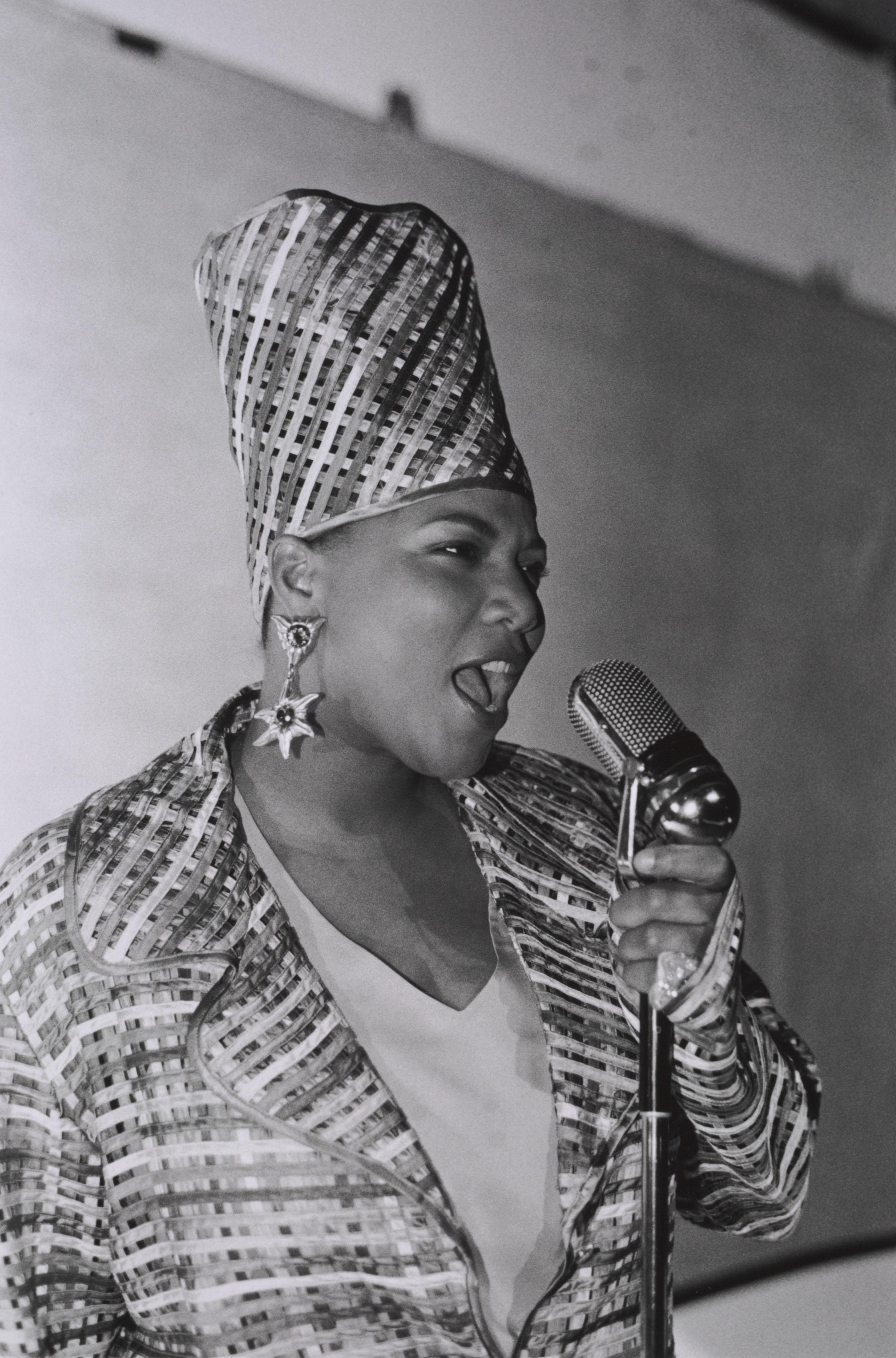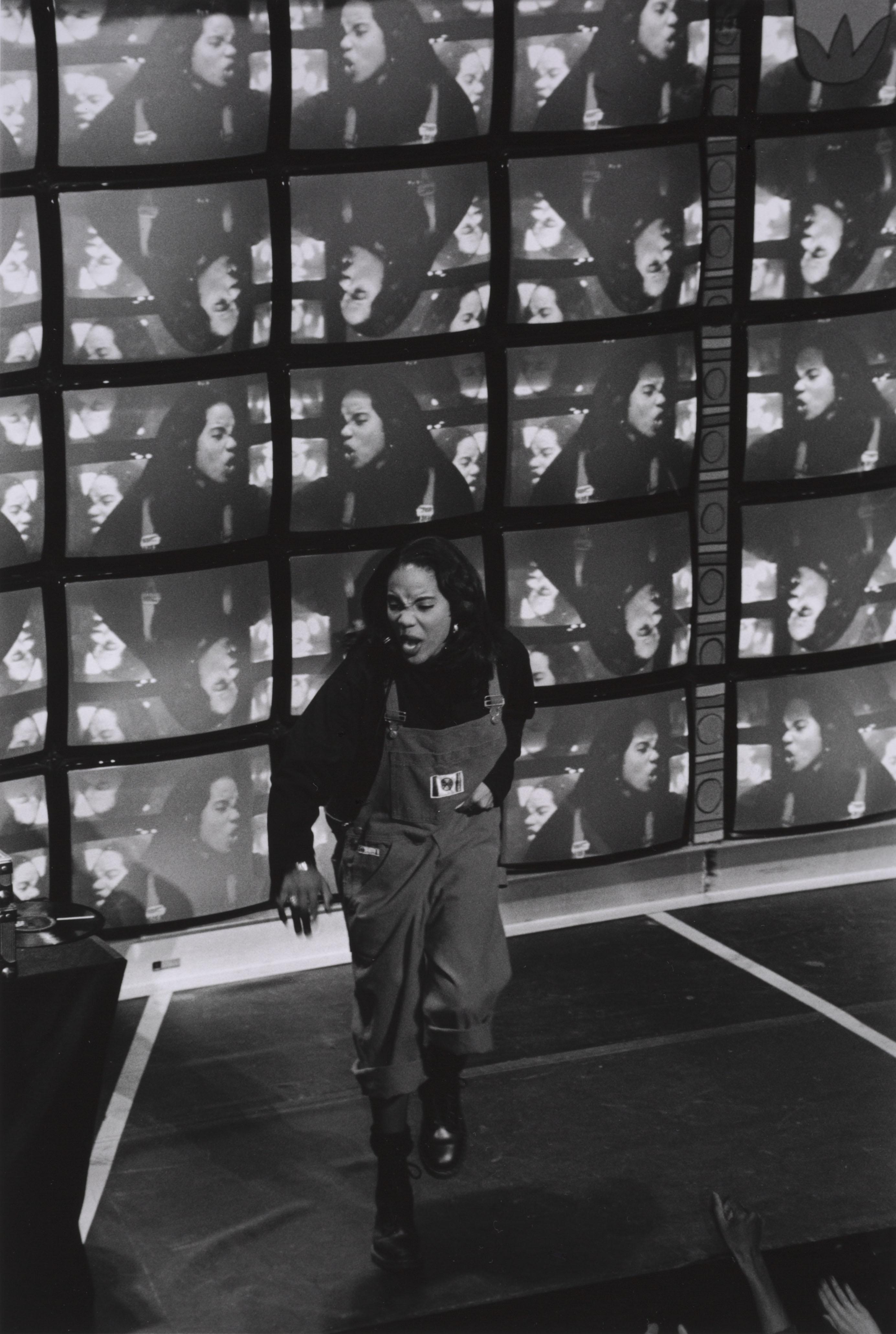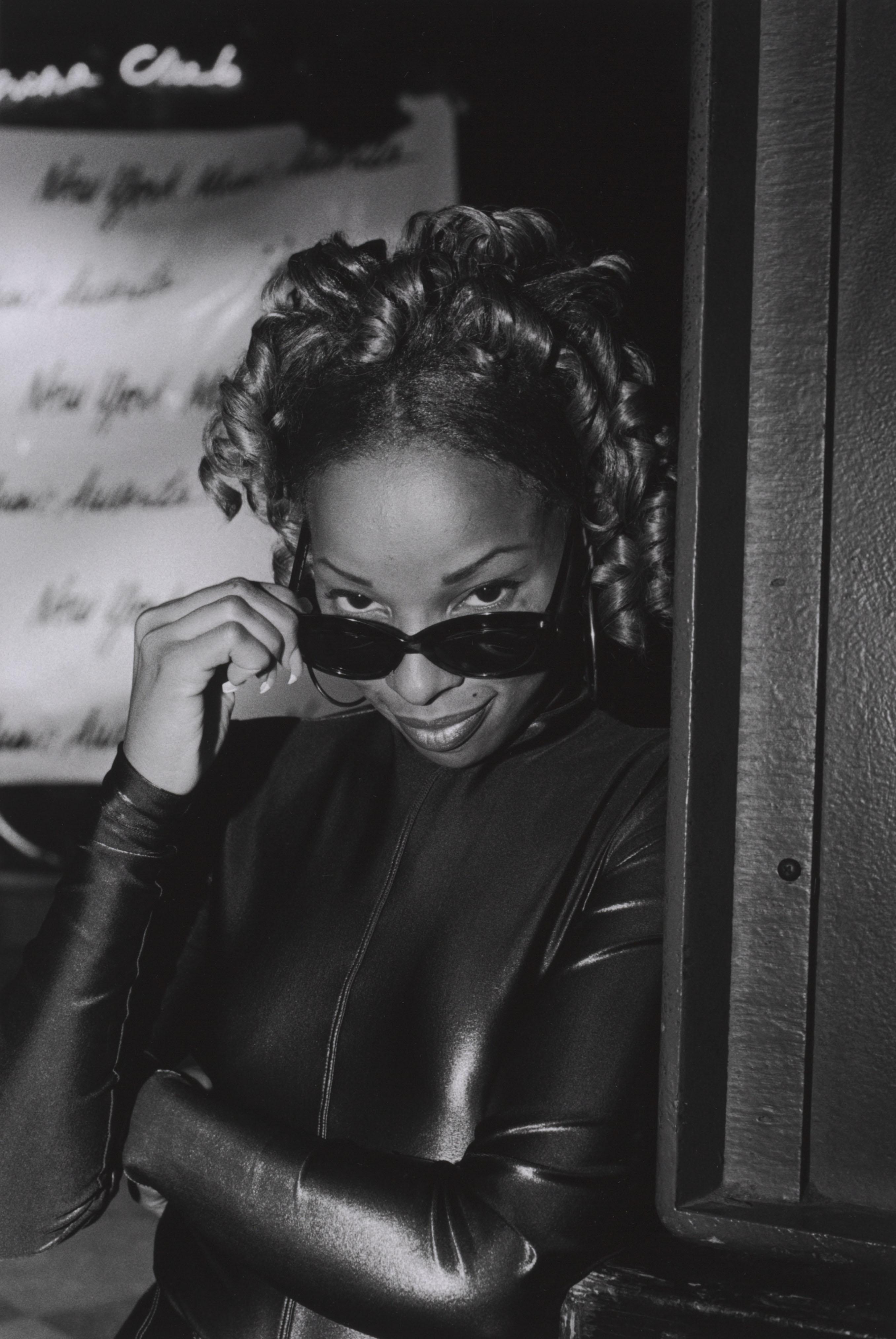 2000s
Even though women had become firmly entrenched in hip-hop by the millennium, their legitimacy could often be challenged by those upset by their frank lyrics and sexualized attire. However, hip-hop had also become a part of mainstream pop culture. The 2000s marked the fashion industry's fascination with the extreme luxury consumption and "bling" of hip-hop style, which inspired the establishment of clothing lines by popular hip-hop artists. Now hip-hop style was accessible to all, including in the malls of America's suburbs.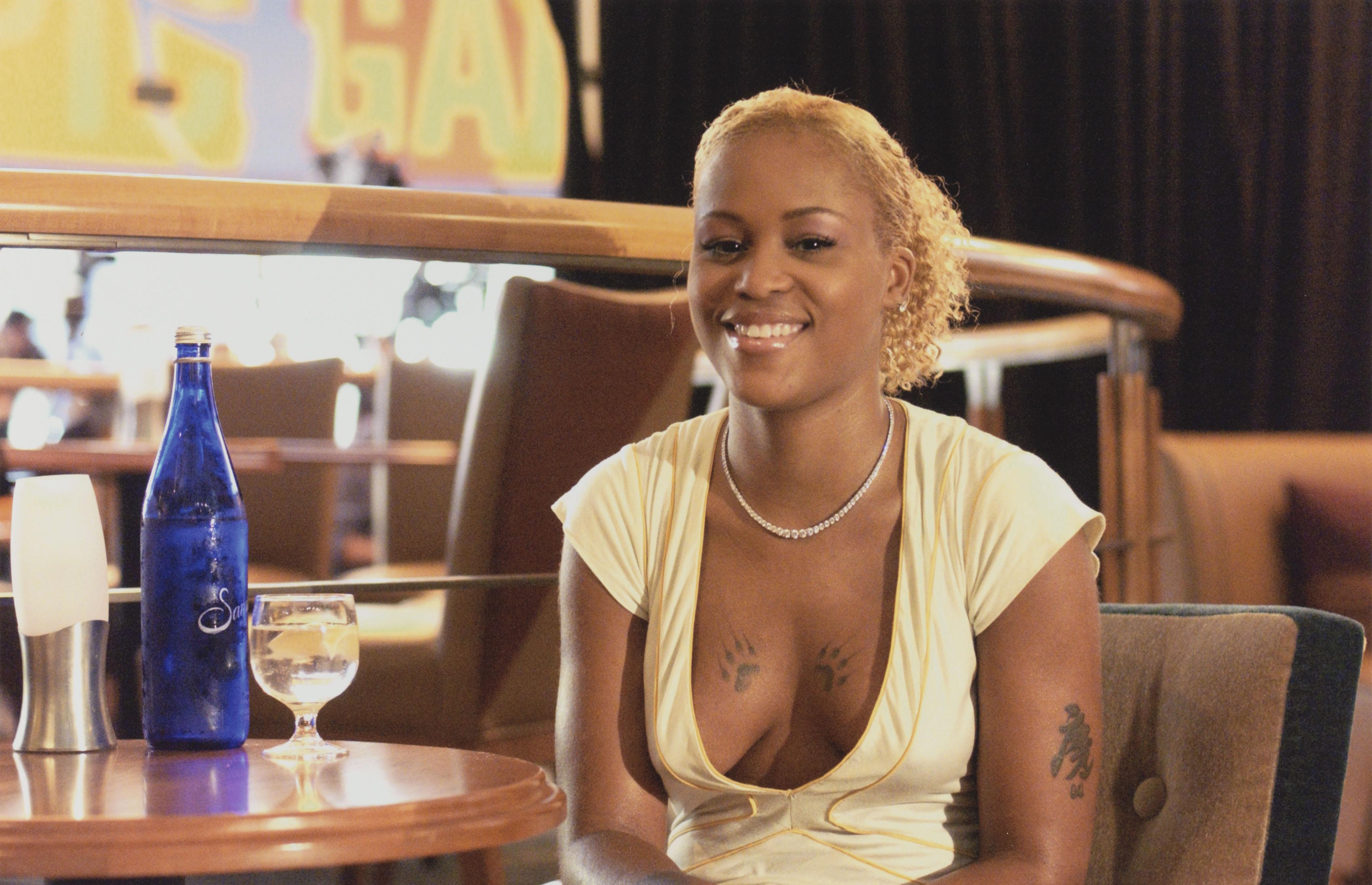 Whereas before, women in hip-hop contended with how clothing displayed gender and power, this period marked an embrace of glam. Rapper Eve, who debuted with the Ruff Ryders as a "pit bull in a skirt," regularly displayed her paw print tattoos in low-cut tops. She later released a clothing line named Fetish, which featured gilt-edged jackets, hip-hugging designer jeans, and rhinestone encrusted accessories.
This mainstreaming of hip-hop in the 2000s also resulted in pop music and hip-hop crossovers. Female MCs and R&B singers like Ashanti, Lil Mo, and Vita, and pop stars like Britney Spears and Christina Aguilera often had interchangeable styles. However, the ability to purchase hip-hop clothing lines like Fetish, Kimora Lee Simmons' Baby Phat, Beyonce's House of Dereon, Lady Enyce, and more meant that hip-hop fashion was nominally Black-owned—in contrast to the 80s and 90s where streetwear developed from mainstream brands.
The impact of Black women not only controlling their images and status as rappers, but their own fashion was a culmination of the struggle for women to shape and develop their role in hip-hop culture over three decades.
Browse Objects in the NMAAHC Collection Relating to Hip-Hop and Fashion
Written by Angela Tate, Curator of Women's History
Published on May 6, 2022